Eating like a YouTuber
TGI Korean BBQ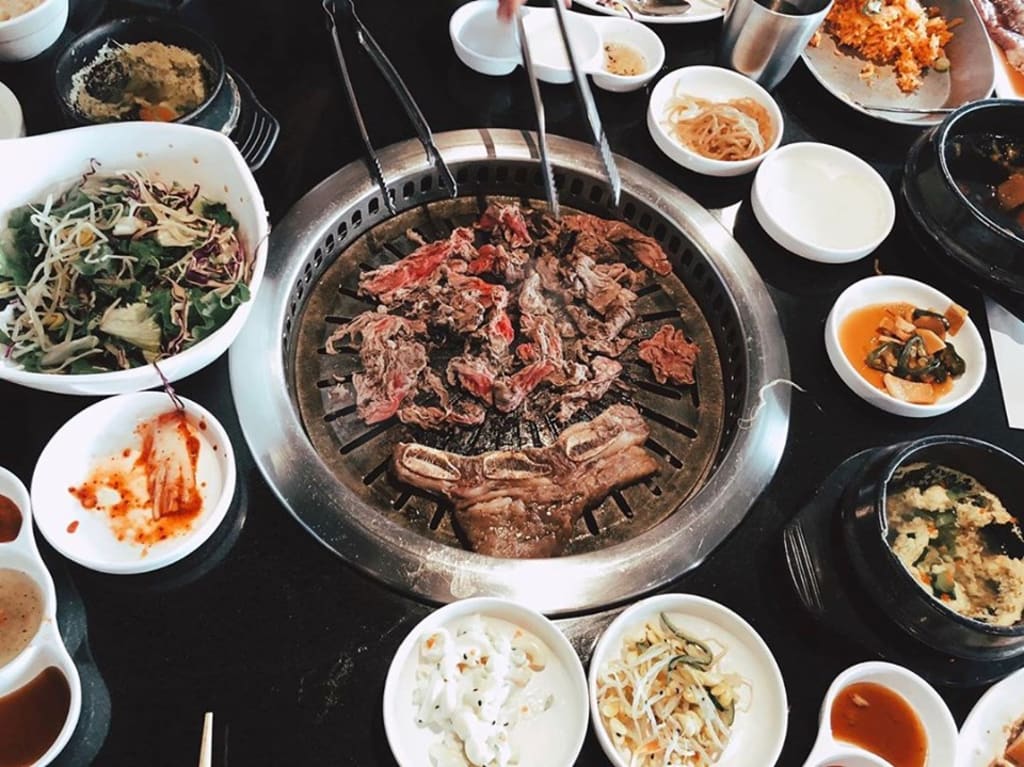 I've always loved food. Some of my earliest memories are going to farmer's markets with my grandma, discovering delicious samosas in tiny cafes hidden from view, driving to another province because she had a craving, and watching her bribe our favorite Chinese restaurant to teach her their egg roll and won ton soup recipes. Instead of flowers, my grandpa would buy us fancy cheeses and cured meats (the beginning of my obsession with charcuterie). We would spend summers and falls picking, preparing, and canning our own veggies, chutneys, and jams. Because of this, I have created a monster in the form of my wonderful 11-year-old daughter, who has spent her short life eating the best and most unique food we could find in our small city. We would watch food documentaries and every YouTube video that involves eating, cooking, and tasting, wishing that we could try even one of those restaurants. But now, with a recent move to Los Angeles (foodie paradise), we are able to live out our dream of eating like a YouTuber.
We started our official journey with Korean Barbecue. I am sad to say that we had never really ventured into Korean because it was not readily available back home; and because of that, we didn't know much about it. We decided that we should try All You Can Eat thinking it would be the best way to try several dishes and also... in for a penny, in for a pound. Living close to K-Town, we have many options, and we went to Google to help us find our dinner. TGI Korean caught our eye because of the cute name and the great reviews. About 20 minutes later, we found ourselves walking toward the restaurant, sun on our face, and a kitty ear headband in her hair (she is still so little :)).
The staff greeted us immediately, and before we knew it, we were sitting at a table with a round barbecue grill built into the middle. Suddenly, the table was filled with plates of side dishes and a large bowl of salad. We quickly decided that we would stick with the sides that were presented to us and save experimenting for our next visit. Our server had given us a large mixed salad, spicy pickled cucumbers, mung beans, glass noodles, fried tofu, spicy bamboo, and a creamy macaroni salad. I found the mung beans to be a great mix of fresh and crunchy, while Iss refused to share the lightly sauced noodles, later stating that they were her favorite pick from the whole meal.
When it came to meat, there were two options, the $19 menu with several choices from beef, seafood, pork, and chicken, and the $23 menu that had selections of finer cuts of beef and included types of ribs. We chose the first menu, figuring that is what most guests choose. Iss picked the marinated chicken while I went with the bulgogi. We were so excited to see if we would be any good at cooking our protein, but must have seemed very tentative because our server kindly came over, dropped off some rice, threw our meat on the grill, cut up our chicken ("With scissors!" exclaimed Isabelle), and told us the call him over if we thought we could use some help.
Armed with our sides, salad, sauces, and chopsticks, we jumped headlong into our first real Korean meal. I thought that the most fun was finding all of the different combinations you can make with the fresh, delectable ingredients that are provided to you, second only to watching Iss try to figure out how to get bulgogi, sauce, rice, and bamboo into her chopsticks and into her mouth all at the same time. When the plates of sides had first been brought out, I thought we were going to run out of them quickly and was surprised to see that we had been given the perfect amount (funny, it's like they know what they're doing or something...).
Our valiant server returned to ask us what our new choice would be. We had agreed ahead of time to take any recommendation given to us and before we could give our safe selection of brisket, he quickly chimed in with, "You should eat the beef belly."
"Is that your favorite?" I asked.
"Yes," he replied with a huge smile.
"We'll do that."
Iss and I are adventurous when I comes to food, but we also hate wasting food and are always careful to try and choose meals that we will almost certainly finish. Beef belly would not have been our first or second (and apparently) or not even our third choice had it not been for the gentle push of the experienced staff at TGI Korean.
We were very girly when presented with our beef belly cooing and commenting on how pretty the pink, curled meat looked (I told you, we like food). Our server could see in my eyes that I was going to be too gentle and treat these meaty bundles like fragile glass. "You just throw it on," he said, and with a swift hand, scattered our dinner onto the awaiting sizzling grill top. It cooked briskly as we discussed what we would feed to Isabelle's grandparents on our next visit. Finally, done. We prepared ourselves with one piece of beef belly and counted down. The belly completely melted in our mouths. Iss described it as, "If a cow became bacon," and I can't say she was wrong. We eat and talked and played and all at once, it was done. Our new friend popped up again asking what our next selection would be, but we were so full I wished I had worn more forgiving pants. We thanked him and started our happy, but much slower, walk home.
I have a feeling that TGI Korean is going to be one of our favorite stops as we settle into our new home, and we have already decided that one our next visit we are going to try the curry pork belly and the galbi. If you are in LA, make a trip down to our neighborhood and visit TGI Korean BBQ.
2585 W Olympic Blvd
Los Angeles, California