Eating Good in Portland, ME
Some of my favorite spots to grab a bite in the city right now.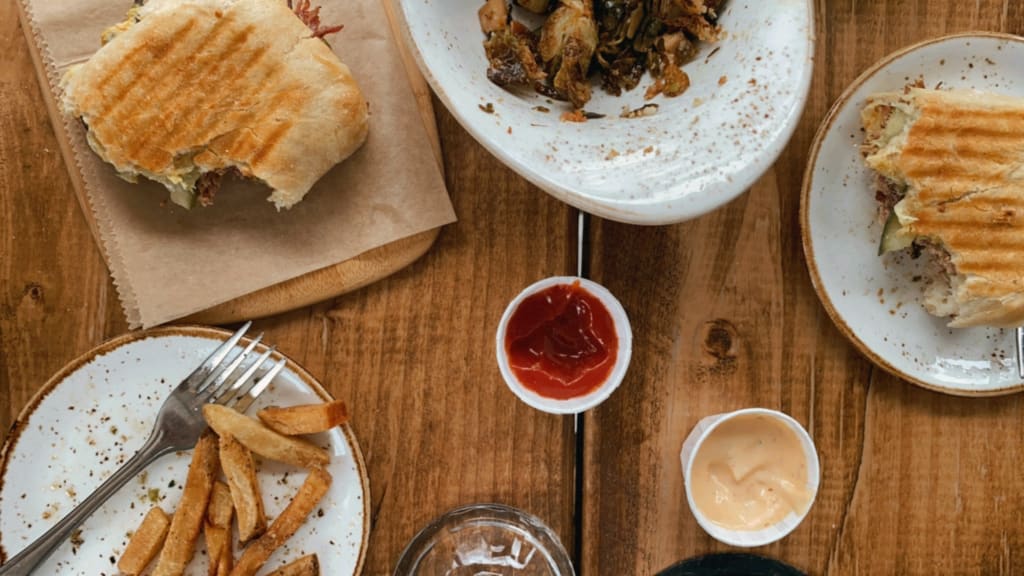 If there's any place I daydream about moving to, Portland, Maine is high as hell on the list. Thankfully I'm close enough to take weekend trips to visit friends - and to say the food there is incredible is the biggest understatement. I'm a sucker for a small city with cute shops and unique food, and Portland hits those nails right on the head. If you're a foodie in any sense of the term, you've gotta check it out, if not only for an afternoon of restaurant hopping! Out of the handful of times I've been up there recently, I already have my favorite spots: read on and enjoy!
THE HIGHROLLER LOBSTER CO.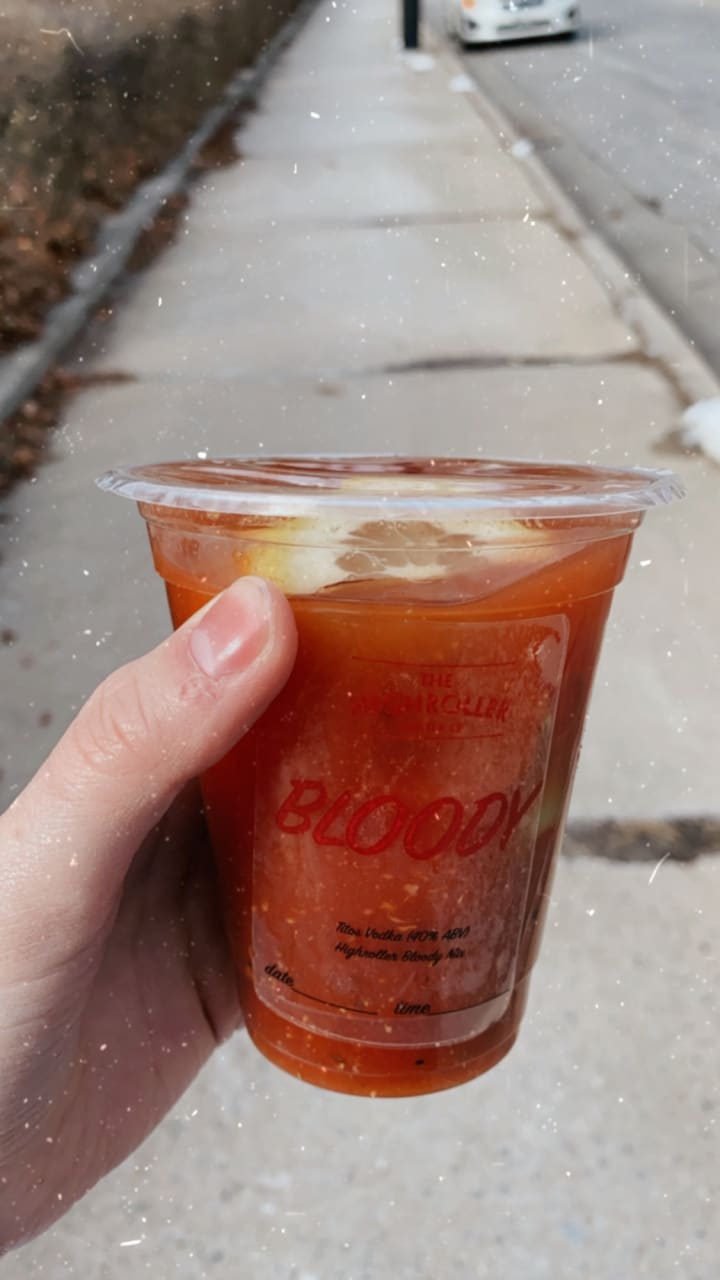 When you're in Portland you have to get seafood at some point, and hands down my favorite spot so far is The Highroller Lobster Co. The little shop on Exchange Street is home to some of the best seafood in the city, where you can find world-class beer selections, fun merch and a damn good Bloody Mary. COVID restrictions were more intense when I visited this spot, so we ordered for take-out - hence the photo of the to-go cocktail.
Once we got back home to lounge on the couch and devour our meals, they were gone in 10 minutes flat. I think my meal was arguably the best thing I've ever eaten: the Buffalo Popcorn Lobster Grilled Cheese. Generously filled with melted cheese, buffalo sauce, blue cheese crumbles, and tender chunks of fresh lobster, this sandwich was a delicious, greasy, buttery mess that I'd eat again and again.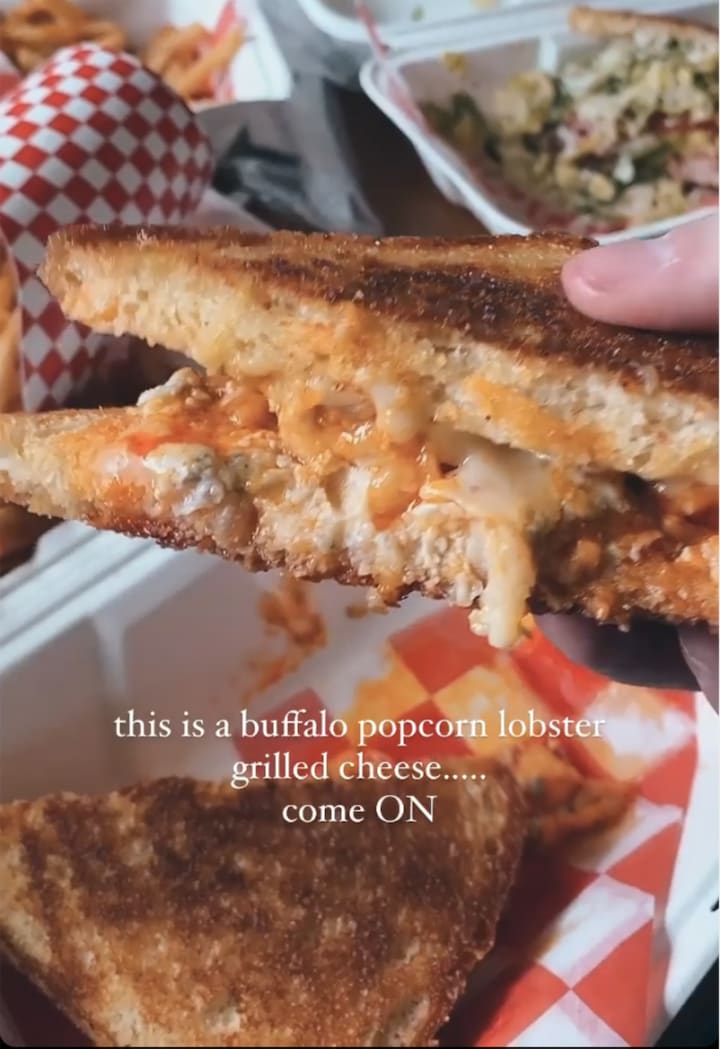 We couldn't go without getting fries, of course - which came with a handful of different dipping sauces to try. Think tasty mayo flavors like garlic, lime, roasted red pepper, charred pineapple... the list went on and on. They have burgers, tacos, hot dogs, and more, too - so there's something for everyone here for sure! If you're in the city, you can't pass it up.
SLAB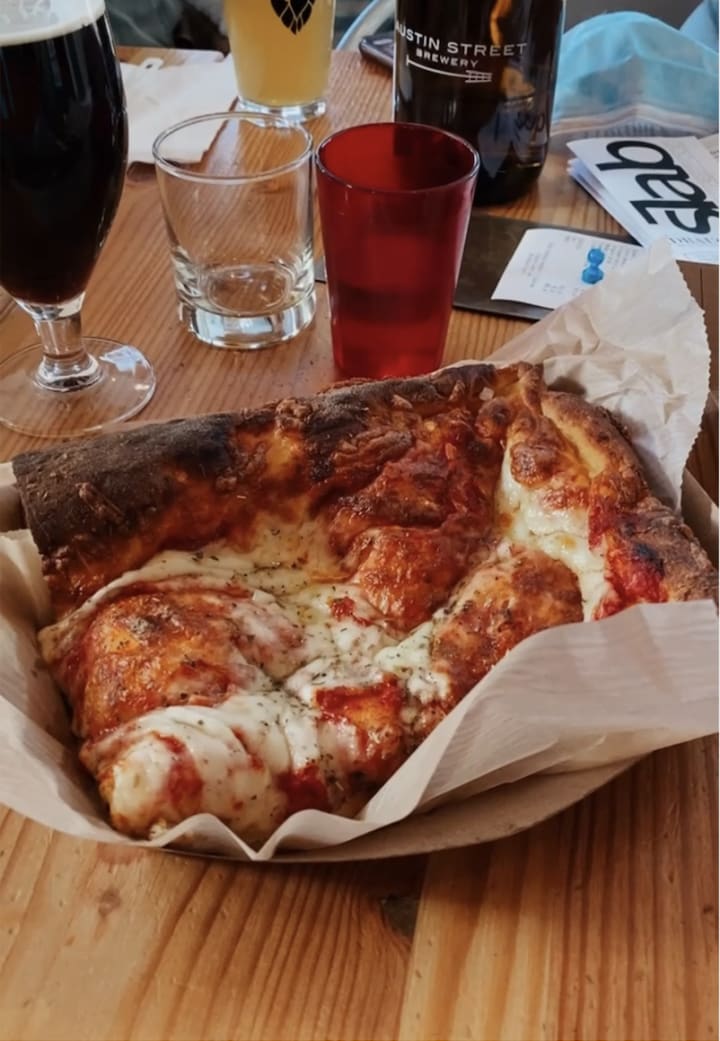 Pizza is a food you can't really go wrong with, but Slab goes above and beyond with their Sicilian street food. It's a fast-casual restaurant specializing in their slab pizza that's genuinely bigger than your head (not joking). It's insanely thick, cheesy, saucy, and I haven't been able to stop thinking about it since I last ate it months ago. There are five flavors of the Sicilian pizza, plus plenty of other thin crust options along with appetizers, sandwiches, calzones and desserts. The beer selection is amazing as well - they usually are in Portland!
DUCKFAT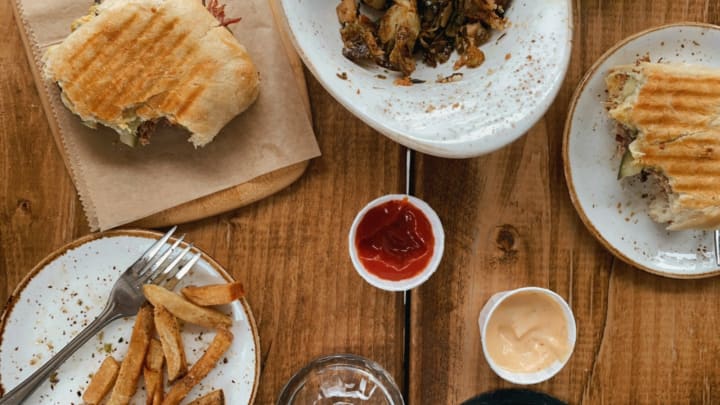 Duckfat is one of the newest spots I've tried out in Portland, and I fell in love the second I sat down and looked at the menu. I've never had the chance to go inside (thanks to COVID) but their outdoor tent had a super cute setup - perfect for a nice breezy day outside. We started out with a refreshing lemonade and one of their signature gelato shakes (the blueberry buttermilk was incredible).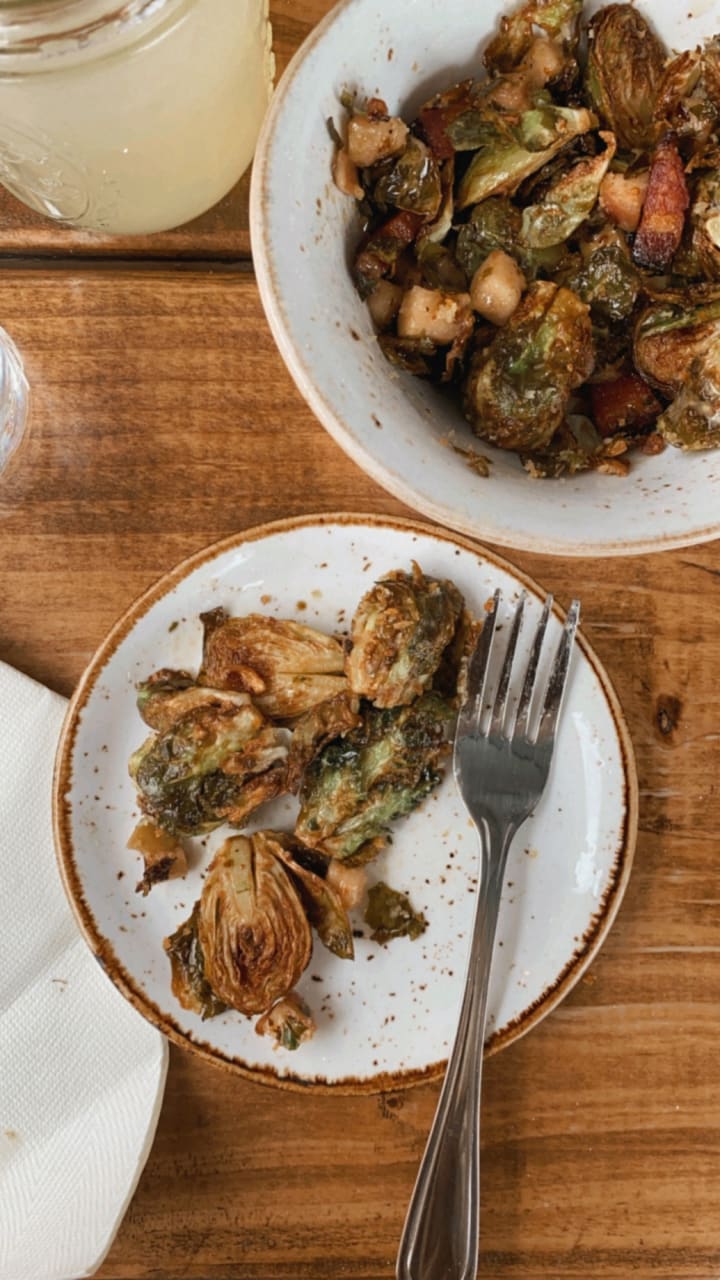 Next up was the appetizer, and the duck fat-fried brussel sprouts were to die for - it was a special so we were lucky to stop by that day! We had to get the fries too, of course, and at the risk of sounding like a broken record, they were the best fries I've ever had (had to have been the fact they were fried in duck fat - YUM). They were so well-seasoned and the perfect crispy-on-the-outside-fluffy-on-the-inside texture that we all know and love.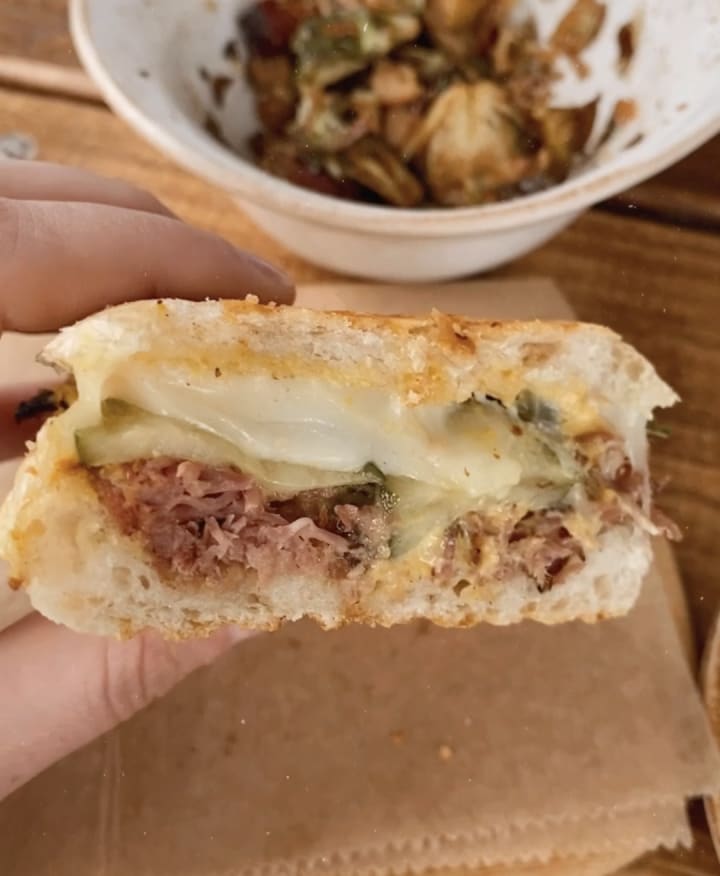 Next up was the main course, and I truly can't recommend Duckfat enough solely because of their Slow Roasted Pulled Pork Cubano. I don't think I even need to elaborate on that - the name alone is enough to make your mouth water, and if that's not enough, the picture above will do the trick. By far one of the tastiest sandwiches I've ever eaten (I don't care I'll keep saying it!). Naturally we couldn't leave without getting dessert, and the doughnut holes hit the spot perfectly - fried in duck fat, scented with citrus, and served warm with a duck fat caramel sauce... need I say more?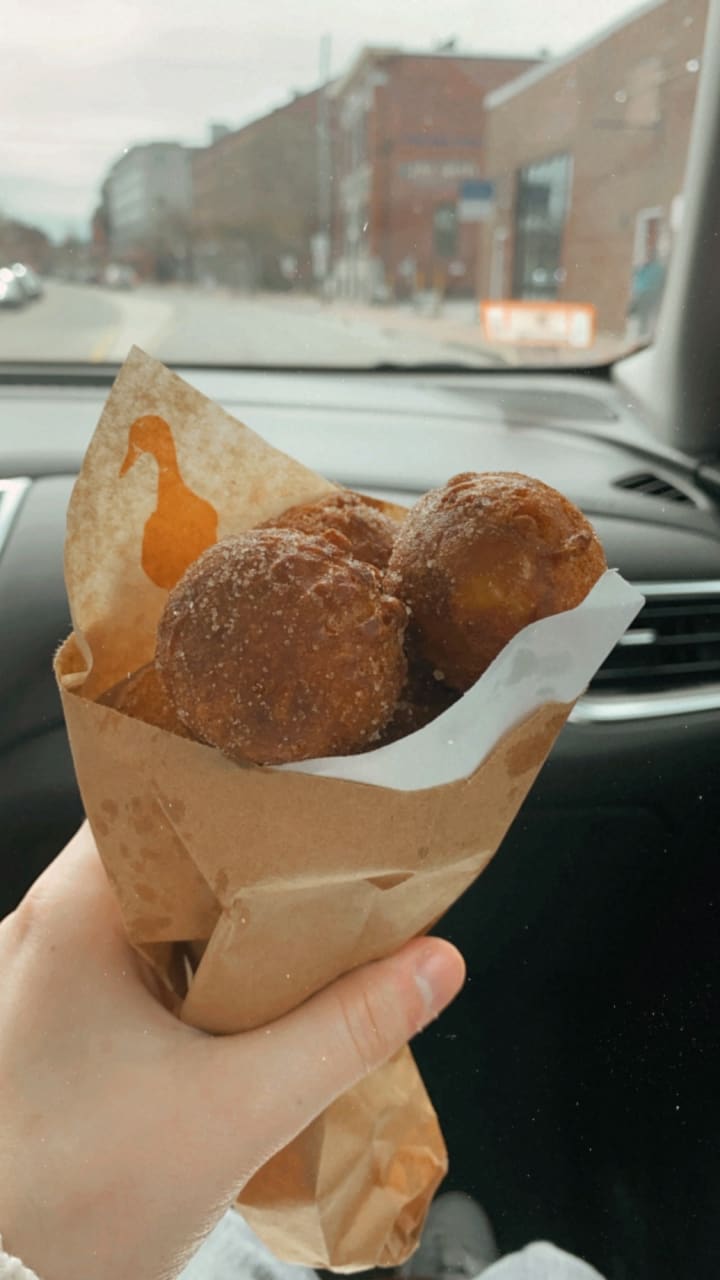 It goes without saying that Portland is one of the best food-centric cities there is, and I'm making it a mission to try out as many new spots as I can without gaining hundreds of pounds in the process. Now that restrictions are starting to lift and more spots are opening up, it's the perfect time to support local restaurants and food-service workers :)
About the Creator
photographer with a knack for writing, passion for food, and a craving for adventure.
Reader insights
Be the first to share your insights about this piece.
Add your insights