Duck Confit
With Duck Fat Potatoes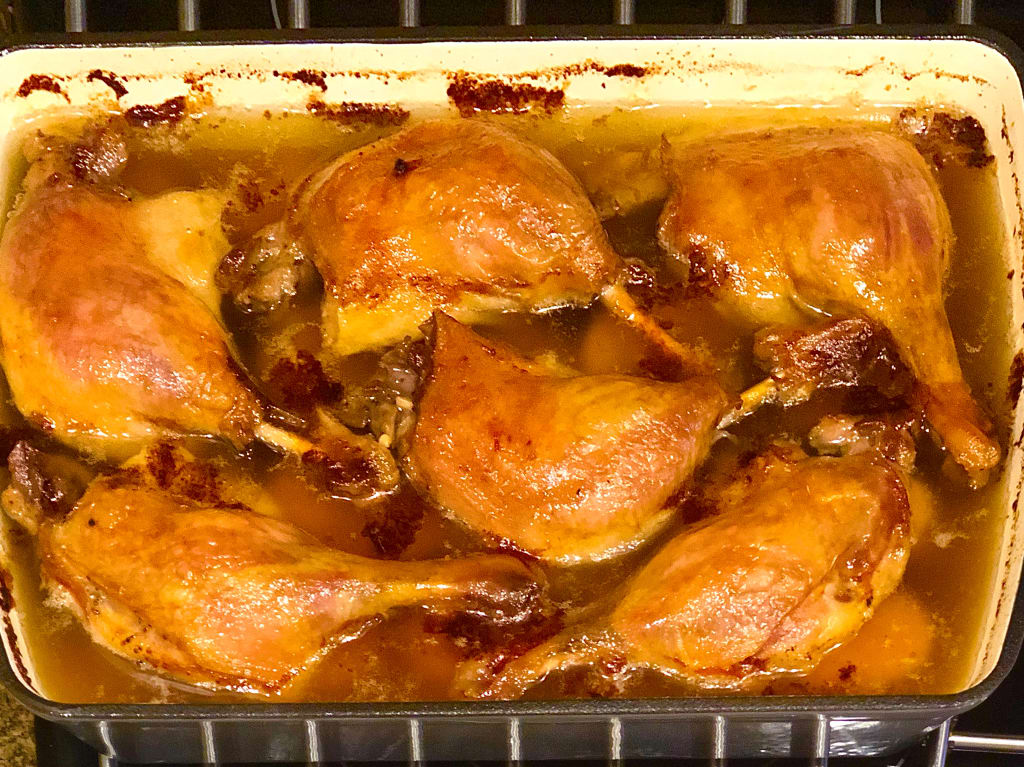 Duck is my absolute favorite protein. I have always enjoyed it but the real love affair started when I was working as the Executive Chef at Third & Vine in Jersey City, NJ. We had tried a duck prosciutto for our charcuterie offerings and it was amazingly delicious but the cost was a bit high. I decided to try my hand at making something similar and came up with a smoked duck breast that was easily as delicious and cost us less to make. It was one of our most popular sellers for the 3 years I was there.
Obviously this isn't smoked duck breast. Duck confit is a ridiculously delicious French preparation and though it takes time to make it is really quite simple. You only need a few ingredients which are pretty easily accessible. The duck fat can be found in a lot of markets these days as it is quite popular but if you can't get it in your market you can definitely find it online or perhaps have your local butcher order it for you.
These duck legs are so delicious! Crispy skin, tender juicy meat, and they have the perfect flavor from the overnight salting process. Served along with the potatoes that have slow cooked in the duck fat and then fried to crispy golden perfection - what more could one want? Maybe a side of creamed spinach and glass of your favorite red or white wine!
Ingredients:
6 duck leg quarters
1/4 cup kosher salt
3 tbsp granulated sugar
1 tbsp granulated garlic
1 tbsp granulated onion
2 tbsp dried oregano
1 tsp coarse ground black pepper
4-5 cups duck fat
8-10 whole garlic cloves
4-5 medium russet or gold potatoes
Instructions:
Combine all the spices and mix well.
Sprinkle a thin layer of the spice mix in a roasting pan large enough to hold all 6 duck legs.
Rub each leg with the spice mix and place them in the pan. Sprinkle any remaining spice mix over the legs.
Cover the pan tightly with plastic wrap and place in the refrigerator for 24 hours.
Remove the duck from the refrigerator and rinse all the spice off. Place on a paper towel to absorb any excess water and pat the skin dry as well. Set aside while preparing the potatoes.
Clean the roasting pan and dry it well.
Melt the duck fat - place the container in a bath of warm water. You don't want the fat hot just pourable.
Slice the potatoes 1/2-1 inch thick (I leave the peel on but if you prefer you can peel them).
Pour enough duck fat into the roasting pan to cover the bottom.
Arrange the potatoes in a single layer covering the bottom of the pan and place the garlic cloves around the potatoes.
Arrange the duck legs on top of the potatoes and pour the duck fat over everything.
Place the roasting pan in the oven and turn set it to 250 degrees. Cook the duck for 3 hours.
If you are serving it right away remove the duck to a baking sheet with a rack and place back in the oven at 400 for another 10-15 minutes to crisp the skin.
Mean while strain the duck fat into a large heavy bottom pot or cast iron dutch oven and bring it to 350 degrees.
Fry the potatoes in the duck fat unit crispy. Remove the potatoes to a baking sheet lined with paper towels and salt immediately.
If you are not serving right away place the duck legs and potatoes on a baking sheet with a rack and allow them to drip any excess fat and cool completely. Once cool wraps tightly with plastic wrap or place in air tight containers in the refrigerator for up to 6 days.
Strain and reserve the duck fat. It will keep in the refrigerator for up to 6 months.
To serve allow everything to come up to room temperature. Deep fry the potatoes as listed above either in the duck fat or in vegetable oil. The duck legs can also be deep fried, roasted, or pan fried to crisp the skin and warm through.

Lynn Wheeler
Self taught chef with a over 25 years experience in the restaurant business.
Grew up in rural Ohio & moved to NYC in 1998.
Executive Chef Third & Vine in Jersey City 2014-2017.
Moved to Florida in 2017 and opened Duck Truck Gourmet in 2019.
See all posts by Lynn Wheeler →