Different ways to make homemade pizza healthy
Step by step guide make haelthy pizza at home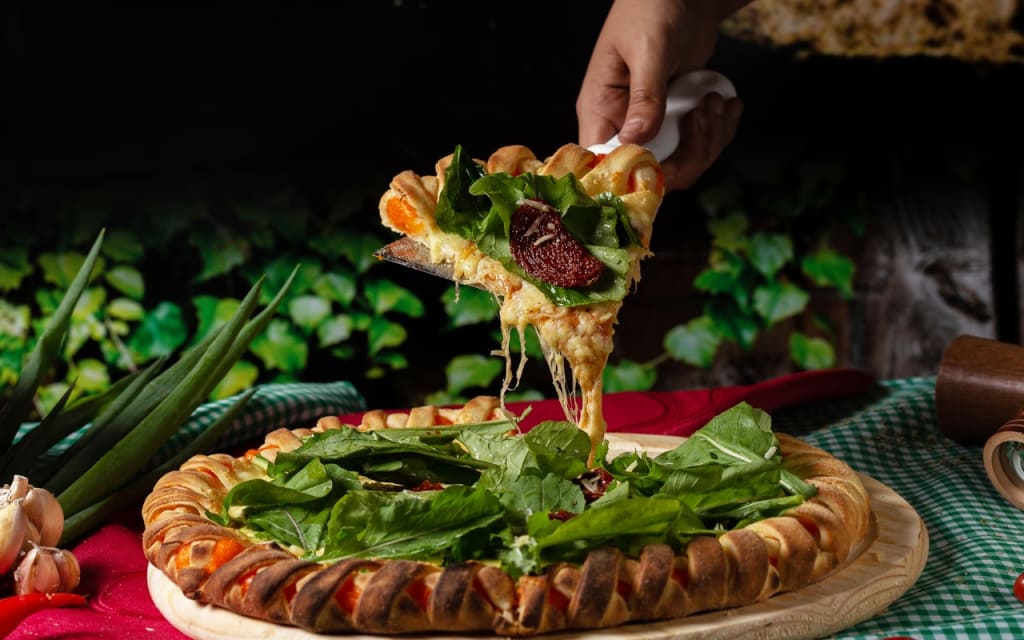 Some people may consider the act of cooking and baking to be an unnecessary chore, making your pizza can be a fun way to make your favorite healthy food. This is especially true when you're trying to save money or eat healthier. One of the most common questions that I get asked is how you can make homemade pizza healthy.
Making homemade pizza can be as easy or complicated as you want it to be. Whether you have a few ingredients and some fresh dough, or you're more of an experimenter and are willing to work with your recipe, there are several different ways to make homemade pizza healthy.
In this article, I'll show you different ways to make homemade pizza healthy
If you follow these steps in make a perfect pizza slice at home you will be making healthy food for your family
Step 1: Make the pizza dough.
Half-fill a dough kneading plate with all-purpose flour. After that, add the salt and baking powder and sift the flour once. Then, in the center, form a well and add 1 teaspoon of oil.
On the other hand, take a little amount of warm water and combine it with 1 teaspoon of sugar. Set aside for 10-15 minutes after mixing.
Meanwhile, the yeast will rise. When the yeast has risen, combine it with the flour and knead the dough thoroughly with a little water. Set aside the dough for 4-6 hours. After that, the dough should be kneaded one more. The pizza dough is now ready.
Step 2: Make the pizza crust.
If you want healthy food you have to make pizza ingredients like (pizza sauce, dough, cheese, etc) preheat the oven to 180° Celsius. When the dough is ready, proceed with the pizza crust. Take a big chunk of the pizza dough and dust it with dry flour. Using a rolling pin, form the dough into a solid circular base.
After you've formed the base, prick it with a fork to ensure that it doesn't rise and bakes evenly. Bake for 10 minutes in the oven. Your pizza base is now ready.
Step 3: Cut all of the vegetables for the pizza.
In a bowl, rinse and thinly chop the capsicum. Peel and finely slice the onions in a separate bowl. Finally, cut the tomatoes and mushrooms, etc. However, be certain that the tomatoes contain less liquid. Once all of the vegetables have been prepared, grate the processed and mozzarella cheeses into separate dishes.
Step 4: Pour the sauce and vegetables on the bottom.
Then, take the new pizza base and cover it with tomato ketchup. Spread half of the processed cheese equally on the base, topped by the vegetables. You can also make the sauce at home which is more healthy food for your health. Once all of the veggies have been stacked, top with a thick layer of mozzarella cheese.
Step 5: Bake the pizza in the oven for minutes:
Place this pizza base on a baking tray and bake it in the oven. Bake the pizza for 10 minutes at 250°C. Remove the pan from the oven and cut the pizza into slices. Serve immediately with oregano and chili flakes to taste
Pizza with vegetables and cheese
You can use any type of vegetables you like in your pizza. Try mixing them with cheese instead of meat. This is a great way to get more nutrients into your body without increasing the number of calories or carbs. You will also have a healthy food version of this classic dish that tastes delicious
Tips for making your homemade healthy pizza:
• Use wheat flour.
• Use low-fat cheese slices instead of regular ones.
• Load up on nutritious proteins.
• Use lighter cheese.
• Make handmade sauces.
By following these tips, you can make your pizza nutritious, which is also healthy food.
Conclusion:
So, making homemade pizza is one of the easiest ways to make a portion of healthy food for yourself or your family. There are many options for making homemade pizza healthy, but if you have a few basic ingredients on hand, you can create your version of any pizza you like.
history
About the author
Hazel John is a professional blogger and author of The Cart Hippo. She is love to travel and explore the new things.
Reader insights
Be the first to share your insights about this piece.
Add your insights