Delicious Seasonal Dessert at D Bar
Denver Dessert Places to Try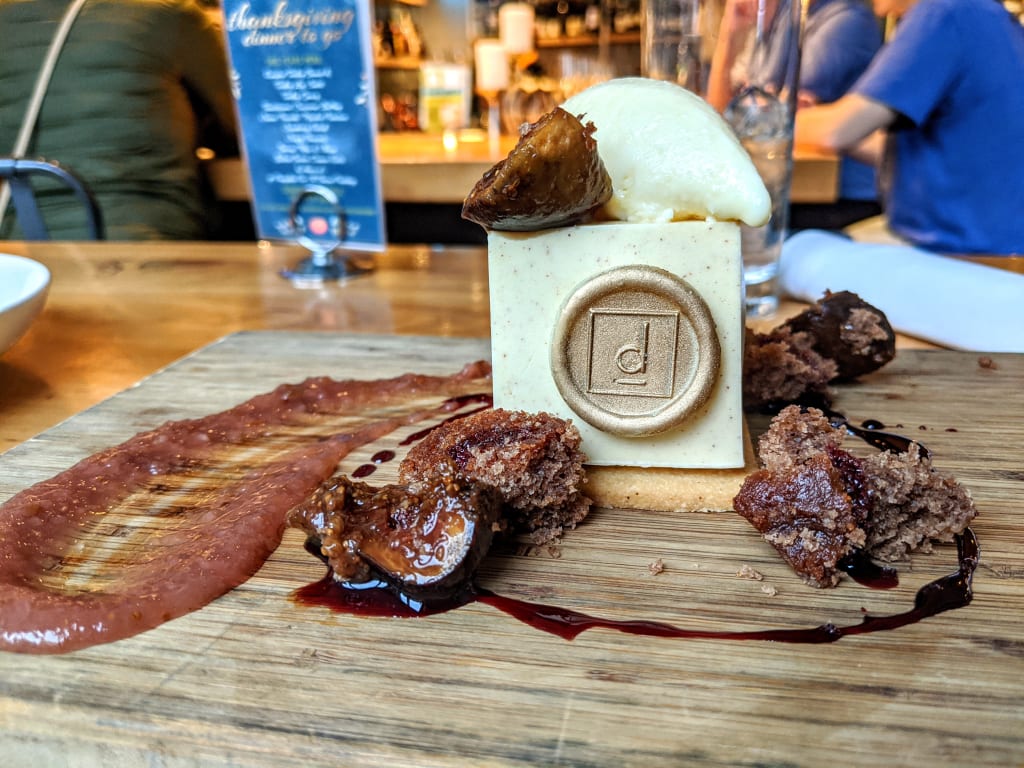 Getting Figgy With It
Last weekend, I had a guest visiting from Mississippi and I wanted to make sure she ate well while in Denver. Once I found out she has a sweet tooth, I knew I had to take her to D Bar in Uptown Denver near 19th and Pennsylvania, which is run by Food Network Celebrity Chef Keegan Gerhard. D Bar offers an intimate dining experience filled with delicious sweets, comfort foods, and savory plates that's perfect for any date night or friendly outing. They also offer a happy hour selection that I would recommend checking out if you're in the area Monday through Friday 3-6:00 PM. The typical mass clientele is aged mid 20s to late 30s but the menus appeal to just about everyone. I have seen small children there before, but due to the complexity of the menu I wouldn't recommend it unless your kids are like Neal Patrick Harris.
Once we walked through the big double doors, we saw cute, festive pumpkin display in the middle of the entry. The restaurant has an open style view and feels warm and inviting. The entry offers the choice between two directions; to the right, which will take you to the main dining area and the bakery bar where you can watch them make all the desserts (sit there if you get a chance!), and to the left ,which will take you to the bar. There is also a cute patio outside which is perfect for the occasional summer brunch.
We sat in the bar area which is quaint, has a great ambiance, and is perfect for parties of 2-4. The dish I ordered, pictured above, is on D Bar's seasonal menu: Getting Figgy With It. The dish includes a spiced opalys mousse, spiced sponge, fig and pear jam, oven roasted figs, a ruby port reduction, and brown butter ice cream. Can you say MMMmmmm? I did not get a drink this time around, but I have previously enjoyed their mimosas for brunch. They also offer afternoon tea which I am planning on trying out in the very near future.
When the dish first arrived I took a huge bite with my eyes. The presentation was absolutely gorgeous, almost too pretty to eat. Almost. With the first fork full I experienced the sweet, buttery taste of the ice cream, the pleasing, soft texture of the mousse, and the crisp cookie at the bottom. The combination was magical, and I quickly dove in for more! Every bite was an attempt at a different combination, and due to the amount of options on the plate it wasn't hard to achieve. The figs were decadent and roasted to perfection, even a fig hater couldn't pass on these. The fig and pear jam was lighter than expected and had the consistency of a compote, which complimented the dish beautifully. D Bar also always compliments their dishes with some type of personal touch reflecting Chef Keegan's commitment to perfection. This personal touch is represented on my dessert by the delicate gold chocolate on the front of my delicious dessert.
While dessert was the main reason for our visit this past weekend, D Bar offers many savory selections that are sure to please as well. I tend to stick to a Pescatarian diet and Some of my favorites are the Crispy Brussels, Crue Fries without the bacon (that cheese sauce, mmmmm), and the Pizza Salad Sandwich. My meat eating friends have told me that the sliders and bacon wrapped dates are delicious as well.
While any dish you choose at D Bar is a win, I would highly recommend checking out their seasonal dessert menu and Getting Figgy With It. It's a sweet feast for the senses that is perfect for the season.