Death by Chocolate Cake
What an iconic way to go out.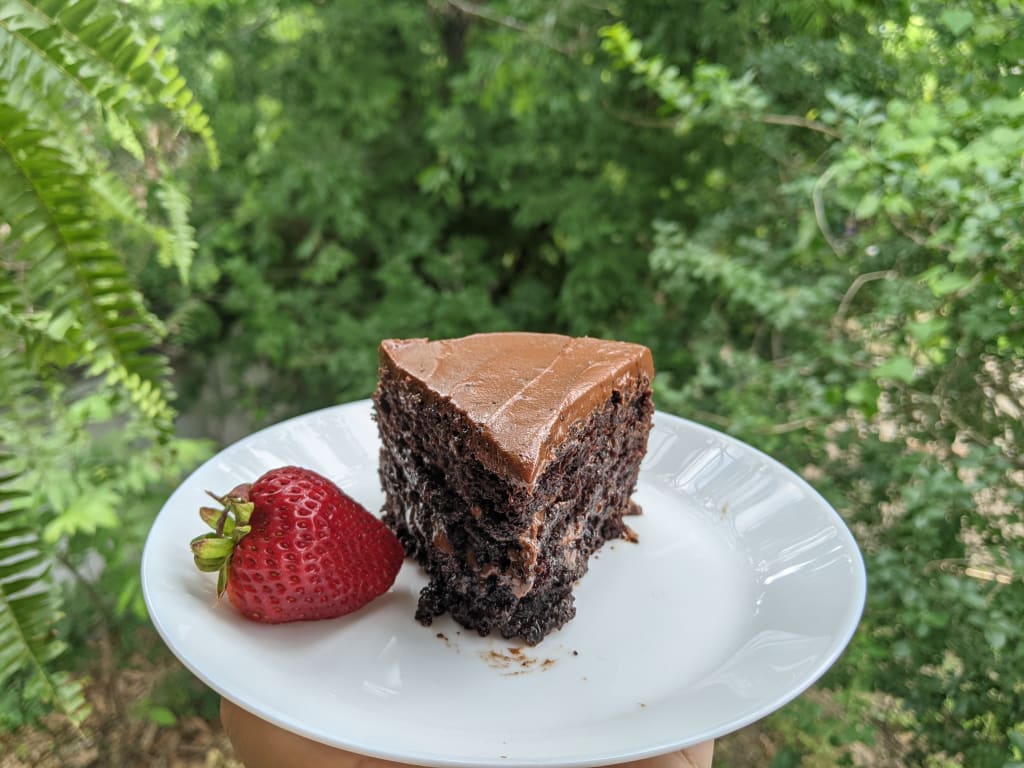 My grandparents were married for over 60 years and I'm no love guru, but I think a lot of it had to do with my grandmother's knack for whipping up cakes from scratch. Now, I'm not saying if you learn how to bake you will find a love like Allie and Noah from The Notebook, but what I am saying is that if you can get the hang of simple cakes, life will definitely be much sweeter.
Most of my childhood memories involve helping my grandmother stir batter or sneaking a finger in a bowl of frosting when no one was looking. I deemed myself her official "taste tester," and took pride in the sweets we often made for my grandfather.
When I moved out and got a place of my own, she gave me a bundle of her handwritten recipes. I spent the first handful of years of living alone looking for reasons to bake each one- birthdays, holidays, tuesday nights-my neighbors never seemed to mind the random plate of fresh cookies or cupcakes, "just because."
Several years and countless messes in the kitchen later, my good old reliable recipes are faded, wrinkled, and sport random stains from mystery ingredients.
I'm not sure the exact day it happened, but somewhere along the way, I started eating less meat and eventually became vegan. If you would have told me 10 years ago that one day I would be making chocolate buttercream frosting without butter (or cream), I would have called the police.
"That doesn't even make sense, how could you possibly make a good cake without butter? Isn't that illegal?," I'd probably argue.
But, time goes by, things change, computers get smaller, bleached tips come into style, bleached foods go out of style, and people figure out how to bake delicious things without dairy. Who'd've thunk?!
When I began my trek to start baking vegan versions of the things I loved, it seemed daunting. All of the things I grew up baking called for animal products and I wasn't sure how to bake without them. Vegan recipes were confusing. How do you make a flax egg? Where do I even get chickpeas? Why on Earth would I put applesauce in this? Why is everything made with coconut?
As the first one in my family and friend group who decided to give cooking without animal products a go, I was navigating uncharted territory. Luckily, google was a thing, so I had someone to turn to with all of my questions. When I first began, I figured I could learn to make similar dishes but would most likely just have to accept that it would not taste as good as the "real stuff." But, after tinkering around in the kitchen and cranking out a slew of crazy-good vegan concoctions, I can confidently report that the real stuff is actually just any wholesome ingredient that is cared for and prepared well.
So, here's my advice to both vegans and non-vegans alike: try this so-simple-a-caveman-could-do-it, one bowl vegan chocolate cake that you can throw together on a whim. No confusing instructions, time consuming preparation, or any other kind of vegan wizardry.
It's everything you want in a cake, guaranteed to satisfy a chocolate craving, and if you don't tell anyone it's missing eggs and butter, they would never know. This is one of those recipes you can dress up or dress down, depending on the occasion. Add some colorful sprinkles or fresh strawberries on top for a birthday, throw in a handful of nuts or coconut flakes in between the layers, or sprinkle in just a dash of freshly ground coffee beans in the frosting, making it a delight for any coffee aficionado. This is the kind of rich, ooey, gooey, chocolate cake that would make Willy Wonka proud.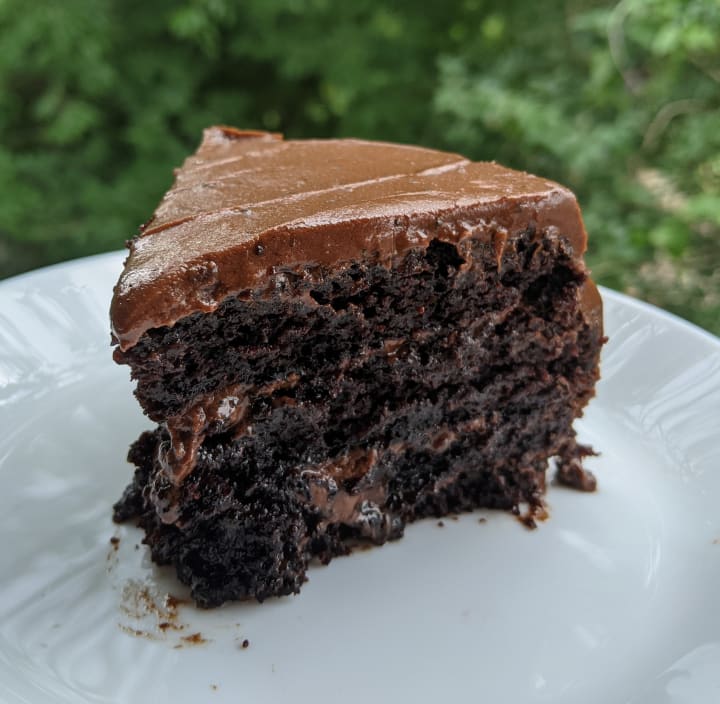 This recipe yields a small, 3 or 4 tiered cake using 6 inch pans (depending on how much batter you "taste test" along the way).
This amount of frosting is just enough for the layers and a simple coat around the exterior. If you would like to have more for decorative piping or you're just a frosting kind of guy, I recommend 1.5 x the frosting measurements. When it comes to butter, I highly recommend spending the extra dollar for Miyoko's cultured butter. It is in a league of its own when it comes to dairy free products and is the closest you will get to replicating traditional buttercream.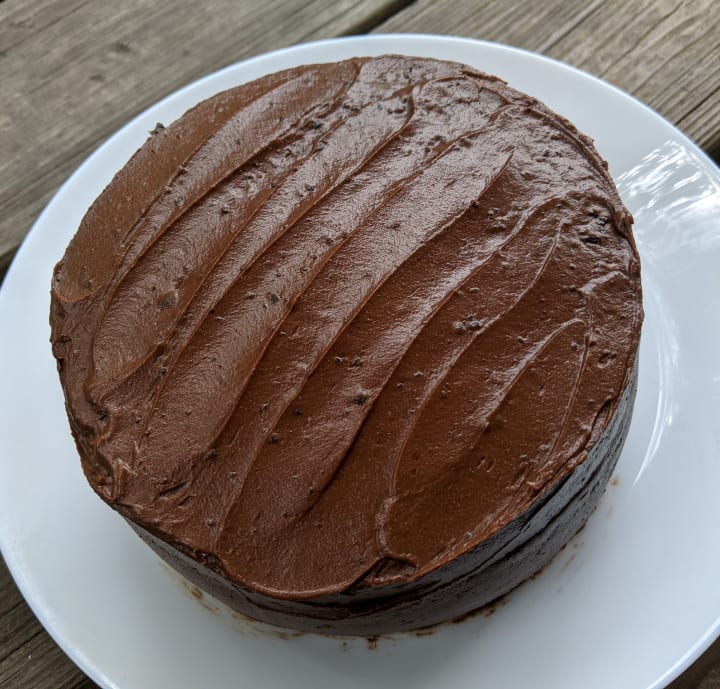 But enough talkin', let's get this party started, shall we?
Here's what you'll need:
Chocolate cake
-¼ c. coconut oil
-4 oz. unsweetened original applesauce
-1 c. sugar
-1 tbs vanilla
-1 tbs. apple cider vinegar
-2 tsp baking powder
-1 tsp baking soda
-¼ tsp. Himalayan sea salt
-½ c. cocoa powder
-1 c. flour
-½ c. boiling water
Chocolate Frosting
-¾ c. vegan butter (I highly recommend Miyoko's cultured vegan butter)
-½ c. cocoa powder
-2 tsp vanilla
-1.75 c. - 2 c. powdered sugar (or you can add more, depending on your preferred level of sweetness)
*optional for coffee lovers* (1 tsp. of fine, freshly ground coffee beans for a subtle twist)
Instructions
Cake
-Preheat oven to 350F
-In a large bowl, combine oil, apple sauce, sugar, vanilla, and vinegar
-Sift soda, powder, salt, cocoa, and flour into the wet mixture and stir until well combined
-Add the hot water and stir. The batter should be slightly runny, add a little more hot water if the batter is too thick.
-Divide batter into nonstick cake pans and bake at 350 F. Conduct a toothpick check around 8 minutes and add time as necessary
-Remove from oven and allow to completely cool before assembling and frosting
Frosting
-Combine all ingredients together in a large bowl with a hand mixer until creamy. If your mixture is too thick, add one tablespoon of unsweetened nut milk at a time until you reach your desired consistency. (Be careful not to add too much or you will end up with a runny mess)
-When the cake has cooled, remove from pans, lather with frosting as heavy-handedly as you wish and voila!
For best results, pair with a freshly brewed cup of Joe and enjoy.