Creative Meals: Spice Up Your Day!
2 Healthy Recipes to Make When You're Running Low on Time. Easy Prep, Delicious & Nourishing Results.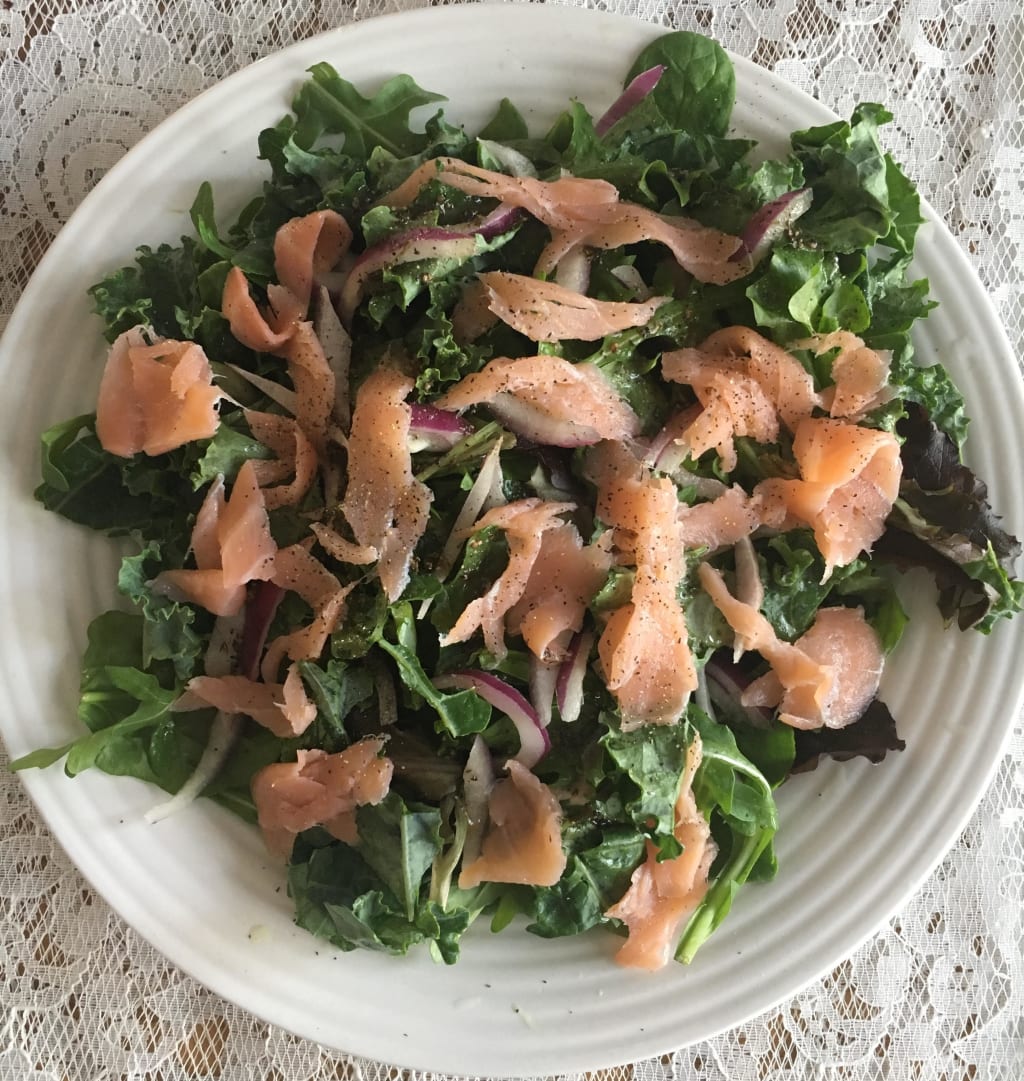 "Nova on Greens" Smoked Salmon Salad, Complete with Red Onion.
I like to eat healthy, but I don't have much time to prepare meals, and I have a limited budget for grocery shopping.
However, I make do and have found simple go-to meals that I like to prepare. I eat healthfully despite my limited budget, and I've found ways to simplify my eating so that it is one less thing to worry about.
Here are a couple of my recent favorites, which I've made for lunches and dinners!
Smoked Salmon Salad
For this recipe, I drew inspiration from the "salmon on a bagel with the capers" classic. I replace the bagel with the greens to make it a very refreshing salad (which includes a bit of protein).
You'll need:
Kale
Baby spring mix
Red onion
Smoked salmon
Lemon juice/olive oil/black pepper, or Green Goddess dressing
I use nova smoked salmon from my local Kroger store (read here for differences in lox & types of smoked salmon: http://bit.ly/2j3aKyb), but you can use your preference of smoked salmon. The type I buy is $4 for about two to three servings, so it lasts for at least two meals.
I wash the baby spring mix and the kale, and put it on a plate. Then, I slice the red onion and top the salad. I then take about half the package of nova, slice it into smaller pieces, and top the salad with it as well. I use either olive oil, lemon juice, and black pepper, or Tessemae's Green Goddess dressing* to dress the salad.
The salad tastes fresh and satisfying. You can use it as a side dish or a complete lunch. Enjoy!
*Note on this Green Goddess dressing: it is delicious. It complements the taste of the greens rather than completely overpowering them. It seems like it was just meant to go on top of already-delicious fresh greens! It's definitely my favorite salad dressing to use. It's not too heavy, either, like ranch or caesar dressings.
Chickpea Tortilla Stew
This is a recipe that I discovered by accident. I started by sauteeing red onion, fresh garlic, and green pepper. I had no idea what I was making, and I chose to put in chickpeas rather than the black beans I was planning on. But HEY, some of the best things happen by accident! This recipe is a sure winner.
I'm pescatarian (which means I eat fish, but no poultry, beef, or pork) so this twist on the classic is good for any vegetarians or vegans who want their "chicken tortilla soup" fix.
You'll need:
1 can of chickpeas (I buy a 4-pack of cans for $3.19 from Kroger)
1/4 of a green bell pepper
1/4 of a small-to-medium red onion
Fresh garlic
1 small can of stewed whole tomatoes (in tomato juice)
1/3 cup rinsed kale
Cayenne pepper
Garam masala
Black pepper
Parsley flakes
Salt
1/4 cup almond milk, coconut milk, or any milk you want
Optional: Tortilla chip crumbles, lime juice, avocado
First, sautee the garlic, red onion, and green bell pepper over medium heat. Once the onions are caramelized, drain and add the can of chickpeas.
Open and add the can of stewed tomatoes, and crush the tomatoes in the pan with the other ingredients. Add a LITTLE bit of cayenne pepper (I'm talking just a few little shakes).
Turn the burner up to high, and let the stew boil for approximately six to eight minutes. This will allow the chickpeas to soften.
Turn the heat down to low, and add the kale so that it can wilt. Stir the milk into the stew. Add salt, black pepper, parsley flakes, and garam masala to taste. (A few shakes of each should suffice.) Stir, then remove from heat.
Top with tortilla chip shreds. Stir in lime juice and/or avocado if desired.
The garam masala is truly the secret weapon of this recipe. Make sure you have a good one on hand, because it adds great flavor!
Have you ever discovered a great recipe by accident? Let me know, and if you have any on-the-go favorites, I'd love to hear about them, too!