Creating a Cake
First Attempt at Using Fondant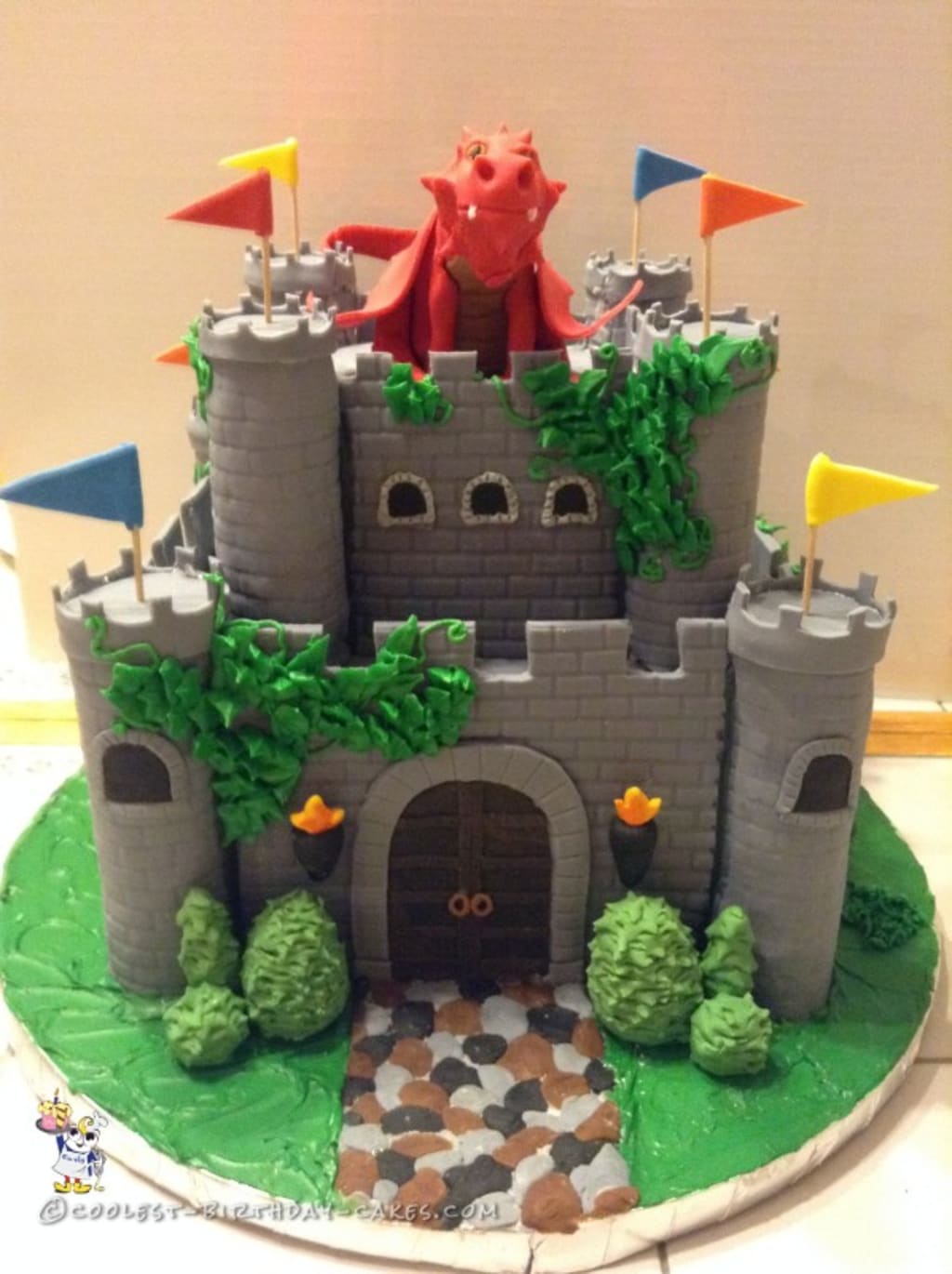 This past Sunday (December 16) was the 15th birthday of one of my daughters. She still likes to have themed parties, and this year she chose to have a fantasy theme. Now, I prefer to make their cakes myself as it adds a little extra love to their special day. So this year, going along with the fantasy theme, I decided to make her a castle cake... or attempt to anyway. But I didn't want it to be just a single flavor cake. I wanted to mix it up. To say my husband has banned me from watching anymore baking shows is an understatement LOL... anyway, here is how her cake was made...
I used a basic sponge cake recipe I found on Google, just adding fruit, nuts and flavor to it as I went along. First I made the base layer, which was to be landscape (sorry, no picture of that one). This layer I decided to make strawberry, so that my husband could have cake, too. I used two 13" by 9" cake pans and one batch of cake batter. This made the base layer thin, but stable. As I was using multiple layers of cake, each with their own flavor, I decided to make the cake a rainbow. Two layers of cake were made with one batch of mix, flavored and colored after they were split in half. The bottom layer was made with sliced and diced blackberries and the white batter was colored purple as the base of the rainbow. Then came the blue layer, which was made with blueberries that were partially chopped up. After those layers were done, I made the green layer with ground up pistachios, and the yellow layer with lemon pulp, a little lemon zest and lots of lemon juice and flavoring. The lemon layer was the biggest hit with my daughter! Next came the orange layer, which was made with orange pulp and orange juice and flavoring. Finally came the red layer, which I made with ground up pomegranate.
Of course, I couldn't just put the layers one on top of one another. And since the cake was being made 100 percent from scratch, it had to have home made icing. So Google, being the friend that it is, gave me the recipe for homemade buttercream icing, which I made several batches of to spread between each layer of cake. Once each layer was in place, I covered the whole thing with a layer of buttercream... called the crumb layer. This is where the fun really began.
Time for the Fondant and Decorations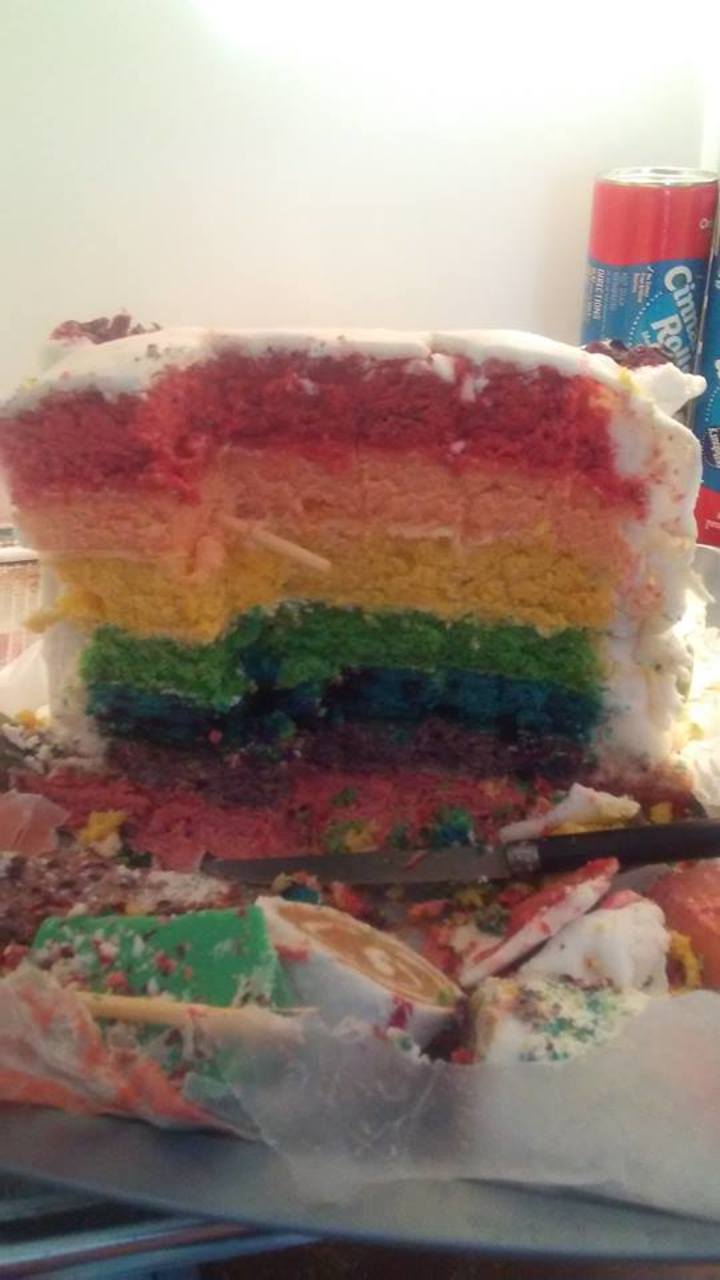 Before I could cover the cake in fondant, I had to make the fondant. Making marshmallow fondant is simple! All you have to do is measure out your mini marshmallows into a bowl, sprinkle them in a couple tablespoons of water and microwave them for a minute. Then stir, add powdered sugar a little at a time until it is no longer super sticky. Then you take it out of the bowl, place it on a surface covered with powdered sugar, and knead it like you would bread dough. Once it is smooth and no longer sticky, you can add coloring if you want or leave it white, and then roll it out or cut out shapes.
Now, with this cake being the shape of a castle, I had attempted to make the turrets out of a jelly roll style cake. However, when trying to unroll the cake to fill it, it began breaking apart. So, Plan B: Use fondant. This meant making a couple batches of fondant. Once batch to cover the cake, and another to make the turrets. And because I didn't want the turrets to be plain fondant, I turned them into jelly rolls by spreading a peanut butter, confectioners sugar mix into the center and rolling it up. After rolling out the fondant as much as I could, I covered the cake and smoothed the fondant into place. Then, with the help of a couple of chopsticks, I got the turrets put into place and smoothed the edges of the fondant into the turrets as much as I could. Once that was done, it was time to make the decorations. Since I had a small amount of fondant left, I used the candy molds I have for Christmas and formed the fondant into candy cane shapes. I also melted some chocolate, both white and milk. The milk chocolate became a Santa, some reindeer, and a ginger bread man. The white was dyed green and turned into Christmas trees that had crushed candy canes on both sides.
Once all of the candy was solidified, I placed the reindeer and Santa on top of the castle. The trees and other decorations went around the outside of the castle. The finished product did not come out quite the way I pictured it, however, my daughter was pleased with the results.
The Final Results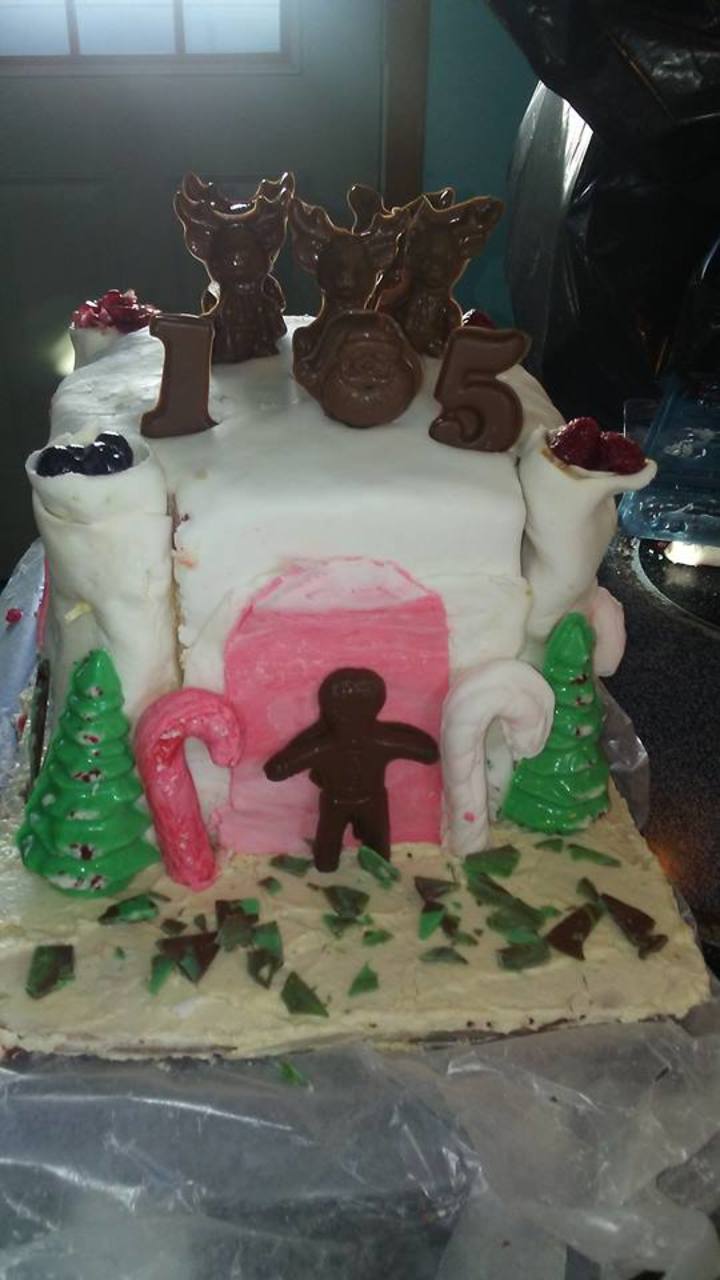 To add some final decorations, I put a little fruit in the tops of each turret. I also made some chocolate bark with bits of candy cane, broke it up, and spread it over the base layer. The whole cake took a total of a day and a half to make. However, I should have taken another day to make it so it could come out looking like an actual castle. This was my version of a Nailed It cake haha. In the end, my daughter loved her cake, appreciating the hard work I put into making it, and was happy. For me, that is all that matters!