Creamed Cauliflower Stuffed Peppers
A Versatile Dish Which Accompanies a Variety of Sides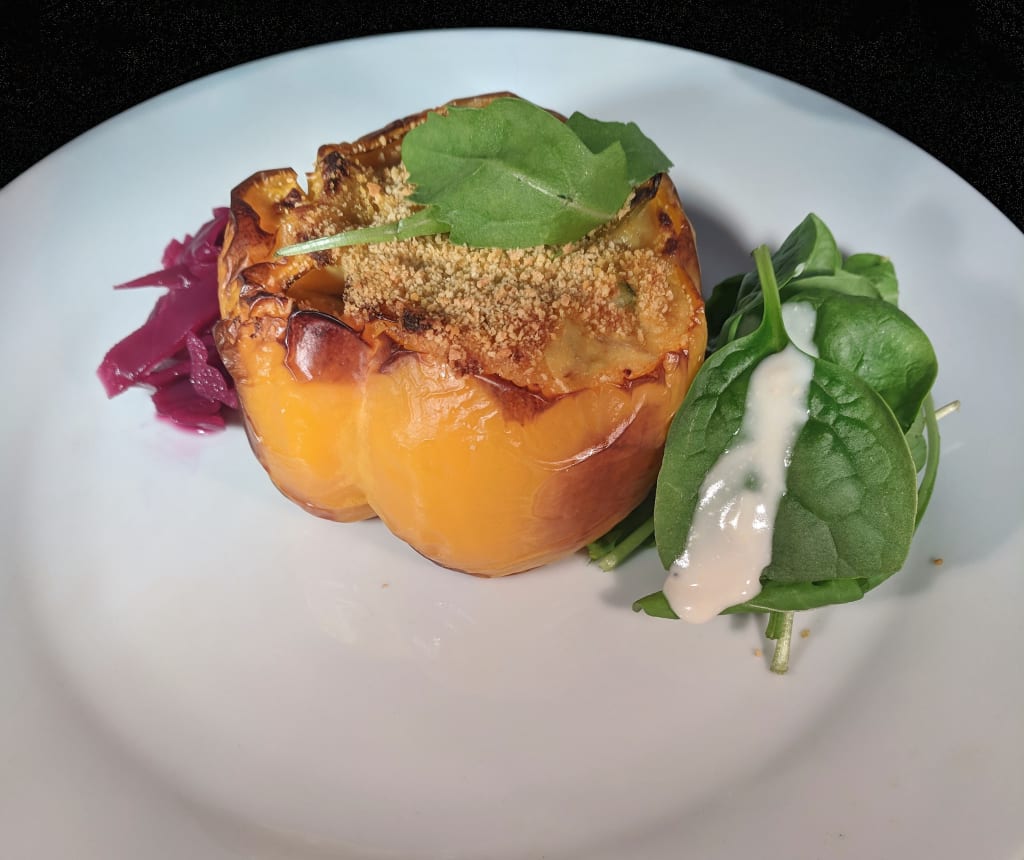 Veganism has always had one of those stigmas of flavourless, boring foods as well as loftier than thou people to match, but I would like to show, through a selection of delicious and sumptuous recipes, that isn't the case. Vegan food doesn't need to be boring and tasteless; in fact, quite the opposite.
Like many of you, I made the choice to become vegan around a year ago and immediately found that food became a much more labour intensive and expensive endeavour that, for me was something that I wasn't happy to accept.
After an exhausting search through supermarkets, online ordering, and several recipe books, I started working with recipes that I liked from a wide variety of sources, meat-based and vegetarian, then began to create simple vegan alternatives that wouldn't break the bank or require 100 different spices or obscure ingredients.
This stuffed pepper recipe is one of my go-to quick and easy meals. It's so versatile; you can add rice to create a wholesome dish and accompany with salad or fresh bread, or you can serve with herby new potatoes and seasonal vegetables. One of my favourite methods is to prepare without rice and serve on a bed of couscous with a nice, crunchy side salad of lettuce, cucumber, tomato, red onion and rocket, drizzled with a light vinaigrette.
Experiment with different combinations and find what you like, that's the beauty of a dish like this.
It's great in the summer alongside a BBQ or with some fresh corn in the autumn.
What You'll Need
2 Red or yellow bell peppers
1 Small cauliflower, cut into florets
1 Carrot, peeled and sliced
2 Cloves garlic, crushed
1 Leek, coarsely chopped
1 Onion, finely chopped
1 Courgette, diced
1 tbsp Breadcrumbs
1 tsp Paprika
1/2 tbsp Lemon juice
Salt and pepper to taste
1 heaped tbsp Nutritional yeast
1 tsp Mustard powder
1 tbsp Olive oil
1/2 tbsp Vegan butter alternative
100ml Soy or cashew milk
Rice, cooked long grain (optional)
Preheat oven to 190 degrees centigrade Start by removing the tops of your peppers just below the stem and with a spoon, scoop out the seeds and the majority of the white membrane, then set aside.
Boil the carrot and steam the cauliflower over a medium to high heat until very tender, 15-20 minutes.
In a non-stick frying pan, lightly fry the onion in the olive oil until soft, approximately 5 minutes. Add the leek and garlic and continue frying until the garlic is fragrant and the leeks are softened. Add the courgette and cook until the courgette is lightly golden. *If you are using rice, you will need to cook at this stage and set aside.*
Once everything is cooked and set aside, place the cauliflower and carrot in a food processor with a drizzle of oil, the paprika, mustard powder, nutritional yeast, butter, salt and pepper and pulse a few times, then puree. At this stage, you should have a thick, "rice pudding" like mixture.
In a bowl, combine the milk with a tablespoon of lemon juice and a few drops of oil, then add to the cauliflower mixture and blend until you have a thick puree (a few lumps are to be expected).
Combine the courgette mix (and rice if you are using it) and cauliflower puree, taste, then spoon into the peppers until almost full.
Top with a little black pepper and sprinkle over the breadcrumbs.
Bake for approximately 20 minutes or until the peppers have softened and the breadcrumbs have turned a lovely golden colour.
Serve immediately with your choice of sides.
Serves 4 as part of a main meal.
Baking times are based on an electric, fan assisted oven. Adjust accordingly to your oven specifications.
I will regularly be adding new recipes and ideas to my profile for all of you to try and enjoy and I would love to hear from you about what you thought. Get in touch with me through my social media or make a donation to show your appreciation and help me continue to create new and exciting content.
Follow me on Twitter and Instagram for up to dates news on new posts and recipes @Hansoltech
I would love to hear your thoughts on the results of the recipes, so get in touch.