"Crazy" Not To Love.
60 years of excellence.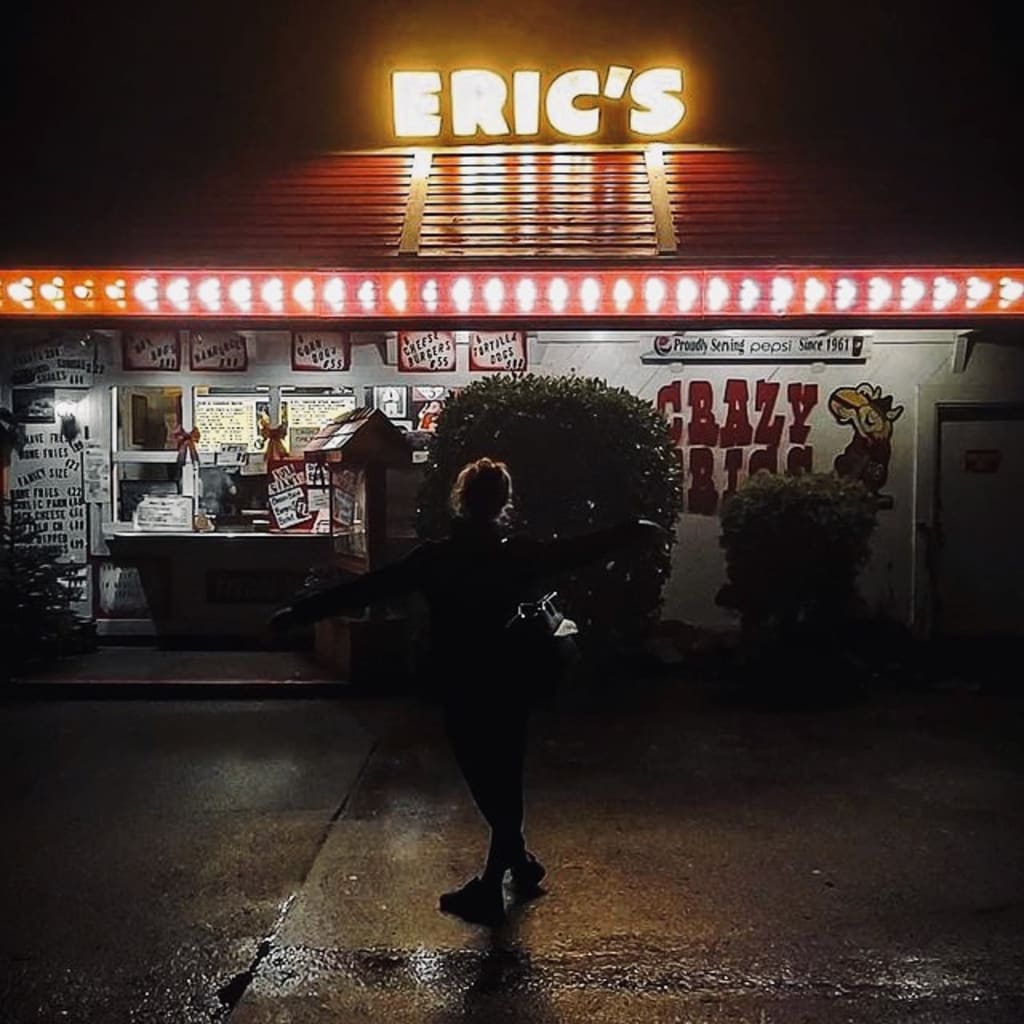 Living in Bremerton, WA you get at least six months of a rainy grey filter on your life. In spring, when the sun finally breaks through the clouds to warm your skin it is magical. All you want to do is spend time outside. The streets, and trails, are suddenly littered with people ready to take on the PNW outdoor lifestyle. People walking, riding their bikes, hanging out with their furry pals, and people eating. There are, admittedly, tons of "mom and pop" local places around town to grab a bite while you are out. Although, none like Crazy Eric's hamburgers.
When my husband and I first moved to town we were on the hunt for great local eats. Being from Las Vegas we grew up on In-N-Out Burger, we even both worked there, so we love a good hamburger. We love a good deal even more, but we love good food most of all. When we found Crazy Eric's we fell in love at first bite. They have only one location, unless the local fair is up and running, a small walk-up building on the outskirts of downtown. Their menu is affordable with enough options to keep us happy without overwhelming us. Offering a "bag of cheeseburgers", six cheeseburgers, for around six dollars. They have delicious milkshakes and hand-cut fries. They have breakfast burgers with their own secret recipe sauce. Everything is fresh and deliciously well made.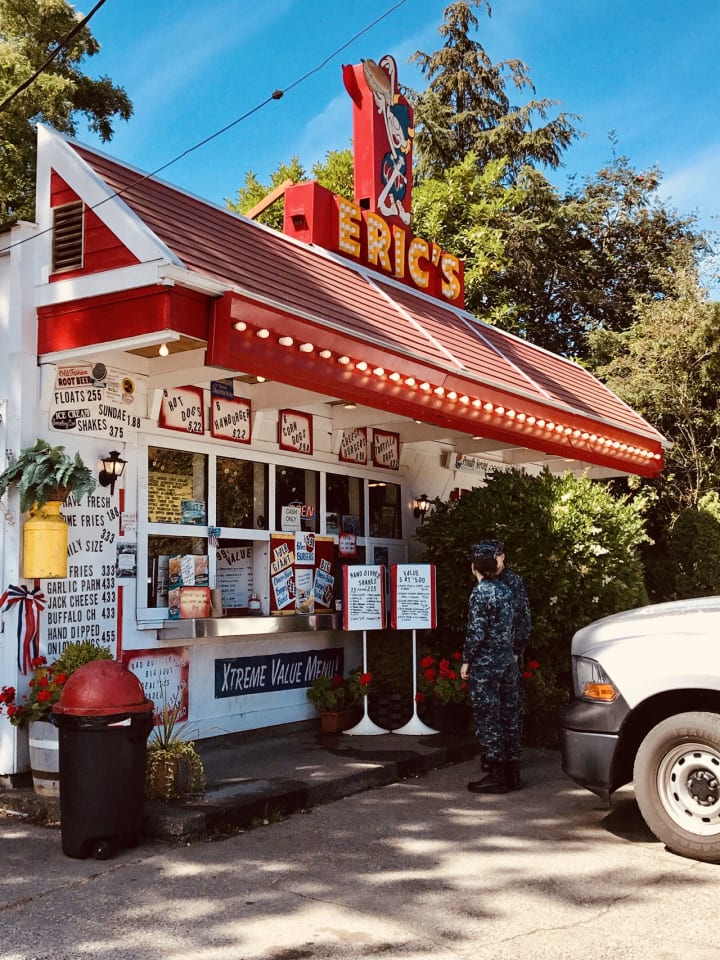 Crazy Eric's opened their hamburger shop back in 1961. It has been family-run for 60 years and counting. Darryl and Wayne Erickson started the business together, with Wayne recently retired, Darryl still runs everything with his children. They love keeping the food affordable and as homemade as they can get it. They have always had at least one location in Bremerton, WA but during the fair season they manhandle up to seven concession stands. The locals love their homemade onion rings, hand-dipped ice cream milkshakes, and friendly employees. This old-school hamburger shop is the ultimate nostalgic experience. The artwork on their building takes you back to the 1960s in the best way.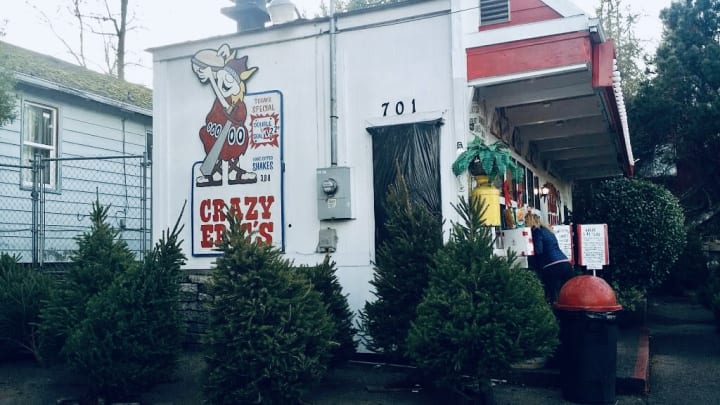 The service at Crazy Eric's is phenomenal no matter how busy they get. Their burger hut is located on a little corner at the bottom of a hill in the outskirt of downtown Bremerton. The parking is limited to up to about five or six cars at a time depending on the size of the car. I have personally experienced business where cars are parked along the edges of the hill waiting their turn. The service never feels rushed, the quality never goes down, and the orders are pushed out rather quickly. This place really knows how to bring the community together. What better way to do that than with good food that never gets old? People line up to get their fill year-round, no matter what the weather because it is just that good!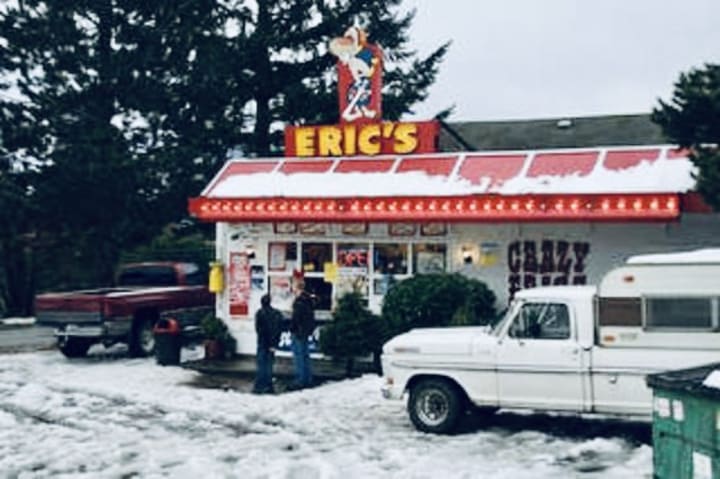 Living in a pandemic world their famous bag of cheeseburgers is the perfect option for social distance eating. Their burgers are simple ketchup, mustard, pickles, cheese, meat, and bun. Mess-free, absolutely delicious, and not to mention, again, affordable. You can stop by Eric's on your way to the park to grab a bag or just eat them in your car while you enjoy a sunset or two. Having kids, Crazy Eric's is the most convenient option for a busy summer lifestyle when time starts to slip away without you noticing. Even when we are at the fair I always find myself drifting towards their booth. Following the scent of their delicious burgers, fries, onion rings, and hot dogs.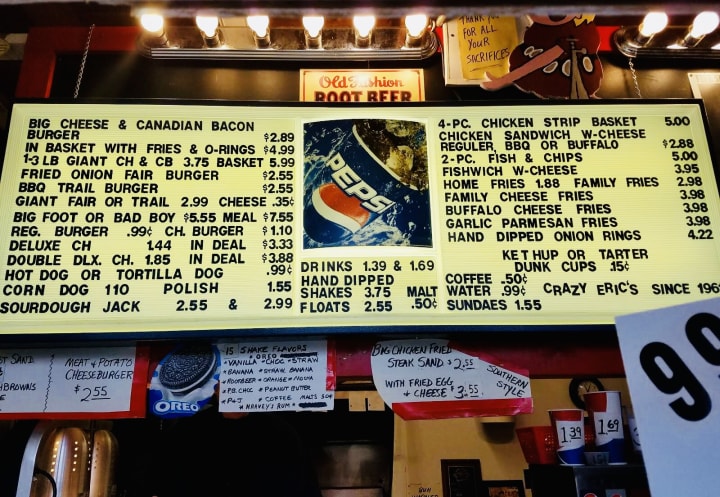 They have other options for people who like a little more extravagance on their burgers too. My favorite is their "breakfast on a bun" that comes with a fried egg, cheese, ham, and their sauce. It is cooked to perfection and not a messy eat at all. The egg does not run all down your hand when you take a bite like some places but still has the juicy flavor. Their fries are pretty good too, they are more like potato wedges really since they hand-cut their potatoes. They do not have a dicer block like some restaurants that also claim to have hand-cut fries. They actually do it all by hand with a record count of up to ten employees at a time.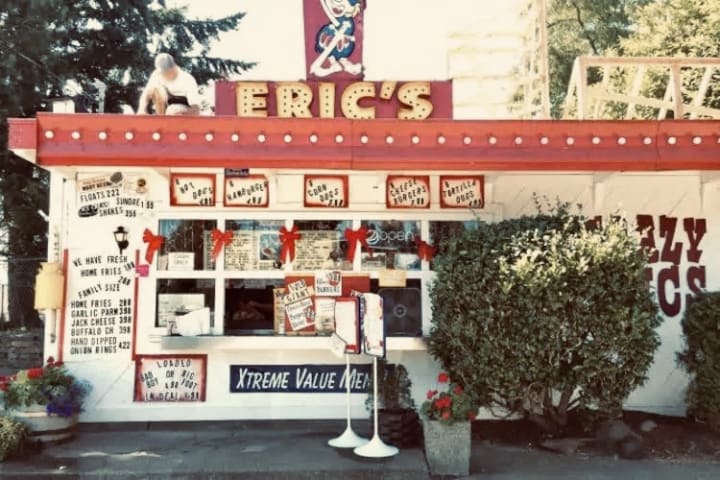 Crazy Eric's really strive for a friendly atmosphere where everyone feels like they are a part of the family. Staying in business for 60 years proves they are doing things right. I love that they have not tried to over-extend themselves by adding more locations. It is not about the profit with them. It is about offering good food at an affordable price. A lot of the time when a company tries to expand their business the quality starts to fall apart and the place starts to lose its appeal. Sticking to a close-knit family feel Crazy Eric's continue to serve the local scene with the best-most affordable "fair foods" all year long. A place we will always turn to when we need a meal on the go or something convenient. Crazy Eric's has never disappointed us and we are lucky to have found this local hamburger hut. I honestly could not even imagine my life without them. If you are ever in the Pacific Northwest, or Bremerton to be more exact, I highly recommend taking the time out of your day to stop by and grab a bite!