Cookie Dough Cake
Vanilla Cake and Frosting with Cookie Dough and Chocolate Chips!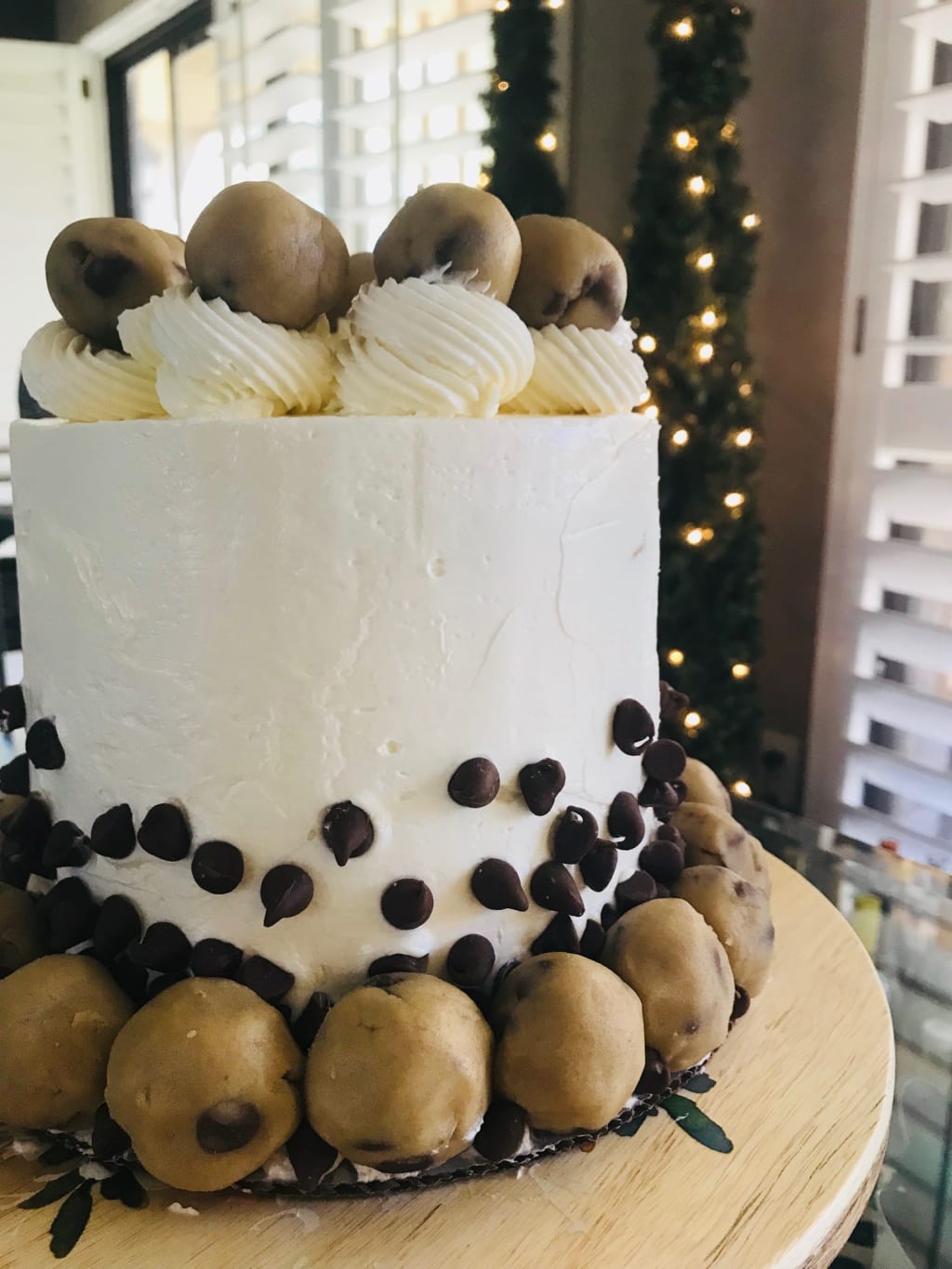 This has to be one of my favorite cakes ever! My friend asked me to make a chocolate chip cookie dough cake for her boyfriend's birthday, and I did not want to disappoint! This cake has three layers of vanilla chocolate chip cake, a thick layer of vanilla Swiss meringue buttercream frosting, and giant edible cookie dough balls! It is a lot of steps; but I promise you, you will not want to miss this.
Prep!
Edible Cookie Dough
2 cups A.P. flour
1 cup lightly packed brown sugar
1 cup unsalted butter (softened)
2 tbsp milk,
1 tsp pure vanilla extract
1/2 tsp salt
chocolate chips
Cake
3/4 cup unsalted butter (softened)
1 1/3 cups sugar
3 large eggs (room temp)
2 tsp pure vanilla extract (good quality preferably)
2 1/2 cups cake and pastry flour
1 1/2 tsp baking powder
1/2 tsp baking soda
1/4 tsp salt
1 cup buttermilk (room temp)
Frosting
8 large eggs (room temp)
600 grams sugar (superfine preferred, but not required)
800 grams unsalted butter (softened, I left mine out overnight)
-2 tsp vanilla extract
1/2 tsp salt
Baking time!
The easiest way I found to start this process is to start with the dough. While it cools in the fridge, you get the whole cake done!
Cookie Dough
Preheat oven to 350F. Spread 2 cups flour evenly on a baking sheet and bake for 5 minutes. This kills off the bacteria in the flour.
Mix flour, sugar, butter, milk, vanilla extract, and salt in a large bowl. Mix thoroughly, until dough is formed. Make sure to break butter up so there are no chunks. Don't mix in chocolate chips yet.
Form dough into ball and wrap in shrink wrap. Chill in fridge for at least 30 minutes or until you are ready to use. Once ready, divide into four sections and mix 1/4 cup chocolate chips to each serving.
Cake
Keep oven preheated to 350F.
Grease three 6-inch cake pans, line the bottom with parchment paper and flour the sides.
With electric or stand mixers, beat butter and sugar until light and fluffy, about 5 minutes.
Add 1 egg at a time, mixing well with the other ingredients after each addition. Add vanilla.
In a separate bowl, sift together dry ingredients.
Add about half the dry ingredients to the wet ingredients, mixing well. Add about half the butter milk and mix. Repeat for the next half.
Divide evenly in the 3 cake pans. I got about 250 g in each, with plenty of leftovers for cupcakes!
Bake for 25-30 minutes, or until a toothpick in the middle comes out clean.
Cool in pan for 5 minutes, then cool completely on a wire rack.
Frosting
Create a double boiler.
Over low heat, dissolve sugar into eggs. This takes about 5 minutes. Be patient with this step. If it takes longer than 5 minutes that is okay. You just want to make sure sugar is completely dissolved.
Once ready, place eggs and sugar mixture into the bowl of a stand mixer. Beat over medium speed until eggs are nice and fluffy, about 15 minutes.
Slowly add butter to eggs about 1 tbsp at a time. It may look like your frosting isn't coming together. If you keep adding the butter, I promise you, it will come together at the end!
Add vanilla and salt and stir for 2 more minutes.
Assembly
I really had fun decorating this cake! I added a thin layer of frosting between each cake layer, piped some mountains on top and placed the giant dough balls on top of those! I cascaded some chocolate chips on the bottom and topped it all off with even more cookie dough balls. This is heaven in your mouth, folks! I hope you try this and have fun with it! Try new things, and let your imagination run wild! More recipes to come. Happy baking!
recipe
Hi everyone, this is Natalie from FatNFlour. I started this blog to share my baking with anyone who is looking for great recipes, fun cake decorating, or just browsing around looking for something fun to read! Visit my instagram @fatnflour