Comforting Bowl Of Soup
Delicious soups made in European countries
Sodd
Norway
Sodd is the national dish of Norway and is prepared with diced mutton, meatballs made with beef, lamb, or mutton, carrots, and potatoes. Usually, the vegetables are cooked separatly and then added to the soup. This soup is mostly served on special and festive occasions and is accompanied by Norwegian flatbread.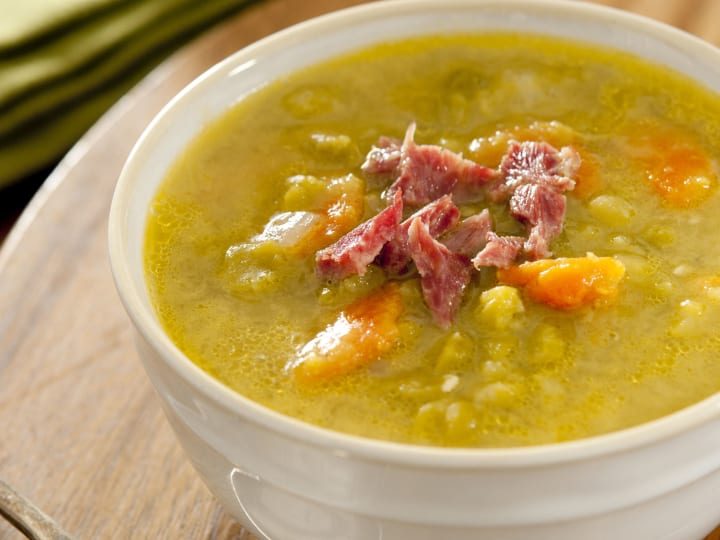 Sweden
Artsoppa is a traditional yellow pea soup that is very thick. It is prepared with yellow split peas, a meaty ham bone or smoked pork pieces, onions, garlic, and carrots and spices like marjoram, ginger, and cloves.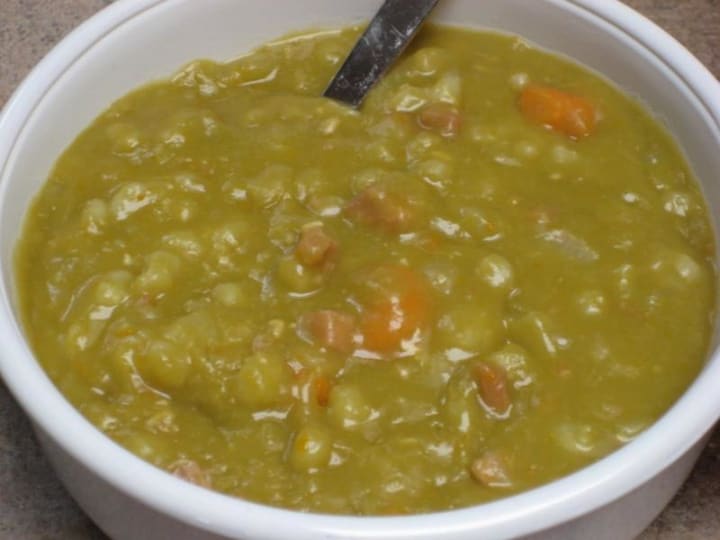 Finland
Hernekeitto is a thick Finnish split pea soup that is made with pork. It is served with a delicious pannukakku- an oven-baked pancake served with berry jam.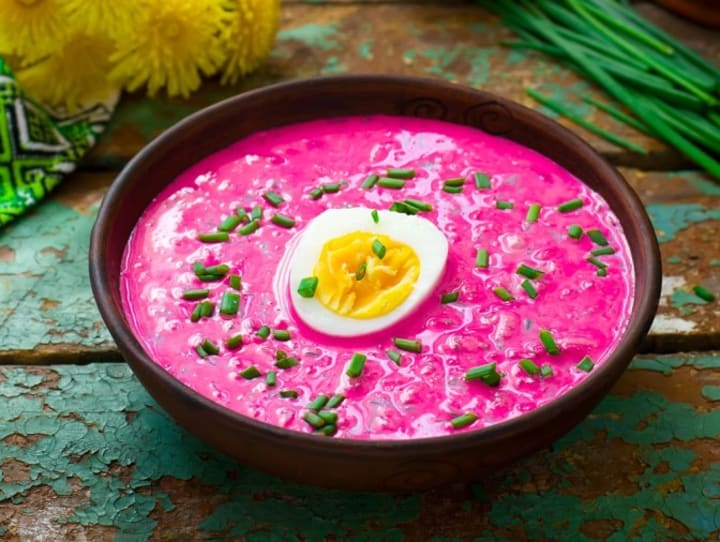 Latvia
Aukstā zupa is a refreshing cold soup with an unusual, deep pink color. It is prepared with beets, cucumbers, kefir, hard-boiled eggs, and milk sausage. All the ingredients are mixed together and put in the fridge to chill well. When served cold greens like chopped dill and scallions are placed on top of the soup and some enjoy adding a dash of vinegar. It is a great soup to have on hot summer days.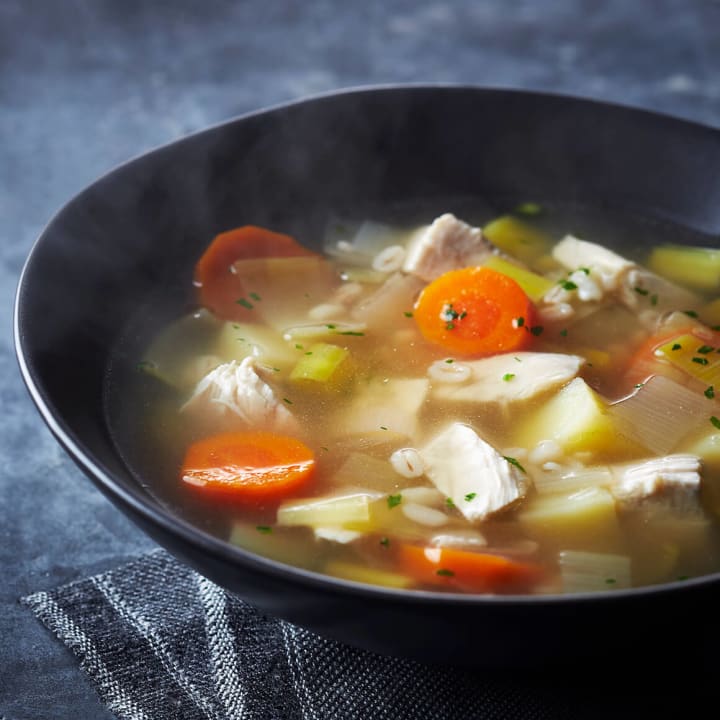 Scotland
Cock-a-Leekie is the traditional Scottish rooster and leek soup that dates back to the 16th century when there were additional ingredients added like onions, prunes, and raisins. Usually, this dish is served as a two-course meal - first the chicken broth and then the meat.
This Scottish classic was made famous for being one of the two choices of soup on the menu from the last first-class luncheon served on April 14, 1912, aboard the ill-fated RMS Titanic.
Cullen skink is a dish originating from the fishing village of Cullen in northeastern Scotland. It is a thick and creamy fish soup prepared with smoked haddock, milk, leeks, onions, and potatoes.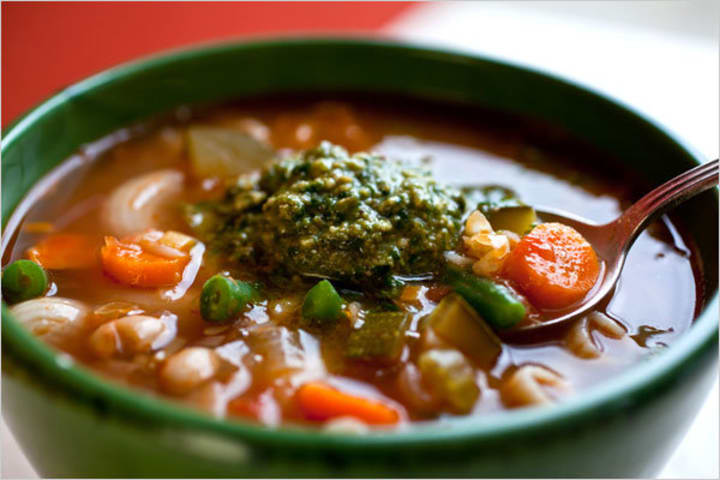 France
Soupe au pistou is a soup prepared with fresh seasonal ingredients like carrots, beans, squash, peas and long green beans. The main ingredient of the soup is the pistou, a traditional French paste made with basil, olive oil, and garlic and sometimes tomatoes and grated cheese are added. The soup can have the paste mixed into the entire pot or placed in individual bowls to swirl through the soup when served.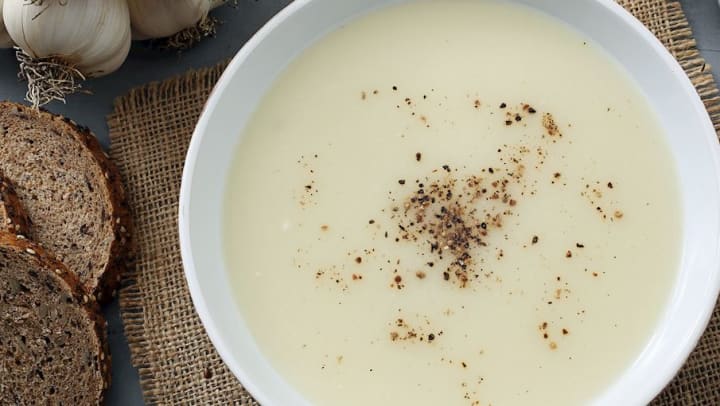 Soupe à l'ail is a creamy garlic soup prepared with chicken stock, garlic, onions, potatoes, olive oil, butter, half and half, and salt and white pepper. It is usually served with poached eggs and slices of baguette browned in olive oil.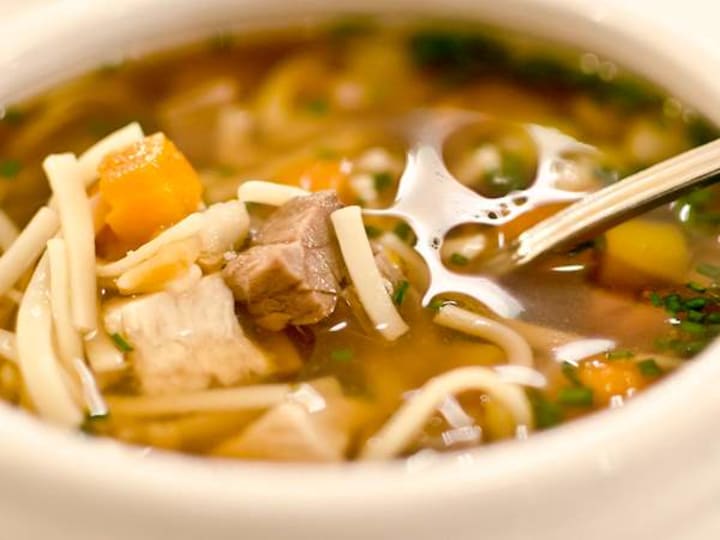 Austria
Rindsuppe is a popular clear soup that is made by boiling beef bones for a long time to make a broth. The meat is cooked separatly in large pieces then sliced and cubed. Vegetables cooked with the meat are carrots, parsley, celery, and leeks.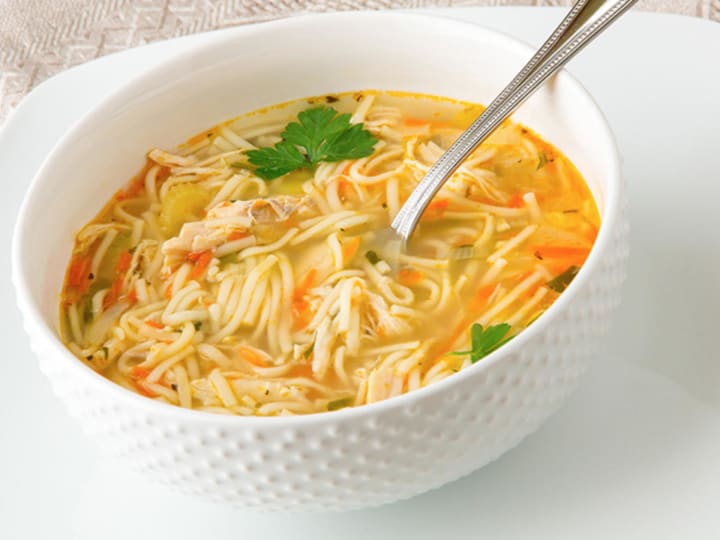 Germany
Nudelsuppe is a noodle soup that consists of noodles in a clear broth. The soup is made with chicken or beef broth, carrots, parsnips, leeks, celery, onions, and turnips. The noodles are prepared separately with faddennudein the most common noodles used. The noodles are added to the soup just before serving.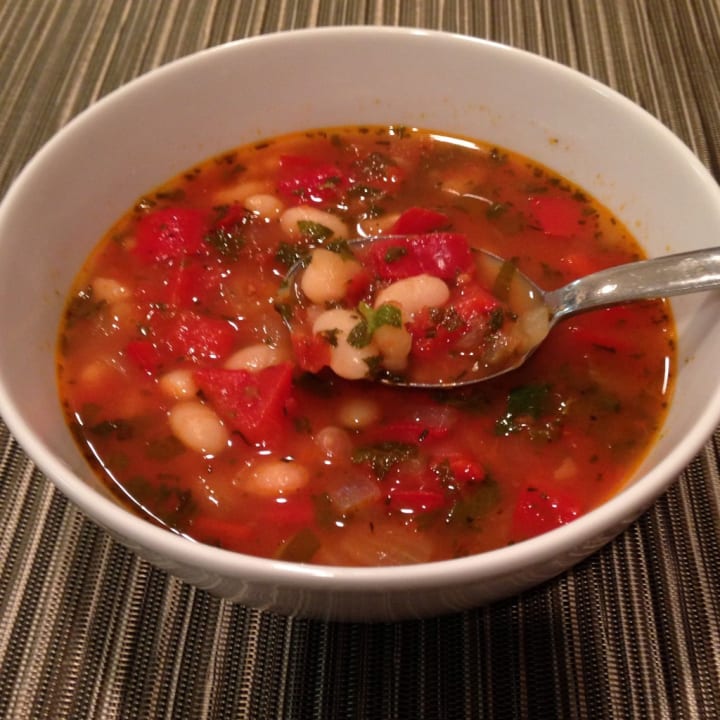 Bulgaria
Bob chorba is a soup made with white and kidney beans, onions, peppers, tomatoes, carrots, and mint. Other ingredients used include bell peppers, paprika, potatoes, and meat. A vegetarian version is called bob chorba po manastirski and was prepared in monasteries in Bulgaria. The soup is one of the national dishes and its vegetarian version is traditionally served on Christmas Eve.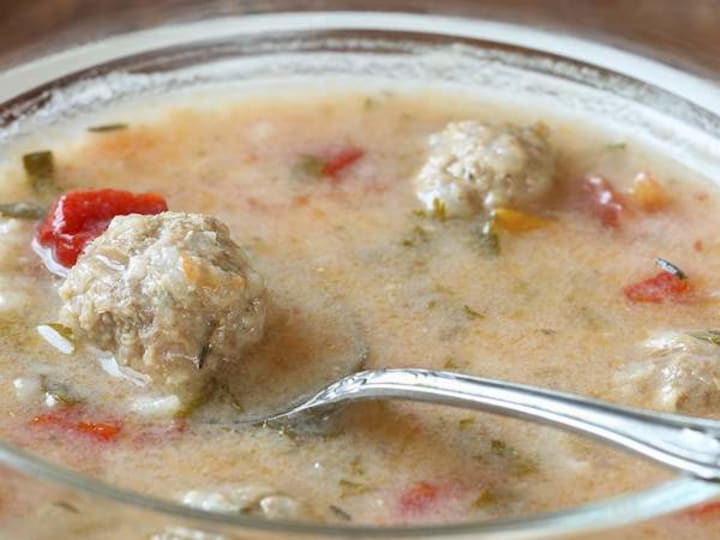 Supa topcheta is a soup prepared with beef or pork meatballs in a flavorful broth alongside vegetables. The meatballs are prepared with rice, onions, and a variety of spices. The broth is thickened with eggs or yogurts and seasoned with lemon juice. It is garnished with parsley and served with bread. Traditionally it is associated with Christmastime.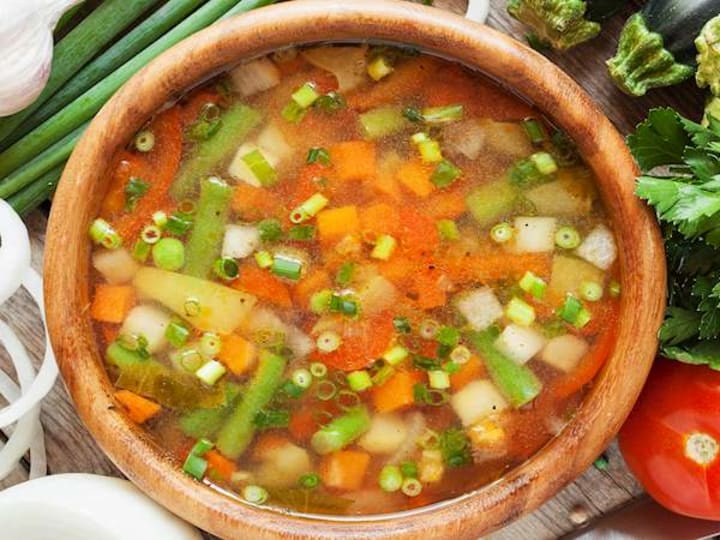 Hungary
Zöldségleves is a vegetable soup that is prepared with carrots, onions, peas, long beans, cauliflower, and peppers. It often includes dumplings or different kinds of pasta and can be served as an appetizer or a light main course.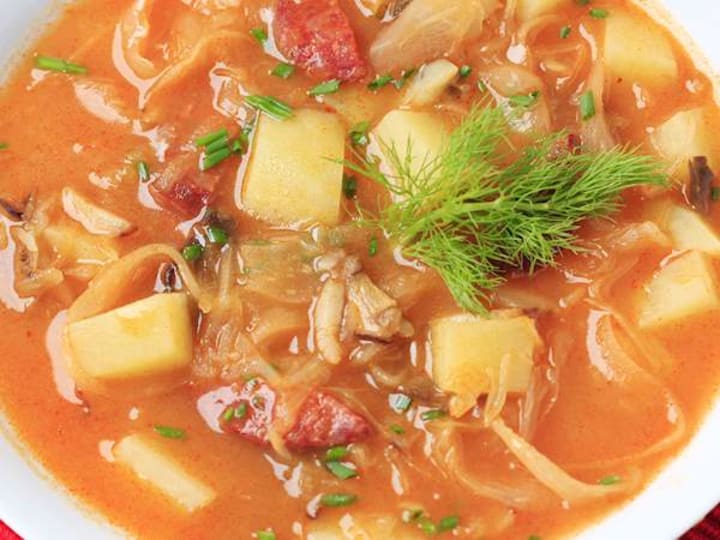 Czech Republic
Zelňačka is a traditional sauerkraut soup. The soup is usually prepared with sauerkraut, potatoes, cream, and traditional Czech smoked meat. The soup is spiced up with caraway seeds and smoked paprika. It is usually served with homemade bread.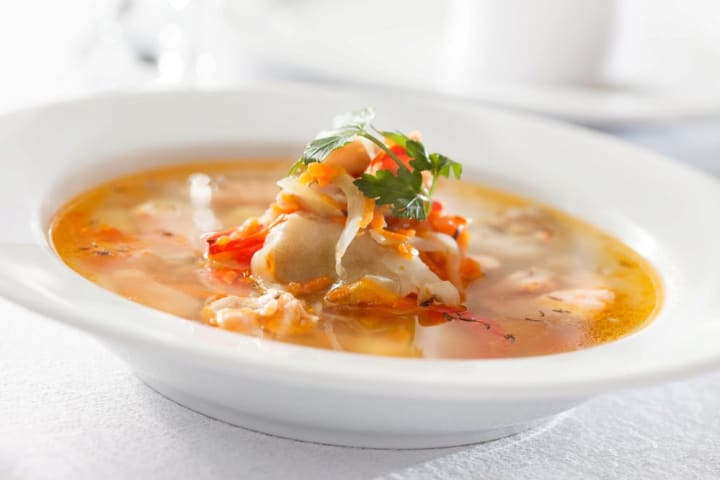 Rybí polévka is a traditional fish soup usually enjoyed on Christmas Eve. It is made with carp, various root vegetables, and spices. Some versions include white wine, cream, or fish roe. The hearty soup is cooked with carp's head, bones, and innards. The body of the fish is fried and enjoyed as the main course. It is usually served hot with fresh parsley.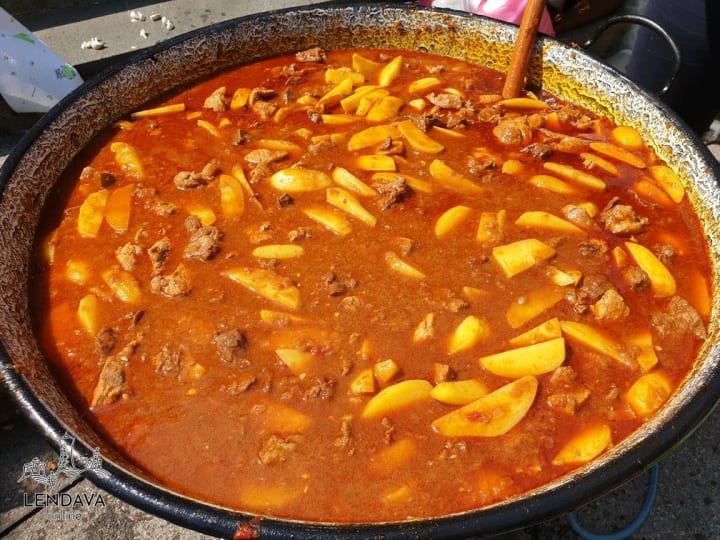 Slovenia
Bograc is a meat stew that is prepared with four types of meat - traditionally pork, beef, venison and boar simmered with potatoes, onions, spices, wine, and mushrooms. The name of the stew translates to a traditional cauldron in which it was prepared and some even prepare it in cauldrons today.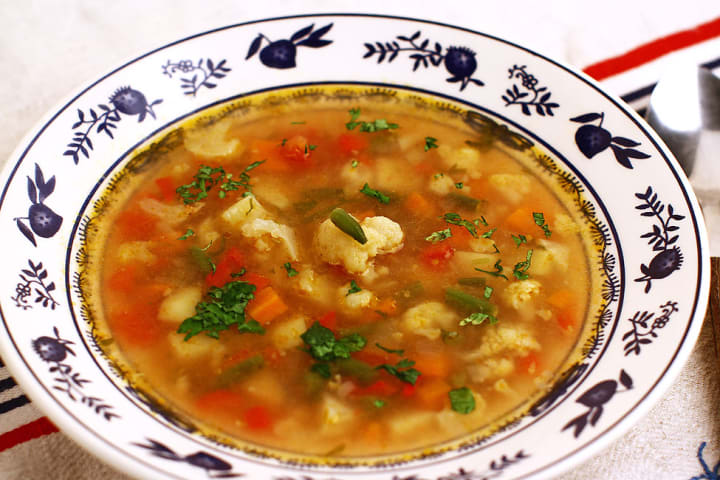 Romania
Ciorba de legume is a sour soup that is prepared with vegetables like green or dry beans, peas, onions, carrots, potatoes, tomatoes, and bors which is wheat or barley bran fermented in water. The soup is seasoned with salt, bay leaves, ground pepper, and the bors. Depending on what season it was zucchinis, kohlrabis, bell peppers, or cabbage could be added also noodles and sour cream could be added. The soup can be enjoyed hot or cold.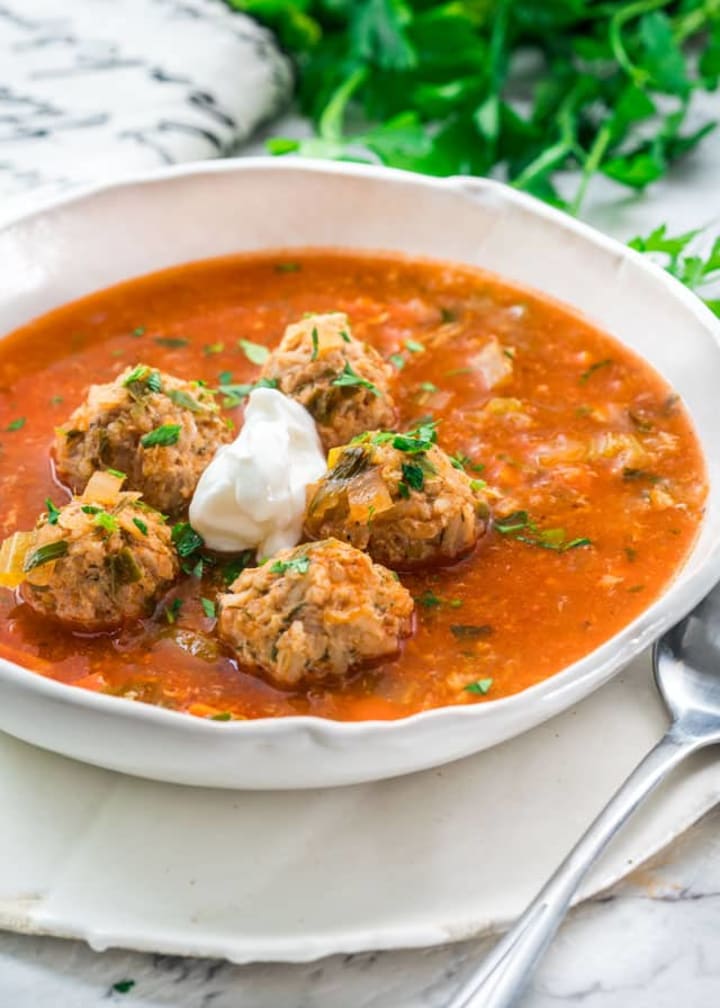 Ciorbă de perişoare is a sour soup with meatballs made with pork and rice. The meatballs are boiled with onions, carrots, red peppers, and celery roots. For seasoning parsley, lovage, salt, bors, and sour cream are added.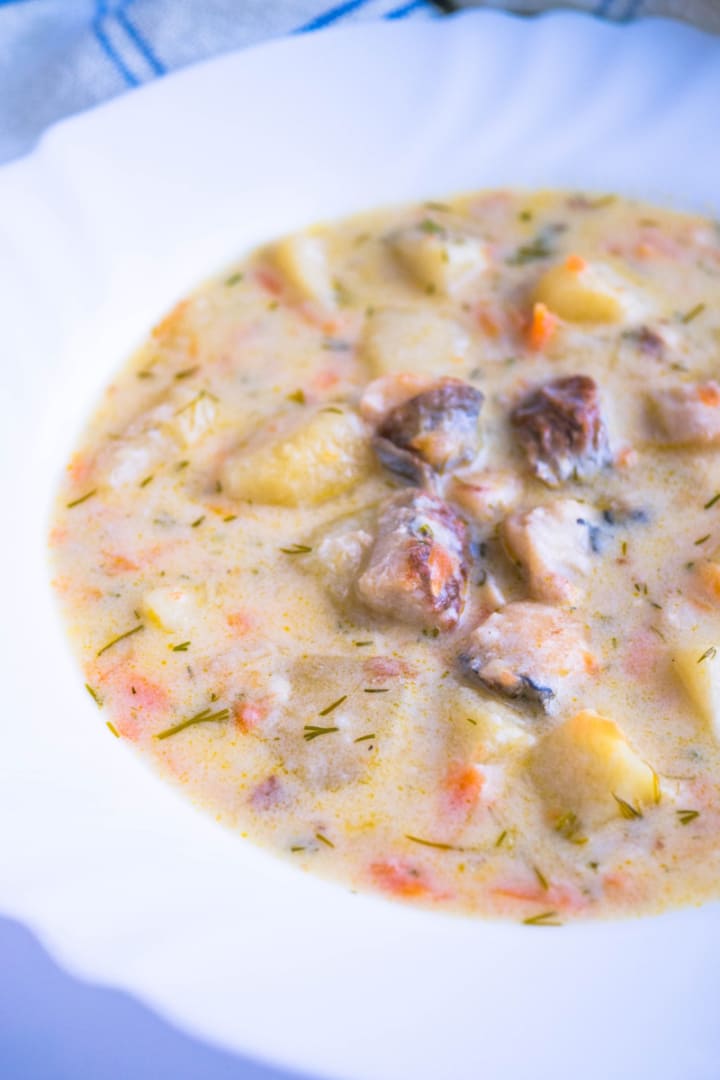 Poland
Zupa rybna is a fish soup prepared with fish fillets, vegetables, and different spices and herbs. It is a hearty soup usually made for Christmas Eve and traditionally prepared with carp.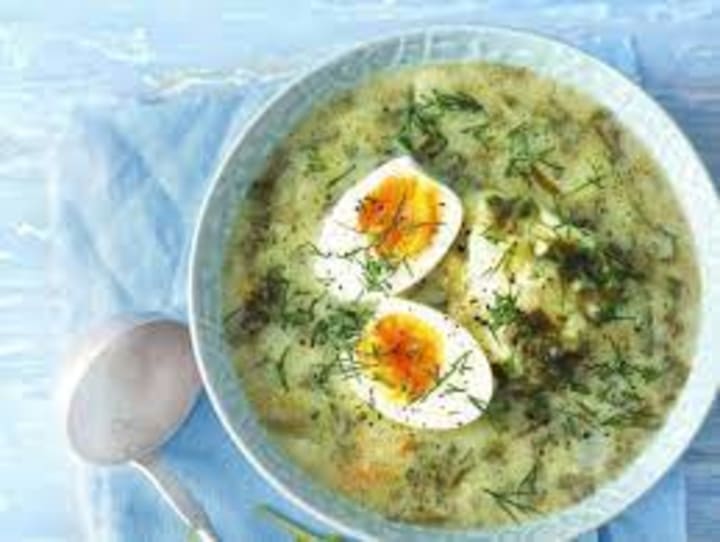 Zupa szczawiowa is a tasty sorrel soup that is made with fresh sorrel cooked with meat or vegetables and thickened with egg yolks, flour or sour cream. It is a hearty summer soup that can be served with sliced hard-boiled eggs.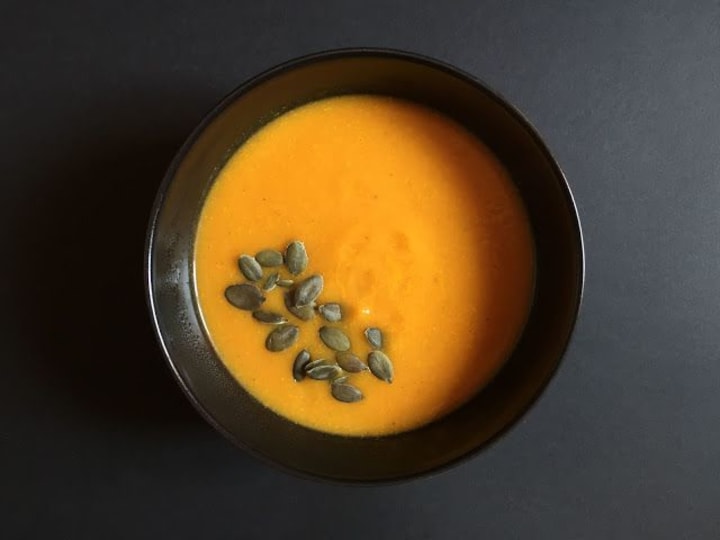 Italy
Vellutata di zucca is a classic Italian pumpkin soup. it is made with peeled and chopped pumpkin, potatoes, vegetable stock and olive oil. The ingredients are cooked until tender and then pureed. The soup can be enriched with some cream and it's seasoned with salt and pepper. It is eaten accompanied by toasted bread.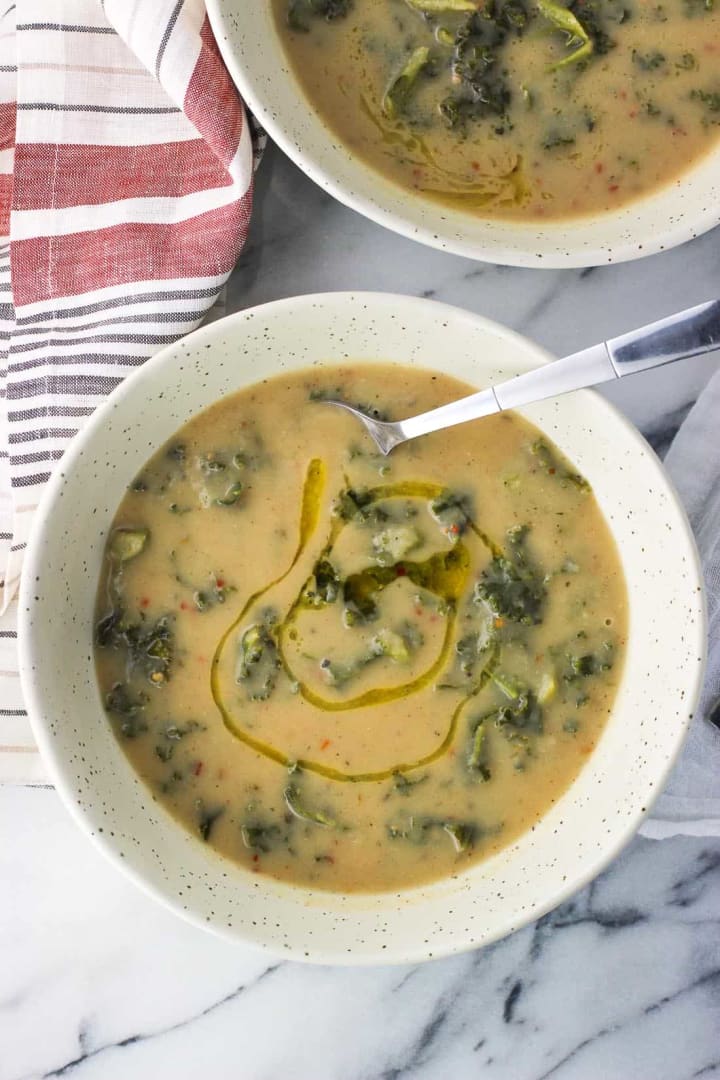 Zuppa di patate is a traditional potato soup. It is prepared with potatoes cut into strips, onions, bread slices, broth, olive oil, thyme, seasonings, grated cheese, butter, and nutmeg. Onions are browned in olive oil and added to the potatoes. The broth is poured over them and simmered for about 15 minutes. The soup is usually served with buttered bread slices with grated cheese and baked in the oven.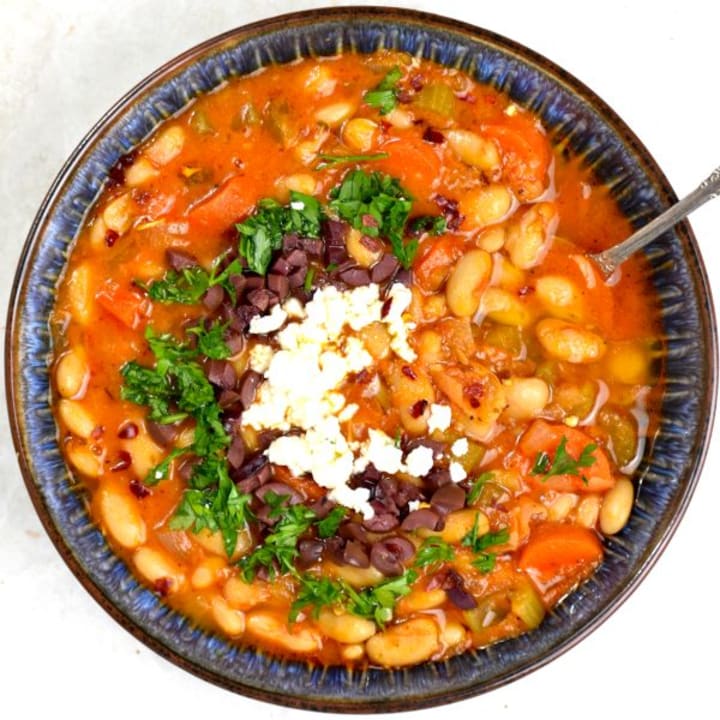 Greece
Fasolada is a traditional soup prepared with dried white beans drizzled with olive oil and eaten with vegetables and herbs like onions, barley, celery, and tomatoes.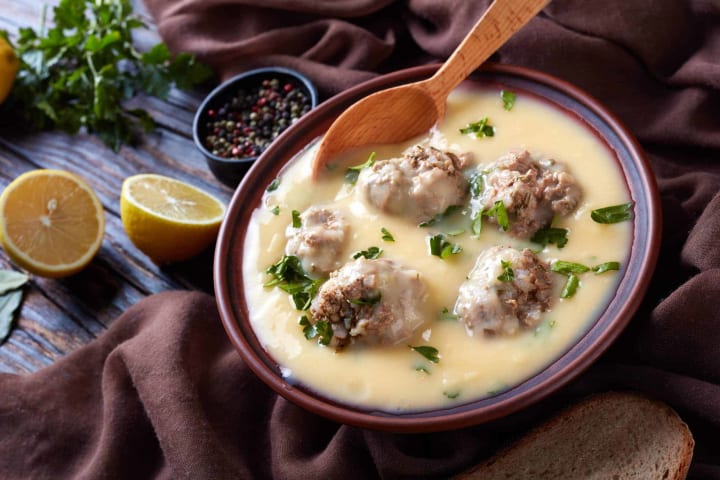 Youvarlakia is a hearty soup made with beef meatballs in a creamy, flavorful broth. The soup is completed with avgolemono a creamy egg and lemon sauce to thicken the broth.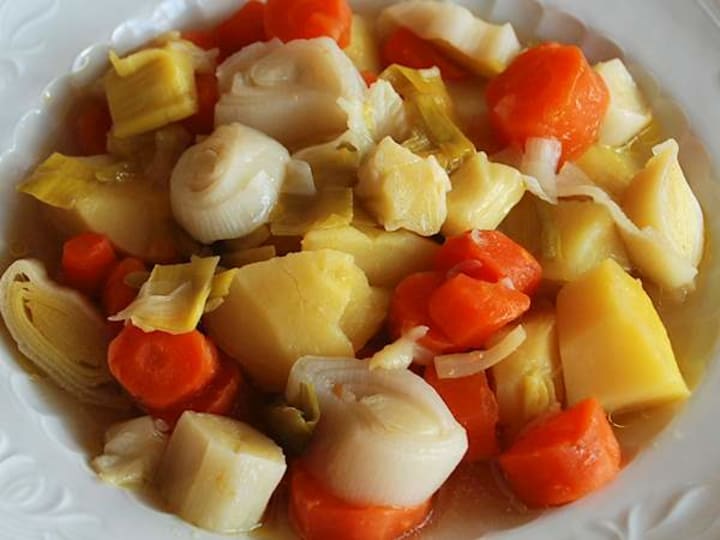 Spain
Porrusalda is a traditional Basque soup prepared with vegetables like carrots, potatoes, leeks, and onions. It is flavored with garlic and salt. To enhance flavors dried salt cod can be added.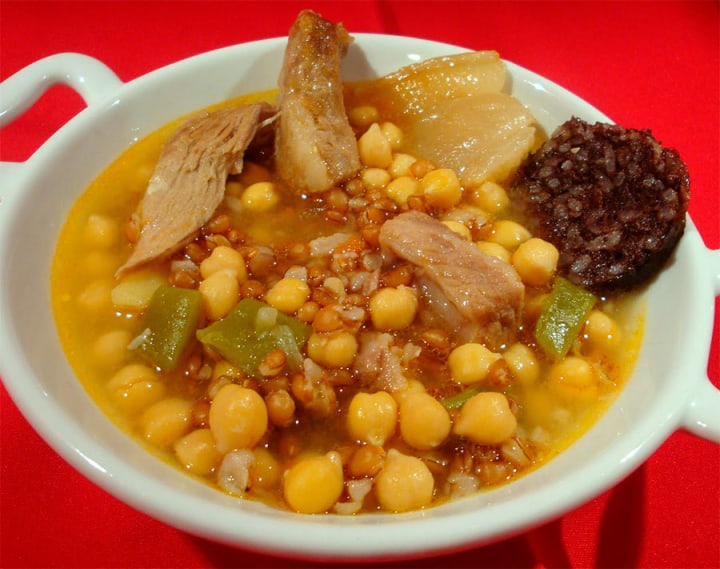 Olla de trigo is a traditional Spanish soup that is prepared with chickpeas, whole wheat, bacon, chorizo, morcilla, pimentos, hot chilli peppers, fennel and a slice of bread fried in olive oil. The chilli peppers, pimento, and fried bread are pounded with a pestle and added to the pot. When served some people like to add a bit of vinegar.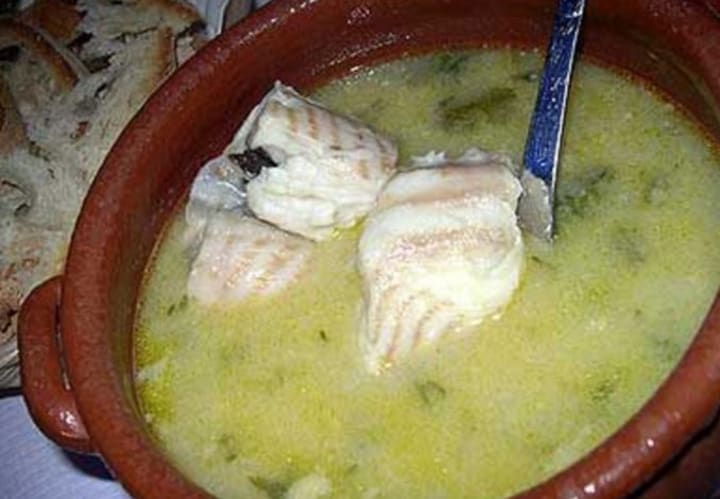 Portugal
Sopa de cacao is a soup prepared with slices of dogfish shark cooked in a broth infused with garlic and coriander. The soup is served over sliced bread and can be thickened with four and seasoned with bay leaves, ground paprika, and vinegar.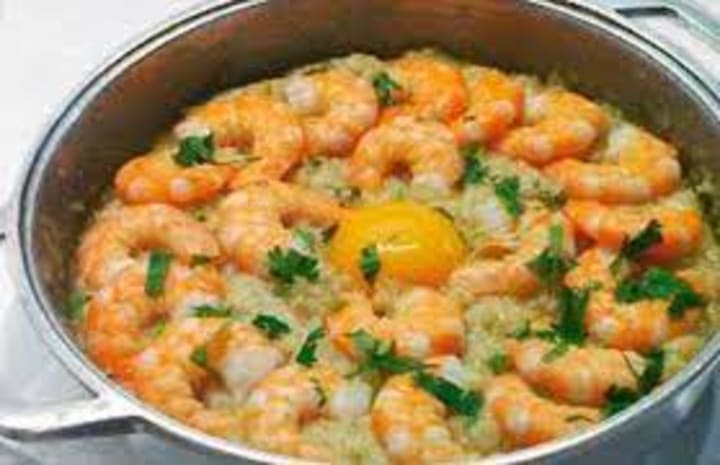 Açorda de camarão is a traditional shellfish bread soup prepared with shrimp. The seafood broth is made with bread, sauteed onions, cooked shrimp and olive oil made into a creamy mash thickened with egg and seasoned with cilantro.
cuisine
About the author
My passions are writing and creating poetry. I write for several sites online and have four themed blogs.
Reader insights
Be the first to share your insights about this piece.
Add your insights