Come and Experience Jewish Culture with Me!
The Jewish foods that were made and enjoyed during my childhood. These foods are still enjoyed in my adulthood, believe it or not!!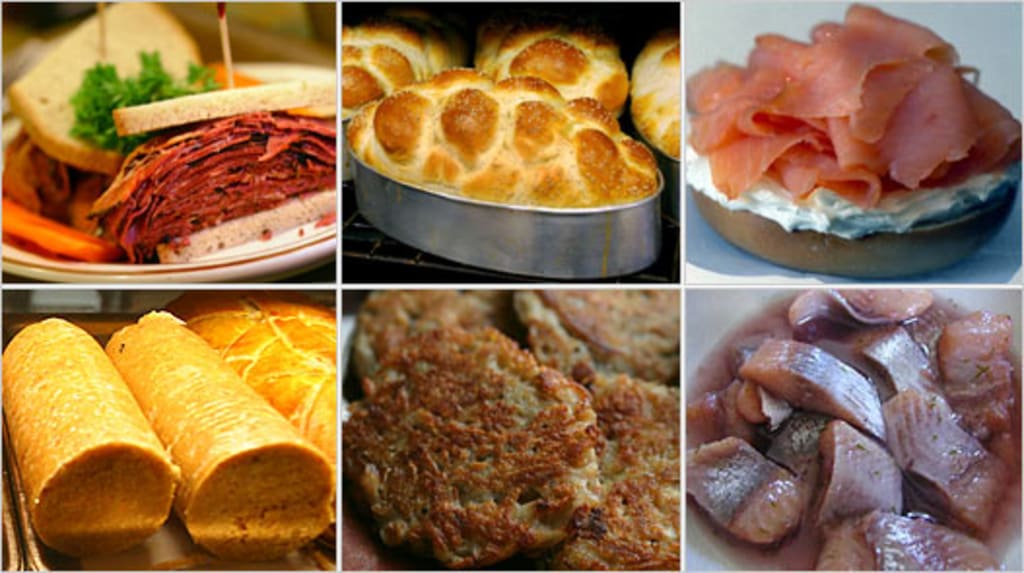 Left to right: Corned Beef Sandwich, Challah, Bagels with Lox and Cream Cheese, Kishka, Potato Latkes and Herring
When I was growing up, my family treasured the traditional Jewish culture. My dad is a religious worker at our local synagogue and my mom is an operations manager at a first aid warehouse. Despite the differences in their occupations, my family still cherishes the Jewish cuisine and would eat the food at any time of the year, even if it wasn't a special occasion or Shabbat. During my youth, I would spend Shabbat evenings and days at my dad's house and he would always make or purchase Jewish dishes like Cholent (a beef and beans stew with potatoes and vegetables), Potato Kugel (a potato casserole), Herring (which I abhor), Blintzes (Stuffed Pancakes), Bagels with Lox and Cream Cheese, Vegetable Latkes (Fried Vegetable Fritters) and Kasha with Fried Onions and Noodles (aka Buckwheat with Fried Onions and Noodles) for my brother, our friends, family and myself to feast on. My dad always bought Challah (braided egg bread) from the Kosher bakery or local supermarket: he never baked Challah. Occasionally, my mom would make potato, zucchini and carrot latkes for Hanukkah parties and has concocted the occasional pot of Cholent for when hosted casual gatherings with friends and family at her house.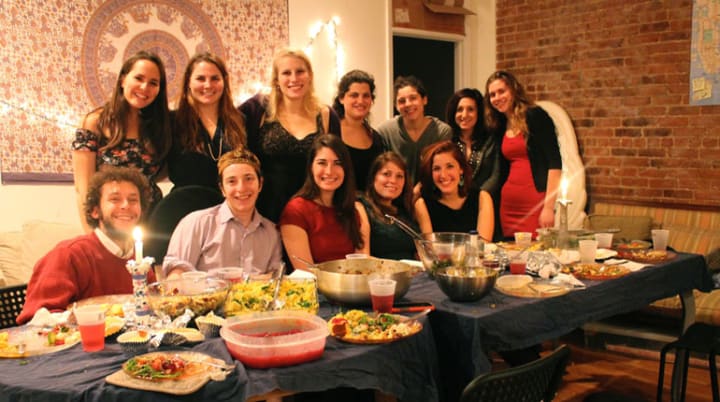 I have my favourite dishes that I consume during my adulthood. There are also dishes that I enjoy but would not consider my favourite, for whatever reason: the smell or just the bland taste. My top five favourite dishes would have to be Potato Kugel, Blintzes, Kasha with Fried Onions and Noodles, Bagels with Lox and Cream Cheese, Challah and of course Vegetable Latkes. Potato, carrot and zucchini latkes are delicious and made in the comforts of my home. I can also hunt for them at the local grocery store and just pop them in the microwave or oven! I am a huge pancake lover, so Blintzes are on the top of my list of favourite Jewish dishes. Blintzes can be stuffed with many scrumptious fillings such as mushrooms/onions, sweetened cottage cheese, strawberry preserves, blueberry preserves, stir-fried vegetables, various kinds of meat, raisins, poppyseed and assorted fruit preserves and I can still purchase a few from the local Russian deli shoppes that I often visit. My dad used to buy a package of Kasha with Fried Onions and Noodles before he married my stepmother, whose mother whips us an awesome batch of Kasha with Fried Onions and Noodles and would bring it for Shabbat dinner. Whenever I would request it, my stepmothers mother would not hesitate to whip up a nice batch for me to put in my freezer for whenever I would want to have some for lunch or dinner. Even if some of the Jewish dishes are complicated to make in the comfort of my home (which I want to learn to get better at), there are multiple ways for me to enjoy Jewish cuisine as an adult.
Let me send you a recipe of one of my favourite dishes to enjoy with your family, friends or on your own! You can also purchase frozen or premade blintzes from the bakery or local supermarket.
Cheese Blintzes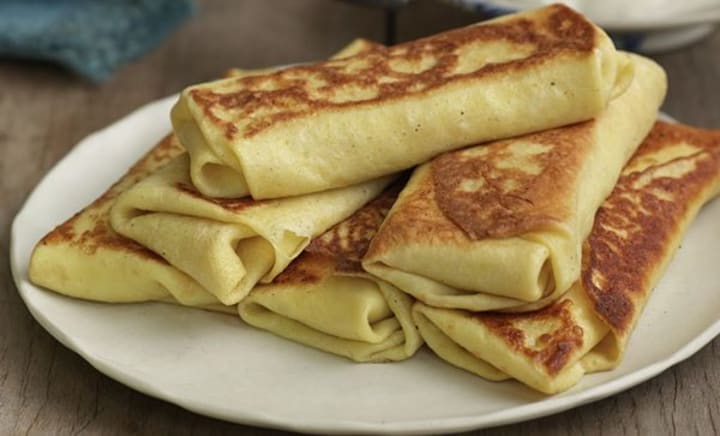 Pancake Ingredients
4 large eggs
1 cup of any kind of flour (this specific recipe calls for traditional white flour)
1/3 cup of sugar or natural sweetener (i.e. Stevia, Xylitol, Truvia)
3/4 cup of regular milk or non-dairy milk
Pinch of kosher salt
Nonstick cooking oil spray
Vegetable oil with a high smoke point for frying
Filling Ingredients
1 cup of lowfat ricotta cheese
8 oz of cream cheese (1 package)
1/4 cup of sugar or natural sweetener (i.e. Stevia, Truvia)
1 large egg yolk
2 tsp of fresh lemon juice
1 tsp of vanilla extract
Pinch of kosher salt
Directions
1. The night before: Place the cheese from the filling ingredients into a strainer lined with a cloth placed on top of the bowl. Let the ricotta cheese drain overnight in the fridge, to remove extra liquid. This step is not required, but it will help thicken the filling to prevent it from being goopy and too soft in the center.
2. Combine all of the crepe ingredients in a food processor, blender or immersion blender. You can also use an electric hand mixer. The consistency of the batter should be smooth without any lumps. If it is easier, you can use a fork to mix in the ingredients until the batter is smooth. Remember to get rid of all the lumps.
3. Warm up a nonstick skillet on medium heat until hot. Once you notice a drop of water sizzling on the surface of the pan, that is a signal that the skiller is ready to use. If the water jumps out of the pan or pops, the skillet is too hot- let it cool for a bit before beginning. If the water is sizzling, it is at the right temperature. Grease the entire surface of the hot pan with a generous amount of nonstick cooking oil spray (keep the spray away from the gas stovetop flame).
4. Pour the crepe batter by 1/3 cupfuls into the pan, then tilt the pan in a circular motion until the batter covers the whole bottom of the pan in a large, thin circular shape.
5. Let each crepe cook for about 60-75 seconds until the edges are light brown and the bottom of the blintz is golden. If you can touch the center of the crepes surface, that is a signal that the pancake is ready to be prepared and eaten. Avoid flipping the pancake to cook on the other side. In lieu of filliping, use a spatula to transfer the blintz onto a plate.
6. Separate each pancake using parchment paper, wax paper or paper towels. This will prevent them from sticking together.
7. Once all of the pancakes are cooked, make your cheese filling. Incorporate all of the filling ingredients into a mixing bowl, then use a fork to mix them well. The consistency should be smooth but a bit lumpy.
8. Once the filling is made, you can now move onto the fun part: folding!!!
Here are some pictures to help you fold the pancakes better! These are just a few of the crepe folding methods for you to choose!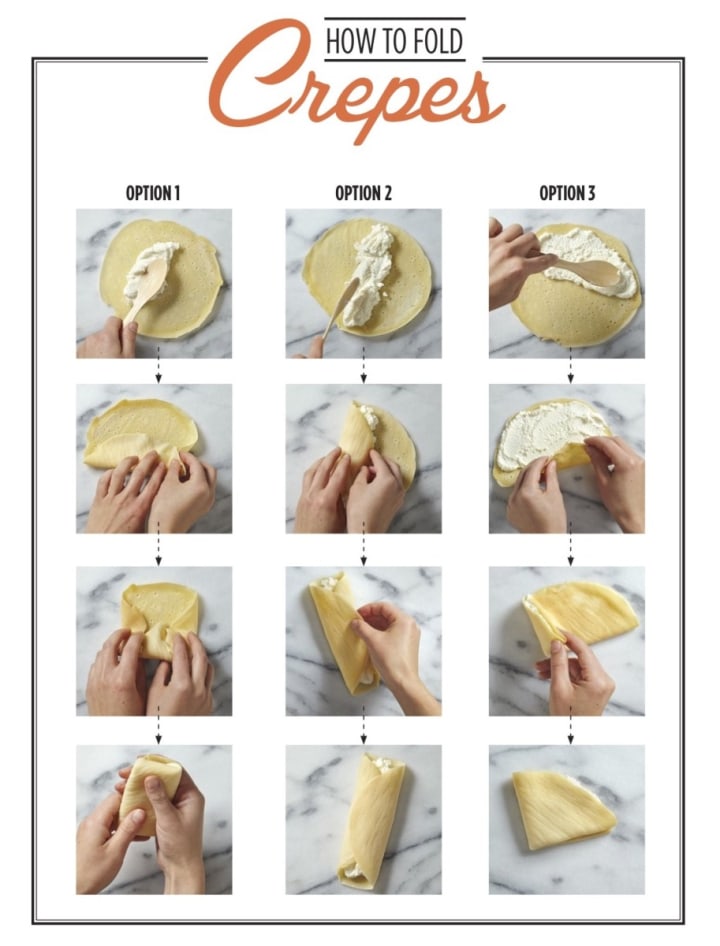 Once the crepes are all rolled, dress it up with whatever you desire! Common ways to dress up these blintzes are: any kind of fruit preserves, syrup, sour cream and maple syrup. By all means, use your favourite chocolate syrup, melted peanut butter, strawberry syrup or eat them plain! Blintzes are good with any kind of syrup and will make a great breakfast, lunch, snack or even dessert!
Other kinds of foods like Latkes, Cholent, Challah Bread and Kasha with Fried Onions and Noodles can be eaten at any time of the year, not just during celebrations. Even if you are not Jewish, I encourage all of you to make these foods for your friends, families, colleagues and yourselves to eat. Whether you are having a family picnic, a staff luncheon, a quiet meal by yourselves at home, a casual gathering with friends, a games night or a family meal, these classic foods will be great choices to add to the menu! These dishes are extremely scrumptious and decadent! There are endless restaurants and cafes that offer Jewish cuisine, so please take a look at these few Jewish eateries and take-out places in North America that I really enjoyed throughout the years!
1. Centre Street Deli in Canada, Vaughan, Ontario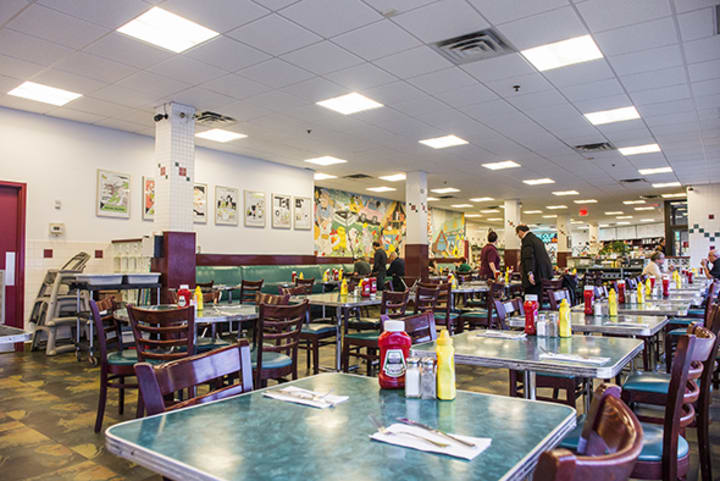 2. The Chicken Nest in Canada, Toronto, Ontario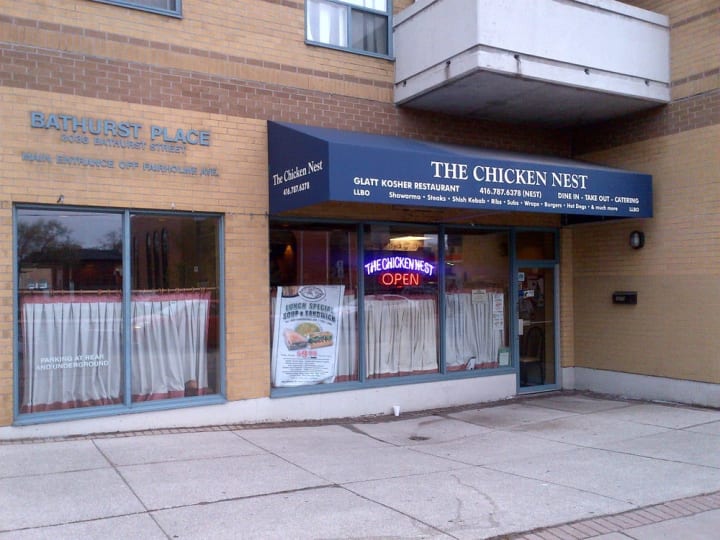 3. 2nd Avenue Deli in New York City, New York, USA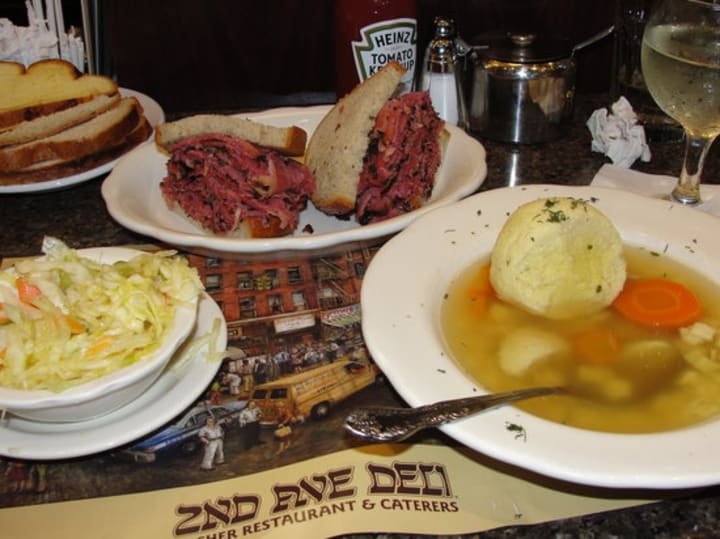 4. Yummy Market in Canada, Vaughan, Ontario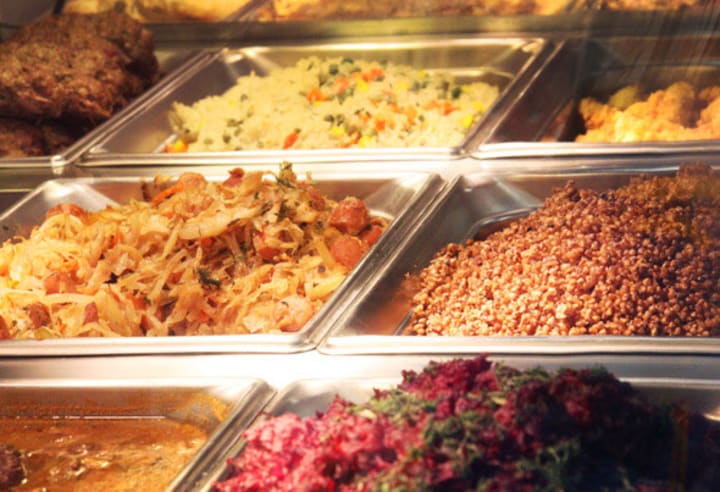 5. International Delicatessen Foods in Canada, Vaughan, Ontario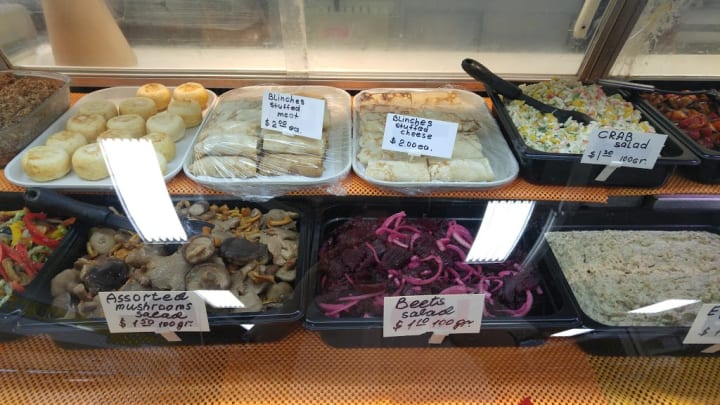 I really hope you enjoyed this blog about Jewish cuisine, as I also had a fun time writing this blog! This opportunity to write about some of my favourite Jewish foods brought me back to my childhood, which is what I necessitate at this point of my life. I encourage all of my friends on Vocal to read this blog, like, send me a tip and share it with your friends and family. Feel free to follow me under the Instagram name of naturalbibliophile22 to be in the loop for upcoming blogs, just to connect or do both! Cheers and have a great week!