Cold Cucumbers beat the Summer Heat
Summertime yumms!!!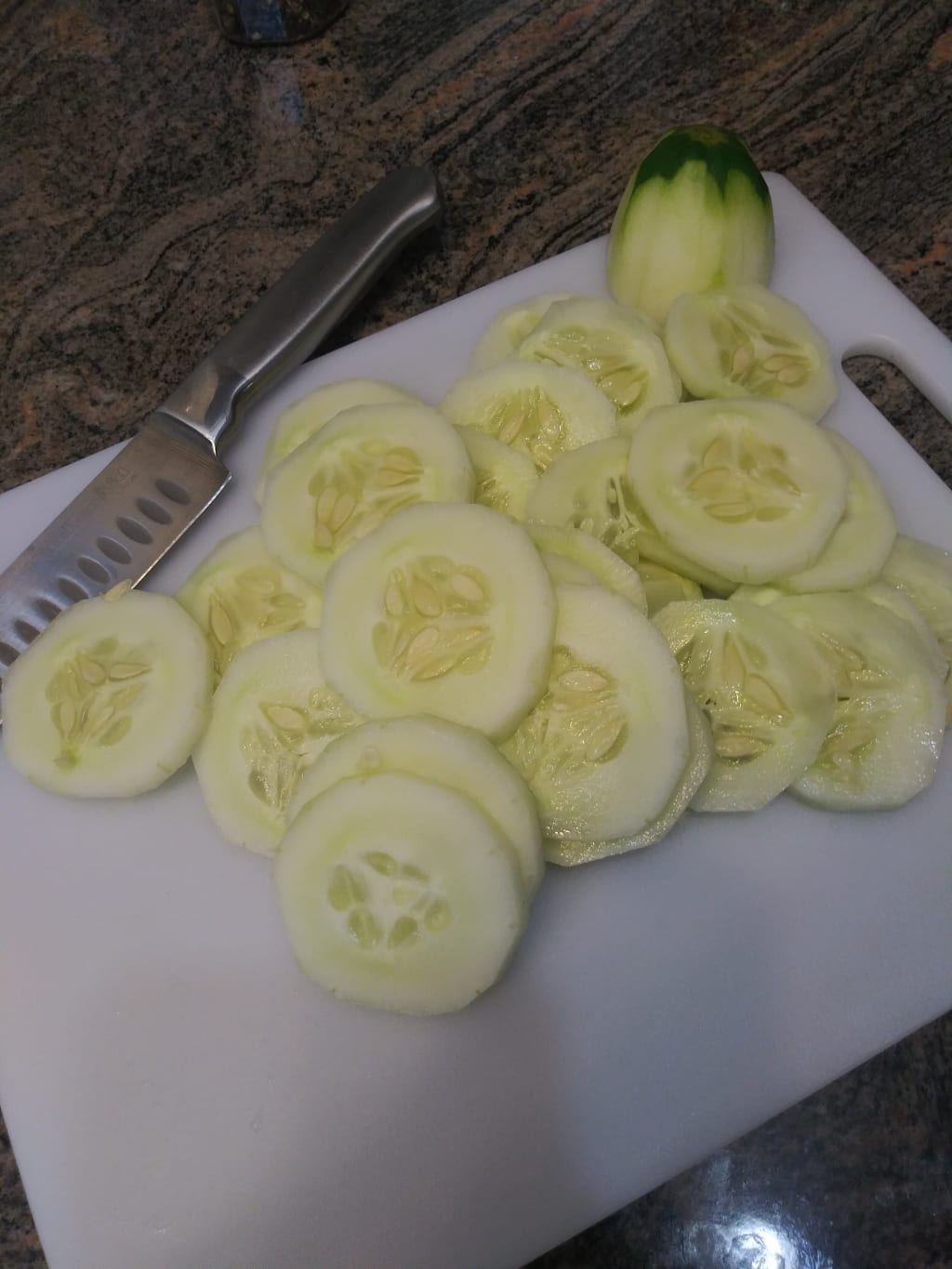 Photo Credit: Bridgette Mercer-Jamgochian
Growing up, I always loved a summer side dish I thought my mother had created. She would slice up cold cucumbers into a large bowl, adding sour cream and salt. I loved mine served with extra salt and the moisture of the cucumbers made the sour cream a thin dressing. Cold, crisp, crunchy, and refreshing on a hot summer afternoon. It was one of her sides she would make in large bowls, along with her potato salad and macaroni salad, to bring to family reunions, barbecues, and parties.
I feel like these simple recipes were a foundation for my taste buds because even as an adult, any other recipes don't ever come close to comparing. I've tried many different potato salads and macaroni salads over the years, and while I've found some new recipes I enjoy, I feel my mother's recipes passed down through the family are my all-time favorites. I don't know that I've ever seen or known of anyone else making just cucumbers in sour cream. I wonder if it was made more plain for a young child's palate.
The lettuce, cheese, and mayo on white bread was my favorite sandwich as a child, and I was lovingly referred to as a "bird eater" who loved rabbit food. Yet, the three side dishes were so delicious to a "picky-eater" child, and were specifically remembered as summer related foods. I was excited about every family gathering and fondly remember them as "feel good" foods I associate with great memories. Not to mention each dish was cold, refreshing, and easily compatible alongside your BBQ staples.
The evenings of the family gathering would usually end with smores over the fire, another delicious treat for me as a child that we would only get to enjoy during the summer. As my family camped every summer growing up, it was another one of my favorite childhood memory foods. All the kids looked forward to it, and even as an adult I still love smores over the fire. We still pick our sticks and cook our hot dogs over the fire before we break out the smores, just to relive those childhood memories from the smells to the tastes. As a child I preferred lightly charred marshmallows and hot dogs, but as an adult I like the burnt and crispy ones. Just like the adults liked when I was little, and I never could understand, I love it the same way I used to frown upon.
A "fruit pizza" on a large sugar cookie crust made by my other family members is also fondly remembered as a childhood summer favorite. When all the young kids were included in the crafting of the fruit slices being added to the sweet cream on top of the cookie crust, it became a fun project as well as a delicious treat. I've looked up recipes to try to recreate this fun dish as an adult, but have yet to attempt it. This summer may be the time to relive that fun delicious memory.
After visiting all these loved memories with delicious details of summer favorite foods, I consider the cucumbers and sour cream to be my all time favorite for its simplicity and the cold crisp flavorful ness. I still make them to this day just to enjoy during the summer because to me, it's the "taste of summer". Growing cucumbers in my own garden will make me feel even more proud to create and carry on a tradition of my mother's that I loved growing up. My growing palate doesn't mind some extra seasonings now, but the simple original still beats out the summer heat the best!