Coffee maker design: three brewers that will catch your eye
Some designers go overboard with coffee!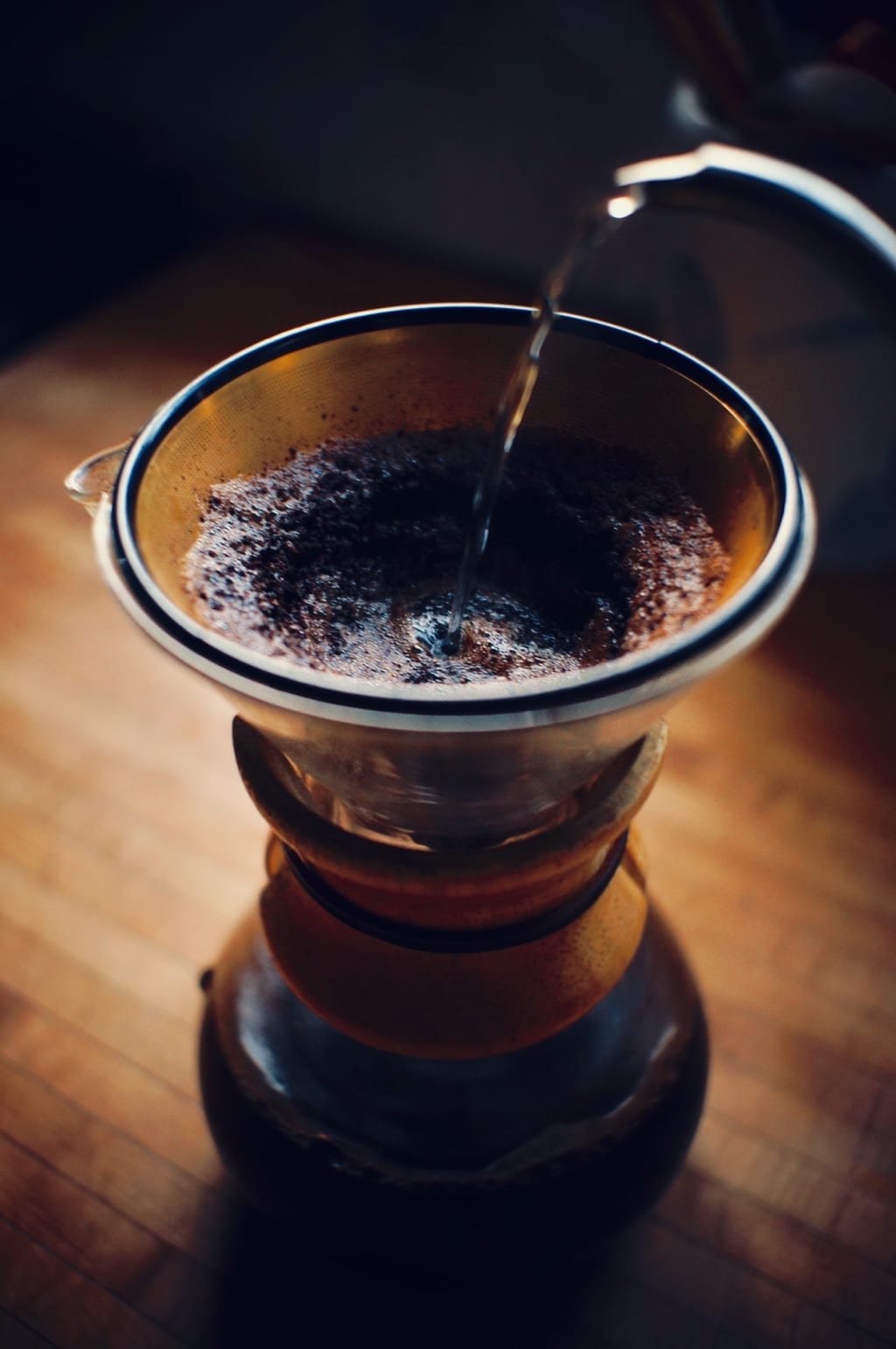 Coffee makers don't have to be boring. While most don't exactly catch your eye, there are some out there that are designed just exquisitely.
Whether it's simple elegance or graceful complexity, here are three coffee makers that look great and also brew amazing coffee.
Chemex
The Chemex Coffee maker(pictured above) is a beautifully designed heat resistant hour glass shaped carafe which is almost like a piece of art. The simplicity and functionality of the design has won it many awards and a place in the New York's Corning Museum of Glass.
It comes with a polished wooden collar which serves as an insulated handle. It's sure to be an elegant addition to your coffee station.
This pour over coffeemaker, used with their bonded Coffee Filter, makes excellent coffee which is flavorful, clear and without bitterness or sediment. The coffee filters through a specially designed filter into non-porous glass. With the chemex you can make coffee as strong as you like without bitterness.
Works wonderfully for iced coffee and coffee flavoring for delicious recipes. Coffee brewed in the chemex can be covered and stored in the refrigerator for reheating. It retains flavor perfectly.
Slayer Espresso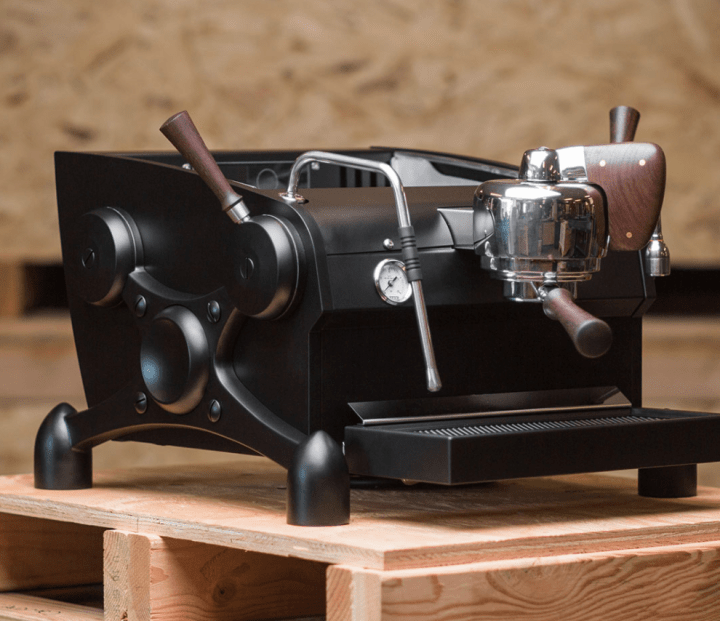 Slayer machines are hand built in USA and known worldwide for their distinct style, excellent quality, and, their innovative signature approach to espresso brewing.
The Slayer Espresso is one of the coolest espresso machines in the world, which gives a tremendous range of control in the hands of the barista, from granular temperature adjustment to flow rate profiling. The single group version of the slayer Espresso puts a great deal of functionality in a compact package for the home, yet powerful enough for a small coffee shop.
The single group Slayer Espresso features the 3-position paddle actuator, which allows total control of flow rate for flavour profiling. This way a barista can dial in a shot in a way that other volumetric machines will not allow, and then save and replicate that profile going forward. The machine gives the user the ability to transform the flavor of espresso to taste.
The other new feature in the Slayer Espresso machine is the needle valve pre-infusion. This allows saturation of the puck at very low pressure, providing a long pre-wetting phase that optimises extraction. This pre-wetting phase is fully programmable and in the hands of the barista.
Wtih all these features and technology innovations in a small package, the Slayer Espresso machine will be equally at home in a restaurant, in a mobile coffee station or even on a kitchen counter. It may well be the ultimate compact espresso machine.
Technivorm Moccamaster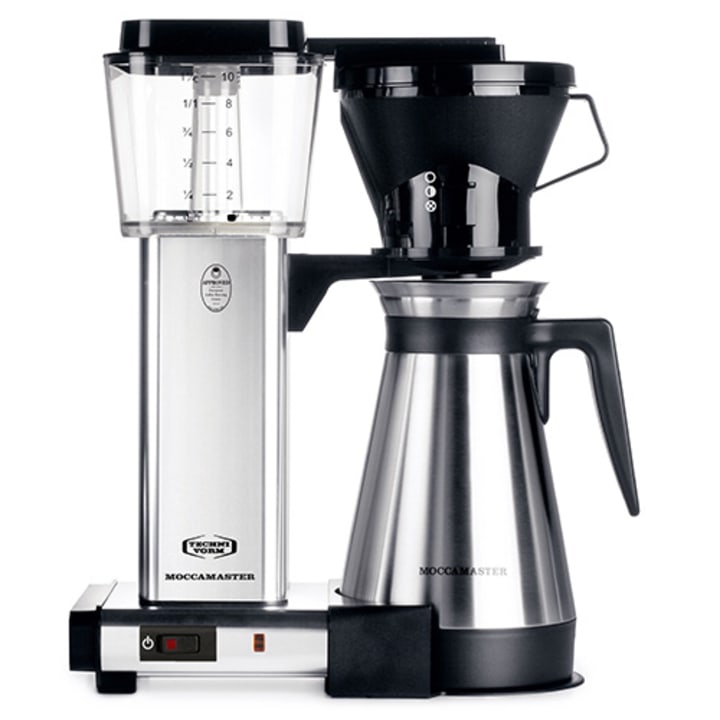 This is a hand made highly functional drip coffee maker that looks great and has excellent build quality. It synchronizes brew time and temperature perfectly yielding a great cup of coffee in just 5 to 6 minutes.
It has a copper heating element which keeps water temperature at 195°–205°F throughout brewing for getting optimum flavor and less bitterness. Copper lining along the spray arm maintains consistent water temperature through the wetting stage. A cone-shaped brew basket funnels the grind to the perfect bed depth for a precise coffee/water contact time.
The Moccamaster is easily operated with only two buttons. It is simple to use and comes with many small details, such as the automatic drip shutoff, which are very convenient.
The glass carafe is well designed for ease of use, and replaceable at a pretty low cost.
It's a good looking smartly built and designed product that works really well.
A really good feature we find is that its designed with a 9-holed water spout which sprays water like a shower over the coffee resulting in an even brewing process.
The Technivorm Moccamaster is available in many different colors including aluminum and brushed. There's also a Moccamaster model that comes with an thermally-insulated carafe instead of a warming plate.
Conclusion
These three coffee makers are probably the most well-designed coffee makers in the world. No other machine can come close to them in terms of elegance and looks.
They may be a bit more expensive than other similar brewers, but the price tag may be worth it for the piece of art you are getting!