Chili, America's Oldest Addiction
There is more behind the stew than we thought.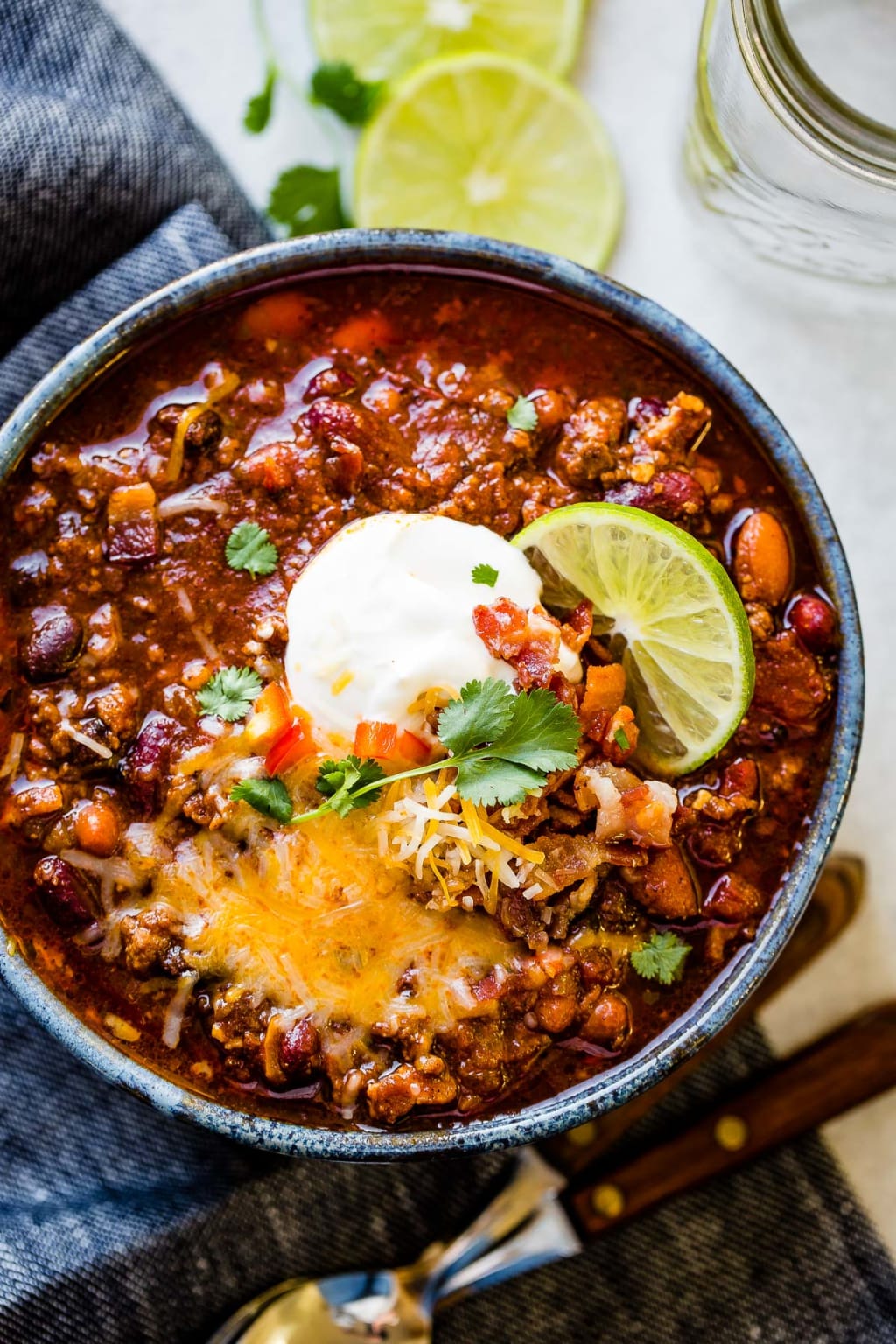 Since the 17th century, Chili has captivated the hearts and stomachs of millions of Americans and was even deemed the state food of Texas in 1977. When chili was first made the hearty stew was known as chili con carne, meaning a spicy stew contains beef, beans, and tomatoes. Believe it or not, chili use to only be a tender beef in a red soup base, and over many years the iconic cowboy dish evolved to have many different additives, including beans. Due to chili's captivating and deep history, chili now takes many forms, but as long as the dish is slow-cooked and made with a creative spirit, anyone can find a version that fulfills them.
Chili con carne has a fascinating and deep history. Contrary to what some may believe, chili has many myths and legends in its past. The only concrete fact we know about chili's past is that it did not emerge from Mexico. One mysterious legend is about Sister Mary of Agreda of Spain. Sister Mary was also known as a ghostly figure to the Spanish missionaries and King Philip IV. They called her "La Dama de Azul" or in simpler terms, "lady in blue." Sister Mary was known for slipping into a coma-like state for days. Although she never physically left Spain, Sister Mary claims that her spirit would leave her lifeless body and would go and preach. As legend puts it, the "lady in blue" was the first to put chili on paper in the form of a recipe. Her recipe required various meats and vegetables including venison and/or antelope, onions, tomatoes, and chili peppers. Keep in mind that this is a legend and there is no actual proof of this story being factual. For a more realistic idea of the origin of chili, during the 18th century. the King of Spain, King Philip the V., ordered sixteen families to emigrate from the Spanish Canary Islands to San Fernando de Bar Texas, which is now known as San Antonio. According to Linda Stradley, "These families founded San Antonio's first civil government which became the first municipality in the Spanish province of Texas. According to historians, the women made a spicy "Spanish" stew that is similar to chili" (Stradley, 3). Over time this "Spanish stew" become so hot that priests would warn against it and would describe it as the "Soup of the Devil."
Somewhere within the 19th century, Latina women were the real stars behind chili's popularity. While being a master at their craft, these women would make chili con carne from within their homes and would lug it into town and would sell their stew to the public. The lady's chili was such a hit that "A night was not considered complete without a visit to one of the "chili queens" (Stradley, 5). Their famous chili is said to consist of dried and crushed red chili peppers and beef. In a similar article, Robb Walsh states that "Chili con carne was introduced to America by the "Chili Queens," women who served food in San Antonio's Military Plaza as early as the 1860s. Chili stands were also common in Galveston and Houston: they were the taco trucks of the 1800s" (Walsh, 3). Sadly in 1937 the "chili queens" were said to have vanished overnight due to their chili stands being shut down because of their inability to comply with the new sanitary requirements. Two years later in 1939, the "chili queens" were said to have been restored, but only to shut down after World War II began. The "chili queens" has such a substantial impact on San Antonio, that every year during Memorial Day weekend a festival is held in remembrance of such inspiring women. This festival is known as the "Return of the Chili Queens Festival."
To further add to Chili's history, the developer of chili powder is as much of a mystery as the origin of chili itself. Those native to Fort Worth believe that Dewitt Clinton Pendery was the founder. Pendery would sell a blend of chili peppers to local businesses and civilians which was known as the Mexican Chili Supply Company. Surprisingly, his spices are still being sold today. William Gebhardt was considered to be the official inventor of chili powder to the population of San Antonio. Back in the 19th century, Stradley mentioned that "chile peppers were only available after the summer harvest, as chili was a seasonal food" (Stradley, 7). Gebhardt went as far as having large amounts of chile peppers shipped as far as five hundred miles as he could sell chili all year round in his restaurant. Gebhardt's mixture was first known as "Tampico Dust" until it was patented as Gebhardt's Eagle Brand Chili Powder. Nonetheless, whoever created chili powder drastically changed the chili game and made chili much easier to make. It wasn't until the 20th century that chili started to vary in style and became quite a controversy. The popular styles of chili were, but not limited to, Cincinnati Chili, Springfield style chili, and Chasen's Chili. That's when chili cook-offs got vastly popular. Many argued that their recipe was the best, so the only logical solution was to have a competition. Interestingly enough, the first-ever chili cook-off champion was a woman by the name of F.G. Ventura, and her recipe was deemed the "Official State Fair of Texas Chili Recipe."
From the secret chili recipe that's been passed down generations in your family to the online recipes, there are many different styles of chili. Chili Con Carne is known as "Texas Red" and is vastly different from Chile Verde. Texas Red is more like the traditional style of stew. Its preparation is simple but absolutely delicious. Chili Con Carne is simply tender slow-cooked beef swimming in a spicy sauce made from red chilies and cumin. While Chile Verde's main meat is pork and fresh hatch chilies. This version of chili is surprisingly made without cumin. As Spo Spaeth mentioned in his work, "Thus despite attempts on the parts of many, including the International Chili Society, to specifically define different styles of chili, there are far more than three categories it allows into competition" (Spaeth, 3). Although there are only three types of chili recognized within the International Chili Society, there is an abundance of styles that exist, and they vary from state to state, not to mention by household. And as a result of so many different styles and ways of making chili, the beloved dish has become a major controversy about who makes the best chili, what the best style of chili is, and even what the correct way to say and spell chili. As mentioned in his article, "Despite the codification of different chili styles for chili cook-offs, people across the country engage in passionate arguments about not only he fundamental ingredients of the dish but also the literal spelling of its name" (Spaeth, 3). A few different popular styles include Chili Con Carne, Springfield Chili, Cincinnati-Style, Oklahoma-Style, Chili Verde, White Chili, Vegetarian Chili, and Carne Adovada.
Despite all the controversy about which chili is the best, there is no right or wrong way to make chili. Although many argue about what the greatest way to cook chili is, in reality, nobody is "wrong" about the way they prepare their chili recipe. Since chili is very versatile and flexible, everyone can make chili the way that pleases them most. As Spaeth put it, "Chili is for Americans what paella is for Spaniards, or Bolognese is for Italians" (Spaeth, 1). Everyone's chili is the most superior because it is their favorite way to indulge in the stew. How would it make you feel if you were told you're eating your favorite food wrong? Unarguably, you're not doing anything wrong since it's the way you prefer to consume your most favorable meal. In an article written by Craig Claiborne, he states that chili is "a dish that varies from kitchen to kitchen yet whose appeal is almost universal" (Claiborne, 75). After all, there's a reason we have chili cookoffs. Many gather around to show off their best pot of stew that they undoubtably believe is the most supreme. A dish so simple almost anyone can make it with confidence knowing it'll taste good. No matter how you prefer your chili, just have fun making it and experiment by adding new ingredients and flavors. Afterall everyone is the master of chili making.
Chili can be easily transformed into a nutritious meal for anyone. By preparing a meatless chili, full of beans and tomatoes you could effortlessly alter your chili to become low in saturated fats and full of fiber and protein. By avoiding large amounts of saturated fats, you could reach your weight-loss goals faster than you would if you were consuming too much of the unhealthy fats. Although, if you must have meat in your chili, try and buy the leanest meats you could find within your budget. As Sara Ipatenco said, "Chili can be an effective weight-loss food if you select the most nutritious ingredients and eat it in place of higher-calorie and high-fat fare" (Ipatenco, 1). The "most nutritious ingredients" would be the freshest available. By limiting yourself to not using canned beans or canned tomatoes, you'll be staying away from more processed food that contains larger amounts of sodium and artificial preservatives. As Diana Lynn talks about throughout her article, she specifically states that "eating a diet consisting of only chili and soup is neither appealing nor healthy, both foods have the potential to help you meet your weight-loss goals." Lynn has a valid point. Who would want to eat chili for every meal until their weight-loss goal has been achieved? That being said chili and soups alike, have many nutritious properties and will go as far as helping those develop healthy eating habits in addition to losing a couple of pounds. According to Thomas Byers, by adding capsicum to your chili recipe, it will "raise your metabolic rate, thereby raising heat production." Not only is eating chili a healthy choice but by seasoning chili with capsicum, it raises your metabolic rate which will help you lose more weight! In addition to that capsicum can also make those who are eating it happier and help boost your immune system.
Without a doubt, chili has an enchanted history, from the puzzling myths and legends to the founder of chili powder and the Chili Queens. No matter what your preferred style of chili is, the fascinating stew has seized the stomachs of many. Whether it be a traditional spicy tender meat stew or a modern diet chili recipe, there's something for everyone. So next time you prepare a Crockpot full of chili, think about its history and which version can describe your recipe the best.
Old Family Chili Recipe
Ingredients: 1lb. of lean ground meat,
Minced onion and garlic,
2 or 3 cans of tomato sauce, (or make your own)
1 (12oz) can of kidney beans,
1 cup of mushrooms,
Garlic and chili powder to taste,
(Optional) A few tbsp of canned chipotle peppers in adobo sauce
Directions: Start by browning your meat of choice with the minced onion and garlic. Once the protein is fully cooked add the mushrooms, chili powder, and garlic powder. When the mushrooms have cooked down slightly, transfer the mixture into a Crockpot. Then add the beans, tomato sauce, and chipotle peppers. Cook on low for 6hrs or high for 4hrs. Finally, once the stew is fully cooked, spoon a portion into a bowl, and add your choice of topping. Enjoy!
Works Cited
Byers, Thomas. "The Top 10 Healthy Reasons to Eat Chili." Delishably, Delishably, 28 Feb. 2020, delishably.com/beans/The-Top-10-Healthy-Reasons-To-Eat-Chili.
In Thomas Byers's article published on Delishably, Byers writes about the top reasons he eats chili. Ranging from protein and fiber to the benefits it has on your overall health, Byer reaches many of his health nut readers. While he may be an award-winning chef, he definitely looks at the healthier aspect of food.
Claiborne, Craig. "It's Called Chili, and Everybody Is an Expert." The New York Times, The New York Times, 5 Jan. 1977, www.nytimes.com/1977/01/05/archives/its-called-chili-and-everybody-is-an-expert.html.
Craig Claiborne was a U.S. food critic and published many cookbooks through The New York Times. Although his article titled, "it's Called Chili, and Everybody Is an Expert" was published in January of 1977, his article still holds up to the claims he presents. The digitized version of his article talks about the "controversy" of chili. His argument being that chili con carne recipes vary from kitchen to kitchen being that everyone makes there chili differently and claiming that theirs is ultimately the best. This could partially be the reason chili cooks off started. Throughout his article, Clairborne remains very informative. Including statistics within his writing, it will make the perfect addition to my essay.
Ipatenco, Sara. "How to Eat Chili & Lose Weight." LIVESTRONG.COM, Leaf Group, www.livestrong.com/article/416726-how-to-eat-chili-lose-weight/.
Within Sara Ipatenco's article, "How to Eat Chili & Lose Weight" Ipatenco instructs those who are dieting and love chili to choose or bake a healthier chili. By using extremely lean meats or no meat at all you can discard the saturated fats. And by eating a chili that's crammed with beans and tomatoes as well as choosing healthy toppings, you can ensure your chili can be high in fiber, and protein while not being calorie-dense. After graduating from the University of Denver with a B.A. and an M.A. in education, Ipatenco teaches writing, health, and nutrition.
Lomax, John Nova. "The Bloody San Antonio Origins of Chili Con Carne." Texas Monthly, 10 Aug. 2017, www.texasmonthly.com/food/bloody-san-antonio-origins-chili-con-carne/.
Within the online article on Texas Monthly, John Nova Lomax writes about the long history of chili con carne and makes the bold claim that "The original Tex-Mex staple dates back further than most historians realize." While being the senior editor, he has more than enough experience. Lomax's writing its meant to inform those who are interested in the history of chili. Arguably the vast majority of his readers are from Texas.
Lynn, Diane. "Chili & Soup Diet." LIVESTRONG.COM, Leaf Group, www.livestrong.com/article/319090-chili-soup-diet/.
In Diane Lynn's article published by Livestrong, Lynn talks about how going on a chili and soup diet can help you not only lose a few pounds a week but also help create healthy eating habits. In addition, Lynn writes about the health benefits as well as mentioning that your soup, and chili options are endless. Via being to perfect article for anyone looking to lose weight, but also love stews and soups. Graduating from Florida State University with a B.A in finance, Lynn was inspired to write and teach others about weight loss and fitness because of her own experience while trying to lose 158 pounds!
Spaeth, Sho. "Divided States of Chili: A Guide to America's Most Contentious Stew." Serious Eats, Serious Eats, 1 Mar. 2019, www.seriouseats.com/2017/02/guide-to-chili-styles-types-of-chili-recipes.html.
In Sho Spaeth's article published by Serious Eats, he informs the foodies about the big debate on chili. Mentioning that everyone who makes and enjoys chili will have their own opinion on the stew. Whether it be the ingredients or how the dish is spelled, we all have our own opinions on the matter. Spaeth graduated from Bard College with a B.A. in literature and went on to intern at Time Magazine as well as The Cambodia Daily before settling down and working at The New York Times for 9 years.
Stradley, Linda. "Chili History, Legends and Recipes." What's Cooking America, 27 Feb. 2020, whatscookingamerica.net/History/Chili/ChiliHistory.htm.
While the material is posted is on a personal website, it doesn't make it any less creditable. Linda Stradley did a good job at listing all the sources she used at the end of her article. Not to mention, What's Cooking America, has quite a long list of food history articles ranging from the history of beverages to vegetables. Stradley's historical articles are meant to inform her readers who are interested in knowing how certain recipes came to be and how they thrived throughout the years. This article will be valuable to my essay because it is a historical article about chili and how it has been around since the 17th century. Chili, as well as being known for an affordable meal throughout history, is also the perfect addition to any cold night.
Walsh, Robb. "History of Texas Chili--Without Beans." Houston Press, 4, 10 Dec. 2008, www.houstonpress.com/restaurants/history-of-texas-chili-without-beans-6426046.
In an article by Robb Walsh, he talks about the iconic dish "chili con carne" as it was originally prepared without beans. Walsh's article was posted in the Houston Press. Walsh has published at least a dozen cookbooks. Within his work, he is informing those who read the Houston Press about the original style of chili. The articles primary reason in my essay is to further help me tell my audience how popular chili was back in the 17th century.