Chicken Francese
Restaurant Meal at Home in No Time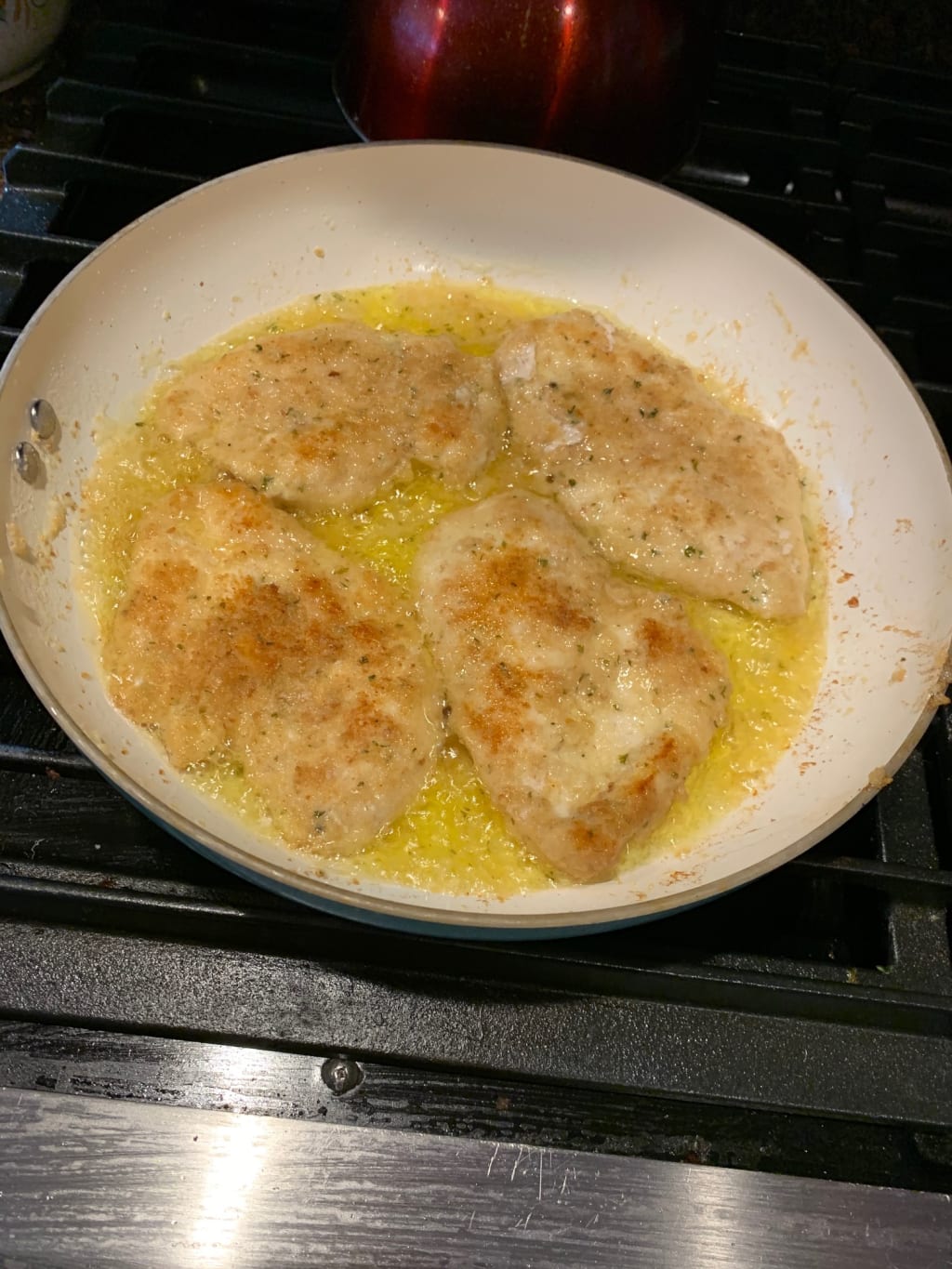 Chicken Francese browning in skillet
Most of us are always looking for a new way to make chicken. I have made chicken cutlets, chicken Marsala, chicken parmigiana, and grilled chicken to use in stir fry or salads. We know we want to eat more chicken and less beef but often we are bored. Recently, I have become a big fan of making chicken francese.
Here is a list of ingredients you will need to serve 2:
. 4 chicken cutlets
. 1 stick butter or margarine
. Lemon juice or fresh squeezed lemon
. 1 cup bread crumbs (I have used panko and regular seasoned bread crumbs — judge by your own preference)
. 2 tsp. Lemon juice or 1/2 squeezed fresh lemon
. 1 tsp. Garlic powder
. 1 tsp. Onion powder
. 2 tsp. Parmesan cheese
. Black pepper to taste (sprinkle)
. 1 egg beaten with a drop of milk
. Fresh parsley to season on top
Beat egg with a little drop of milk in a small bowl. In another bowl, put 1 cup of bread crumbs (panko or seasoned), garlic powder, onion powder, Parmesan cheese and black pepper. Stir together so that it mixes ingredients all around.
Heat skillet using one stick of butter or margarine. Dip cutlet into egg mixture and then bread crumbs before adding to skillet. Depending on your preference, you can even do the dip twice for more coating on each cutlet because you will have enough to do so. When all 4 cutlets are in skillet cook on low until you see bottom get browned and then flip. Once both sides are lightly browned, you can add the lemon juice into the butter mixture right in the skillet. Feel free to add salt and pepper to taste. Cutlets should cook in skillet about 15 more minutes, turning frequently. When cutlets are almost done, add some parsley garnish on top and finish cooking.
The cutlets will be ready to eat. Some optional additions to my recipe above is you can add 1/4 cup of white wine or 1/4 cup of chicken broth while you are cooking. Do this if you prefer a looser sauce when eating. This is done purely on preference.
Usually if I make chicken frances, I make mushrooms on the side with balsamic vinegar and garlic. I usually buy the chopped garlic in the jar in the supermarket for easy use. You can make any vegetable on side of chicken francese but I usually prefer mushrooms in balsamic vinegar mixture with some added bread crumbs and Parmesan cheese. After I clean and slice the mushrooms, I cook in a skillet wit balsamic vinegar and chopped garlic. Cook in skillet about 15 minutes until they turn a nice brown color. Then, add a handful of Parmesan cheese and some bread crumbs, used the seasoned ones, and keep stirring. The mushrooms will get a thicker sauce and will be ready in another five minutes.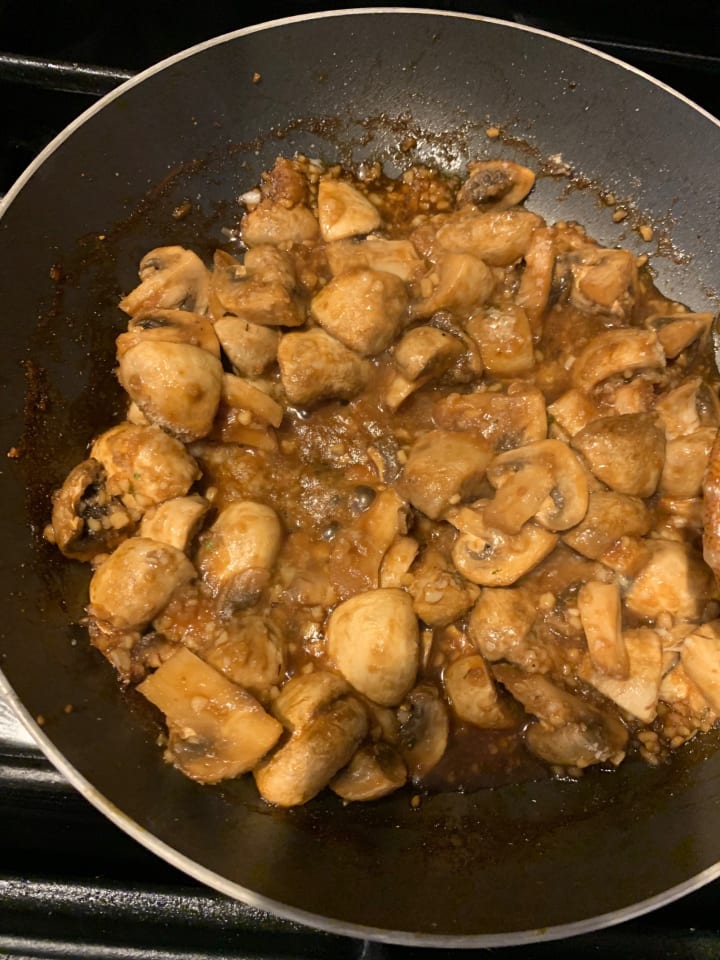 If you prefer a drier mushroom dish, you can take the mushrooms from the skillet with balsamic vinegar and garlic, and bake in oven at 375 for 15 minutes with bread crumbs and Parmesan cheese on top. Cook for about ten minutes or longer to brown to your preference. I usually make this in oven if I am making it for guests or as a side dish on Thanksgiving because after cooking in oven, it is ready to serve and also can be reheated.
I am always looking for recipes to make delicious dinners but without the hassle of spending time cutting, chopping and using all those extra, unnecessary dishes. Basically, if you start the chicken francese, and then put the mushrooms on, your entire dinner can be done in about twenty minutes. Now that's a perfect hassle-free meal that is delicious, easy to make and you don't have to go to a restaurant to eat.
I hope that you enjoy your dinner.
____________________________________________________
If you enjoyed this article, please share it on your social media and send it to someone you think will like it too.
About the Creator
I am an elementary educator and freelance writer. I enjoy writing about education, health and fitness and every day life issues. You can find my writing at egallagher.contently.com and my blog, Just Me, https://egallagher713.wordpress.com
Reader insights
Be the first to share your insights about this piece.
Add your insights