Chicken Dishes
Chicken and Stuffing with Broccoli Side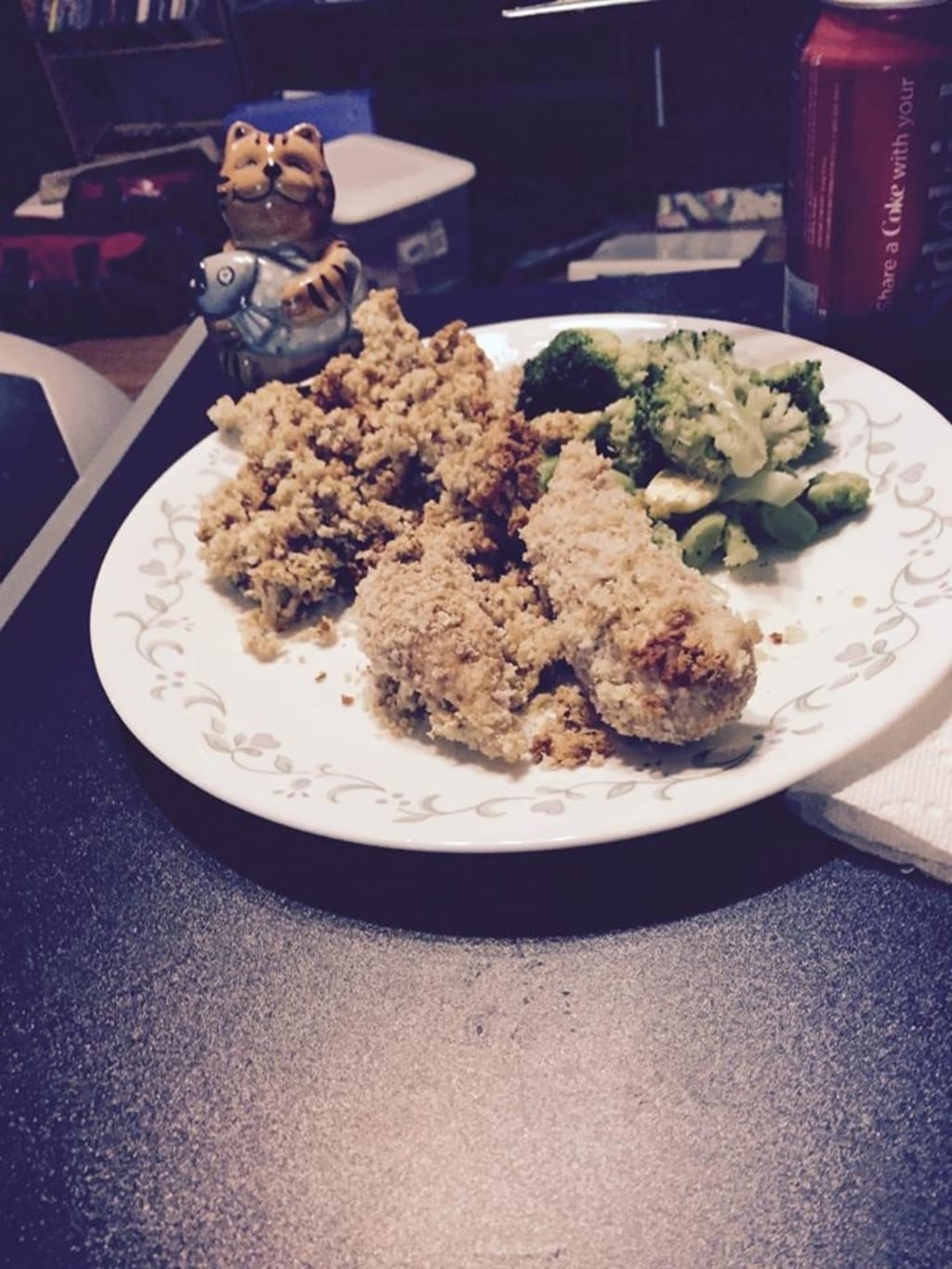 Introduce the family to new flavors and a healthier way of eating.
Chicken and Stuffing with Broccoli Side
Ingredients
6-8 chicken tenders
1 bag cornbread stuffing
1 can (10 3/4 ounce) chicken broth
1 can (10 3/4 ounce) cream or mushroom soup
Chicken seasoning
Directions
Preheat oven to 350 degrees F. Spray bottom of a 13 x 9 x 2 inch baking dish with cooking spray. Mix stuffing and chicken broth in a bowl. Then put stuffing mixture in middle of baking dish. Place 3-4 tenders on each side of stuffing, seasoning both sides of the chicken. Spoon the cream of mushroom soup on top the chicken . Bake for 25-30 minutes until chicken is done. Serve with a side of broccoli or any vegetable that you like.
Country Captain
The smell of the curry throughout the house reminds me of when I used to come home from school when I was a kid and my mom would be in the kitchen cooking this dish.
Ingredients
4-6 chicken tenders cut into cubes
2 cans diced tomatoes
1 medium onion, diced
1 tsp curry
1 medium red bell pepper diced
1/4 tsp salt & pepper
1 box of minute rice (14 ounces or larger)
Directions
Put 1/2 cup of olive oil in pan and add chicken. Take chicken out after being cooked thoroughly and place on plate with paper towel. Drain most of the oil out and add in onion, bell pepper, curry, salt, and pepper. Sauté until tender. Add tomatoes and chicken and 1/2 cup of water. Simmer for 10 minutes. Cook rice and empty into a bowl to fluff. Put chicken mixture on top and serve.
Wild Rice and Chicken Casserole
The original recipe called for oysters. Since I don't like them, I created my version using chicken instead of oysters.
Ingredients
1 (10 3/4-ounce) can chicken broth
2 1/2 cups water
1 box long-grain wild rice with seasoning
1/2 cup (1 stick) margarine or butter
4 chicken breasts
Salt and pepper
1 (10 3/4 ounce) can cream of mushroom soup
1 cup of half & half
1/2 teaspoon onion powder
1/2 teaspoon garlic powder
1/2 cup fresh minced fresh parsley leaves (or 1 tbsp parsley flakes can be used)
Directions
Preheat the oven to 350 degrees F. In a sauce pan, bring chicken broth and water to a boil. Add the rice and seasoning package to a boil again, reduce heat and simmer for 25 minutes. Drain any liquid remaining. Add 1/2 cup of the butter and stir, fluffing with fork.
Sauté chicken breast in 1/4 cup olive oil over medium-high heat until lightly brown, approximately 3 to 5 minutes. Remove the chicken with tongs; set aside. Place half of the rice in a greased 13 x 9 x 2 inch baking dish. Cover it with chicken and salt and pepper to taste. Top with the remaining rice.
In a sauce pan, heat the mushroom soup over medium heat. Add the half & half, onion powder, and garlic powder. Pour over the top of chicken and rice mixture. Bake for 35 to 40 minutes, until golden brown and bubbling. Garnish with parsley.
Health Benefits
The above chicken dishes are a healthy alternative to frying in vegetable oil or lard. Olive oil contains Vitamins E, K, and fatty acids. It is also a great way to introduce the family to new flavors and a healthier way of eating.