Cauli 'Couscous', Ras al Hanout Autumn Veg with Sumac Yoghurt
Keeping It Seasonal and Local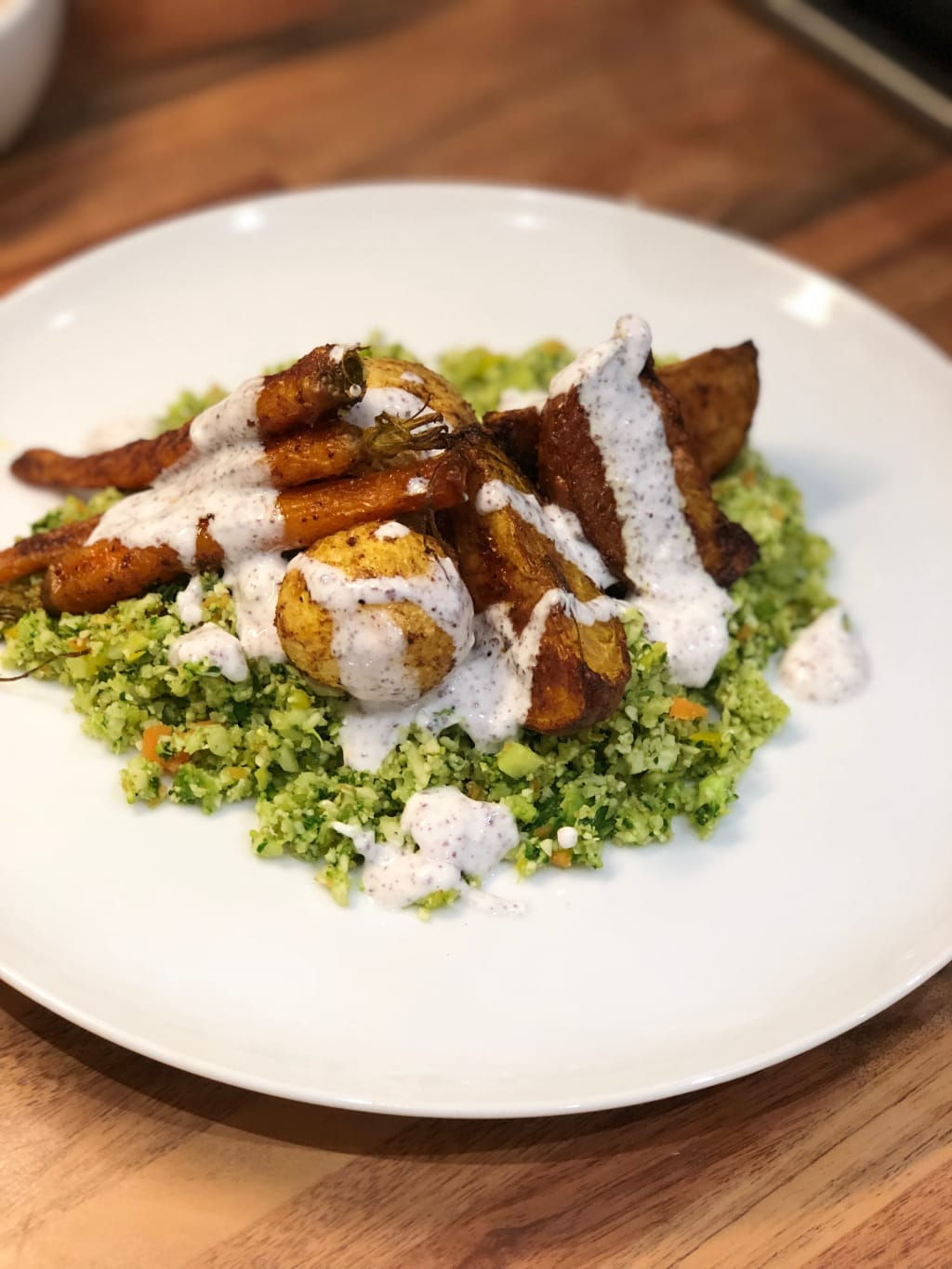 My kitchen is full of such great local produce at the moment that my brain had trouble computing and making a decision where to go with it all. Panic ensued. I wonder who else suffers from "food anxieties"? I have genuine moments of panic when deciding what to cook, how to cook it, and how much of it will satisfy those consuming it! Where does that come from? A notepad and a clear head usually sort me out (along with a pile of well thumbed cookbooks and a glass of wine!). I made the big mistake of taking a trip out to my favourite veg supplier, Bosley Patch, to see what was available and couldn't resist picking up yet more of those luscious borlotti beans I used last week in a soup, along with my all time favourite golden beetroots and a big gnarly lump of celeriac. Focus! Something quick and something slow will do it!
I settled on a vegetarian dish of roasted vegetables, and a "couscous" of sorts made entirely from blitzed veggies all brought together with a mixture of North African and Middle Eastern spices. I also wanted to utilise some handsome oxtails and that knobbly celeriac in a version of an elegant dish I'd seen recently using the celeriac as "lasagne sheets." I'm going to have enough of the braised oxtail to make a Jamaican Oxtail Stew and utilise those creamy borlotti's (to come later!). I suspect I won't see much of that as the mere suggestion of it has admirers already queuing at the door with their pots!
So, an almost vegan dish, again! It's intriguing for me that quite without noticing, more and more vegan dishes are entering onto my plate. Sign of the times? Sign of my ever changing palate? I'm not sure it matters what the motives are. I know that my body, environment, local economy, and wife all approve!
Cauli Couscous, Ras al Hanout Veg, and Sumac Yoghurt
Possibly the easiest and most adaptable recipe I will ever post!
Serves 2
Ingredients:
For the "couscous"
1/2 medium sized cauliflower
Handful of fresh baby spinach
1 green chilli, seeds removed and chopped
Small head of broccoli
1 chopped carrot
1 small clove of garlic
1 Tsp ground coriander
1 Tsp ground cumin
2 medium size beetroots (I used golden beetroots)
4 baby turnips
6 baby carrots
2/3 echalion/banana shallots
1 whole head of garlic (keep whole)
2 Tsp Ras al Hanout spice mixture
2 Tbsp Olive oil
250 ml of Yoghurt (I use sheep's yoghurt)
​2/3 tsps of sumac
Method
Set your oven to 180.
Cut the beetroot into quarters.
Peel and top and tail the turnips.
Peel the shallots and leave them whole.
Add the above to a roasting dish with the remaining ingredients.
Give them a good shake to cover the veg in the oil and spices.
Roast in the oven for approx 40 mins (check to make sure nothing burns). You can always take any bits out that are cooking too quick and add them back in at the end.
Cut the cauliflower into small florets.
Cut the broccoli into similar size pieces.
Place into your food processor.
​Add all other ingredients in the "couscous" list.
Blitz until you achieve a rice/couscous look.
Using a wok (or similar), heat a couple of tbsps of olive oil then add your couscous mixture.
Heat through for 10 minutes, ensuring everything has been mixed through well.
Remove veg from the oven. Squeeze the garlic cloves out. Mix through the veg.
Mix your yoghurt and sumac.
Place a portion of the couscous on your plate, an assortment of the veg and drizzle with your yoghurt dressing. Simple!
recipe

Peter Moody
Primary school teacher, writer/blogger. My wife Ali and I live in South Oxfordshire. I am fascinated by what is available locally and seasonally and hope to be able to share that with you here.
See all posts by Peter Moody →