Cast Iron Magic
Why I Love Cooking with Cast Iron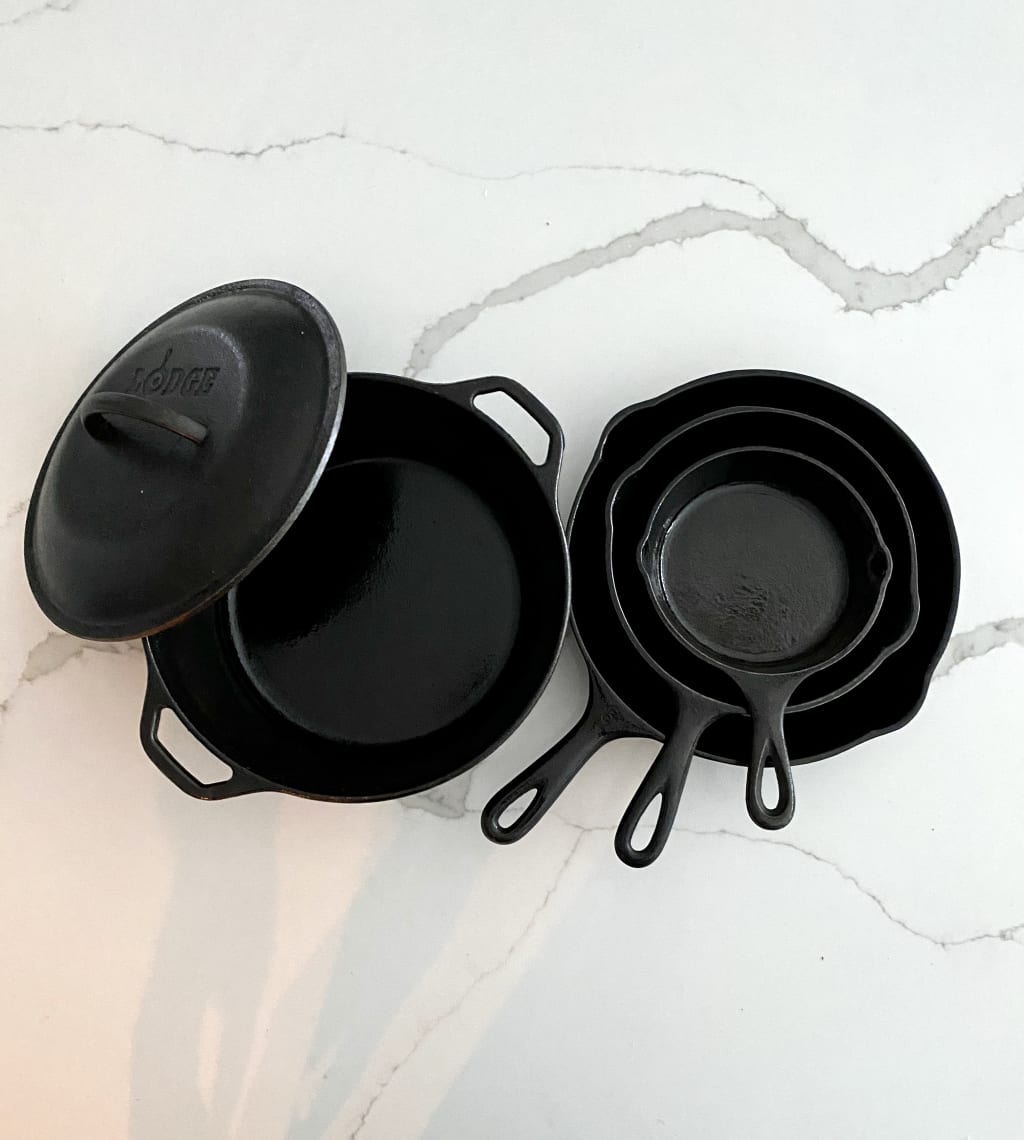 The versatility of a good cast iron skillet is what drew me to them a few years ago. I remember my parents using cast iron skillets and Dutch ovens when we would go camping as a kid, but I did not own my first one until two years ago. Some very nice friends found a few while thrifting and cleaned them up for me. I was intimidated at first, but after using it once and realizing how easy it was to clean, I was hooked. I know own a set of 4 skillets and 2 Dutch ovens and I've never looked back!
My favorite thing to make with my 10" skillet is bread. Focaccia, cornbread, etc. It turns out a perfect loaf, they look great to present in, and cleaning up is easy-peasy! As the weather cools down, making chilis and soups in the Dutch ovens becomes a weekly activity. Having tools like these that can go from stove top to the oven is essential and prevents having to use multiple pots and pans. I mentioned making bread, but I'm also a fan of using the largest of the skillets to do things like roast whole chickens or lots of chicken thighs for meal prepping. While the largest helps prepare for either a week's worth of meals or dinner for a table full of friends, the small ones are perfect for scrambling eggs and frying bacon in the morning. The non-stick element helps flip omelets and again, is an easy clean up which means that using it every morning for breakfast is simple.
Cleaning cast iron skillets is simple and should be done shortly after being used. Cast iron should not sit in water or it will begin to rust and you should NEVER use soap or it will break down the seasoning that creates the non-stick surface. When cleaning a skillet or Dutch oven, use hot water and a soap-free sponge. Rinse with the hot water and use the sponge to wipe off any larger leftover pieces. Once rinsed, wipe dry with a paper towel or absorbent cloth. Then, using a paper towel, wipe down the skillet or oven with vegetable oil to maintain the seasoning. The pans can be stored where you normally store pots and pans, but refrain from stacking them with other types of cookware so as to not scratch the surface.
Due to their durability and easy clean-up methods, they work great in the outdoors. Perfect for camping and using over a fire! Dutch ovens can literally be turned into ovens by turning their lids upside down and placing hot coals on the top while the rest of the oven is in the fire. They tend to be heavier than the average pan, but their versatility and durability are worth their weight. Even if you aren't cooking out in nature, you can still use your cast iron outdoors, using them as a vessel for smaller items on a grill. Think onions and peppers that might slip through the grill grate. Sure, you could use a sheet pan, but they might not fit on smaller grills.
Not only are cast iron products great for cooking, baking, roasting, searing, and charring, but they also work for presenting! I'm a fan of being able to just take a skillet out of the oven and put it right on the table, with a protective buffer of course. Especially with things like bread or a breakfast casserole that can be shared around a table full of hungry people!
There are countless items I love to make with my skillets, I could go on and on about them! Some of them are already listed in my recipes. Try them out for yourself and let me know what you think. If there's something that you love to make with your cast iron vessels, comment below! Thanks for reading this. Keep checking this page for more of my favorite tools, tips, and tricks! If there's anything you're interested in learning about – let me know! If I don't know how, let's learn together