Carnival Food Will Kill Me
Not really, but dramatics are fun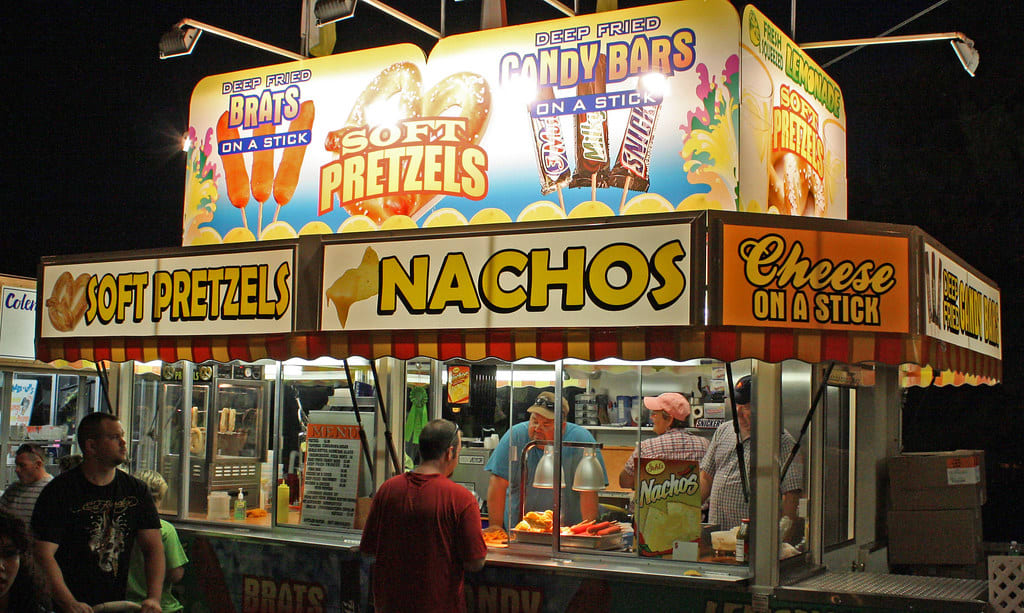 Carnival food booth
I was diagnosed with rheumatoid arthritis at the age of 11, it was not a fun time. I didn't actually find out that it was sudden onset arthritis that had me laying in the hospital bed for a week with 105 degree temp because my body went into shock until about 10 years after the fact. My parents did not tell me because they simply thought I knew, jokes on them. I was thinking about how to exploit this situation to get McDonald's for dinner.
I bring this up because a few years ago I got definitive word from a doctor that cutting gluten and dairy out of my diet would help alleviate my joint pain (they said cutting out alcohol and sugar would also help but I'm trying to enjoy being alive).
This was not really a problem when I got this news in late spring during a pandemic where all the food I had in the house was either my roommate's, or mine that I could buy and ensure it was safe for me to eat. However, as we re-enter the age where sitting-in at restaurants and going to outdoor events is once again the norm, it's becoming very clear that the cosmic forces that be do not want me to have a good time.
I live in the Midwest, everything is battered and fried, everything is either covered in cheese or stuffed with it. THERE IS NOTHING FOR ME TO EAT AT THE STATE FAIR.
(Alex, the world has progressed enough to recognize different dietary habits, even carnivals always have salads available.)
Oh yes, how filling and satisfying a salad will be after i've been walking around for hours, exhausted and with the constant smell of funnel cake wafting into my nose.
Food specific to summer fun is not eaten for nutrition (obviously, refer back to cheese covered and deep fried.) It is eaten for the fun of it. And salads just aren't fun, they require you to sit down and hold still to eat it and you need some kind of dressing to give them any large amount of flavor which is even harder to accomplish when you can't have croutons or ranch.
I've compiled a list of qualifiers for what, under these circumstances, makes for good summer fun food.
Must me able to eat while walking around
Must be almost excessively flavorful, remember the point is enjoyment of eating this thing needs to be a rollercoaster of taste rather than the road trip that is your average burger.
Kid-friendly, as much as summer is for everyone I would be remiss to not take into account that as the ones who are out of school and don't go to work, these kids aren't running the show but they're definitely leading the pack.
As I'm sure you can guess, this does not leave us with many options, but I do believe I have found the perfect solution.
Snow Cones
Snow cones are little more than hydration disguised as candy. Both practical and fun, convenient and cheap. Snow cones are available every ball game, horse and pony show, and family barbeque at grandmas.
There are enough flavors that you don't get burnt out. You can walk and eat, destroy it with the syrup, and kids love it. Sometimes to excess but that's besides the point.
Snow cones give you everything you need to enjoy carnival food while also fighting off heatstroke and thankfully not filling you up so that later when you get home you can sit down and cook an actual meal.
Arthritis sucks, and so does feeling left out of events and time with your friends and family because you can't eat the same things they can. I live in Chicago so thankfully I'm not short on meals that are accessible to different diets. But in regards to food for fun, I think I'm always just going to have to find work-arounds. But at least this way we can end the cycle of re-gifting snow cone machines so i'll call it a win.