Calavera
Great food and friendly atmosphere
It all started with a car battery. My car was acting up, starting sluggishly. My fiancé at the time, Ted, recommended taking it to the place where I had purchased the battery. He came along for moral support and since, frankly, sometimes women are taken advantage of when it comes to car maintenance. The man at the counter said that he would check it, but that it would take some time – between 45 and 60 minutes. Ted then pointed to an establishment next door and asked me, "Have you eaten there?" I shook my head, "No, not since they've changed hands. That building has had several restaurants since I moved here." There were no chairs to sit in at the auto store, so we decided to try it out.
The place is called, "Calavera," which is a representation of a human skull.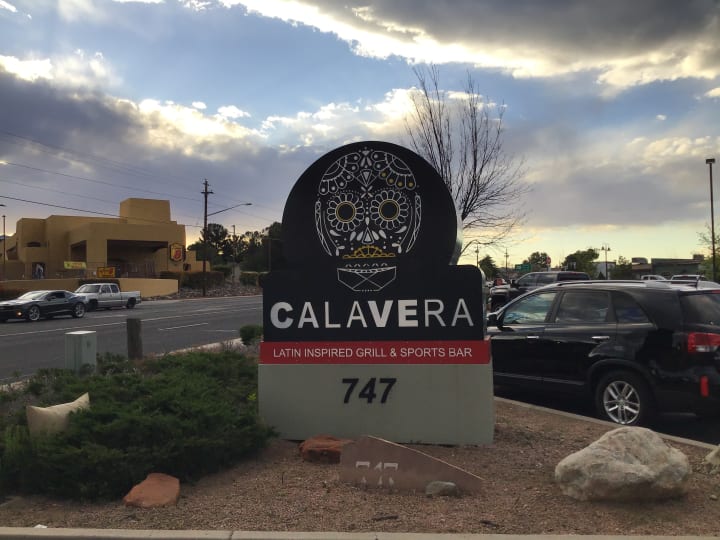 In Mexico and other Latin American countries, Día de Muertos, or Day of the Dead, is a day in which people welcome back the souls of their departed relatives for a brief reunion and celebration of life. In that spirit, Calavera restaurant is decorated with paintings, furniture, and statues of sugar skulls.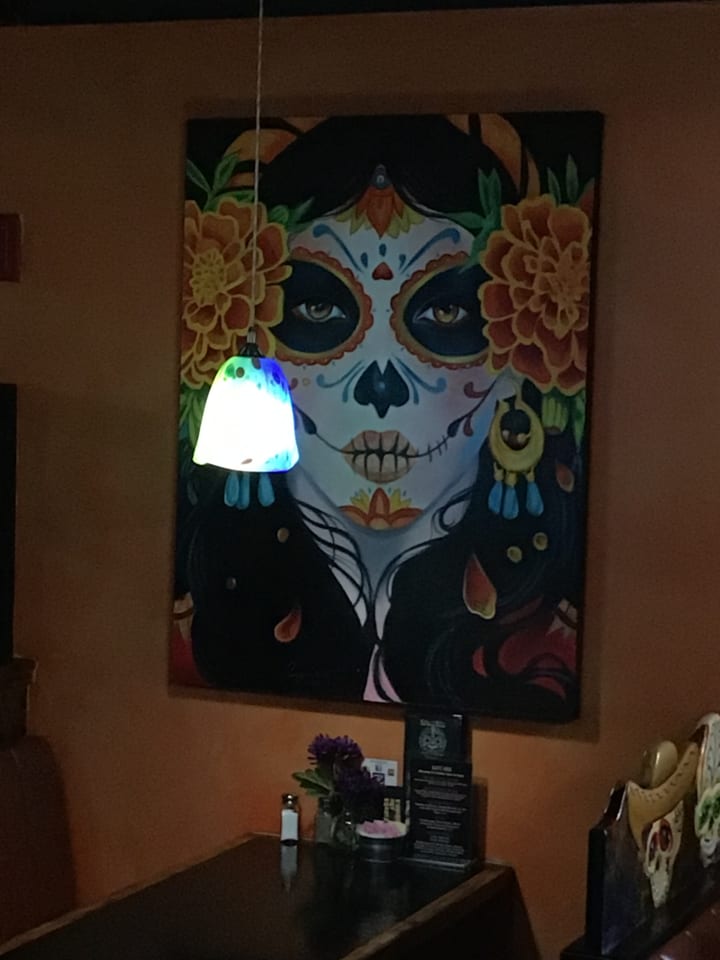 We sat at the bar. Ted says he likes to get to know the bartenders and wait staff and being near them makes that possible. We were greeted warmly by the man behind the bar. Since this was pre-COVID, we shook hands and introduced ourselves. He said his name was Marco. It was still a bit early, so he wasn't busy, so he was able to chat with us quite a bit.
We were served homemade chips and salsa, and refried beans.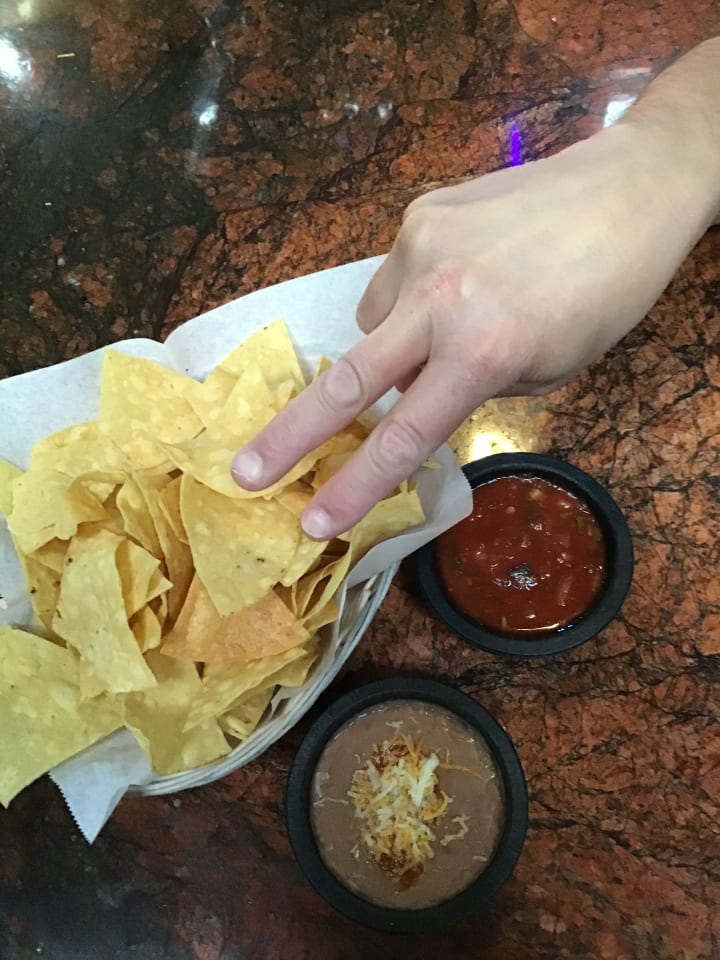 I ordered a margarita and Ted got a Modelo Negra beer. Marco was fast and efficient. The drinks were great, but the best was yet to come.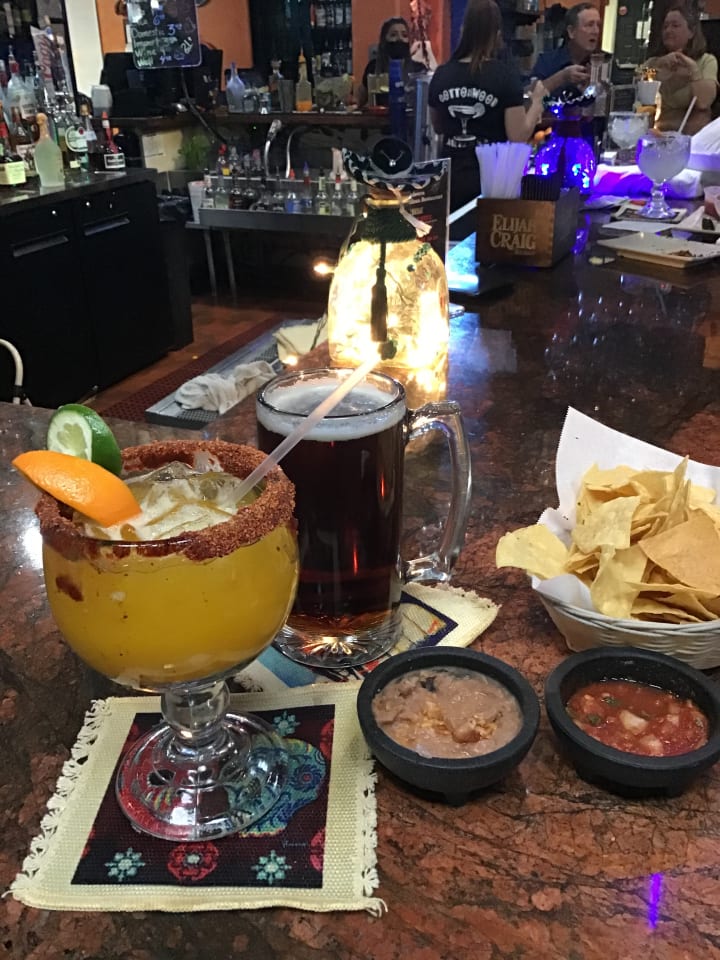 We watched some sports on one of the two TVs behind the bar. I don't remember what was playing at the time, but it was nice to have options. There are TVs scattered throughout, so if you're into a particular sport and it's in season, you will probably find it. If not, you can request a channel change, and they will more than likely accommodate you.
The menu took some studying. The fare is authentic "Latin inspired" food. Calavera has so much to offer: burritos, enchiladas, tacos, fajitas, and combinations. They list sections of seafood, chicken, and beef. For people not interested in Mexican food, they also offer hamburgers and other American foods, and a children's menu.
Our favorite has become the chipotle shrimp enchiladas.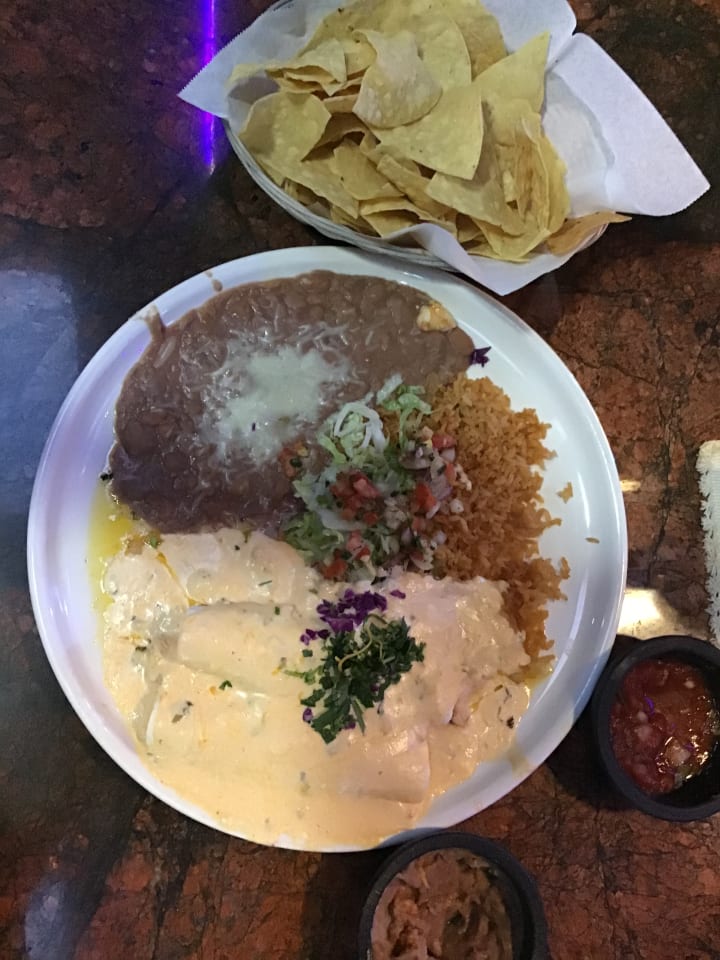 The servings are so generous that Ted and I always share, and sometimes still take food home. They are always willing to make changes to the menu. We mix up our enchiladas by sometimes ordering their green sauce instead of the chipotle sauce. Both have great flavor. All their sauces and salsas are homemade and very tasty.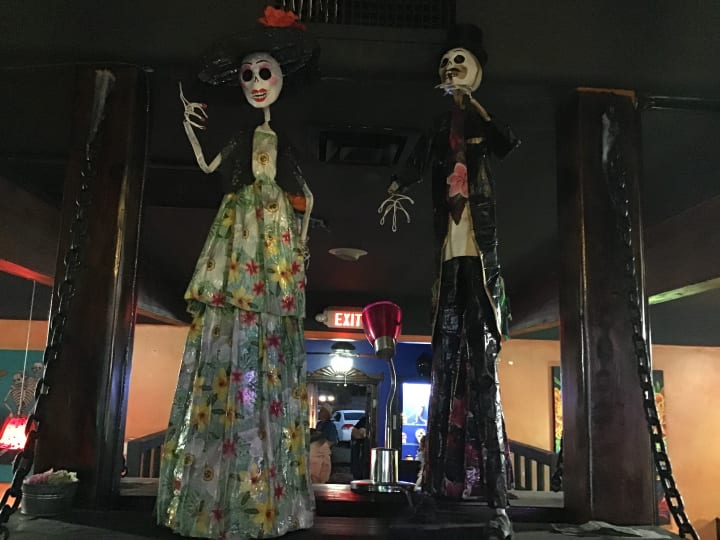 I have since tried several different flavors of margaritas: traditional lime, prickly pear, and strawberry. They have a jalapeño margarita which I don't care to try, but my favorite is the mango margarita. The first time I tried it, Marco asked if I wanted Tajin on the rim. I didn't know what it was but agreed. I'm glad that I did. Tajin is a mix of sea salt, chili peppers, and lime juice, which Mexicans often put on fruit. It's a delicious way to counteract the sweetness of a fruity margarita.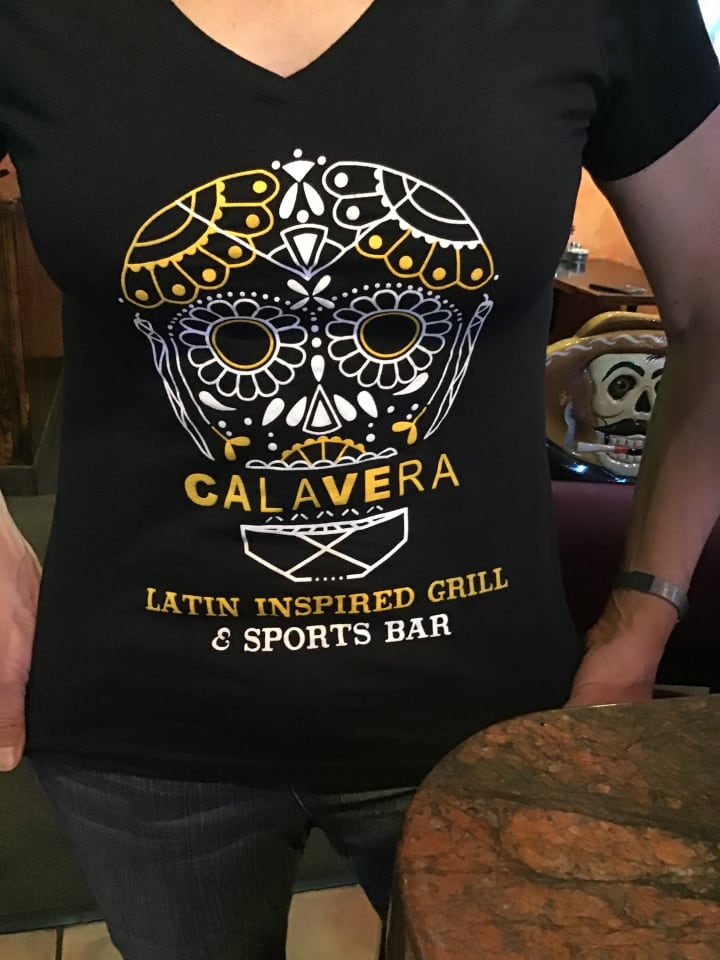 An hour later, we returned to the auto parts store. My car battery was, in fact, nearly dead. Although I had to buy a new one, I was delighted that it resulted in us finding our local version of Cheers, "Where everybody knows your name." It's our favorite haunt - skulls and all!