Cajun Chicken Mac & Cheese
pasta dish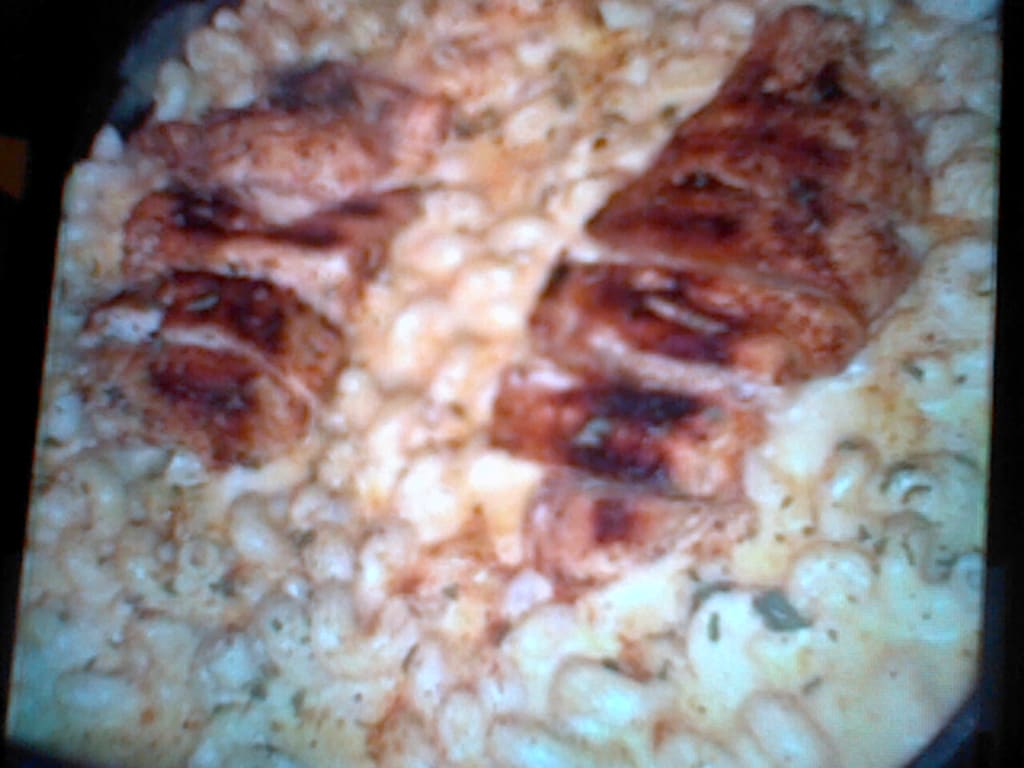 Hello Everyone I am here to bring another favorite dish from my home to yours. Who doesn't love mac and cheese? Who doesn't love chicken? Most of us love both don't we? How about putting them together and making an easy dinner. It can be for your family or like I do. It can be for a romantic dinner with your significant other. I love Cajun dishes. They have always been a favorite of mine. I hope you will like this recipe too. Without a further ado let's get started on making this dish.
Recipe:
You'll need to have first:
Chicken breast (not thin sliced, 2-3 pieces)
1 box of pasta noodles (I used Cellentani, found at Walmart)
1 12oz size of heavy cream (Milk section of grocery stores)
Shredded cheeses (I used cheddar, Colby jack and Velveeta chunks)
2 tablespoons of butter
Cajun seasoning, seasoned salt, garlic powder, cayenne pepper are the seasonings I used. Season to taste, I don't use specific measurements with seasoning. Cajun seasoning is in its own bottle at any grocery store.
1 seasoning pack of Grill Mates Mesquite (found in Walmart close to where the seasonings/gravy packets are) I used this to marinade the chicken in plus the other seasonings. You'll need vegetable oil + water to make it a marinade.
Marinate each breast with the mesquite packet. Use about ¾ of the marinade and set aside the rest. Top with seasonings listed (Don't be extra generous with the salt)
I cooked the chicken on an iron cast skillet that has ridges in it (creates lines so I can slice the chicken afterwards) but you can either bake or cook the chicken on the stove. You'll want to let the chicken cook before starting the noodles or sauce. The other components take a shorter time than the chicken. Boil pasta until cooked, strain, and set aside.
Once the chicken is done let it rest about 5-10 minutes and slice into 6/7 pieces. Keep them together though.
Sauce is important. Keep the heat at medium setting. Melt butter onto a large pan (all ingredients will go into this pan for the finished look so make sure it's a decent size) Pour the entire heavy cream into the pan as well. Mix in with the butter. A whisk would work best. Continuously stir and add in shredded cheese till the sauce thickens. If you add too much cheese, add milk to even it out.
Once complete, add Cajun seasoning ( add amounts at a time and see how you like the taste) and add the rest of the mesquite seasoning as well.
Place noodles into the frying pan and mix with the sauce.
Add the chicken slices on top as my picture shows.
I then added extra cajun on top (light) + parsley
If you are making this for more than two people double or triple on the ingredients that I have listed. This recipe will not disappoint you. You will want more and more after making it. My best times making this was valentine's day, my fiance's birthday, anniversaries, or just a plain date night. A great way to spice up your cooking in the kitchen. You can even make this for your kids if they like cajun recipes. I learn recipes as they are passed down to me and I would love to share more recipes with you in the future. Love the recipe! Feel free to share this recipe with friends and family. I hope you love my read and feel free to leave a friendly tip. Thanks everybody and have a happy cooking day.