British pub grub
The British pub is an excellent place to go for good food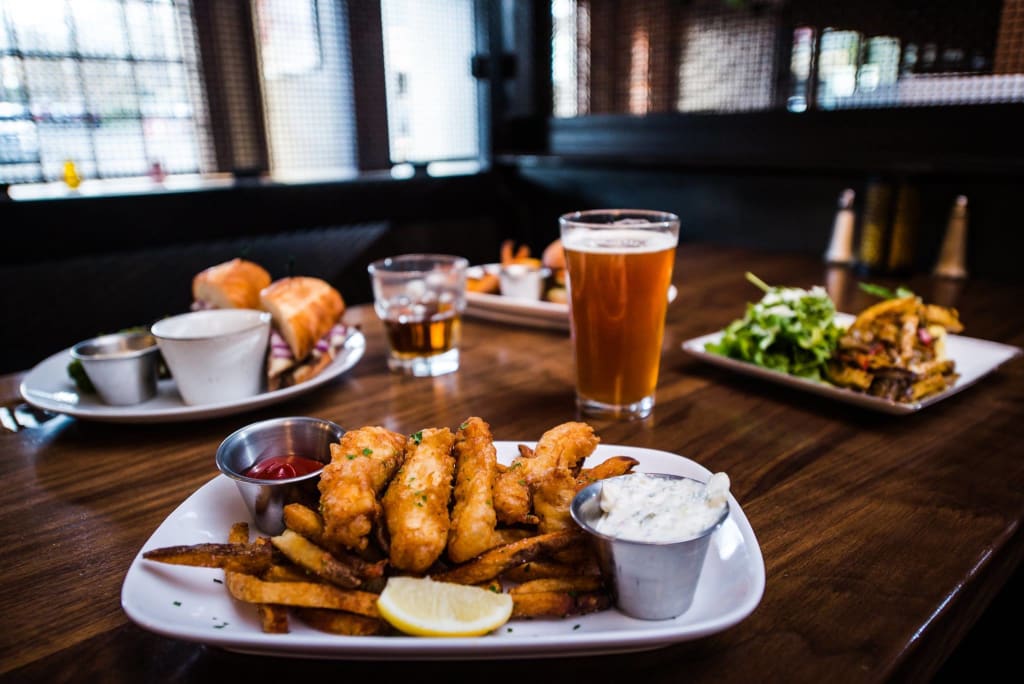 It was not many years ago that pubs and good food would not have been mentioned in the same breath. The pub was somewhere that you went to for a drink and to meet your mates. The idea of having a meal there was not in anyone's mind.
However, with profit margins on beer starting to slip, and the gradual decline of the notion that the pub was a "men only" environment, pub landlords started to realise that serving food was a good idea, by which is meant a profitable one. All they needed was a microwave oven and suddenly they could produce hot pies, or chips (fries if you are American), to go with the pints of beer.
A major element of early pub food was that it had to be produced quickly. The family-friendly pub appealed to people on the move, such as the family on their way by car from A to B, who did not want to hang about for any longer than necessary. Food that could be bought in by the landlord ready prepared, that only needed to be heated up, or placed on a plate, was going to be ideal "pub grub".
In many pubs, both rural and urban, this is still what the traveller will find. Most pubs are open at lunchtime, and the ubiquitous "ploughman's lunch" soon became a favourite menu item. At heart, this is simply bread and cheese, but there are many variations on the theme, and you are unlikely to find two pubs with exactly the same take on what the average ploughman wants for lunch!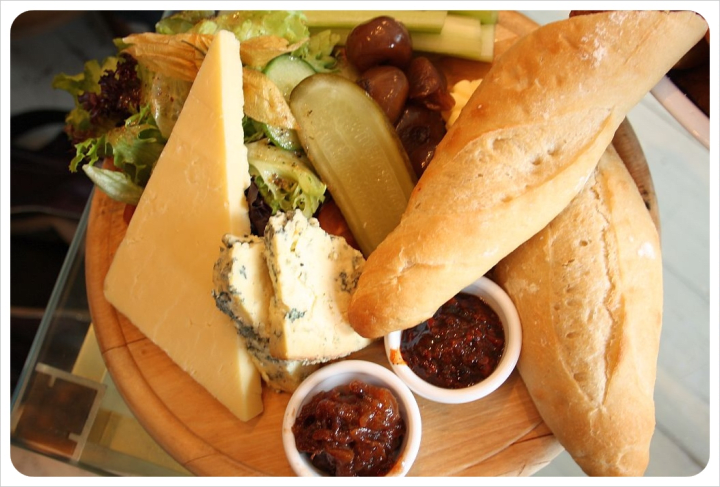 For one thing, it is not always cheese that is offered. You may well have a choice of pâté, ham, beef or tuna, as well as cheddar, stilton or brie when it comes to the cheese. The bread is likely to be a crusty piece of French stick (with butter), and there will probably be salad and pickles, maybe even an apple and/or grapes.
Other cold food is likely to take the form of sandwiches, such as beef, ham, chicken or cheese, often served with salad.
On the hot food side, a "microwave oven" pub will probably offer pies (e.g. steak and kidney, chicken and mushroom, Cornish pasties, etc), plus a lasagne dish or shepherd's pie. Jacket potatoes are a regular offering, with various fillings available.
Quite often there is a more extensive menu on offer in the evenings, especially if the pub has better seating on offer than the average, such that people want to stay for a relaxed meal rather than stopping off to break a journey. Many pubs offer a choice of "bar snacks" (such as those dishes mentioned above) and sit-down restaurant-style meals. People who come to the pub for a chat, a drink and a game of darts are more likely to want a "portable" meal, such as "chicken in the basket", rather than a full sit-down affair.
One thing to watch out for is that some pubs drop their bar snacks menu at Sunday lunchtimes, concentrating instead on serving Sunday dinners, which typically comprise roast beef, Yorkshire pudding, roast potatoes, vegetables and gravy. This may only be available if you have booked in advance, so the casual visitor can be unlucky.
Many pubs have taken the food service idea a step further and turned into "gastropubs" that employ a full- or part-time chef and have a larger kitchen than just a back room with a couple of microwave ovens. Service is often still reasonably quick, but because the food is prepared on the premises and cooked to order, it is never going to be as quick to arrive as the bar snacks mentioned above.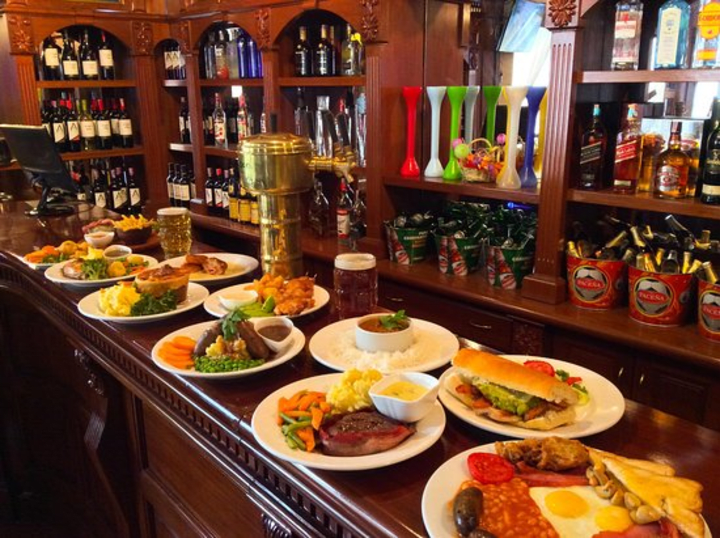 However, many gastropubs have very extensive menus, which can change from day to day. It is typical to find a standard menu that is supplemented by "dishes of the day" that are listed on a blackboard. This applies both to main courses and to sweets.
Typical main course dishes might be roast pork, roast lamb, chicken, beef wellington or steak. Fish dishes might include trout, sea bass, tuna steak or sole. You will nearly always find a choice of vegetarian dishes. There is often a choice of potato styles, such as chips, roast, mashed or jacket. You usually get a variety of vegetables, such as carrots, cabbage, leeks, peas, beans, etc. Portions are rarely mean!
Many pubs have got deals going with local farmers and/or fishermen (depending on location). They may therefore serve excellent local produce at certain times of the year. This will be fresh, wholesome, and delicious!
If your main course is not enough, there is often a good choice of sweets, although the staff may have to tell you what is available on the day. The sweets might include apple pie, trifle, gateau, crème caramel or the notorious "death by chocolate"!
And of course there is always the beer to go with the meal! The best pubs serve a variety of brews, and you might like to try several, half a pint at a time. If your pub serves "real ale", pumped by hand, as well as good food, you are doubly lucky! Apart from beer, there will be the usual range of wines, spirits, ciders and soft drinks.
Many pubs are conscious of family needs and offer separate children's menus, with favourites including burgers and chicken nuggets. Accommodation for children is often limited in the evenings, when pubs cater more for couples and adult groups of friends.
Value for money is usually excellent. Pub landlords appreciate that they are in competition with neighbouring pubs and other establishments, so competitive pricing is one of their selling points.
The ambience in which pub food is served is one of the main reasons for eating it. Many English pubs are centuries old, and eating a meal at a wooden table that was made 300 years ago, in a room that is just as old if not older, is a special experience. A roaring log fire can warm you in the winter, or in the summer you can sit outside in the pub garden and admire the view, maybe of swans and ducks on the river flowing by.
If you want the sophistication of cordon bleu or nouvelle cuisine, the British pub is not the place for you. However, if you want to eat well, at good value, in pleasant surroundings, a pub meal is hard to beat.

John Welford
I am a retired librarian, having spent most of my career in academic and industrial libraries.
I write on a number of subjects and also write stories as a member of the "Hinckley Scribblers".
See all posts by John Welford →