Boo! It's Classroom Baked Goods Season!
Don't be too scared! I got you!
I was grocery shopping this past weekend and wandered into the 'Seasonal' aisle. What I saw was enough to stop me in my tracks for a moment, lightheaded and having heart palpitations.
No, not from a sugar-high caused by the excess of Halloween candy. It was worse than that. I had been so caught up in trying to figure out where breadcrumbs had been relocated to in the last store-shuffling I actually forgot that I don't need to be afraid of the start of the Halloween season. It's not the increasingly grizzly costumes that I've always dreaded. No; it's much, much worse than that.
It's the start of the classroom baked goods season.
Those who have young children in their lives will understand. If they aren't bringing home order sheets for doodads we don't need they are asking for donations to bake sales, classroom events, little Jenny's going-away party, and seasonal festivities.
Halloween starts it and we don't come up for a breath until March-ish!
Take heart though, dear reader, I made it through those harsh days, the mornings where I physically felt my heart lurch when a daughter said "Mom! I forgot to tell you…" because heaven help me it would some food item that was due in an hour. If I was lucky.
Yes, I made it through and I will share some 'let's get real' suggestions for your survival, too. First, though, please learn from my mistake.
Yummy Mummies (aka My Mistake)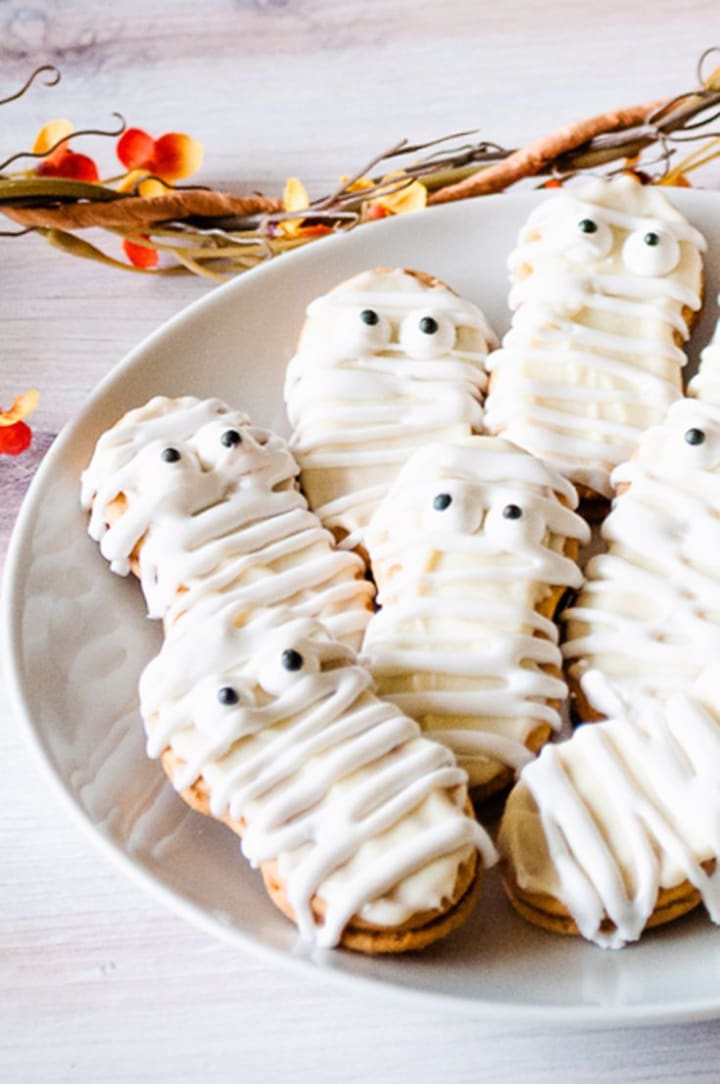 There is hardly anything easier than dunking a cookie in icing, drizzling it with even more icing, and sticking on some candy eyes! A cookie with icing BETWEEN two cookies with even more icing on top of it is a true people-pleaser. Guaranteed to make everyone ask for more.
Even little Paulie with the peanut allergy. So, maybe you don't do this cookie right off the bat. Some schools won't even allow peanut butter sandwiches due to allergy concerns. And that is exactly what I would want them to do if my child had a peanut allergy. But if it is for your kids, in your house, and allergies aren't a threat then check out the recipe (I giggle just writing that: 'recipe!) below. (Pro Tip: adults love these, too, so make a batch for work!)
Marshmallow Monsters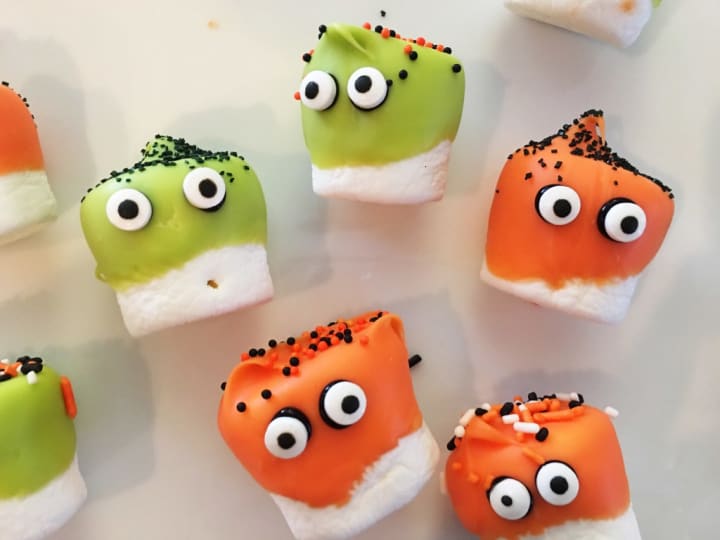 Those cute little staring eyeballs are just too cute to ignore, aren't they? You can find them in almost every craft store, 'Mart', and most larger grocery stores. The most common are from Wilton, but you can find different sizes and even colors from other suppliers once you start looking. Check out the link above, or your local cake/cookie decorating sections.
While you're there get some brightly-colored candy melts, and some sprinkles, a tube of gel icing in any color, and a bag of marshmallows and you are ready to make these couldn't-be-easier-not-a-speck-of-peanuts-on-'em monsters. From melt-to-finish these take about 50 minutes. (Pro Tip: Buy those marshmallows now and stock up a few extra bags. I'd dip those things in white candy melt, add the eyes and a sliver of orange candy/tic-tac and make 'em into snowmen in December, too. You are welcome.)
Kinda-Healthy Banana Ghosts
Now maybe you are that mom, or your kids go to that school, and candy isn't an option for treats. Have no fear, here are two treats to keep in your back pocket for school events or even just to tickle the fancy of your own family!
You COULD use the white candy melts to make the ghosts but Well Plated by Erin has an ingenious way to avoid that: she uses nonfat vanilla Greek yogurt mixed with some powdered sugar for stability. Dip in frozen halved bananas, pop back in the freezer to set, and use two teensy-tiny chocolate chips for eyes. (I can almost taste the wooden popsicle sticks on my tongue; it's a rite of passage for children!)
Got Sharpie? Got Treats!
No time for chilling? Need to get the treats out the door in a hurry? No problem!

Grab a Sharpie or other permanent marker and use it to transform every day fruit into boo-tiful treats that are easy to eat. Depending on your caffeine levels the morning you get the request you can do the mandarins-turned-pumpkins and make eyes and mouths, or go even simpler and use circles and ovals to turn bananas into something just a little more than ordinary.

Poof! You Are Now A Halloween Snack Expert!
If you enjoyed these ideas and hope that I will continue with November and December easy treat ideas please click on the heart below!
This post is also an article in The Vocal Creators Chronicle vol.4
recipe
About the author
It's my time to find and use my voice.
Poetry, short stories, recipes, and a lot of things I think and wish I'd known a long time ago.
Reader insights
Be the first to share your insights about this piece.
Add your insights