Birds Of A Feather
Delicious dishes with bird meat as the main ingredient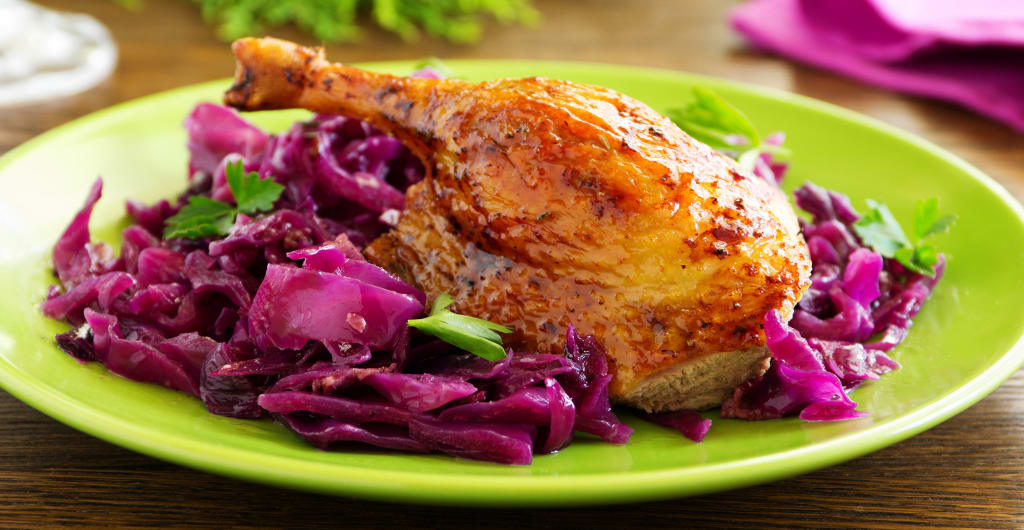 Europe
Denmark
Stegt Gas is a roast goose that is a Danish specialty prepared on special occasions. The goose is prepared and cleaned and then stuffed with quartered apples or a mix of apples and prunes.
From the drippings of the roasted goose, a sauce is made with cream. Traditional accompaniments to the goose are red cabbage and boiled or caramelized potatoes.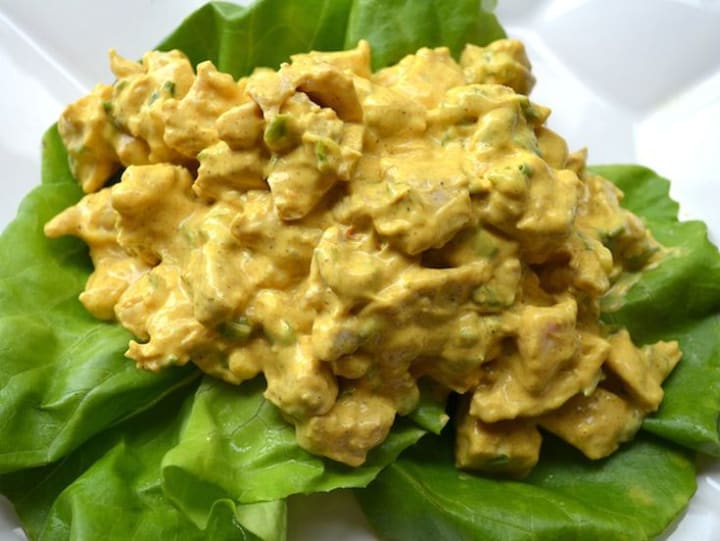 England
Coronation chicken originated in England but is prepared in Indian style. The dish is a mix of cooked chicken cut into pieces, mayonnaise, tomato paste, curry powder, onions, chicken stock, lemon juice, yogurt, dried apricots, and oil.
All the ingredients are combined and stir-fried or cooked and then the chicken is added. Before serving this dish it should be refrigerated for at least an hour. The dish was the creation of Constance Spry and Rosemary Hume in 1953 to celebrate the coronation of Queen Elizabeth II.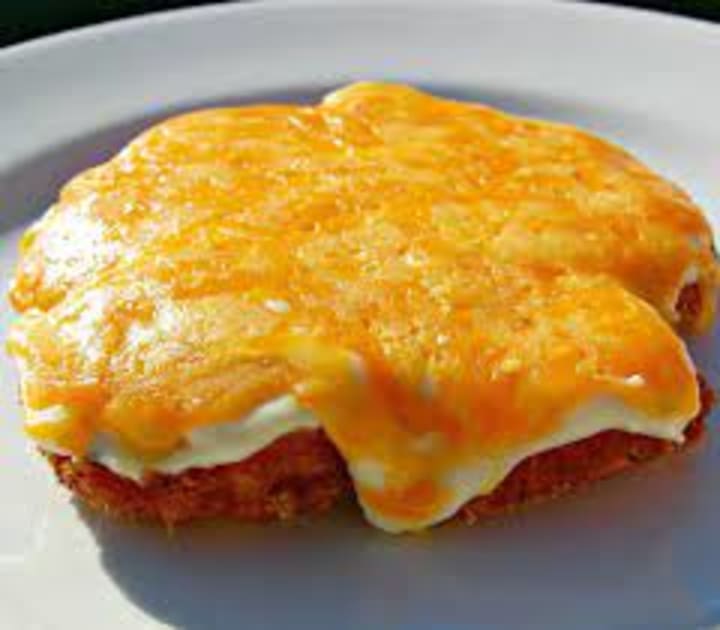 Parmo is a popular British dish that is prepared with a deep=fried chicken cutlet. The chicken cutlet is dredged in breadcrumbs, fried, and then covered in a creamy sauce. It is topped with ingredients like cheese, bacon, or pepperoni and garlic sauce depending on what the cook prefers. The dish is traditionally served with a large portion of chips and a salad on the side.
It is believed that Parm originated in a Middlesborough restaurant in the 1950s. The name of the dish was derived from the well-known dish Chicken Parmesan, however, if topped by cheese it is cheddar cheese, not Parmesan.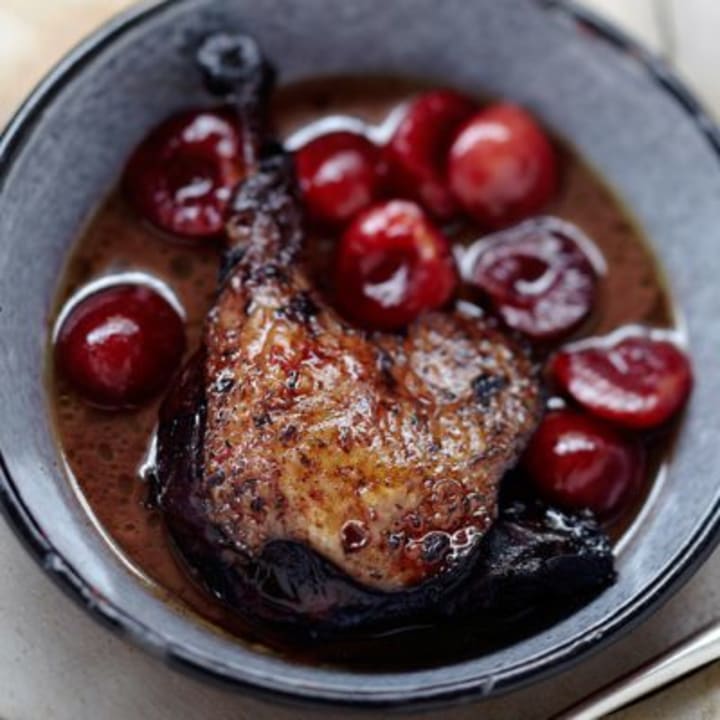 France
Canard aux cerises is a traditional French dish that is prepared with duck and sour cherries. Other ingredients are carrots, onions, duck fat or lard, white wine, seasonings, and aromatic herbs like bay leaves, parsley, celery, and thyme.
When preparing the dish the duck is browned in fat along with carrots and onions on low heat. Then white wine, herbs, and seasonings are added to the pot along with water. The duck is totally covered by the liquid and simmered until the meat is tender. After the duck is removed from the pot, the fat and the juices are skimmed then returned to the pot with sour cherries. The sauce is poured over the duck.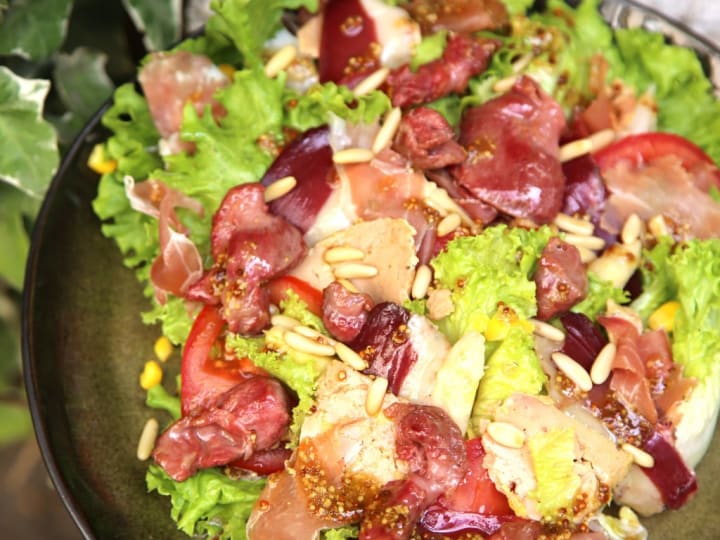 Salade Landaise is a traditional French salad. It is well-known for its duck and walnuts. The salad is prepared with duck breast, gizzards, or confit, lettuce leaves, bacon, cherry tomatoes, walnuts and croutons.
For the salad the duck is roasted then cut or shredded and combined with the other ingredients, A dressing is made with mustard, vinegar, honey, onions, olive oil and chives. Once the salad is placed in a bowl the duck pieces are arranged on top and should be served right away while the duck is still warm.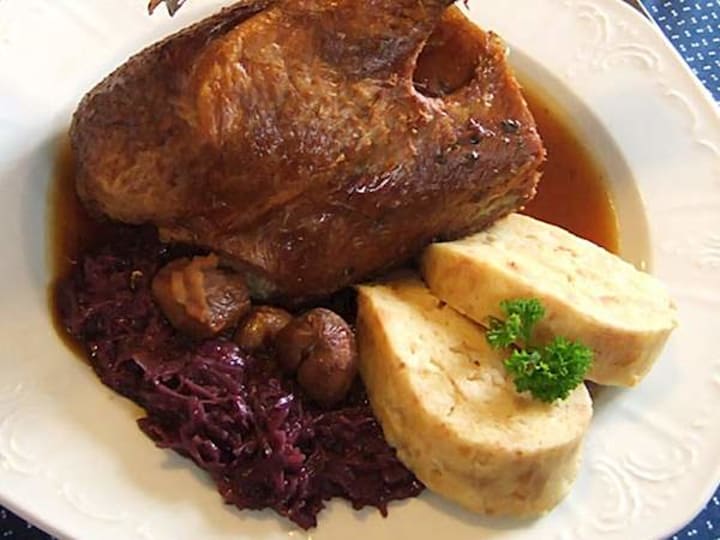 Austria
Martinigans is a stuffed goose that is prepared on St. Martin's Day, November 11. It is a traditional dish all over Austria. The dish has lots of variations. The goose is stuffed with chestnuts and dried plums, then roasted. When the goose is ready it is served with red cabbage, potatoes, or knodel dumplings. Sometimes the goose is drizzled over with gravy made from duck stock from giblets and pan drippings.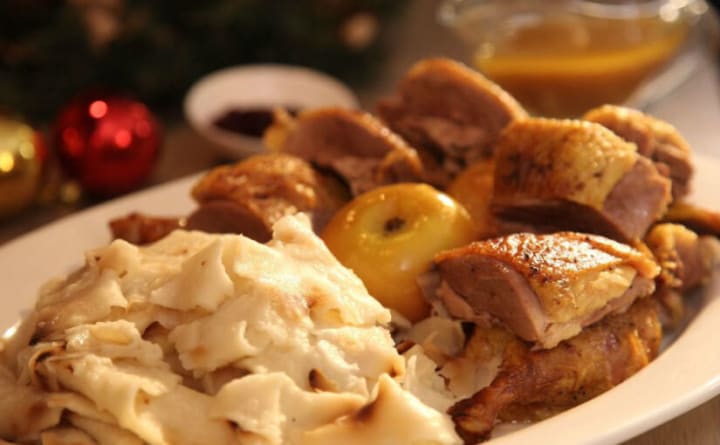 Croatia
Patka s mlincima is a specialty originating from the northern parts of Croatia, especially the regions of Zagorje and Međimurje. The dish is prepared with a whole duck mlinci, a traditional pasta made with flour, water, and lard and eggs.
The duck is seasoned with salt and then covered with a mix of water, wine, and melted fat and roasted. While the duck is roasting it is drizzled with the pan drippings. The mlinici are baked, covered with boiled water and drained. Once the duck is ready it and the mlinici are covered with the roasting juices.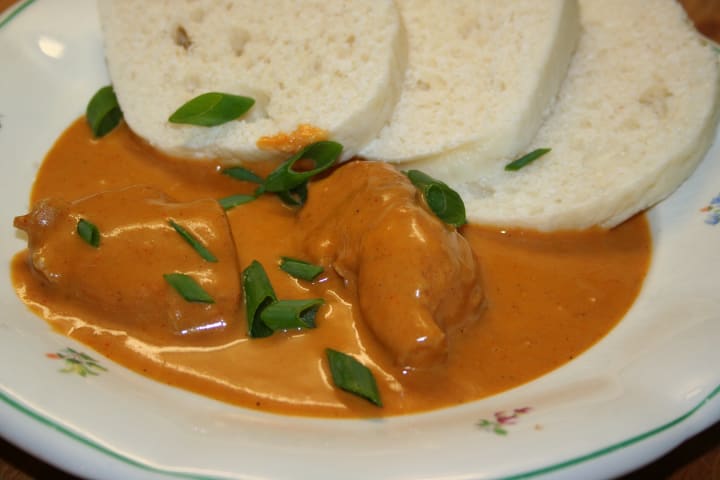 Czech Republic
Kuře na paprice is the Czech version of the well-known Hungarian chicken paprikash. The dish is prepared with braised chicken pieces in a creamy sauce spiced with Hungarian sweet paprika. The Czech version can also include tomatoes or heavy cream. It is served with plain boiled rice or white bread dumplings. It has become one of the favorite poultry dishes in the country.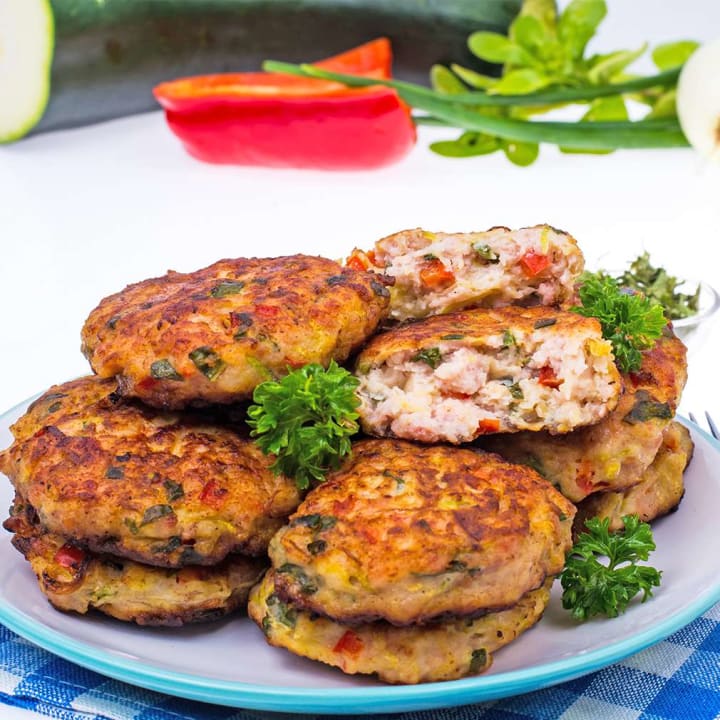 Poland
Kotlet z indyka is a Polish meat cutlet made with a thin slice of breaded and fried turkey tenderloin. These turkey cutlets can also be stuffed with a filling consisting of chopped hame, yellow cheese, and canned peppers before frying, These fried turkey cutlets are served with cabbage with dill, potatoes and groats, mashed potatoes, or boiled carrots.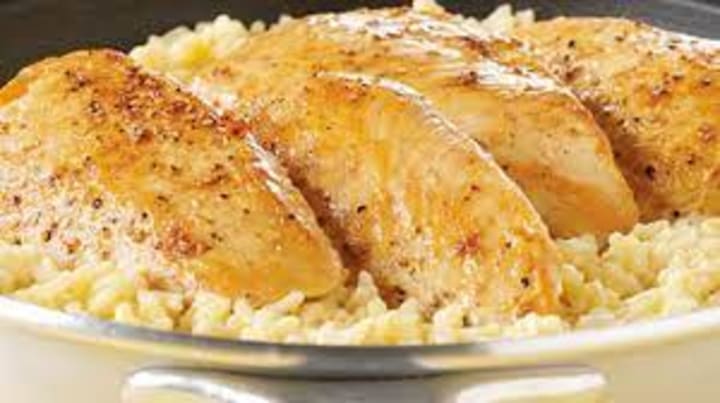 Greece
Kotopoulo me ryzi translated means chicken with rice. This is a simple Greek dish with two ingredients. It is prepared on top of the stove in one pot. The dish can include various cuts of chicken, vegetables, and different seasonings. The essential ingredients are grated lemon zest and lemon juice It is usually prepared as a home-cooked meal and enjoyed as a main course.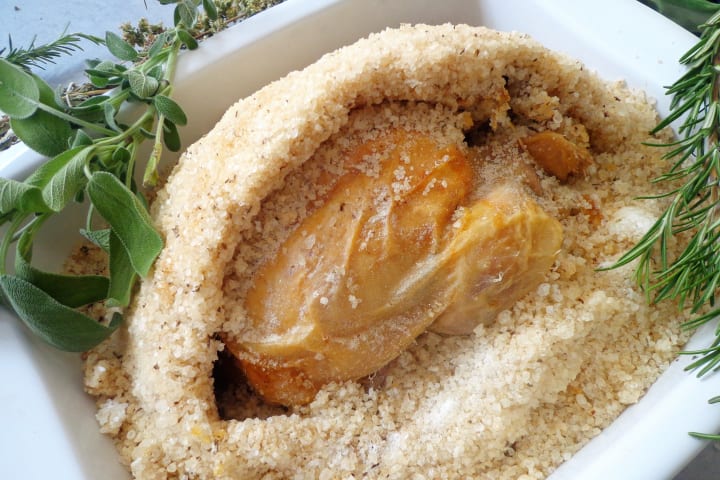 Italy
Pollo in crosta di sale is a traditional Italian poultry dish that is made with a whole chicken, flour, sea salt, egg whites, rosemary, bay leaves, and seasonings. The chicken is rubbed with salt and pepper and the rosemary and bay leaves are put inside the cavity.
Then the chicken is placed to bake in the oven covered with a mix of sea salt, flour, and egg whites. When the chicken is done the salt crust is broken and the chicken is carved into pieces.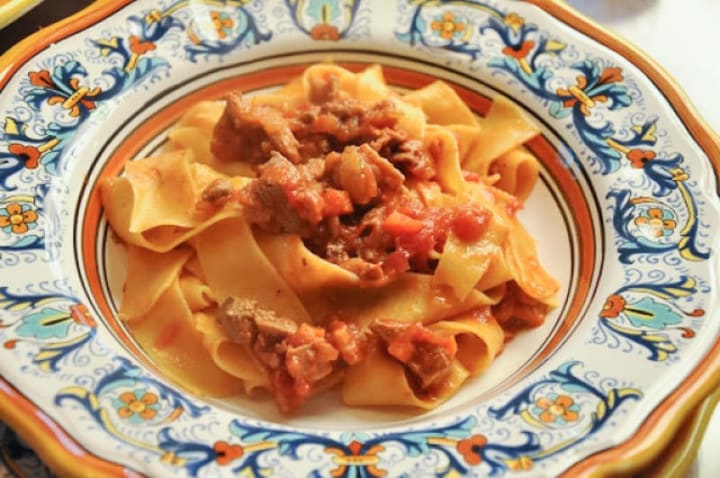 Pappardelle all'anatra is a traditional Italian dish that's especially popular in Tuscany. This is a dish that is prepared with duck meat, garlic, tomatoes, red wine, stock, onions, carrots, celery, olive oil, sage, rosemary, bay leaves, and pappardelle pasta.
The hearty meat sauce is simmered until it's reduced and then combined with the pappardelle pasta. It is traditionally served with grated parmesan.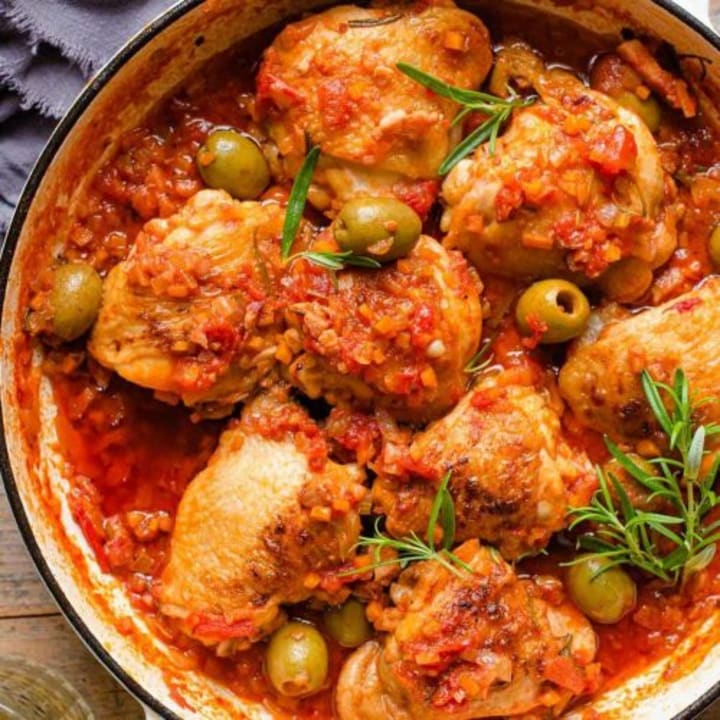 Pollo Alla Cacciatora is a delicious Italian dish known as chicken cacciatora. It is made in various regional varieties. Basically, the dish is prepared with chicken pieces with the skin and braised with rosemary, garlic, red or white wine, and vinegar.
Additional ingredients include root vegetables and tomato sauce in Tuscany or capers, lemon and anchovies in Umbria.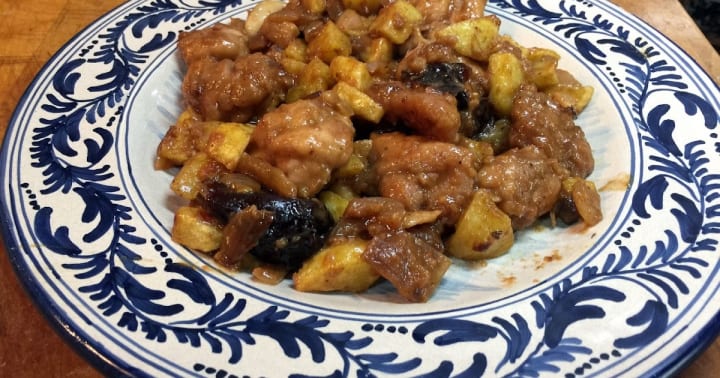 Spain
Escaldums is a traditional Spanish stew that originated in the Balearic Islands. The stew is prepared with turkey breast or leg pieces, onions, tomatoes, garlic, brandy, olive oil, thyme, bay leaves, almonds or pine nuts, and seasonings.
This dish is usually made in a large cazuela pot. First, the turkey is browned and then combined with a sauce made from garlic, onions, tomatoes, and brandy. It is then cooked with bay leaves and thyme until the turkey is tender. Near the end of cooking, finely ground almonds or pine nuts are added.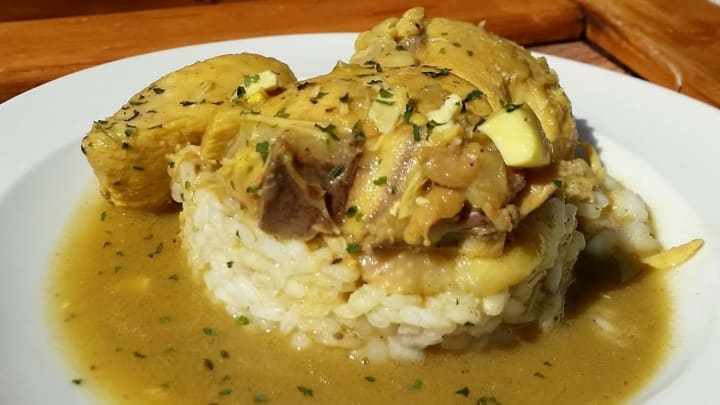 Gallina en pepitoria is a classic Spanish dish that was prepared with a hen (gallina) in a rich, thick sauce. Today it is prepared with chicken cut into pieces, dusted with flour and fried golden brown.
The sauce is made with garlic, onions, serrano ham, sherry or white wine, chicken stock, almonds, saffron, parsley, and crumbled hard-boiled egg yolks. The almonds and egg yolks are used as thickening agents for the sauce and the saffron give it a lovely golden color.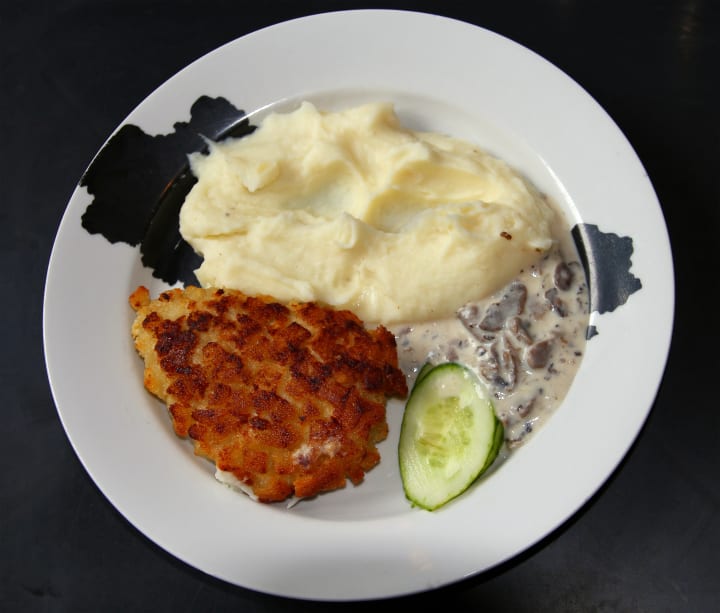 Russia
Pozharsky cutlet is a traditional Russian dish from the 19th century and named after Prince Pozhansky. The prince had guests for dinner who were looking forward to having veal. Since no veal was available he had the chef prepare chicken cutlets.
The dish is prepared with ground chicken made into cutlets, breaded, and fried in butter. The cutlets are served with roasted potatoes, green beans or other similar vegetables.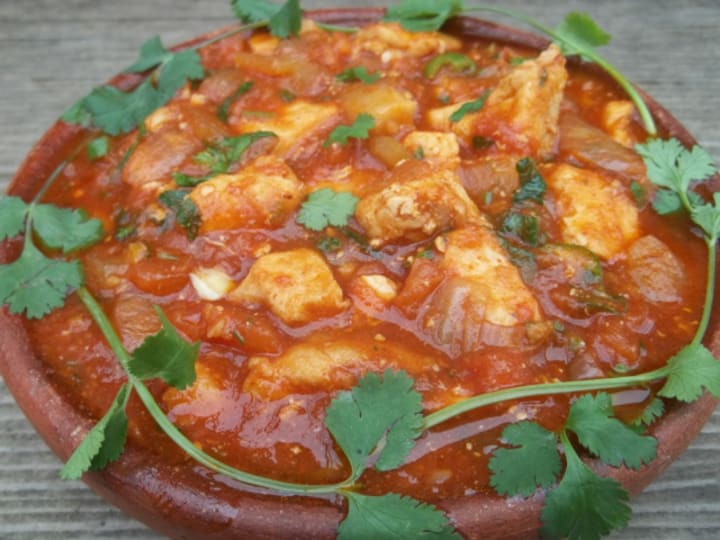 Georgia
Chakhokhbili is a traditional Georgian stew made with a whole chicken not cut up and combined with onions, tomatoes, vinegar, garlic, and spices such as coriander, parsley, hot green peppers, and bay leaves. The stew is thick and served with freshly chopped coriander and accompanied by rice or bread on the side.
The name chakhokhbili is derived from the Georgian word khokhobi, meaning pheasant, since in the past this dish was made with pheasant instead of chicken.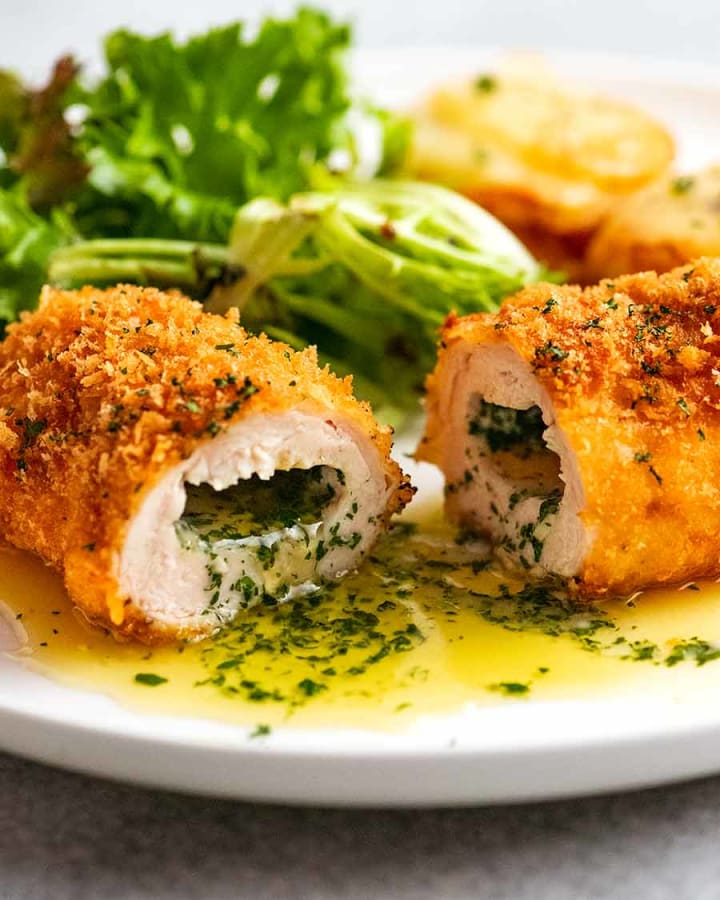 Ukraine
Chicken Kiev is a popular dish that is prepared with a boned, flattened chicken breast that is wrapped around chilled herb butter, breaded on the outside, and fried.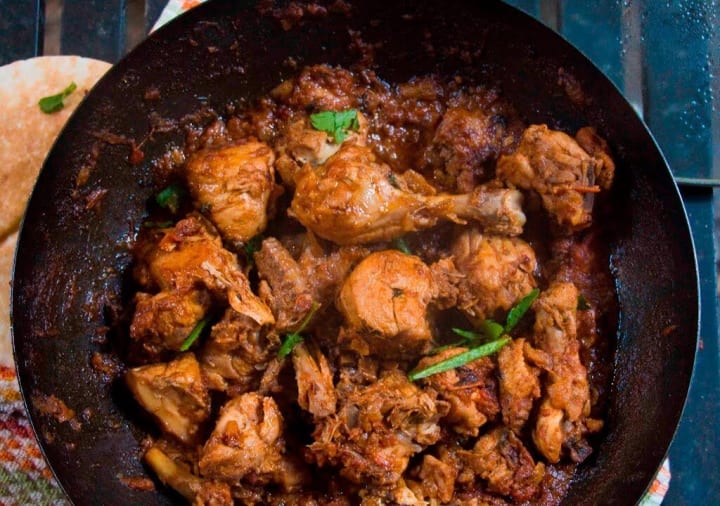 Asia
Pakistan
Chicken karahi is a poultry dish popular in Pakistan and North India. Karachi refers to a thick and deep cooking pot that is similar to a wok in which the dish is prepared.
The chicken is cut up and put into the pot along with red chilli powder, cumin, garam marsala, ginger, allspice, cardamom, tomatoes, and garlic. The chicken will be tender and the sauce thick.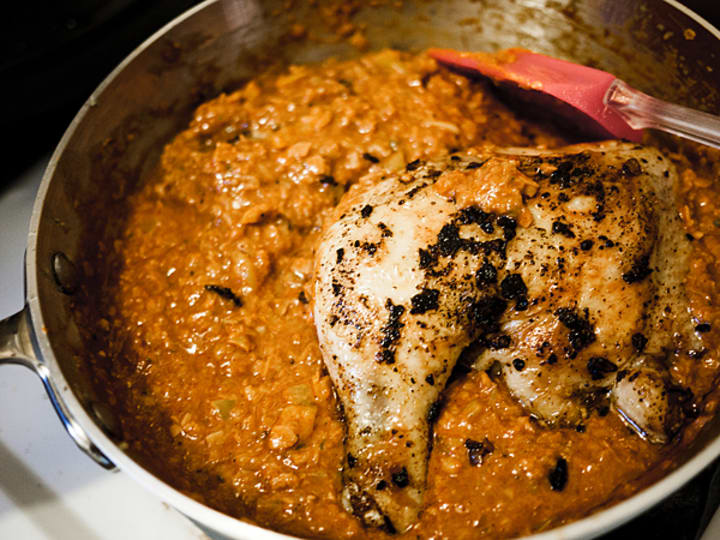 China
Galinha a Africana or Frango assado is a dish that was influenced by African and Portuguese cuisine. The dish is prepared with barbecued chicken that has been coated in a spicy sauce made with peanuts, coconut milk, paprika, grated coconut, and shallots.
The dish was supposedly created in Macau, a former Portuguese colony, by Americo Angelo, a chef who prepared the dish with ingredients he found in the Portuguese colonies in Africa. Another story is that the dish was actually made by Portuguese families living in Macau.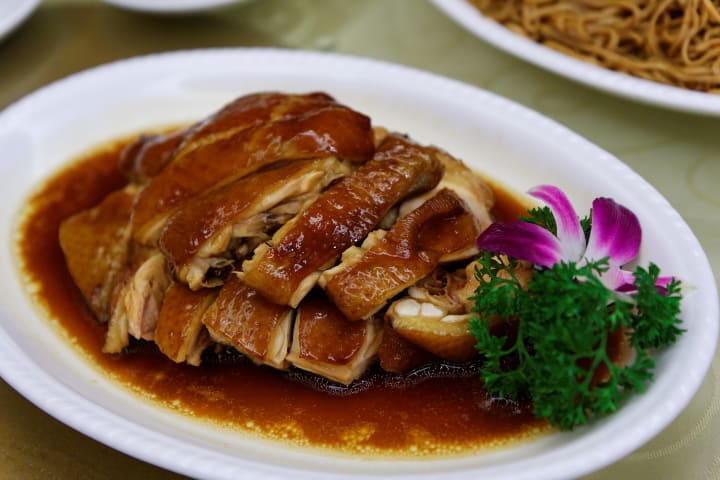 Soy Sauce Chicken is a traditional dish from northern China. This dish is a classic example of the red cooking technique. The chicken is simmered in soy sauce-based liquid with different seasonings. The chicken comes out succulent and tender.
The dish can be prepared with chicken quarters or smaller pieces like legs, drumsticks, and wings. This is also a dish prepared for the Chinese New Year. The dish can be accompanied by rice or stir-fried lo mein noodles or a dipping sauce prepared with oil, ginger, chicken stock, onions, and salt.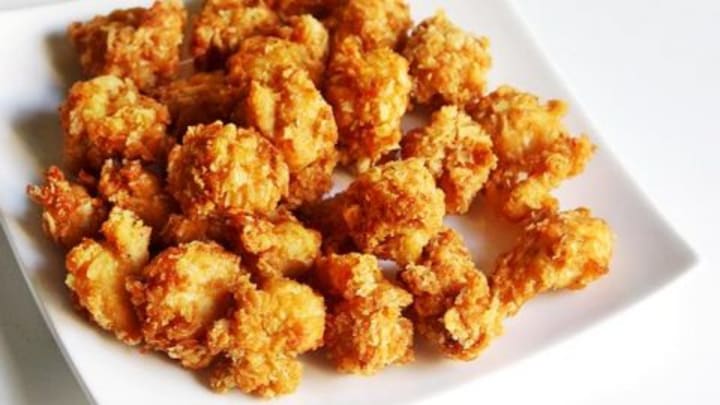 Taiwan
Popcorn Chicken is a Taiwanese classic that is made with bite-sized pieces of chicken marinated in a tasty mix of soy sauce, garlic, ginger, rice wine, and different spices. Then the chicken pieces are coated in potato starch and deep-fried until crispy.
This dish is usually made with boneless chicken thighs and the traditional seasoning include salt, pepper, and five-spice powder. It has become one of the iconic street foods popular all through Taiwan.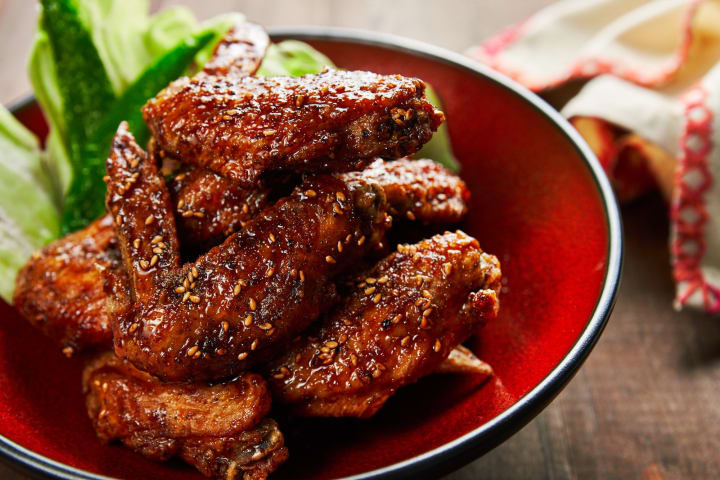 Japan
Tebasaki is a traditional Japanese yakitori dish prepared with chicken wings. The wings are put on skewers and grilled or deep-fried. They are seasoned only with salt and pepper to give the chicken wings a crispy skin. They can be accompanied by lime wedges on the side.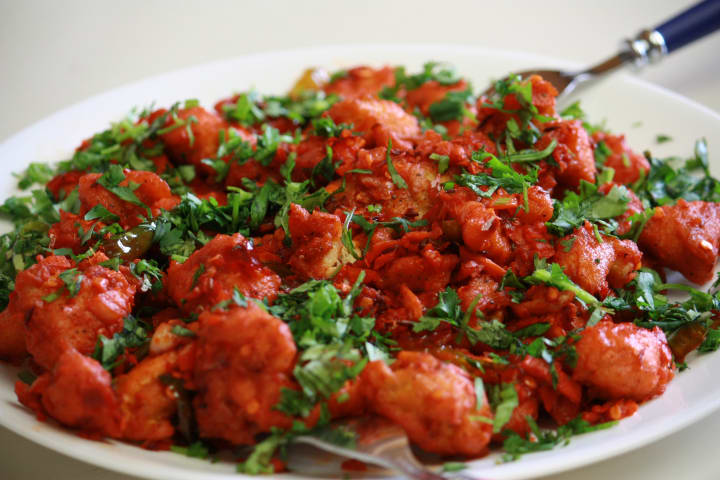 India
Chicken 65 is a classic chicken dish with origins in Chennai, India. The dish is prepared with deep-fried chicken that has been marinated in ginger, lemon, red chillies, and other spices.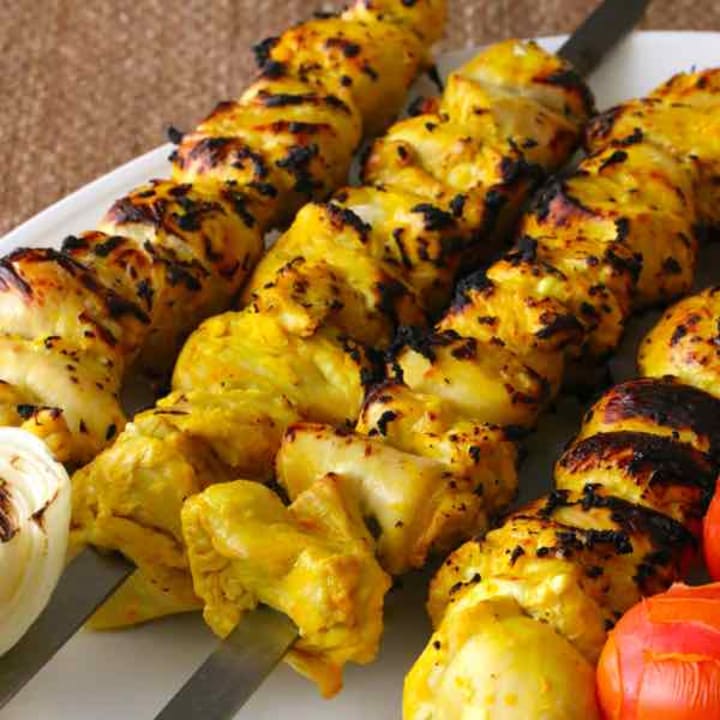 Iran
In Iran, grilled chicken kebab is called jujeh kabab. The dish has two popular variations. One is using boneless chicken and the other with chicken with bone-in. The chicken is usually cut into large chunks and marinated with different spices including saffron, Afte it is skewered and grilled. The grilled chicken is enjoyed with grilled tomatoes, onions, lavash bread or saffron rice on the side.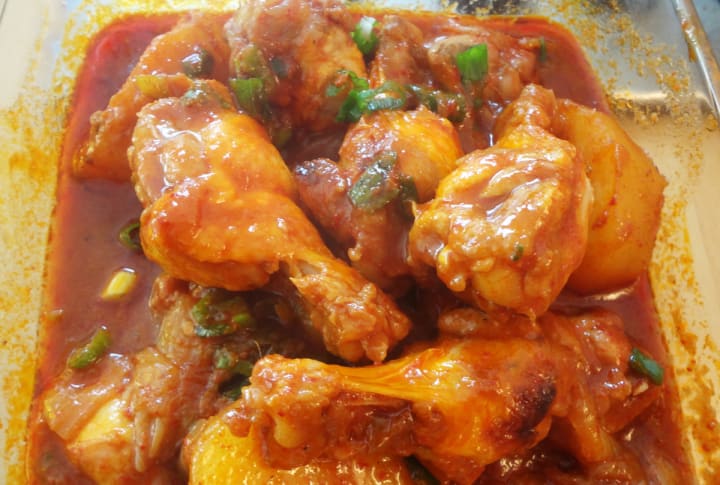 South Korea
Dakbokkeumtang is a South Korean dish that is a combination of chicken pieces, potatoes, onions, and carrots stir-fried in a mix of soy sauce, gochujang (fermented sauce), and garlic.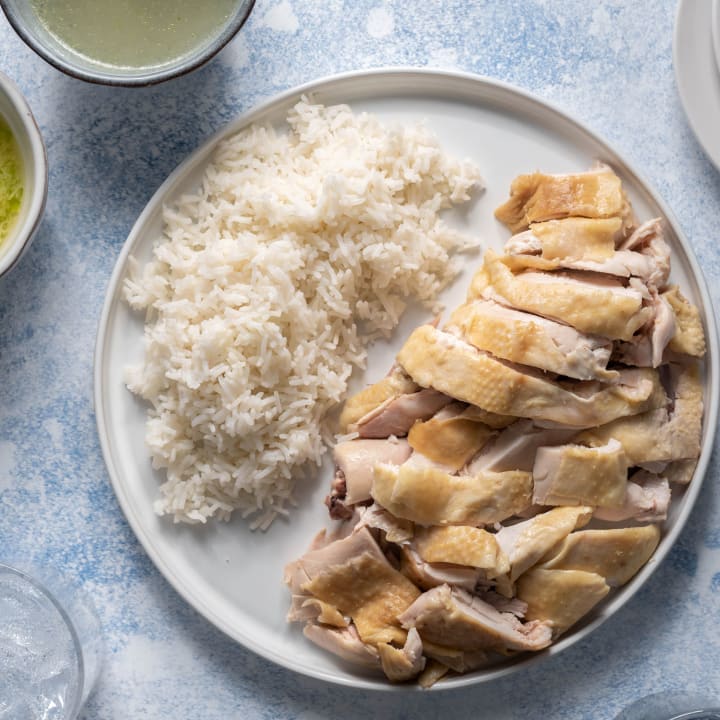 Singapore
Hainanese chicken rice was created in Hainan, a tropical island south of China. It has become one of the most popular dishes in Singapore. The dish is prepared with chicken cut into bite-sized pieces and served with fragrant white rice.
The chicken is put on a plate and drizzled with soy sauce and sesame oil. It can be accompanied by sliced cucumbers and a spice chilli sauce. The steaming liquid can be spiced and served as a soup. Hainanese immigrants to Singapore brought the recipe in the 19th century.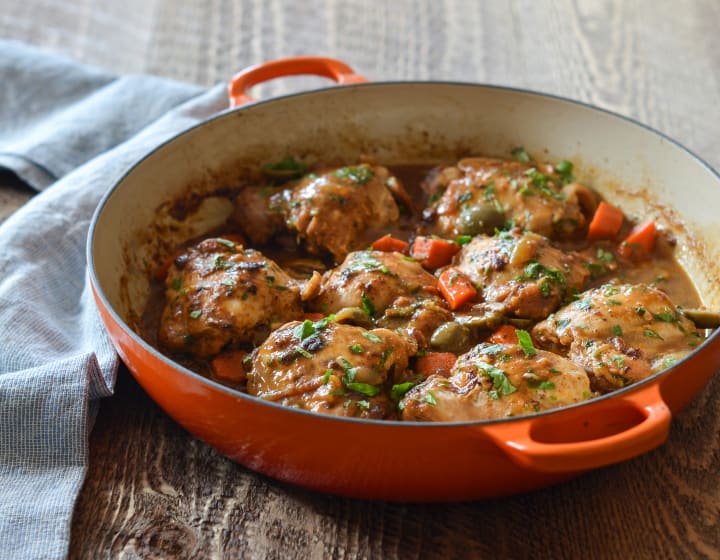 Africa
Morocco
Chicken Tajiine is made with bone-in chicken cuts like legs, thighs, or drumsticks. The meat is arranged with vegetables like onions, carrots, tomatoes, or potatoes. The chicken is seasoned with cumin, saffron, parsley, or coriander. Variations include preserved lemons, olives, almonds or apricots.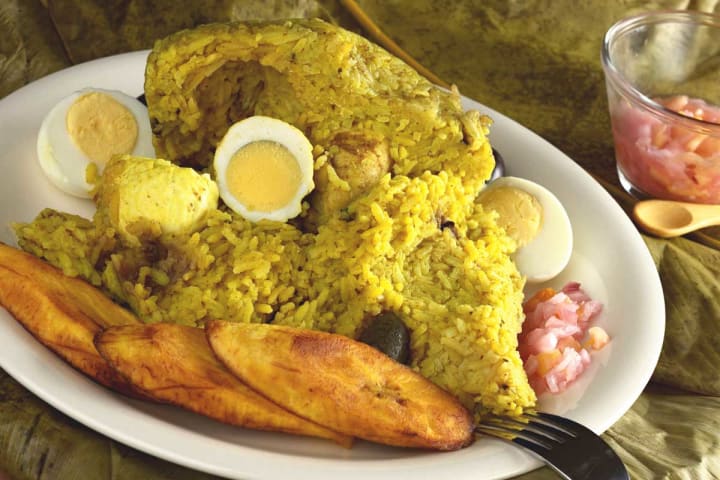 South America
Peru
Juanes is a traditional dish that comes from the Peruvian jungles. It is prepared with chicken, olives, hard-boiled eggs and rice that has been seasoned with spices like turmeric, oregano, and cumin. The ingredients are combined and wrapped in waxy bijao leaves and cooked.
The dish is accompanied by cassava or boiled bananas. Juanes can be found in traditional restaurants, in markets, and with street vendors. The name of the dish refers to St. John the Baptist,, because it is traditionally eaten on June 24th, during the Feast of San Juan who was the patron saint of the Amazon.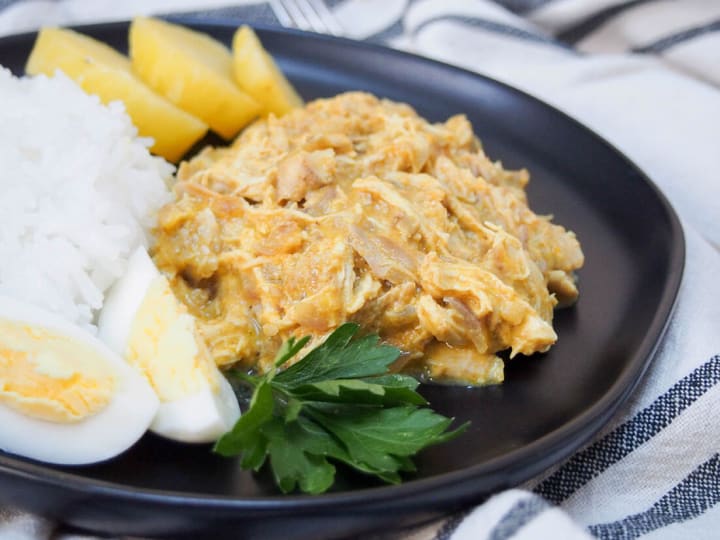 Aji de gallina is a spicy Peruvian dish that is usually eaten on rainy or cold days. It is prepared with shredded chicken in a creamy sauce. Usually served over rice and garnished with black olives and boiled potatoes. The sauce consists of aji amarillo chillies, garlic, onions, walnuts, cheese, and crustless bread. It is flavored with spices like cumin, pepper, oregano, turmeric, and parsley.
It is believed that this dish originated from another dish called Manjar blanco that was a combination of chicken, almonds, sugar, and rice, Peruvian people made it their own using local ingredients like aji chilli.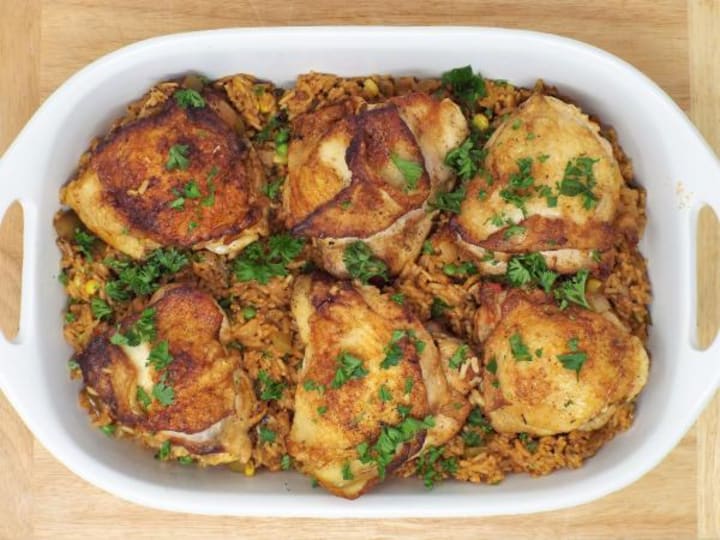 Brazil
Galinhada is a Brazilian stew made with saffron rice and chicken. It has become a popular dish particularly in the states of Golas and Minas Gerais, made on special occasions and festivities. The name of this dish is derived from the Portuguese word galinha, meaning chicken.
Even though galinhada is served in restaurants and eateries people prefer to make it at home. The dish is usually served with hot sauce and garnished with finely diced green onions.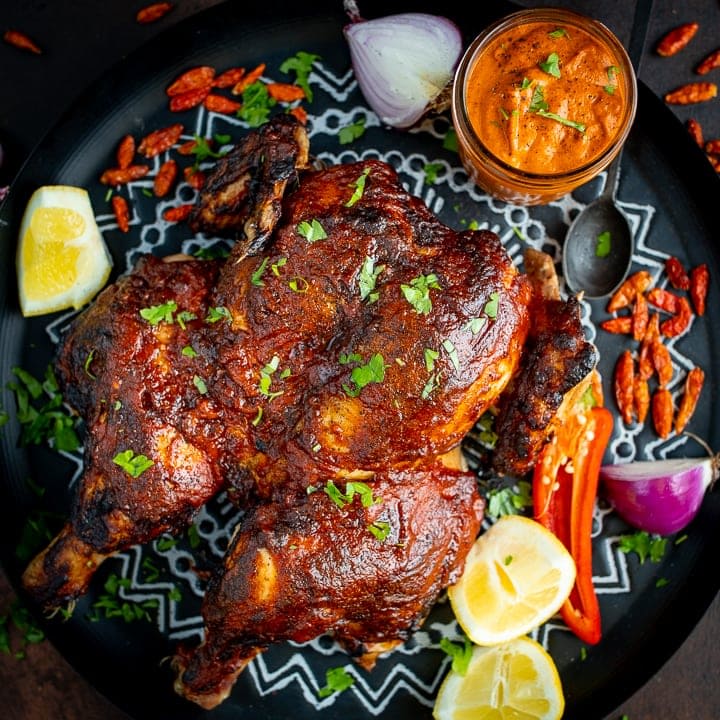 Mozambique
Peri-peri chicken is a Mozambican dish made with grilled or roasted chicken and served with a creamy and spicy coconut sauce, Before grilling the chicken is marinated with cumin, garlic, paprika, lemon juice, and bird's eye chillies.
cuisine
My passions are writing and creating poetry. I write for several sites online and have four themed blogs.
Receive stories by Rasma Raisters in

your feed