Being Called "Hummus Queen" and Eight Other Things That Have Happened Since I Went Vegan
Confessions of a plant-based princess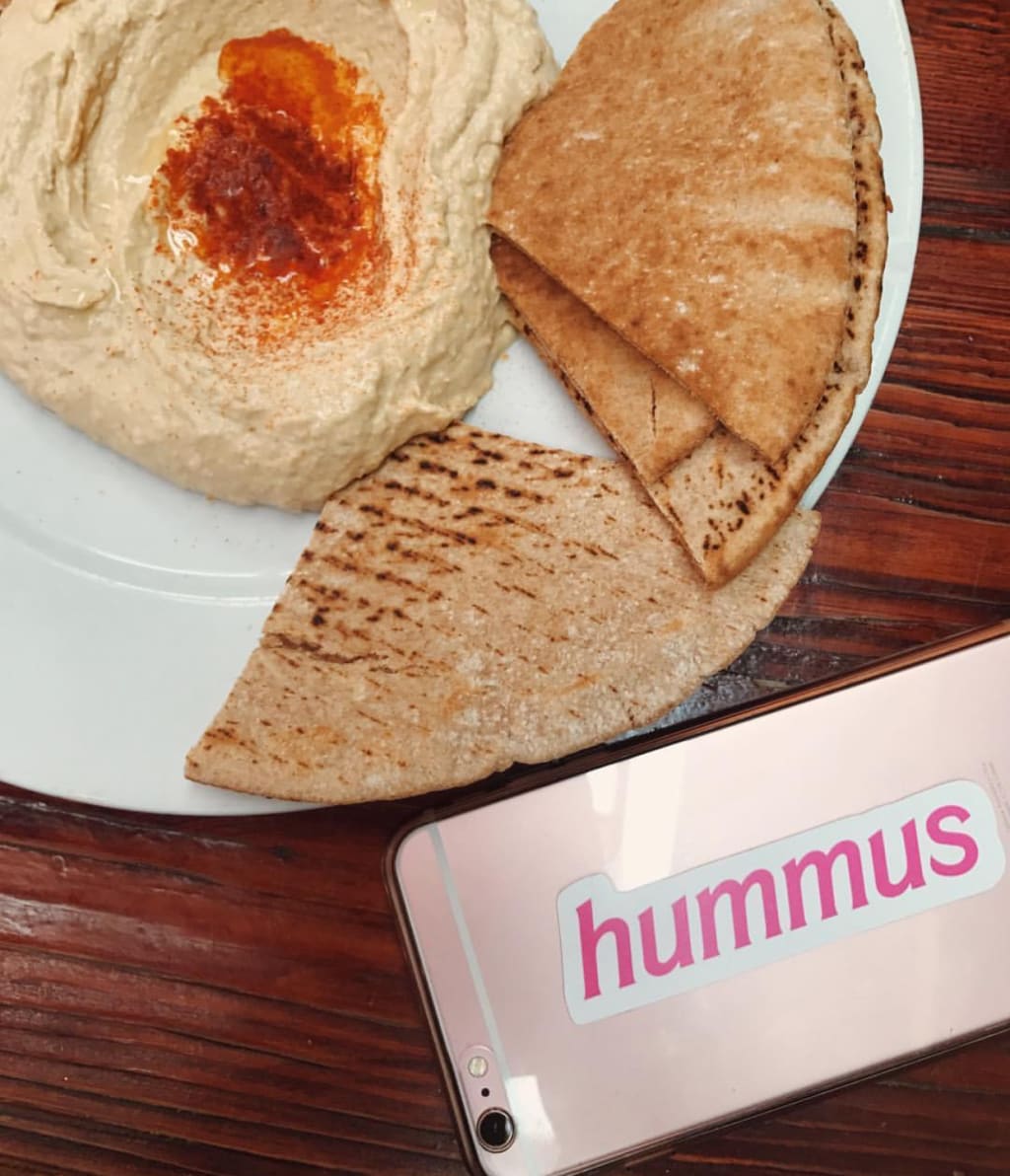 aroma coffee & tea, studio city, CA
I decided to go vegan when I got home from a summer abroad and realized I had gained 10 pounds. I have been vegetarian since I was in 10th grade, and before traveling I had been off dairy for six months to see if it would help clear my skin. (Hint: it did.) But I was going to the land of pizza and cappuccinos... so I went from zero to 1,000 in dairyland as soon as I got off the plane. It was six weeks of creamy, sugary bliss. Then I got home, returned to reality, stepped on a scale, and took a long look in the mirror at the bumps all over my face. It was time to change. And since then, I have never looked back.
1. I learned that eating plant-based is much easier than I thought.
It helps that veganism is trendy right now. If you can't find it at Trader Joe's or Sprouts (or even Target grocery), you can find it at Whole Foods. Anything. Vegan puff pastry. Dairy-free cream cheese. Plant-based ranch dip. Vegan/GF mac & cheese. Every kind of nut milk you could imagine. In the land of snack foods and frozen meals, local grocery stores have surprisingly jumped right onto the plant-based bandwagon.
2. I started eating a lot more bread.
When you cut out filling foods like cheese and other animal proteins, you've got to fill the void with something else. When I first went vegan, I was heavy-handed with fatty foods like peanut butter and margerine, and over-eager in the chip aisle. After my skin got worse from all the excess oil, I started replacing simple carbohydrates with complex ones, and cheap oils with omega-3-rich variants. Think quinoa, brown rice, whole grain pasta, beans, avocados, coconut oil, and roasted potatoes. But in a busy life, taking the time to cook rice or potatoes, or even roast veggies, is annoying. Thus, my romance with bread. I am majorly obsessed with Ezekiel Sprouted Bread, which makes for an excellent vegan french toast, bun for veggie burgers, and canvas for peanut butter toast.
3. I stopped eating out.
Except for my occasional excursion to Veggie Grill in a surrounding city, I hardly ever eat out. On a cheat day, if I'm really rushed, I like to get a falafel plate from Zankou Chicken (Hint: all their sides and falafel are vegan!). But when it comes to sit-down restaurants, vegan options are usually extremely limited. It seems frustrating, but my wallet is happy.
4. I started baking more.
I recently discovered the vegan bakery case at Whole Foods, but at 590 calories per scone, I tend to stay away. Pastries are my weakness, so I resorted to diving into Pinterest and modifying recipes to make them vegan and lower in sugar. Some of my best finds have been gingerbread spice pancakes, pumpkin chocolate chip cookies, and blueberry zucchini bread.
5. I have watched other people eat while I couldn't.
Sometimes, there is just no way to avoid animal products. School functions were the worst for me. I have learned to not make it awkward, and to really enjoy sipping water and making conversation. No one will remember that I didn't touch the food they provided at my college graduate luncheon.
6. I make soup at least once a week.
Soup is the easiest thing to make, ever. You can literally put whatever vegetable or grain you want in it and it won't taste bad. My favorite is red lentils, tomatoes, kale, mushrooms, and white beans.
7. I have converted die-hard dairy fans to a dairy-free lifestyle.
The carnivores are harder to convert, but I have gotten my meat-loving friends to go full vegan at least temporarily. And when you are breaking out and getting bloated with no idea how to stop it, the benefits of cutting out dairy suddenly becomes worth the loss.
8. I discovered that veganism is more than just a diet.
Until I watched the documentary What the Health, I had never heard the term "plant-based diet." I just thought that if you don't eat animal products, you're vegan and there is nothing else to it. But veganism has an entire philosophy and way of life behind it. Don't tell PETA, but animal rights are really not that important to me. I cut out animal products from my diet for health, which is more of a plant-based lifestyle than a vegan one. I still tell people I'm vegan because that is a common term that most people immediately understand—but now I actually consider myself plant-based.
9. I have gotten mixed feedback.
Some of closest friends and coworkers have dubbed me the "hummus queen" because of how often I eat it. But others prod and criticize my choice. Ultimately, as much as I love pizza and ice cream and cappuccinos, the way I feel when I don't eat animal products is completely worth it. My acid reflux has pretty much disappeared, I rarely breakout when I used to get two to three new cysts every day, and I can get through longer and harder workouts than I ever dreamed I could. Sometimes I get fed up with having to brush off pointed questions and scoffs about my veganism, but as the weeks and years go by, it gets easier. I've stopped feeling like I have to justify myself to everyone who says anything about the way I eat. It's just how I eat, and that's that.
—A
About the Creator
writer // reader // dreamer // punk princess
i exist somewhere between star wars & jane eyre with occasional detours to mars & idris.
aliraewriting.com
los angeles, CA
Reader insights
Be the first to share your insights about this piece.
Add your insights