Beefy Good Dishes
Dishes made with beef from all over the world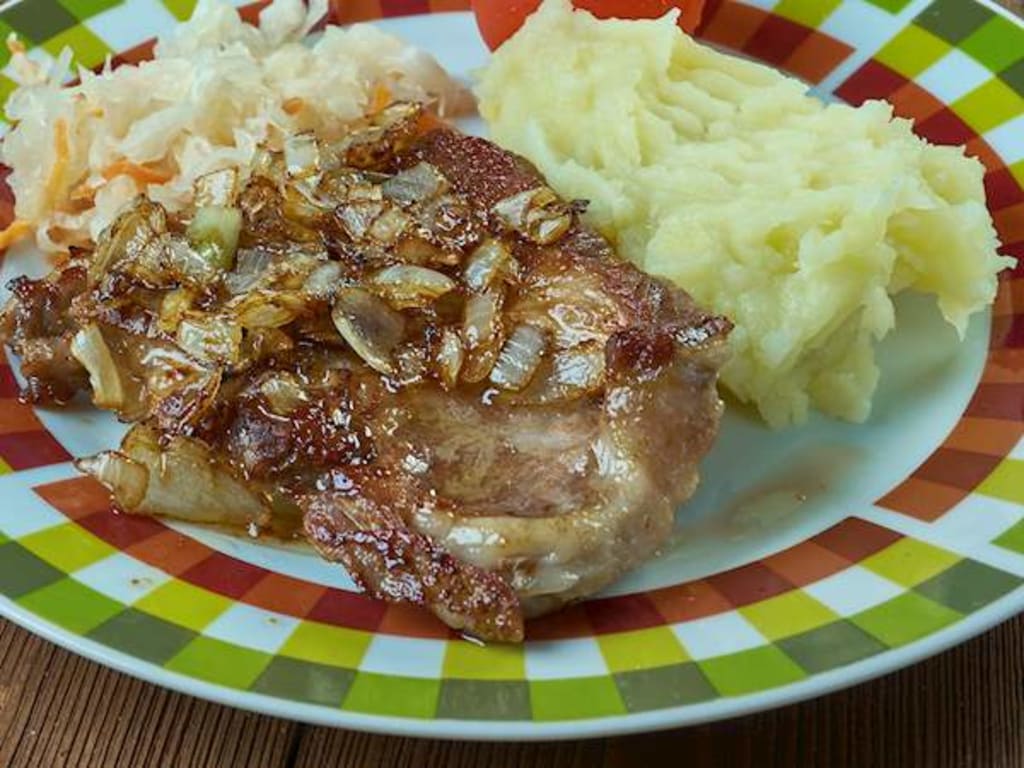 Skomakariada
Europe
Sweden
Skomakariada literally means "shoemaker's box" and it is the name of this traditional dish because the slices of beef look like the soles of a shoe. Each slice of beef is topped with gravy and served on a bed of mashed potatoes. The beef can also be topped with diced bacon and chopped leek.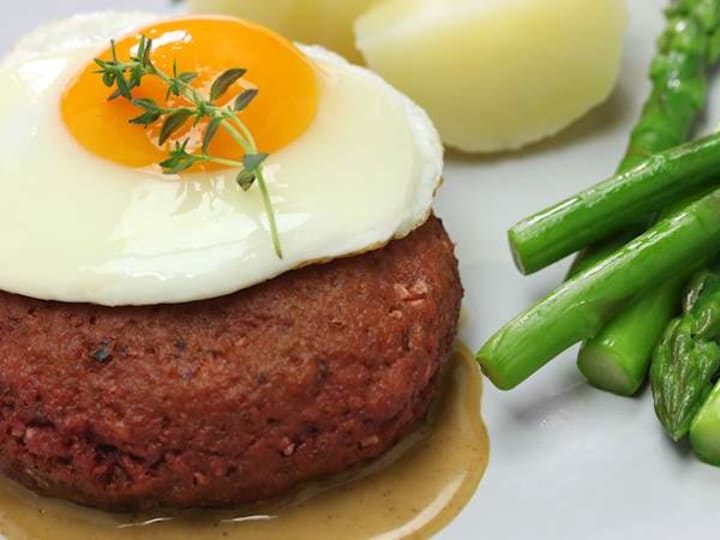 Biff a la Lindstrom is a Swedish burger that has picked beets and capers for added flavor. The minced beef is mixed with eggs, chopped onions, pickled beets, capers, and seasoning forming flat burgers that are fried or grilled. The burgers are served with boiled or roasted potatoes, salad, kale, asparagus, or dark gravy. They can be topped with a fried egg or garnished with pickled beets and mustard.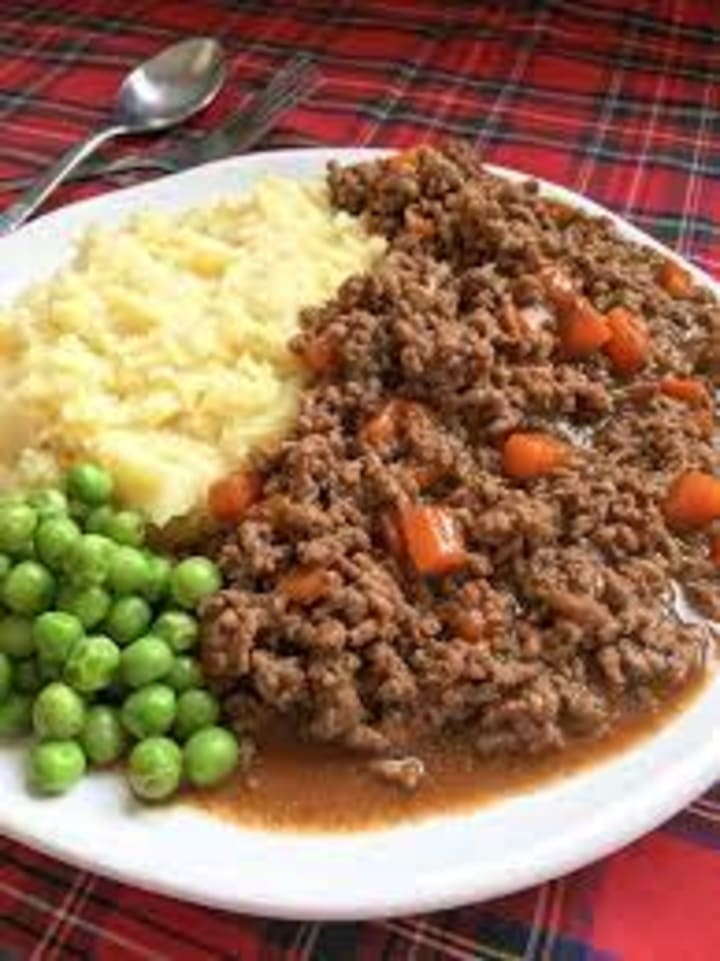 Scotland
Mince and tatties is the Scottish national dish. It is prepared with minced beef and potatoes. The beef is stewed with vegetables like carrots and celery in a thick gravy and the potatoes are mashed with cream and butter.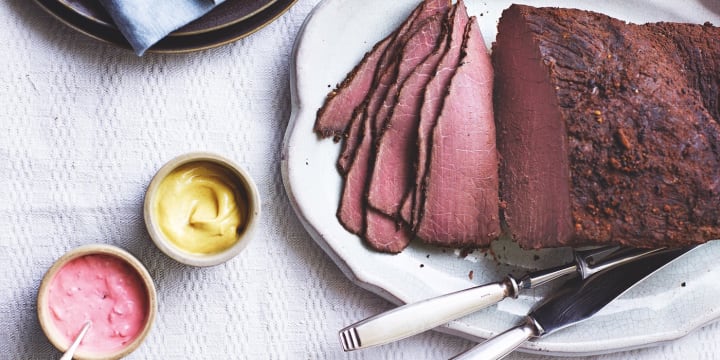 Ireland
Spiced Beef is usually enjoyed for Christmas and New Year's Eve but can be eaten all year round, A joint rump of beef is salted and marinated in spices and saltpetre for a couple of days. Once cured the meat is cooked in water or stout and roasted afterwards.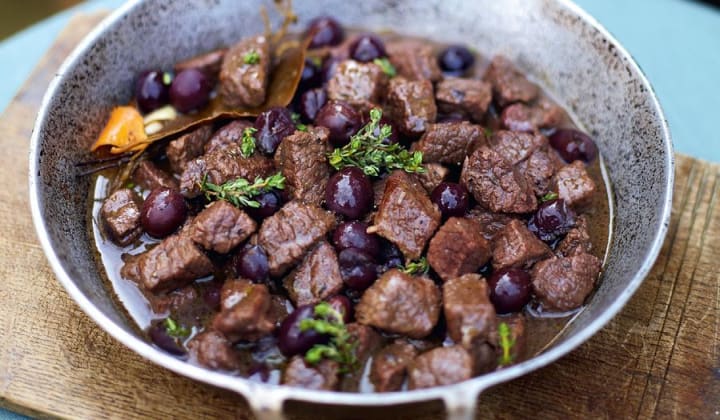 France
Gardiane de boeuf is a traditional French dish originating from Camargue. The dish is prepared by marinating cubed beef with garlic, onions, red wine, bay leaves, thyme, dried orange skin, vinegar, salt, and pepper. The following day the marinade is strained and the beef is browned in olive oil and put into a casserole dish along with the ingredients from the marinade and baked.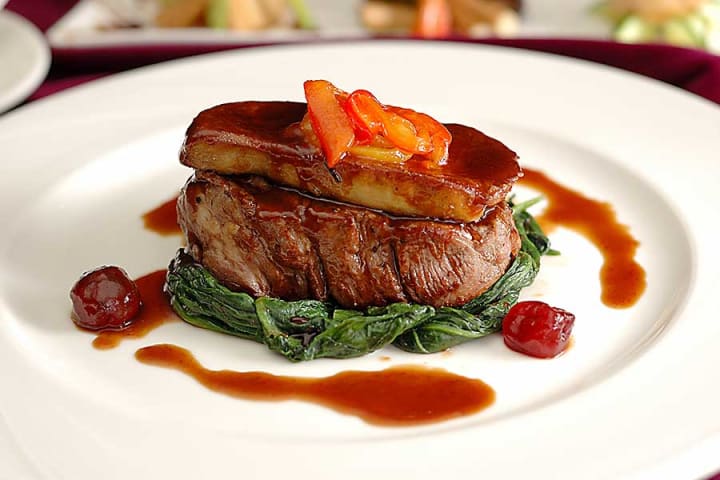 Tournedos Rossini is a classic dish that was named in honor of the composer Gioacchino Rossini. Two pieces of beef tenderloin are placed on round slices of toasted sourdough bread and garnished with briefly sauteed foie gras and slices of black Perigord truffle. Before serving the dish is topped with a Madeira demi-glace sauce.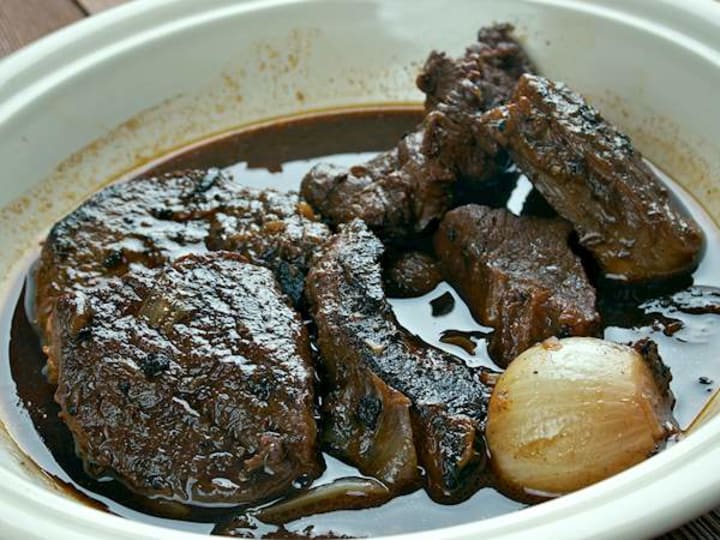 Netherlands
Sudderlapjes is a Dutch dish of slow-cooked beef. The meat is pan-fried until brown and then combined with vinegar, red wine or beer, onions, mace, and bay leaves. It is simmered for 4 to 8 hours until the beef is very tender. The beef is served atop a bed of creamy mashed potatoes. It is suggested to leave the dish overnight in the fridge and serve it the next day so all the flavors can combine.
Germany
Pfefferpotthast is a traditional meat stew originating in Westphalia. Pieces of beef are simmered in a seasoned broth with onions, soup vegetables, spices and herbs. The meat is first browned and then the other ingredients are added. The broth is thickened with crumbled bread usually the classic Westphalian pumpernickel rye bread. Spices added are cloves, juniper berries, allspice, bay leaves, salt, and pepper to season the broth. The dish is accompanied by pickled gherkins, salt potatoes, beetroot, and German beer.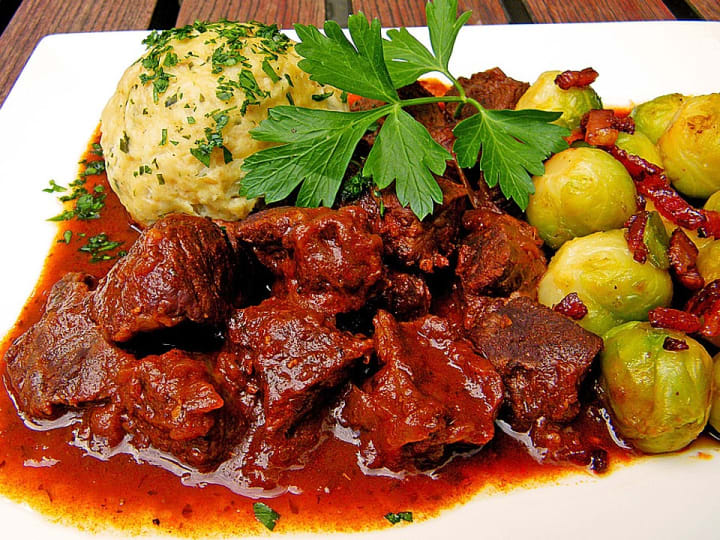 Austria
Wiener saftgulasch is a hearty stew prepared with diced beef in a thick, flavorful gravy. It is made with beef, onions, tomato paste, and lard and flavored with vinegar, Hungarian paprika, bay leaves, marjoram, caraway, lemon zest, juniper berries, sugar, salt, and black pepper.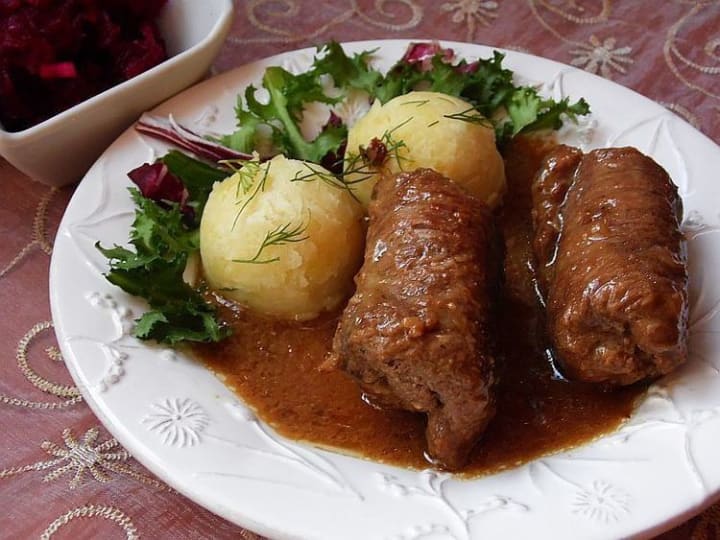 Poland
Zrazy wołowe zawijane is a traditional Polish beef roulade that is made with thin beef slices wrapped around a filling of bacon, pickles, and onions. It is then browned and braised. The beef can also be filled with wild mushrooms and cream or sauerkraut, horseradish, breadcrumbs and herbs. The roulades are usually served with rice, potatoes, beet salad, cabbage, buckwheat or barley kasha, Polish potato dumplings, or sour cream.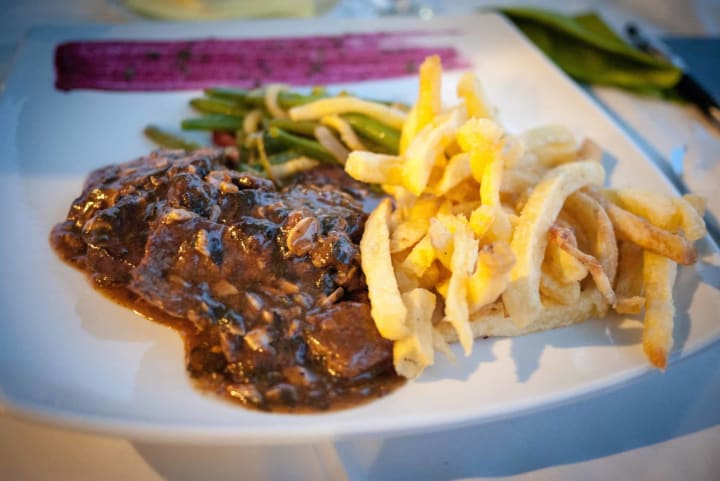 Greece
Greek sofrito is prepared with tender cuts of beef or veal lightly dredged in flour and sauteed in a flavorful sauce based on white wine seasoned with garlic, parsley, and vinegar. It is accompanied by rice, potatoes, or crusty bread.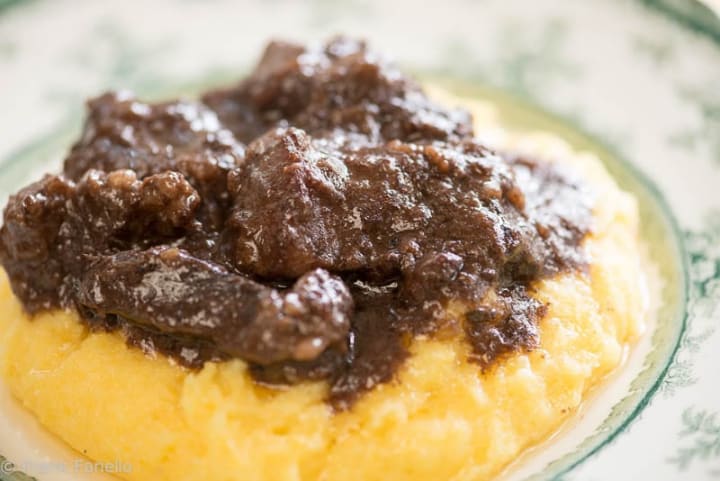 Italy
Carbonade valdostana is a rich beef stew originating from the Aosta valley. The stew is made with cubed beef, onions, flour, butter, red wine and herbs and spices like cloves, cinnamon, nutmeg, orange peel, and bay leaves. Traditionally the stew is served over polenta but can be accompanied by garlic mashed potatoes or pasta.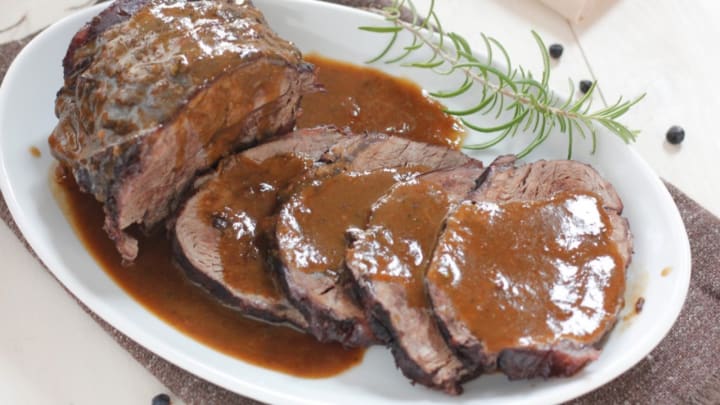 Brasato al Barolo is a classic dish from Piedmont, the home of Barolo wine. It is made with beef marinated with Barolo wine and vegetables like carrots, celery, and onions. For added flavor bay leaves, cinnamon, or cloves. The beef is browned and braised in the marinade. When served the braising sauce is pureed and poured over the meat. It is accompanied by mashed potatoes or polenta.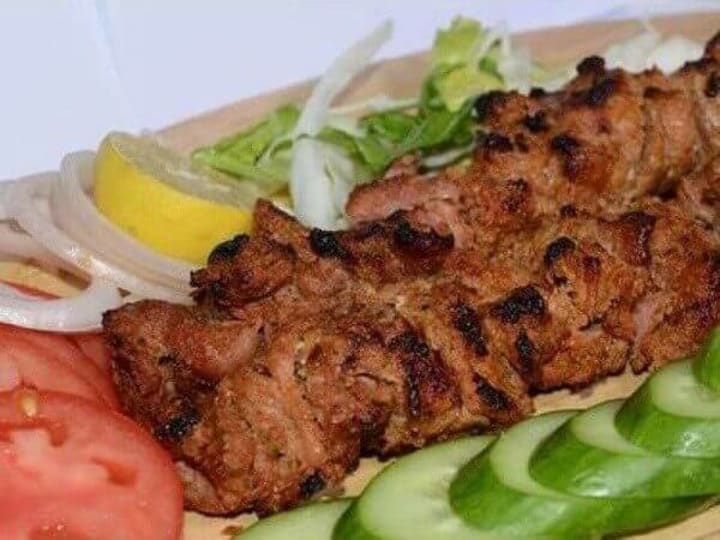 Asia
India
Bihari kebab is a traditional Indian-Pakistani dish that's unique for its marinade made with mustard oil, yogurt, poppy seeds, nutmeg, garam masala, and papaya paste. Once marinated the beef is skewered and grilled It is served with paratha or naan with chutneys, onions, and chilli.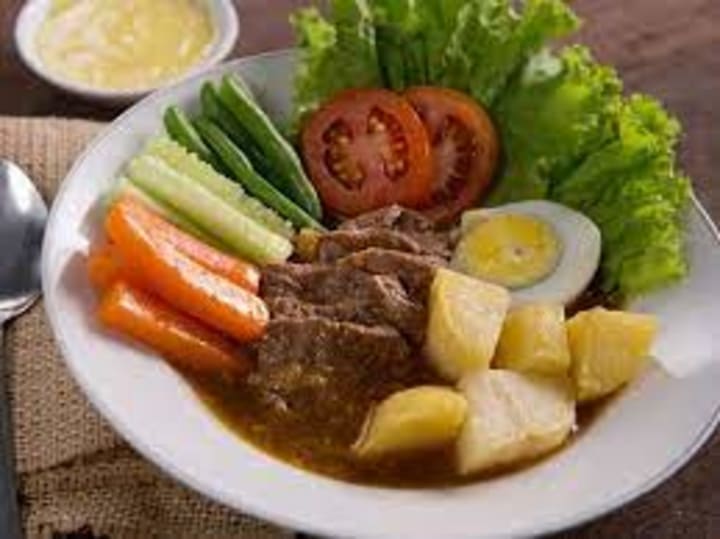 Indonesia
Selat solo is an Indonesian dish believed to have originated as a European salad that's been adapted to Javanese tastes. It originated from Solo in Central Java. The dish is made with beef tenderloin, onions, soy sauce, salt, pepper, sugar, vinegar, shallots, cloves, nutmeg, hard-boiled eggs, mayonnaise, and vegetables such as carrots, lettuce, potatoes, and green beans.
The vegetables and eggs are layered on the plate and the meat is placed on top. The liquid is poured over the meat and it is traditionally served with some mayonnaise.
Dendeng balado is a traditional dish originating in Padang, It is prepared with thinly sliced beef that is fried until crispy and spicy chilli sambal, The sambal is served on top of the meat. The beef is fried with a mix of reduced shallots, garlic, ginger, sugar, water, oil, and salt. The balado sambal consists of chilli peppers, shallots, garlic, sugar, vinegar, and water, mashed into a rough paste. When served, dendeng balado is often accompanied by white rice on the side.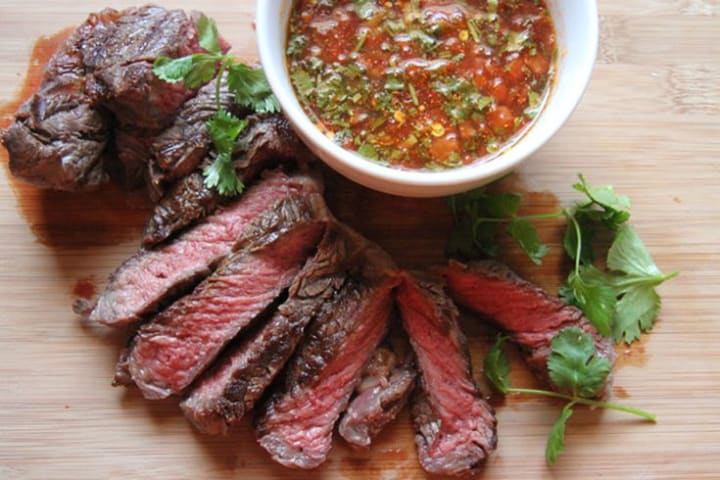 Thailand
Suea Hong Hai also called "crying tiger" is a dish made with grilled slices of spicy marinated beef brisket served with sticky rice. It is accompanied by a spice dipping sauce that consists of Thai chilis, garlic, fish sauce, lime juice, coriander seeds, and cane sugar.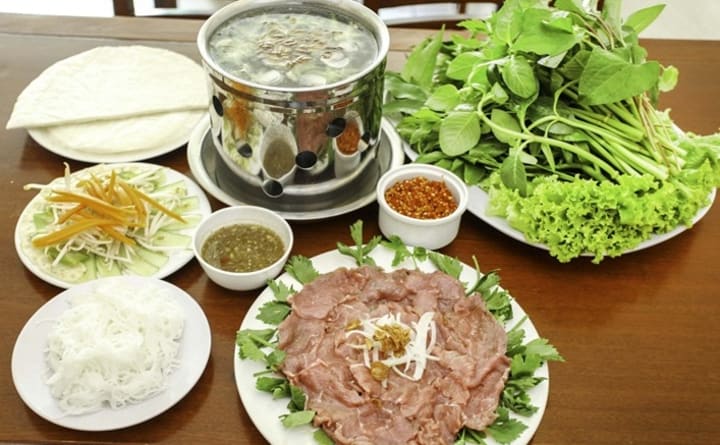 Vietnam
Bò nhúng dam is a Vietnamese version of a hot pot that is traditionally served communal style. It is prepared with a vinegar-flavored broth that can include coconut milk or coconut water, lemongrass, and onions. The thinly sliced raw beef and an assortment of fresh vegetables and herbs like sprouts, daikon, lettuce, cucumbers, mint, basil, and perilla leaves.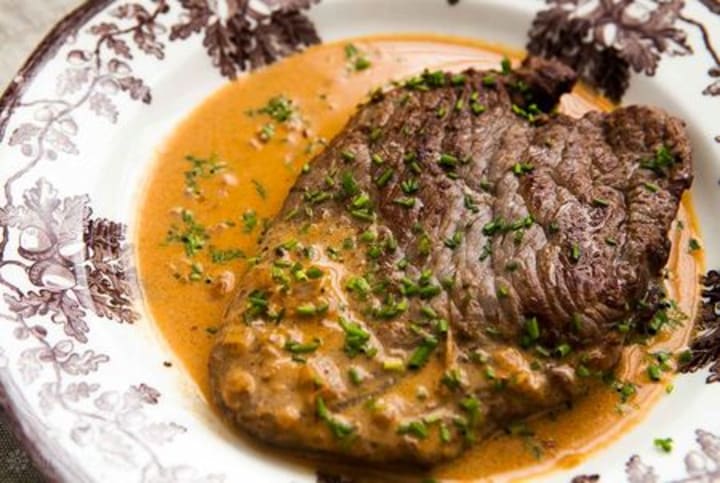 North America
USA
Steak Diane is made with a tender piece of beef that is pan-fried and served with a sauce that consists of the pan juices, shallots, Dijon mustard, Worcestershire sauce, butter, and beef or veal stock. Traditionally it is prepared tableside and flambeed with cognac.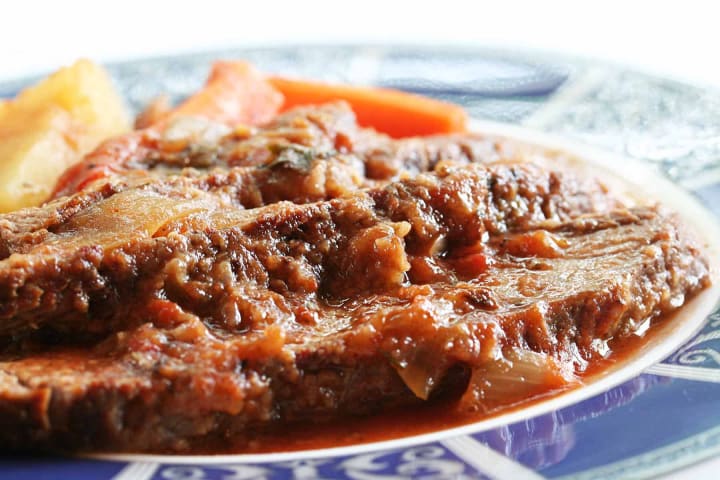 Swiss steak is a popular American dish that is prepared with round or rump steak tenderized by pounding it. It is braised in tomato or chilli sauce. Served with mashed potatoes and gravy on the side.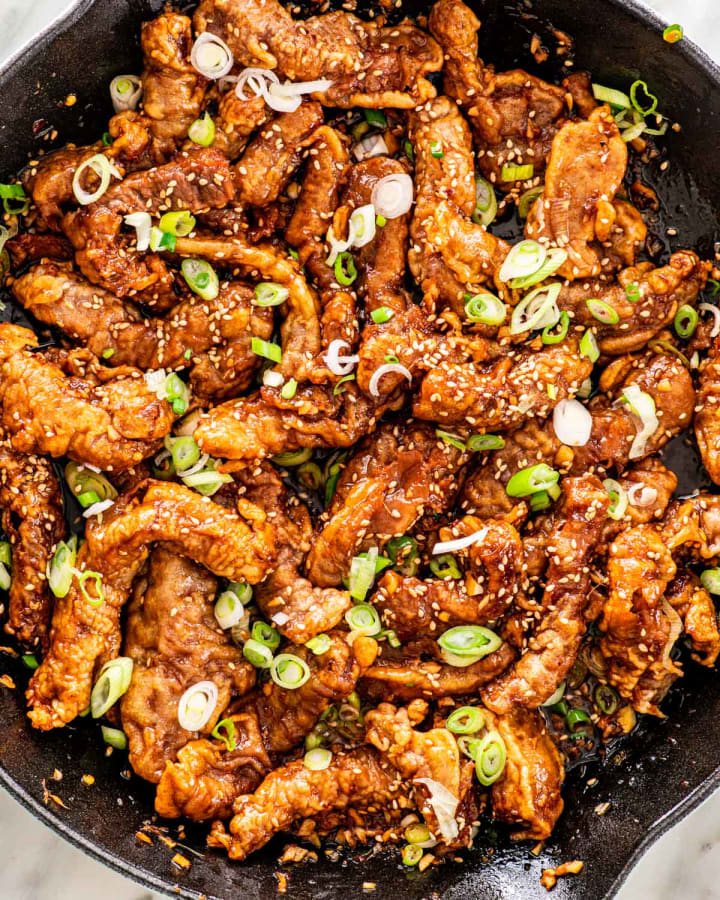 Canada
Calgary
Ginger beef is a Canadian dish influenced by Chinese cuisine. The dish is made with marinated slices of beef that are battered and deep-fried and coated with a sweet and spicy dark sauce. The sauce is made with soy sauce, mushroom soy sauce, white vinegar, Chinese wine, sugar, water, and crushed chilli peppers, while the batter consists of eggs, water, cornstarch, flour, and white pepper. The sauce is enriched with the addition of vegetables such as carrots, bell peppers, garlic, and, of course, ginger.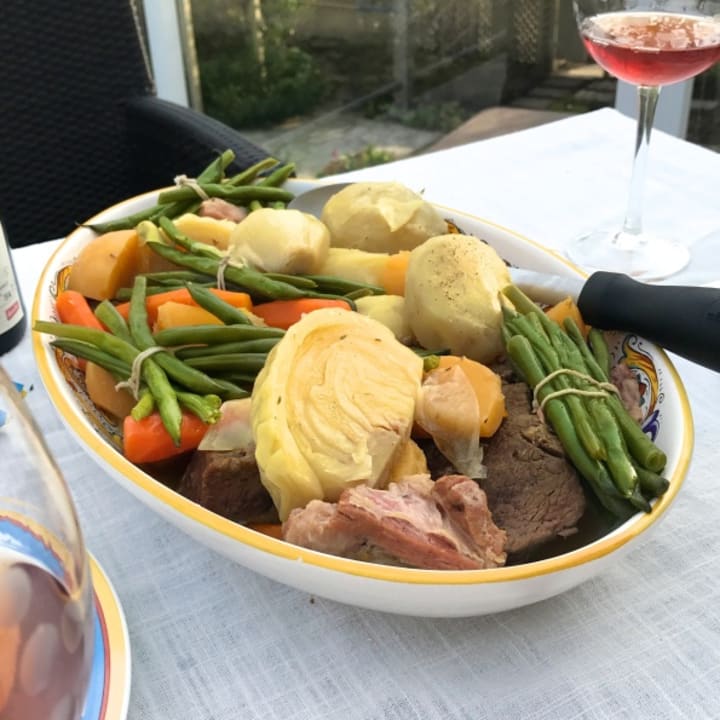 Quebec
Bouilli is a classic Québécois dish that is similar to the famous French pot-au-feu. It is prepared with beef and vegetables like carrots, turnips, cabbage, and potatoes all simmered in an herb-flavored broth until the meat is tender.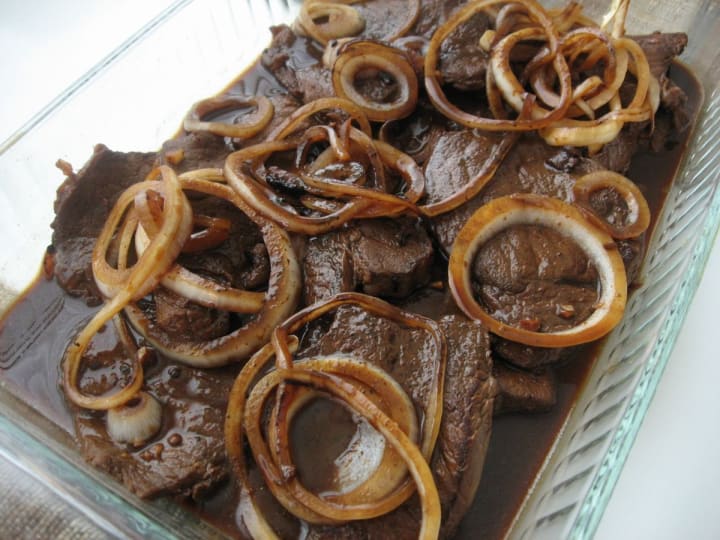 Puerto Rico
Bistec encebollado is a popular Latin American dish popular that is prepared with adobo-spiced, marinated beefsteak with onion sauce and large onion rings on top The meat is marinated for 10 to 12 hours. It is accompanied by rice, pigeon peas, and fried plantains.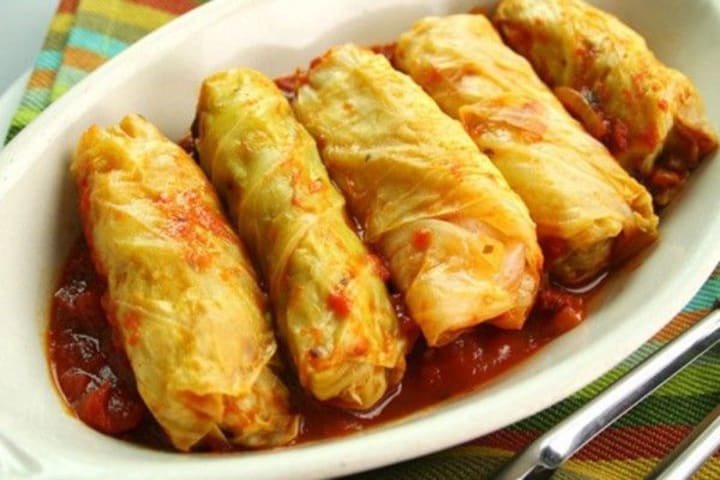 Dominican Republic
Niños envueltos (lit. wrapped children) is a traditional Dominican dish. It is made with rice and ground beef wrapped in cabbage and cooked in tomato sauce. Other ingredients include garlic, basil, bell peppers, and onions, while the tomato sauce is made with olive oil, tomatoes, garlic, oregano, sugar, salt, and pepper. The cabbage rolls are simmered until fully cooked and served with bread and salad on the side.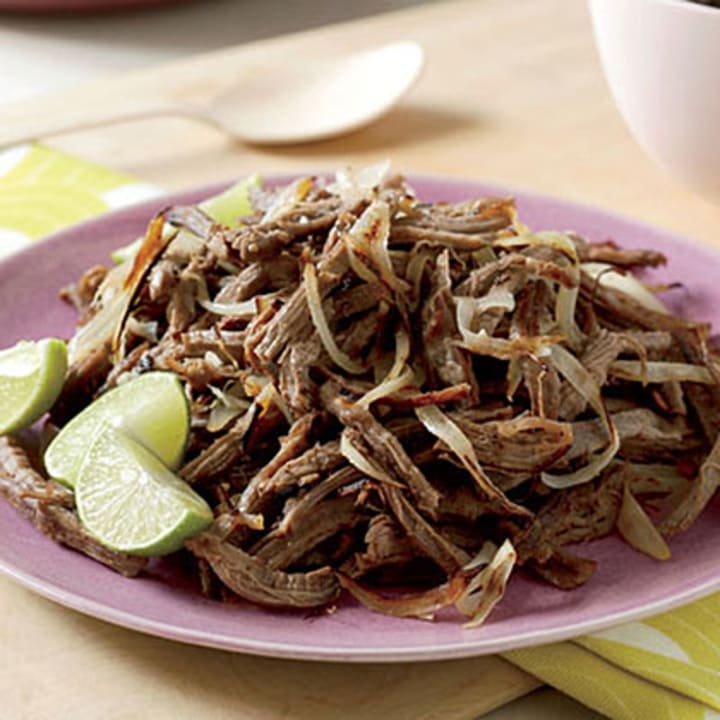 Cuba
Vaca frita is a Cuban dish made by frying shredded skirt or flank steak. The meat is topped with sauteed onions and served with black beans and rice.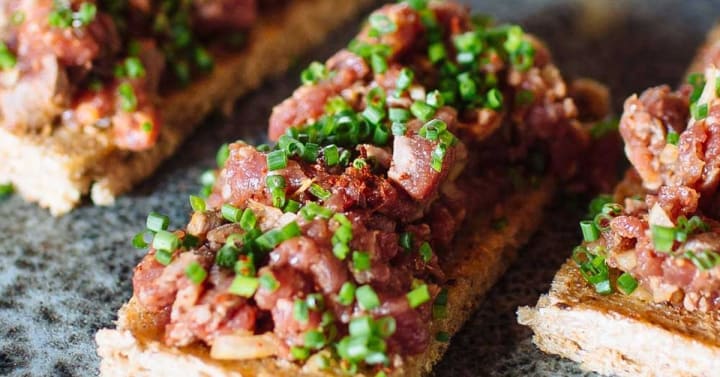 South America
Brazil
Carne de onça is a traditional Brazilian dish originating from Curitiba. This dish is made with minced beef, garlic, onions, chives, olive oil, Cognac, chilli powder, and sweet paprika powder. The minced beef is flattened, drizzled with cognac, seasoned and mixed with the other ingredients. it is then served on toasted bread with mustard and butter.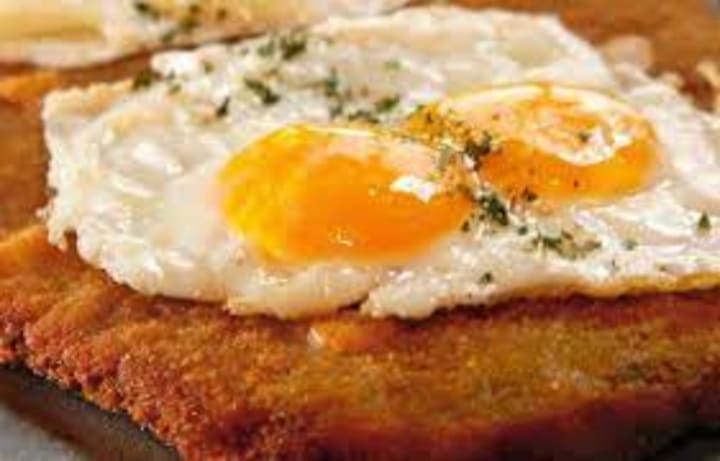 Argentina
Milanesa a caballo is a variation on the popular Milanese steak that's breaded and fried. The meat is topped with a fried egg and accompanied by fries.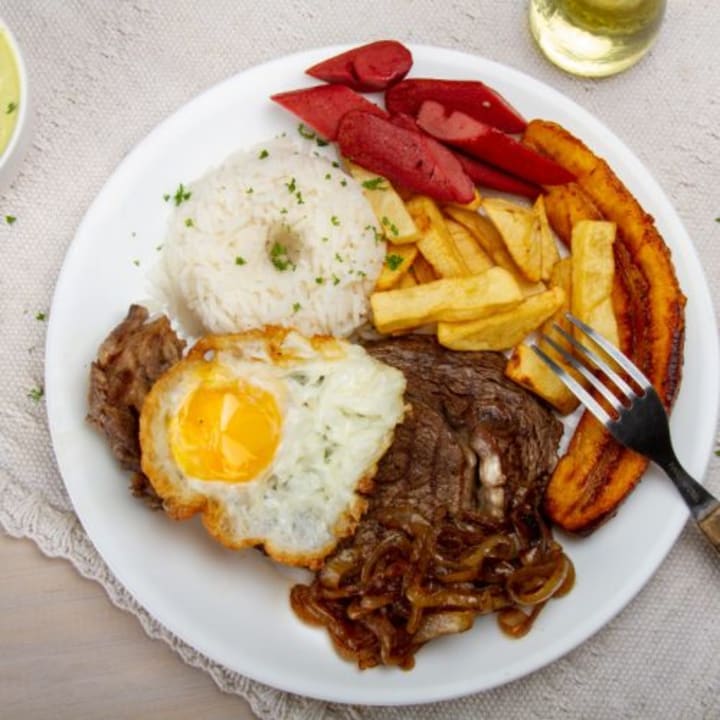 Peru
Lomo a la pobre or bistec a lo pobre is a large meal that is popular in Chile and Peru. The meal consists of steak, fried onions, fried potatoes, and fried eggs. A large beefsteak is rubbed with garlic and fried then topped with fried eggs with runny yolks and the onions and potatoes on the side.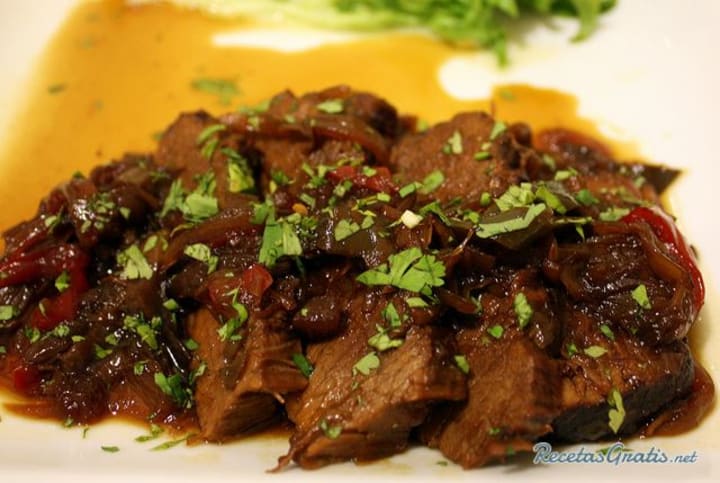 Venezuela
Asado negro is a Venezuelan dish prepared with the eye of a round roast (muchacho redondo). The meat is braised for hours in red wine sauce. The sauce includes onions, garlic, and various spices, while some varieties may include tomatoes, olives, sugar, Worcestershire sauce, or other vegetables.
cuisine
My passions are writing and creating poetry. I write for several sites online and have four themed blogs.