Beef Chili, and Blue Cheese Crackers
A winter comfort worth sharing.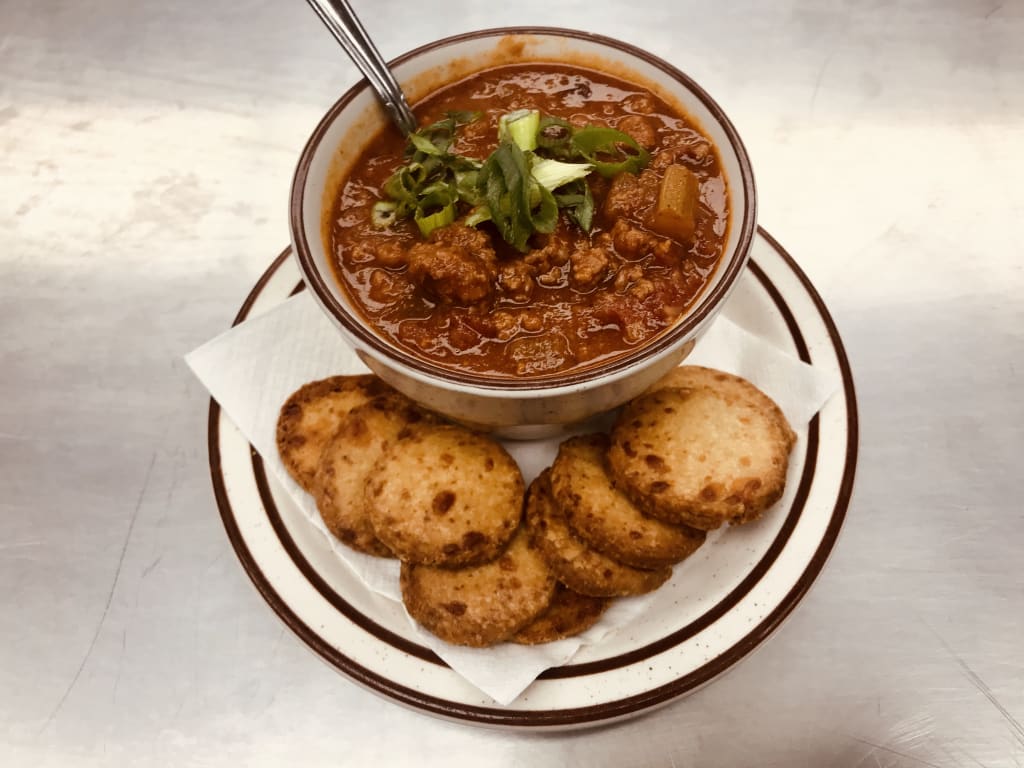 Christopher Kimball once said "You can't eat an idea."
He was referring to the emotional response certain foods evoke, and how they can shape people's thoughts after a meal is finished.
That being said, I make this chili for people when they are cold, need nourishment, or simply when a cozy rustic dish will help them know that they are cared for.
I try to convey these feelings through all my cooking in winter, but these recipes particularly seem to do the best job.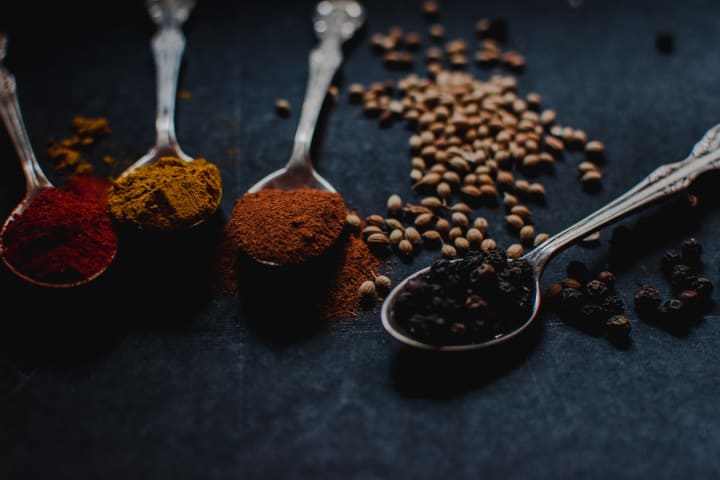 Beef Chili
kidney beans, 12 oz.
Ground beef, 3 pounds.
Crushed tomatoes, 24 oz.
Chili Powder, 2 oz.
Granulated Onion, 1 oz.
Granulated Garlic, 2 oz.
Smoked Paprika, 2 oz.
Yellow Onions, 2 chopped.
Poblanos, 2 deseeded and chopped.
Jalapeños, 4 deseeded and minced.
Serranos, 2 minced.
Tomato paste, 8 oz.
Irish Whiskey, 4 oz.
Dark beer, 2 cups
White vinegar, 4 oz.
Brown sugar, 1 cup.
BBQ sauce, 1 cup.
Chicken stock, 2 quarts.
Cilantro, 2 bunches picked and rough chopped.
Sliced Green Onions, 1/2 cup.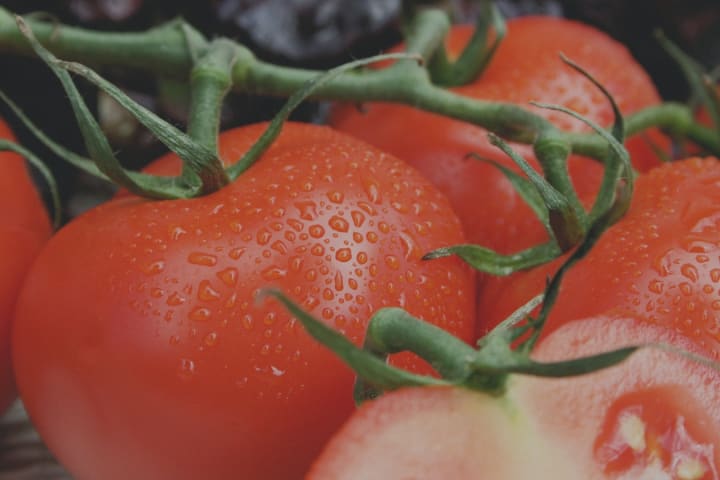 Procedure
-In your largest stock pot begin cooking your onions, poblanos, jalapeños, and serranos over a medium high heat. Sauté until the onions start to become translucent.
-Add your beef to the stock pot and start to brown, when the meat is about half cooked through add your tomato paste.
-Stir consistently for about 5 minutes while the paste caramelizes. The sauces and fat in the pot will appear very broken, but down worry it will come together. Just don't let the bottom of the pot burn.
-Add in your crushed tomatoes, kidney beans with all of their juice, chili powder, granulated onion, granulated garlic, paprika, chicken stock, whiskey, beer, bbq sauce, and sugar.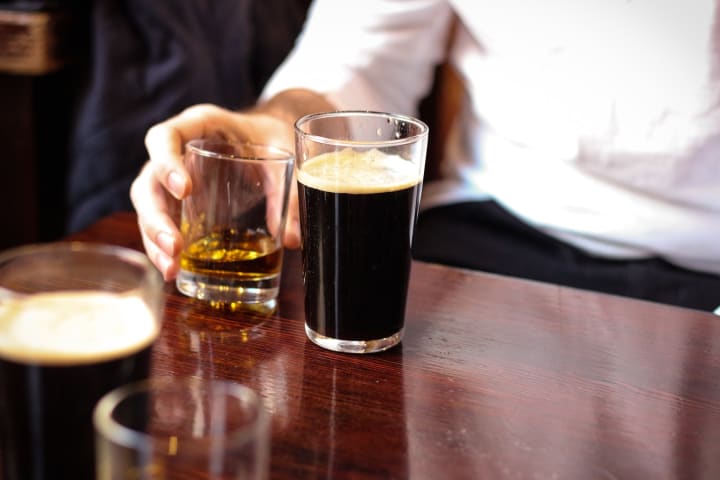 -Stir well to combine everything and then bring to a boil. Lower the heat so the chili is at a simmer and stir occasionally, let the total volume reduce by 1/3. This should take about an hour and a half, but take off the heat whenever you've reached the consistency you like. Keep in mind it will tighten up as it cools down, especially if you plan to cool it down to refrigeration and heat it up again.
-For the final steps, after the chili has been taken off the heat, whisk in your rough chopped cilantro, sliced green onions, and white vinegar. Season with salt to taste, I'd recommend at least 2 Tablespoons.
This chili is perfect on its own, or with toppings. Serve it with cornbread, or my personal favorite...
Blue Cheese Crackers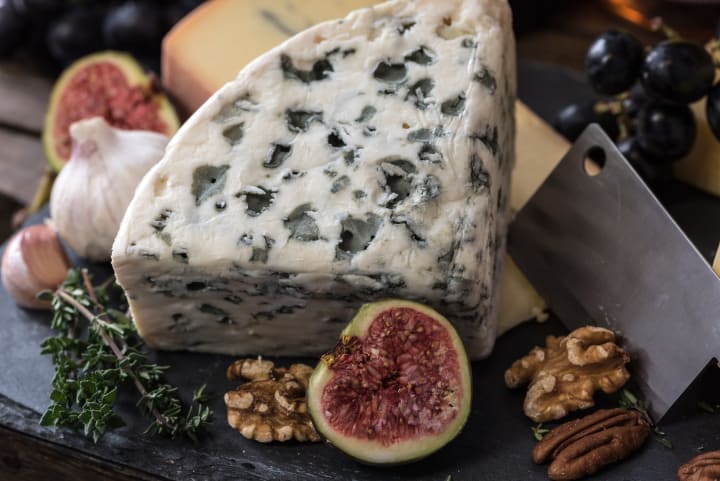 These are an absolute sinch to make, they have the texture of a "Cheez- it", and have a richness that only a lover of blue cheese can understand.
Besides chili, I serve these when I make tomato soup, or a roasted red bell pepper bisque. They also add a nice rustic touch to a charcuterie board.
Blue cheese crumbles, 8 oz.
Butter, 8 oz.
Flour, 1 cup
Make sure your blue cheese and butter are at room temperature so you can easily beat them together. (Just like you would cream butter and sugar together when making cookies.)
Once the cheese and butter are throughly combined add in your flour, and kneed until you have a nice dough.
Roll the dough into a one inch thick cylinder, wrap in plastic, and move to the fridge for one day.
Once the dough has rested, remove plastic and slice into 1/4 inch thick circles.
Place circles on a wax paper lined baking sheet and bake at 350 degrees for 8 minutes, turning the pan half way through.
Let your crackers cool completely on the tray and then they are ready to serve!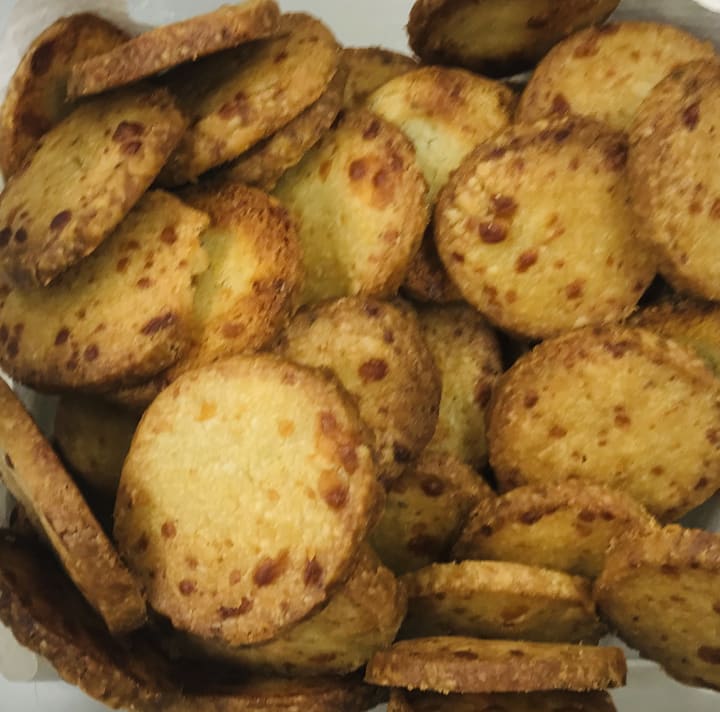 I hope you find these recipes comforting in what looks to be a cold winter, thank you and enjoy!
recipe
Young chef from the Midwest writing recipies and cooking stories. My content's only on Vocal. Please consider supporting by sharing anything you enjoy or by leaving a tip. It's greatly appreciated! Thanks and enjoy!
Receive stories by GrassFedSalmon in

your feed