Bacon Cheeseburger Pizza
Recipe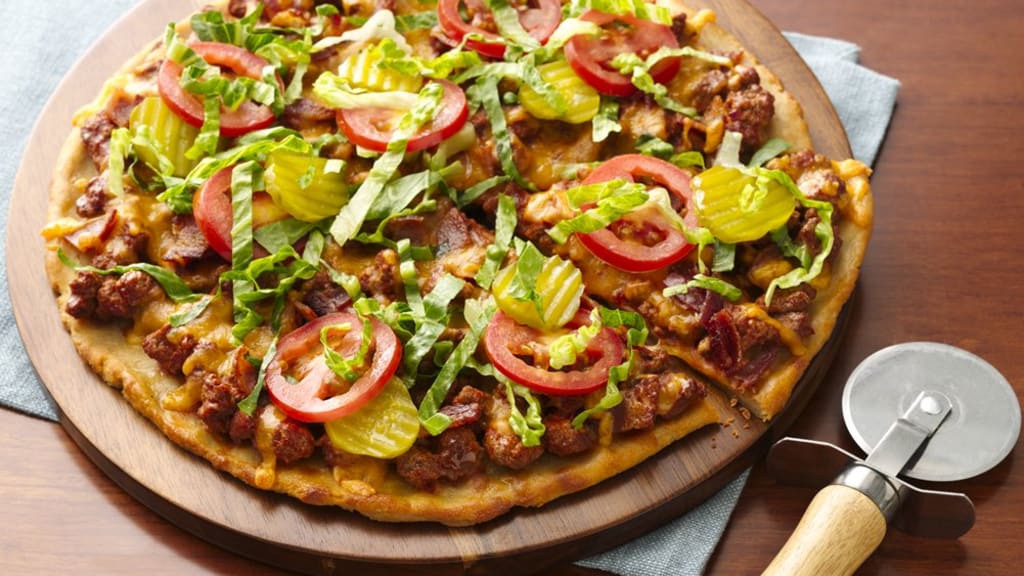 Hello my Lovelies, by the time you read this I hope that you are healthy and happy in the world. I wanted to share with you the many different types of pizza that are out there. This is one of my favorite. Now many people out there love pepperoni, mushroom, anchovy or just plain cheese. There are so many different types out there. But theres some that I can see as being forbidden pies. One for sure that many people will debate about is the Hawaiian pizza. Now there are people who say yes and then theres the ones who say NO! Me I can say I love all pies, whether it has [pineapple and ham on it or not. I can be traditional or not its really what they person feels up too.
I have seen good pizza out there and I really have seen the strangest of them out there too. Now the pizza I have decided to share with you is a combination of things. People love cheeseburgers right? So my thing is why not have a cheeseburger pizza. I have found the more that I make this. The more people will open up on their pizza choices. It also gives the the notion to know that you can have other things on pizza not just pepperoni and cheese. I have made this with the knowledge that in making all the components together that you can put them together to make a amazing pizza.
So I know everyone loves pizza. So I wanted to share a quick and easy recipe. That everyone in your life will love.
You can do many things to this in order to tweak to your liking. You can do whatever the combinations that you choose. Whether you keep it as the recipe calls for or you add things. Just make sure that you have everything ready and in a order . Which basically if you want to add everything a cheeseburger has on it then that will be the best pizza. Just make sure you compensate for the veggies and everything draining and making sure its not a wet mix you put on your dough. You can use the premade dough that is baked already. Or you can just purchase premade dough at the store.
The only thing that I say is to not work the dough too much when rolling it out. You definitely want to make sure you flour your work area well. Also if you have a pizza stone they are so good to use and they will add that crunch to your pizza when its done. But I love it just as it is since its simple and even your kids can help too. Because we all know that when kids get to help especially for pizza they are so happy about building the meal. Especially when they can get to tell the rest of the family how they helped to make it for their family to enjoy. I feel as though when kids help you cook its that much more rewarding in the end. Especially since your teaching they healthy eating and they will retain that knowledge when they get older. They will know that when they were younger that their family cooed together. That will also help them when they becomes parents later in life. To show them that making your kids apart of cooking is a very informative and a very great learning experience they will take through life. But I hope you enjoy.
What you need:
1/2 lb. ground beef drained
1 pre-baked 12 inch pizza crust(I like prebaked its easy)
1/2 cup pizza sauce
6 crispy bacon strips crumbled
round pickle slices
1 cup shredded mozzarella cheese
1 cup shredded cheddar cheese
1 cup shredded lettuce
2 tomatoes chopped
What to do:
Preheat oven to 450 degrees.
In pan cook your ground beef till browned and drain the fat set to side.
On a pizza pan, place your pizza crust.
Layer your sauce, meat, bacon, pickles and cheese.
Place into oven and bake till cheese is melted.
Take out of oven an top with lettuce an tomatoes.
Serve.
Enjoy.
recipe
Hello my Lovelies, I am a very interesting person who in a sense has seen alot in their life. I hope that you will join me in this writing journey. Enjoy.
*All of my articles are mine that I have used on other sites.
Receive stories by Tina Patterson in

your feed