Australian Cuisine
The delicious cuisine of the Land Down Under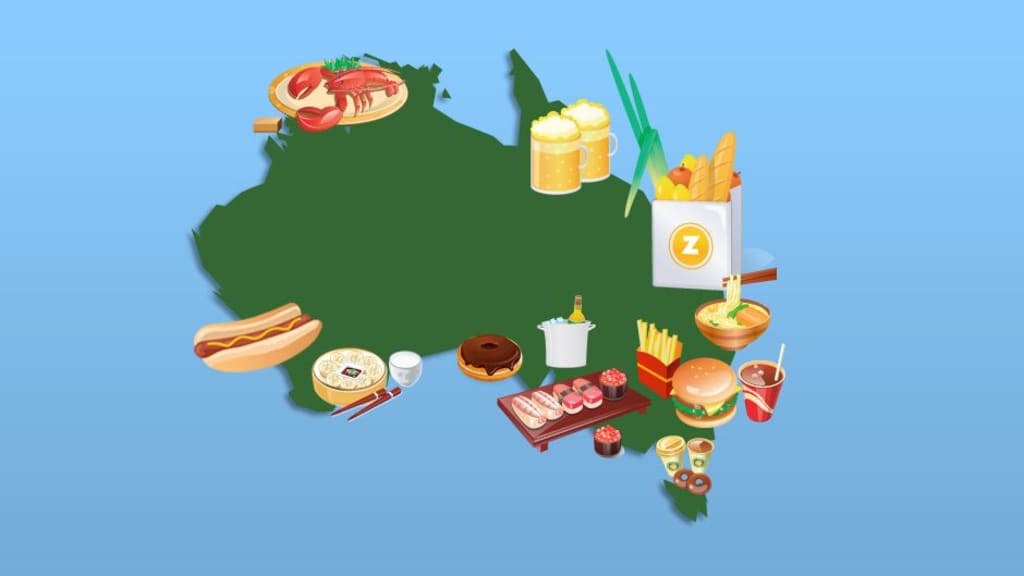 The first inhabitants on this continent were the Aborigines. Their food was of high nutritional quality and whenever sufficient energy was obtained through hunting and gathering, the nutrient intake was balanced and adequate. Plenty enough to allow a rich and diverse culture of art, story-telling, dance and song to develop across the 600 tribes present at the time of the coming of the British. The British influence determined the main dishes such as Sunday roasts, grilled chops, stews, and other recipes made from meat and served with vegetables. The most frequent vegetable side dishes became mashed potatoes, beans, carrots, and peas.
A large part of Australian cuisine features seafood. The most popular seafood includes coral trout, red emperor, sweetlip, barramundi, oysters, mussels, prawns (shrimp), lobsters, crabs, yabbies, and other shellfish and crustaceans. Barbeques are frequently held on beaches, in backyards or other places in the great outdoors. Kangaroo, emu, and crocodile meat are three of the ingredients that make the Australian cuisine unique. These meats were used by the aborigines and now are a representative part of the national cuisine.
Australian cuisine varies by region: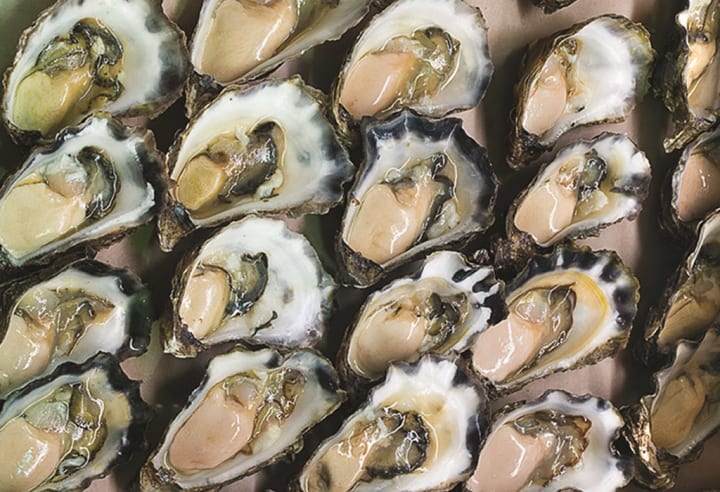 New South Wales – Sydney rock oysters are renowned and very delicious. Fruit is plentiful such as avocados, guavas, passion fruit, pears, and berries. There is fish such as red mullet, yellowfin tuna, whiting, snapper, and John Dory.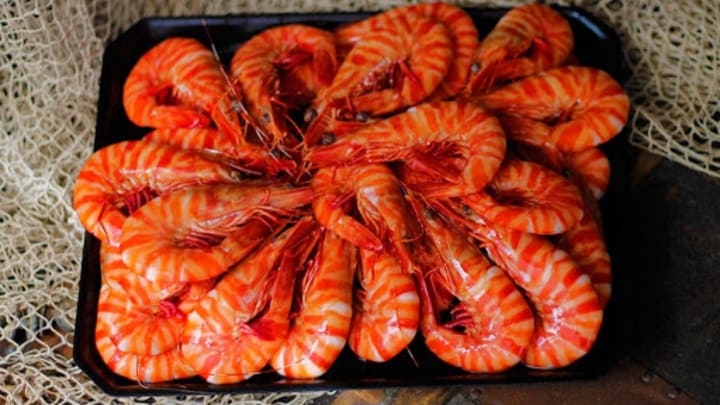 Queensland – is Australia's tropical paradise which is best known for its mangoes and the fish of the Great Barrier Reef. There are the red emperor and coral trout, large tiger prawns, and freshwater barramundi. Crocodiles are farmed primarily for their skins but some eateries feature croc burgers. There is a vast array of tropical fruit such as papaya, passion fruit, cherimoyas (known in Australia as custard apples), litchis, macadamias, and of course mangoes.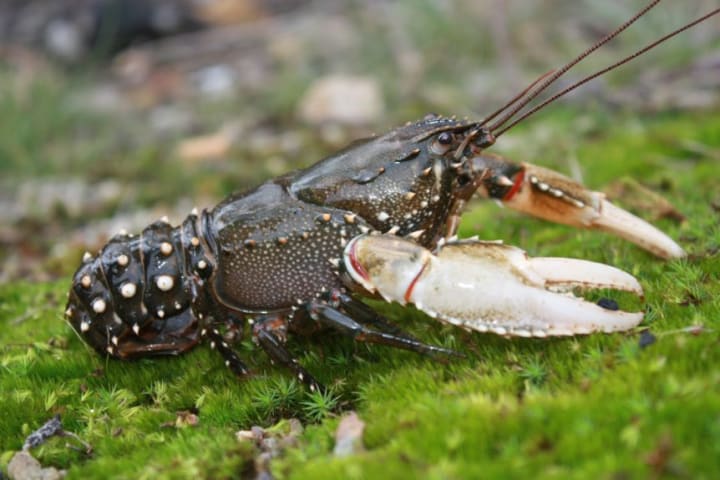 In Western Australia, you will find such fare as freshwater crayfish, suckling veal, local sausages, and smoked meat.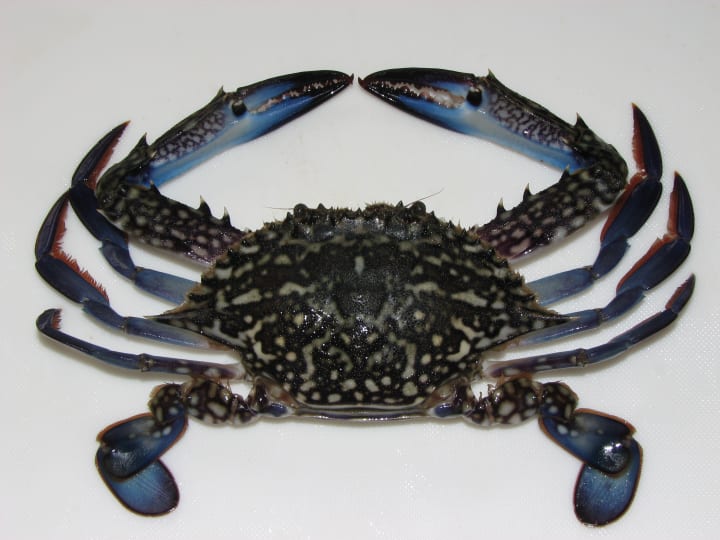 In South Australia olives are grown and cold-pressed olive oil is produced. There is kangaroo meat available. There are many vegetables and fruit and Adelaide offers blue swimmer crabs. There are also Coffin Bay oysters and the famous King George whiting which Australians call butterfish. In the fall pine nuts are gathered and kangaroo meat is smoked.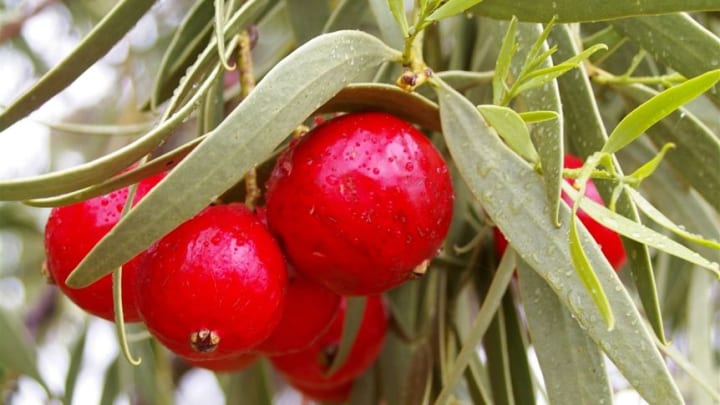 Northern Territory offers ngarlkirdi or witchetty grub (large, white, wood-eating larvae of several moths) which is considered a delicacy either raw or cooked, Kakadu plum jam spread on toast, Quandongs a native peach with a delicate flavor usually served stewed or on ice cream.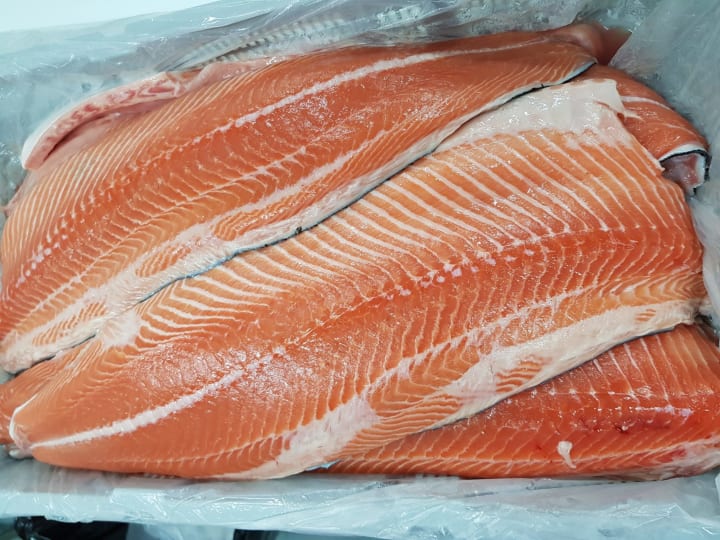 Tasmanian cuisine has the best salmon either fresh or smoked.
Let's look at some Australian dishes and how they are prepared:
Appetizers: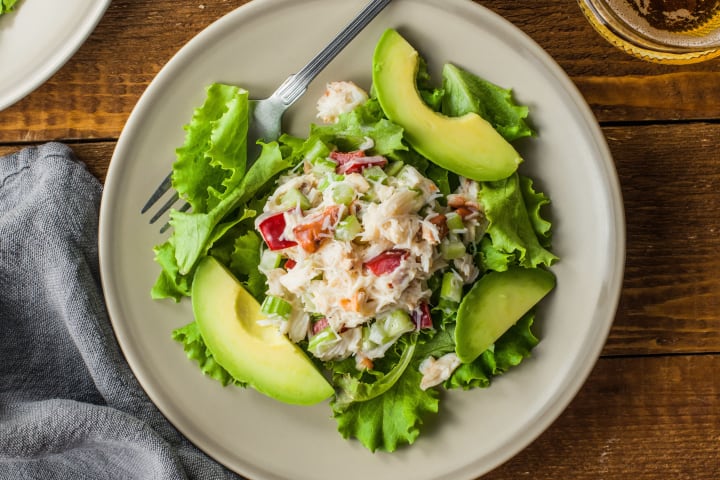 Crab and Avocado Cups – In a mixing bowl combine milk, mayonnaise, and cream. Then melt butter in a saucepan and stir in flour. Add the ingredients in the mixing bowl to the melted butter in the saucepan and stir over low heat until thickened. Remove from heat and add tomato paste, lemon juice, and mustard. Afterward, let the mixture cool to room temperature. Once the crab is added the mixture is processed in a food processor until smooth.
The avocado is prepared separately. You take avocado, cream cheese, garlic, lemon juice, and Tabasco and blend until smooth. Lettuce cups are prepared by dropping lettuce leaves in boiling water and then placing them in ice water, Altogether you need six lettuce cups. Line bowls with the lettuce cups and fill them with the crab mixture. then put in the fridge for an hour.
Afterward the avocado mixture is spread over the crab mixture in each cup then topped with remaining lettuce leaves and refrigerated overnight, When serving add lemon and avocado slices to each lettuce cup.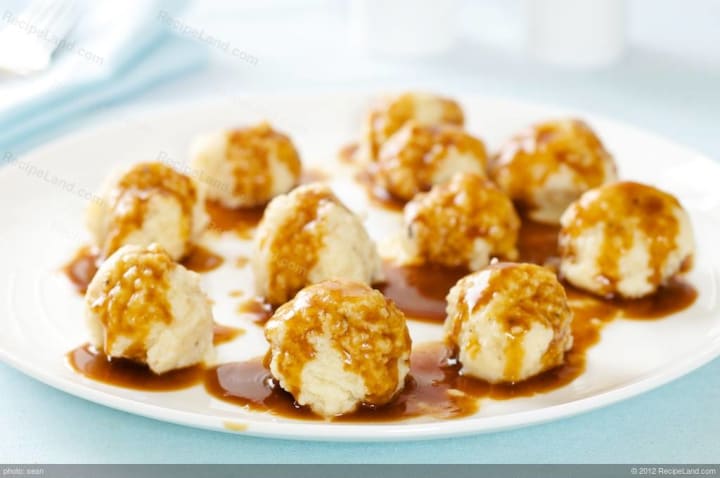 Potato Dumplings – Potatoes are boiled until tender and cooled. Then the cold potatoes are grated into a large bowl, Flour is added to the potato mass and mixed well. Nutmeg, beaten egg, and melted butter are added. Small dumpling shapes are formed. The dumplings in batches are placed into fast boiling water and cooked for about 10 min. Then taken out of the water with a slotted spoon. They are served with a sauce of tomato and onions flavored with a little thyme and oregano.
Soups are usually served before the meat dishes. Other times soup is served as the main dish. There are many different ingredients used from vegetables to bacon and even crab.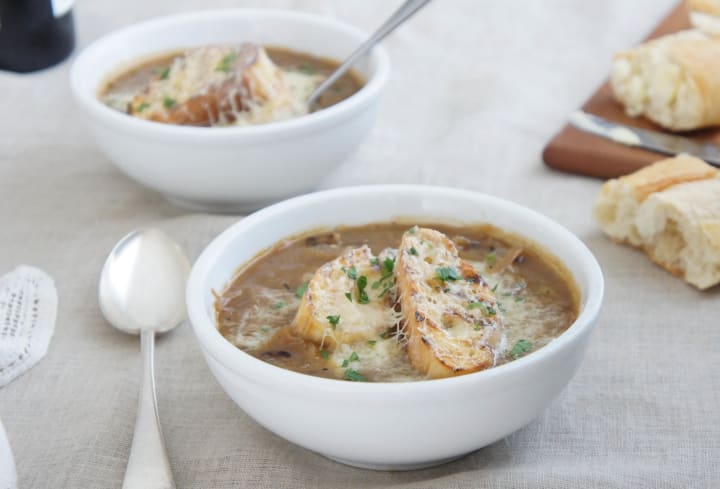 French Onion Soup Aussie Style – Onions are lightly browned in butter, then beef stock and consommé and pepper are added. Boiled for 20 minutes and served hot sprinkled with cheese.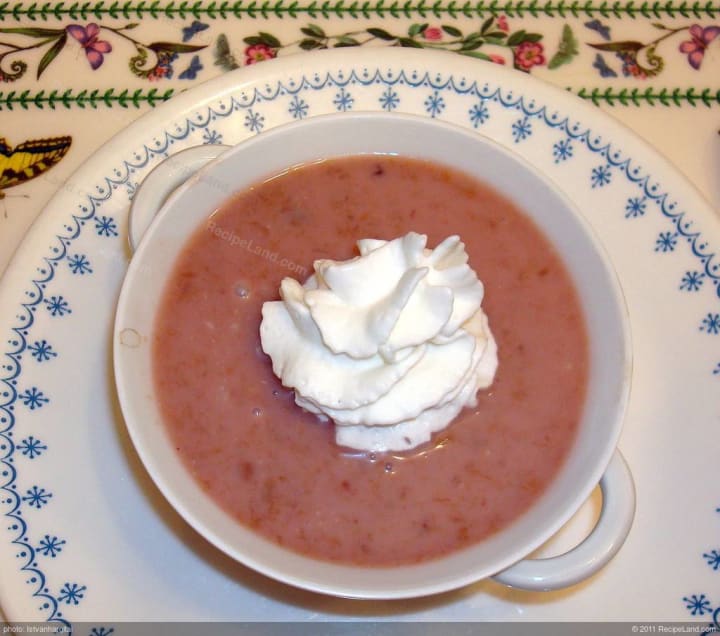 Chilled Plum Soup – Water, sugar, cinnamon allspice, and black pepper are combined and brought to a boil. Then red plums pitted and sliced are added and simmered 30 minutes. Afterward, strained through a sieve and the solids are discarded. Cornstarch is mixed with cold water to make a thin paste. This is then beaten into the hot soup stirring constantly. Brought back to a boil and removed from heat and chilled. Just before serving red wine is added. Each serving is topped with whipped cream and thinly sliced plums.
Australians usually consume salads either along with the main dish or as a main dish. Ingredients used are vegetables such as potatoes, other ingredients include kangaroo, chicken, meat, and seafood..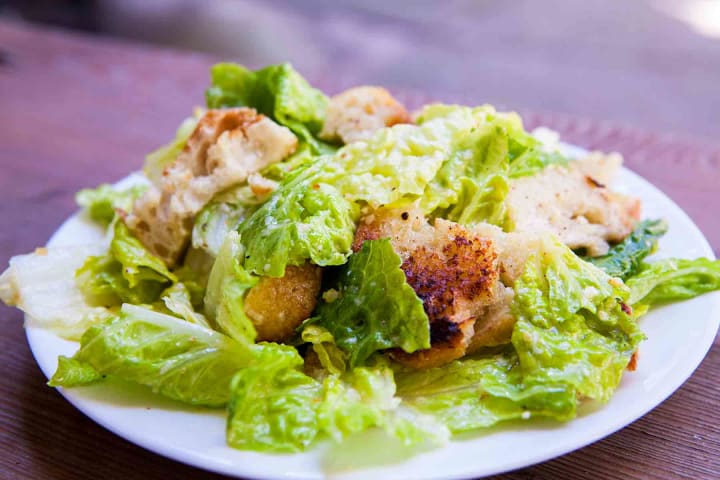 Australian Caesar Salad with Red Desert Spiced Chicken – Romaine or cos lettuce is washed and chilled. Then Red Desert Dust (a dusty, aromatic mix of conventional and native Australian ingredients), cornflour, vegetable oil, and sliced chicken breast are mixed together and chilled. In a frying pan, butter is melted and croutons made from native breads are fried. The chicken breast slices are grilled. In a bowl, the grilled chicken breast slices are combined with lettuce, black olives, emu prosciutto, and Oz lemon mayonnaise. Everything is tossed and garnished with croutons and anchovies.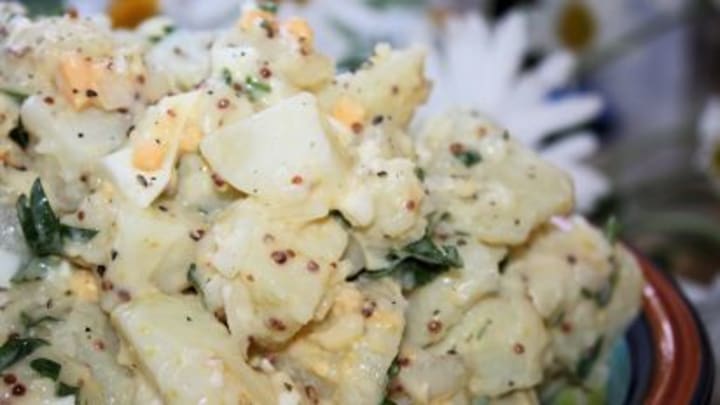 Potato Salad Australia Style – Potatoes are boiled, cooled and the skins removed. Then cut into cubes and put into a bowl with onion, parsley, and coriander. Mix together mustard and mayonnaise, add chopped eggs and mix and chill.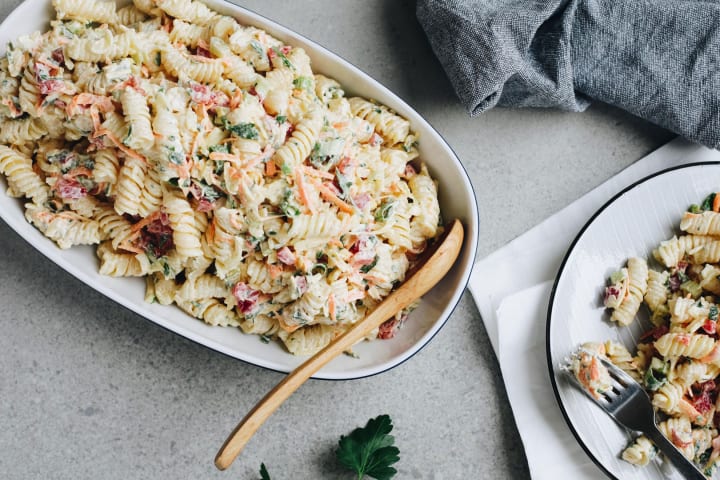 Pasta Salad – Cooked pasta spirals are combined with olive oil, baby mushroom slices, celery, red and green bell pepper, corn kernels, fresh parsley, and tossed with Caesar Salad Dressing.
Some vegetarian dishes are: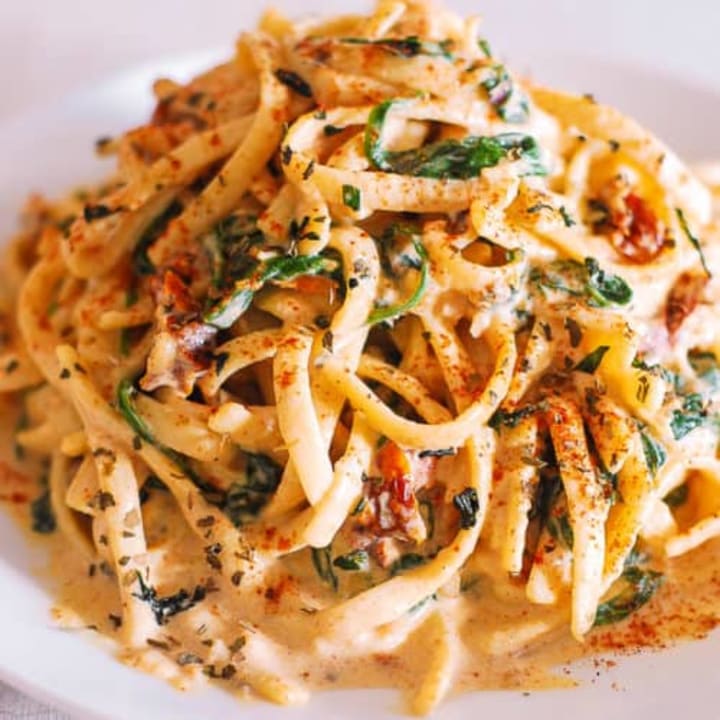 Spaghetti with Herb Sauce – 20 cloves of garlic are peeled, minced, and sautéed in olive oil for 3 min. Then vegetable broth is added and simmered about 15 min Afterwards sliced tomatoes, onion, capsicum and dried basil, tarragon, oregano, pepper, and chili are added and simmered 10 more min. The sauce is poured over spaghetti.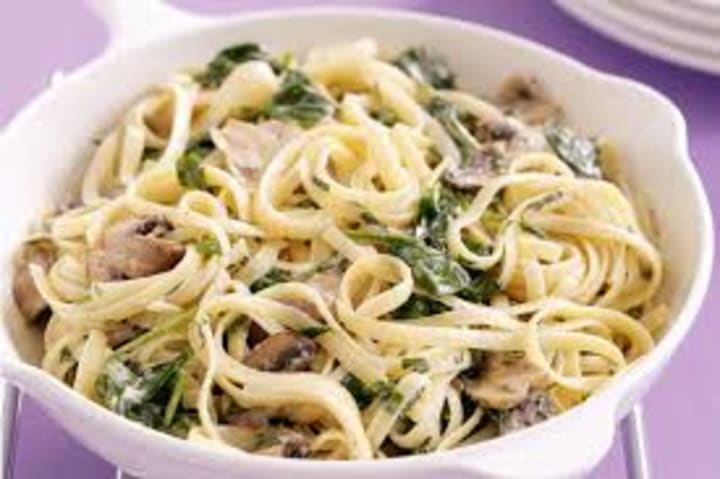 Spinach and Mushroom Fettuccini – In a pan with olive oil, chopped Spanish onion, crushed garlic, chopped red chilies, and sliced button mushrooms are sautéed until the onion is soft. Stir in undrained, crushed tomatoes, tomato paste, sugar, dry white wine, chopped artichoke hearts, sliced black olives, and shredded basil leaves and simmer 20 min. Add shredded spinach and simmer until just wilted. Add parmesan cheese. Toss mixture with cooked pasta.
Australian meat dishes are popular all around the world. Since the time when aborigines lived on the continent meat from local animals and birds has been used to prepare meals.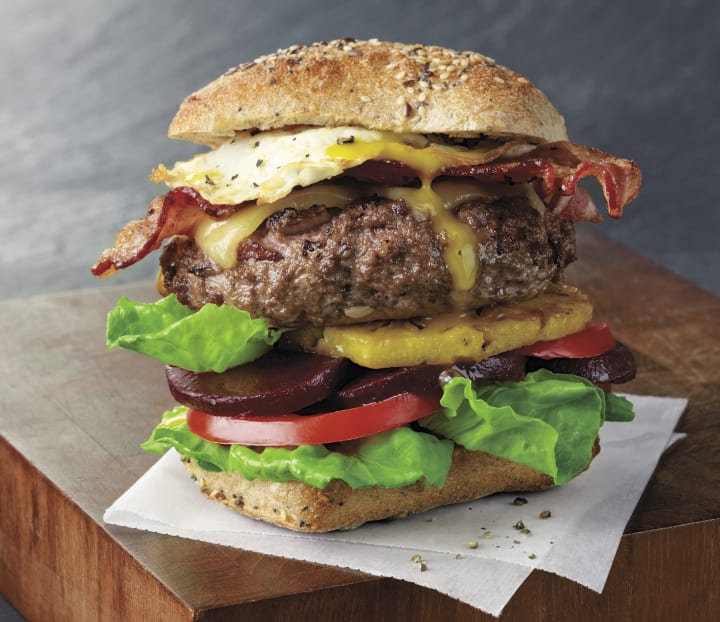 Aussie Burger – Between two bread roll halves combine a fried ground meat patty, a slice of cheese, lettuce, sliced onion, sliced tomato, 3 slices beetroot (this is essential to make it an Aussie burger), tomato sauce, 1 fried egg, 2 slices of bacon, fried crisp (optional) and 1 pineapple ring (optional). This entire combination should be eaten without taking it apart.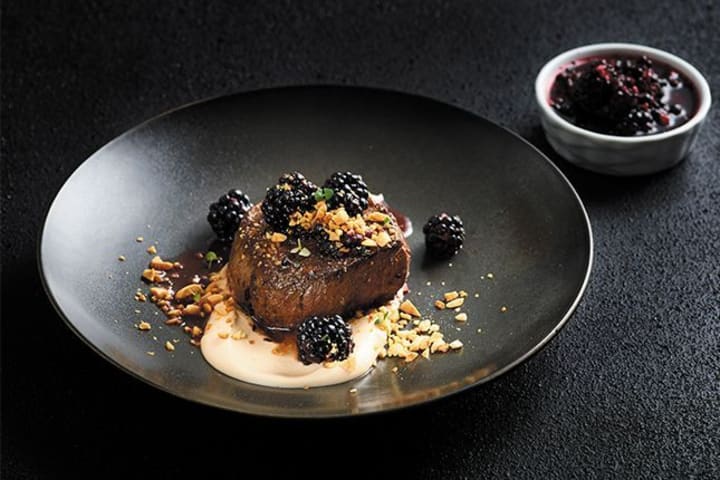 Beef and Yogurt – Steak cut into bite-sized pieces is put in a bowl and rubbed with salt. Plain, natural yogurt is poured over it and marinated for 24 hours, stirring occasionally. Heat ghee (clarified butter) in a heavy pan and fry onions, garlic, and ginger until tender and golden. Add ground coriander, garam masala, chili powder, ground paprika, ground cumin, and turmeric. Cook for about 10 minutes. Add the meat and yogurt mixture and cook for 1 ½ hours until the meat is tender. Serve with boiled rice.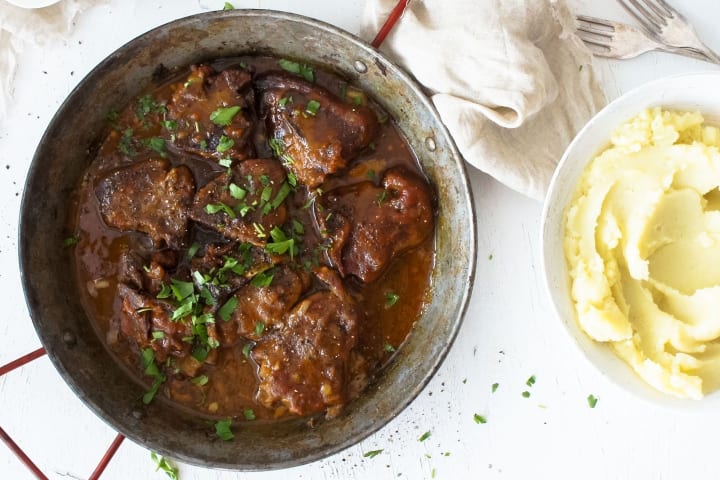 Stewed Lamb Chops – Lamb forequarter chops and browned in oil. Chopped onion is added and the chops are almost covered with water. Simmer for half an hour. Just before serving they are lifted from the pan, and breadcrumbs and thyme are added to the remaining liquid to form a sauce. Serve with potato dumplings and tomato sauce.