An Honest Chocolate Chip Cookie Recipe
Bend the rules, baby.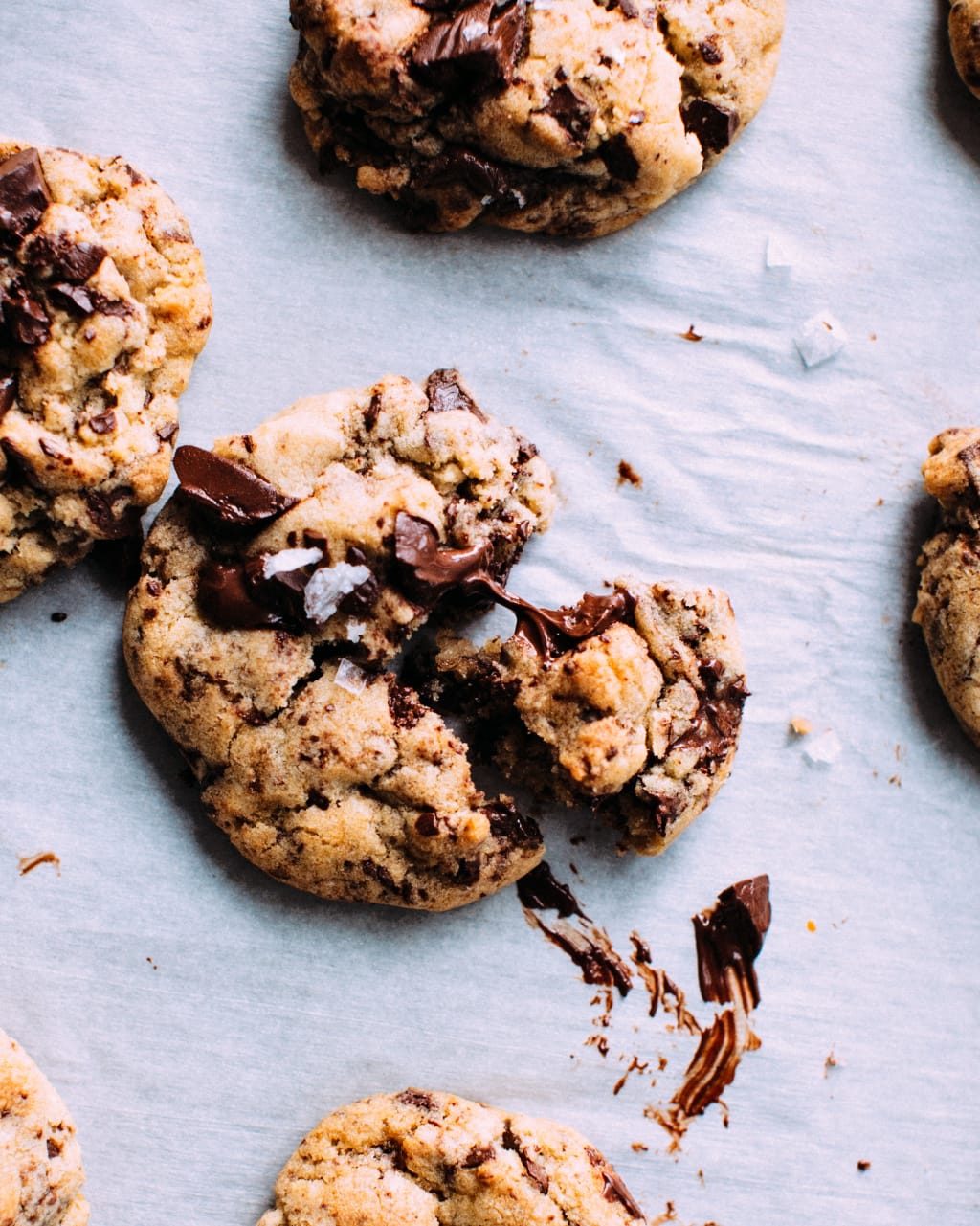 My chocolate chip cookies are so good, you would kill a man just to get a taste. They are really fucking good. Why are they so tasty? Because I break the rules! I don't follow the recipe. (Shh, don't tell Fannie Farmer.)
Well, actually that's a lie. I do follow the recipe, because baking is a science, and if you fuck up the basics, the whole thing is ruined. By basics, I mean the parts where you decide how much baking powder to add. Basically, the non-tastifying ingredients.
But there are some aspects of recipes that you can mess with. Like how much vanilla extract you add, or what kind of chocolate chips you use, or even adding that extra pinch of salt. Read on to learn more about the ways in which you can tweak the recipe to make the best damn cookies in the sea.
DISCLAIMER: Don't come crying to your cat if you can't handle the truth about things like fake butter, stevia, or imitation vanilla. Grow some ovaries.
Here's my honest chocolate chip cookie recipe.
First, we need our handy-dandy ingredient list. (If you don't want my commentary, just read the stuff in bold print.)
1 cup, or 8 T, of honest to goodness butter. Not that "butter it couldn't be" shit. You want sad cookies? Fine. Use a butter substitute. But know deep down that you hate yourself and everyone who will be subjected to eating your trash. I know that's harsh, but someone has to be the deliverer of truth. Back to butter. You can use salted or unsalted. Some recipes are VERY staunch about only using unsalted, but it doesn't really matter. OK, it matters in some recipes, but not this one. Either way, here in the land of honest chocolate chip cookies, it's all about your preferences.
1/2 cup of sugar. Don't use that skinny white girl nonsense. You know what I'm talking about. Stevia is disgusting. There, I said it. And yes, hipster moms, I'm also talking about your fancy-ass organic non-GMO poop-colored ~*~ Raw™ ~*~ sugar. Give me my refined bleached white sugar, and if you don't want it then great! More for me.
1/4 cup of packed dark brown sugar. Yes, DARK brown. Why does light brown sugar even exist? I don't understand why anyone would ever choose it over the dark brown. Whatever. Moving on.
1 egg. That's it, just an egg. Nothing to see here. I prefer extra-large eggs, but do you.
1 1/2 cups of flour. This is one of the only ingredients that I'll be a tiny bit bougie with. I buy unbleached flour and I much prefer it to bleached. I have reasons, hold on. OK, 1) I don't see the point of bleaching flour and 2) I think cookies look yummier when they're more golden brown. When you use bleached flour, your cookies look pale and that makes me sad. So that's why I get the unbleached stuff. It's the same price, so I don't feel too snobby about it.
1/2 teaspoon of baking powder or soda. Here's where you can get a lil funky. If you like your cookies more on the flat side, use the baking soda. If you like them to be puffy and cakey, use the baking powder. Want something in-between those two? Use 1/4 teaspoon of each. Texture is everything when it comes to how you like your cookies, so choose wisely. Personally, I'm a fan of the 50/50 mix, but my husband prefers the baking soda cookies. I mainly bake and cook just to hear people shower me with compliments and validate my existence, so I make them his way most of the time.
Salt. Whether it be a dash, a pinch, 1/4 teaspoon, or 1/2 teaspoon, salt is where you can season things up a bit (LOL). It can make or break any dish. Add too little and it fucking sucks. Add too much and it fucking sucks. It's very finicky, but it is VITAL. Personally, my preference is a heaping 1/2 teaspoon, but it's OK if you only add a pinch. Your cookies will still be good, they'll just be a different kind of good.
1 overflowing teaspoon of pure vanilla extract. Don't come in here with that imitation shit. NOT IN MY HOUSE. Look. I know the real stuff is expensive, but you have to trust me that it's worth it. Fake flavors give me the heebie jeebies. Your cookies will thank you. Also, yes, let it overflow a bit. I learned that lil secret from my mom (I love your cookies, mom!!). You'll get an extra dose of flavor that is so worth it.
1/4 teaspoon of pure almond extract. If you have it. Don't freak out if you don't. It gives your cookies a fun lil oomph. I don't really know how to explain it, but I know that the first time I tried it I could never look back.
MF chocolate chips. I don't have a measurement with this one. The beauty of making your own cookies is the thrill of adding as many chocolate chips as your heart desires. I prefer a metric fuck-ton of chocolate chips. My husband is one of those weird bare-minimum people... sigh. Also, use whatever kind of chocolate chips you want. Some people prefer chunky, some prefer morsels. I like mini-morsels. They're so cute. Please don't buy Nestlé, though. They are objectively evil.
Now that we've figured out what we need, here's how we're gonna make those ingredients into something glorious.
Of course, you have to turn your oven on. Set that bad boy to 350°. Let it heat up for about 15 minutes. Pre-heat it, if you will.
Melt your butter. This is a point of contention among cookie bakers. Do whatever you want, but I insist this way is better.
Mix your sugars in a large bowl. I don't think I need to explain this.
Mix your flour, baking powder/soda, and salt in a large measuring cup. Leave it for now, we'll add it to the wet ingredients later.
Add the melted butter to the sugars and mix with an electric mixer until combined. WARNING: DO NOT ADD HOT BUTTER TO SUGAR. IT WILL MELT. Make sure your melted butter is properly cooled first!
Add the egg and vanilla to your mixture of sugar and butter. Mix it ONLY until combined and do it on a low power setting. If you mix too much, your cookies will become stiff and sad.
Add your flour mixture to your wet stuff. This is where I put away my mixer. I prefer to mix with a spoon or whisk from here on. Just mix until you can't see the white specks of flour anymore.
Add dem chippies.
Eat cookie dough. Be a rebel. Fuck ur e.coli.
Plop 'em on a pan. But first, line your pan with foil or parchment paper. Honestly, I prefer to do this part with my hands. Grab a chunk of dough and put it on the pan. Make your cookies as big or as small as you want. Just make sure they're evenly spaced on the pan with room to grow. With this recipe, I generally make 12 cookies.
Bake for somewhere around 9–13 minutes. This part can be hard because it all depends on your oven. I recommend starting on the lower end and checking your cookies around the nine minute mark. From there, it's up to you how done you want them to be. Personally, squishy and underdone cookies are my jam. But if you want them to be more done, add a minute, and check them and repeat the process until they are the doneness level that you like. Be careful, though, because it's very easy to overbake cookies. If they're crumbly and sad, you'll know you overdid it. Unfortunately, if you don't have a close relationship with your oven, you'll have a lot of fuck ups at first. But don't give up! Keep experimenting and you'll eventually have that timer down to a science.
Let your cookies cool. Remove the foil or parchment paper from the pan and let your cookies cool on a cooling rack. If you don't have a cooling rack, that's OK too.
Eat your honest chocolate chip cookies. And share them with your friends to accrue compliments.
You did it! That's how you make my honest (-ly amazing) chocolate chip cookies. Breaking the rules is fine (I obviously encourage it), even in baking. Don't be afraid to tweak other recipes that you aren't satisfied with. Trust your tastebuds!