Almond Butter Toast for a good Breakfast
Healthy and Delicious: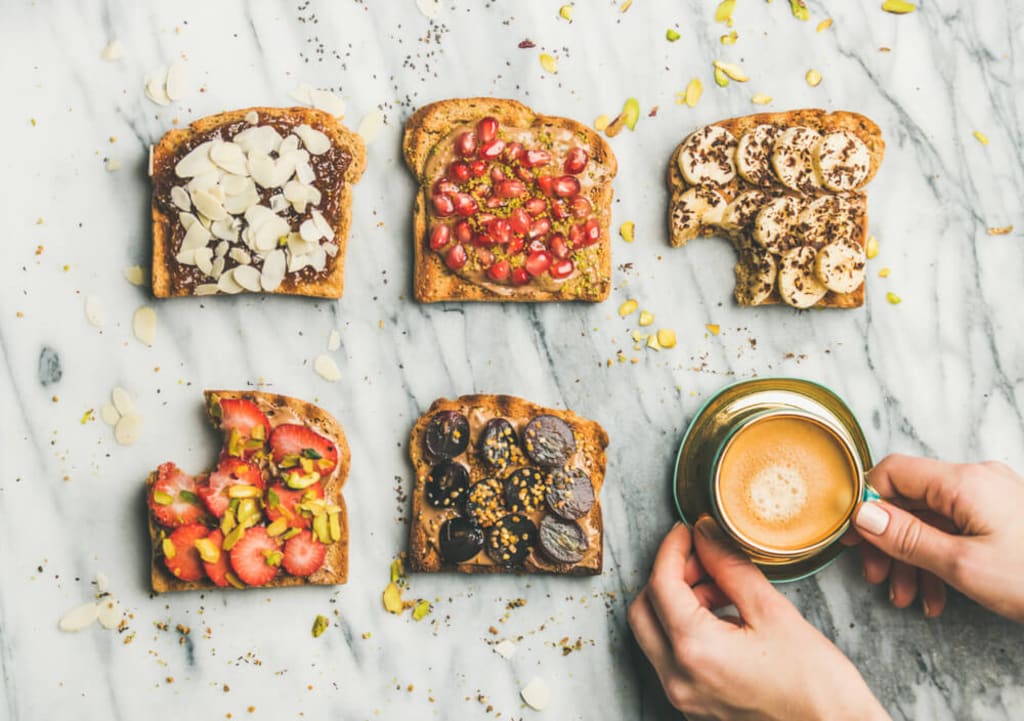 Eating a healthy breakfast is one of the best things you can do for your health. It has been linked to everything from improved focus and mental acuity to a reduction in cravings and binge eating later in the day. What if you dislike rising early, though? Or perhaps you don't have enough time to make a healthy breakfast? This toast with almond butter fills that need. It's quick, simple, and, most importantly, delicious and healthful.
Almond butter toast is a great breakfast option if you're searching for something tasty and nutritious.
It is easy to cook and provides a good amount of protein and fiber. It also has great flavor! Have a delicious start to the day by trying this recipe for breakfast.
Almond butter toast ingredients:
Sliced Sandwich Bread : I'll change up the bread I'm using to keep my almond butter toast routine fresh.
Creamy Almond Butter :I love using homemade almond butter for this recipe. Or, if I can't get around to making my own almond butter, I'll grab some unsalted, natural creamy almond butter.
Toppings Galore:You'll find a ton of ideas for mouthwatering topping combinations in the recipes for almond butter toast that are provided below. That can serve as a general guideline that you can then modify according to your tastes.
Recipe Instructions :
Toast one slice of bread in the toaster. Set toast on a plate.
Spread almond butter evenly over toast.
Add toppings of choice, following the guide above for "Almond Butter Banana Bread", "Trail Mixin' it Up!" and more.
Serve and enjoy.
Why to try this almond butter toast:
There are various ways to make it better:
Use bread that has fewer additives and is created with all-natural ingredients. I enjoy eating whole-grain bread made with seeds, nuts, and whole oats. I believe that whole wheat bread is healthier for you if you eat more of it. heavier is indeed correct. In general, the lighter weight categories seem to flaunt fewer supplements and opt for more time-saving baking methods.
Use almond spread that is solely composed of almonds. Of course, you're now invited to a treat! For this reason, one of the recipes includes a chocolate almond spread.
almond butter toast Variations:
almond butter banana bread, aka the best way to make almond butter banana toast
Because banana and almond butter mix so well together, this recipe for almond butter banana toast is one of my favorites. You may make comfortable banana bread delight by adding some cinnamon, some almonds, and possibly some coconut sugar.
½ banana for banana slices
2 teaspoons walnuts
A pinch to 1/8 teaspoon ground cinnamon
Optional: ¼ teaspoon coconut sugar
Is Almond butter toast healthy:
Yes, for the most part. Like anything else, a recipe may be altered by anyone to make it more or less nutrient-dense. Today, I'm going to share some nutritious recipes for toast with almond butter with you. There are numerous ways to improve its health:
Benefit from whole-wheat bread that contains less preservatives. My preferred whole wheat bread is made with whole oats, seeds, and nuts. I firmly believe that whole wheat bread is healthier for you the more of it you eat. Unquestionably heavier! The less densely packed loaves always seem to produce their bread more quickly and with nutrient-poor components.
Utilize almond butter that is primarily composed of almonds. Of course you are entitled to a reward now! I incorporate chocolate almond butter into one of the dishes.
Endless Customizations of almond butter toast:
Toast to order to keep things extra crispy.
Alternatively, you might reheat the toasted bread in a little oven and serve as needed.
Use any mix of nut butters, such as cashew, peanut, almond, crunchy almond, and nutella.
If making sandwiches for a kid's party, skip the toasting and go for open-faced sandwiches.
If it makes you feel more in control, make a variety of topping toasts in advance for convenient grabbing.
Use any garnishes that your gorgeous, creative mind can dream of!
Almond butter toast toppings:
Add some cinnamon, some nuts, and perhaps some coconut sugar to make a cozy banana bread treat. By the way, you might like these simple 3-ingredient almond butter cookies!
12 banana for slices of banana
walnuts, two teaspoons
1/8 teaspoon to a pinch of ground cinnamon
14 teaspoon coconut sugar is optional.
How to store almond butter toast:
Room Temperature: If you plan on eating the toast within a few hours, it can be stored at room temperature. Simply place the toast in an airtight container or wrap it in plastic wrap to keep it fresh.
Refrigerator: If you want to store the almond toast for a longer period, it's best to keep it in the refrigerator. Place the toast in an airtight container or wrap it in plastic wrap, and it can last for up to 3-4 days.
Freezer: Almond butter toast can also be stored in the freezer for longer periods. Wrap the toast in plastic wrap and then place it in a freezer-safe container or bag. It can last for up to 3 months in the freezer. When ready to eat, simply thaw it in the refrigerator overnight and toast it again in a toaster or oven.
About the Creator
I am el aid selim,founder of Healthycookingtour
I am passionate about food and trying new recipes in the kitchen and i enjoy sharing healtyh recipes and tips on my blog from all over the world .
Hope you enjoy my recipes!
Reader insights
Be the first to share your insights about this piece.
Add your insights