Afternoon Tea
This is the perfect excuse to gather with friends to nibble on cake (and other delectable edibles) whilst sipping tea.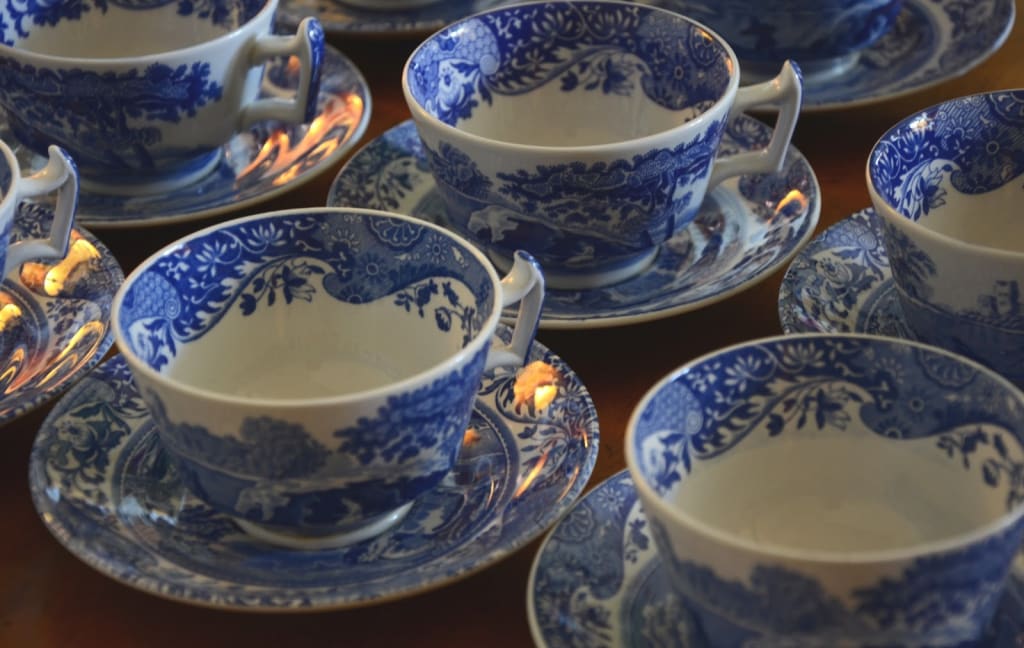 How civilised it must have been when Afternoon Tea was a delightful little ritual to participate in, at three or four, in the English home. Nowadays it's a treat and this menu is slightly more elaborate or substantial than just a slice of seed cake or buttered muffin with tea! However, when you only make the effort once in a blue moon, there is certainly excuse to lavish several of the variants in a single sitting! It is a nice get together to organise between friends and family, maybe sharing out the different elements of the 'tea' so the workload isn't put upon one individual making the whole experience relaxing for all. Here is a menu for inspiration and a few recipes and tips to help you on your way to the perfect Afternoon Tea!
Menu
Sandwiches: Cucumber and Dill Cream Cheese, Sliced Ham with Apple and Pear Chutney, Prawn Marie Rose
Cheese and Chive Tartlets
Hot Buttered Muffins, Crumpets, and Teacakes
Victoria Sandwich
Chocolate and Banana Loaf
Lashings of Tea
Sandwiches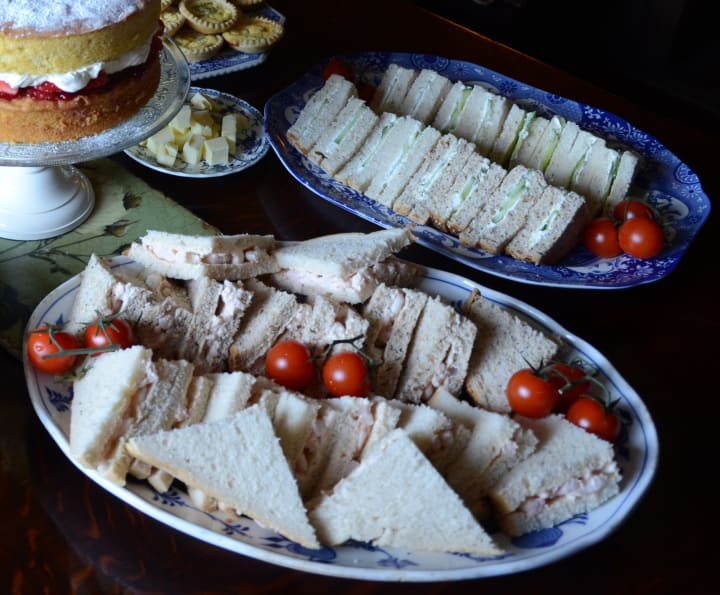 Choose a soft white and brown sliced loaf. If the crusts are nice and soft as well there's no need to remove them. Just remember, sandwiches are best really fresh so make them up as near to serving as possible. However, you can get some of the fillings ready ahead of time.
First take your butter out of the fridge to come to room temperature so it has an easy spreading consistency when it comes to buttering the bread. Don't be tempted to skip buttering the slices as it will help form a barrier between the bread and the filling, stopping any juices causing it to become soggy. Slice the cucumber thinly, mix chopped fresh dill into the cream cheese and make up the Marie Rose sauce for the prawns.
Marie Rose Sauce

½ lemon, juice only
1 tbsp. Worcestershire sauce
5 tbsp. tomato puree/ketchup
few drops Tabasco sauce
2 pinches smoked paprika
½ tsp. paprika
1 tbsp. double cream
4 tbsp. mayonnaise
1 pinch cayenne pepper
pinch salt
1 tsp. cracked black pepper
Method:
Simply mix all the ingredients together to give a lovely smooth sauce to coat cooked prawns.
Cheese and Chive Tartlets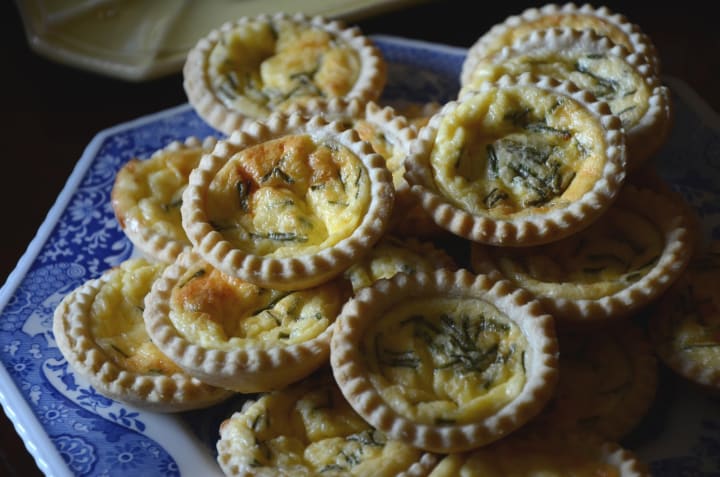 For the pastry:
6 oz. self raising flour
3 1/2o z. cold unsalted butter, cut into small pieces
3 tsps. of water
For the filling:
1 egg, beaten
100ml of single cream
3 oz. matured cheddar cheese/ parmesan or other cheeses of choice
Small bunch of fresh chives, snipped
Salt & freshly ground pepper to taste
Method:
Pre-heat the oven at 180C/350F/Gas mark 4.
Place the flour into a large bowl and rub in the butter with your fingertips until the mixture resembles breadcrumbs. Stir in the water and mix until it forms a dough. Or this can be done in a food processor. Roll the dough into a ball, cover with clingfilm and chill in the fridge for 30 minutes.
Roll out the pastry thinly on a lightly floured surface. Using a 7.5cm/3" biscuit cutter, cut out 12 rings from the pastry and line a well greased tartlet baking tray.
To make the filling:
Whisk together the beaten egg, cream, cheese and chopped spring onions. Then season with salt and pepper to taste.
Carefully pour the filling mixture into the pastry cases and bake for about 25-30 minutes or until the filling is just set and the pastry is golden. Serve warm or cold.
Victoria Sandwich
A relatively simple cake to make but what heaven to eat! The light and airy sponge with the luscious cream and fresh sweet strawberries is such a delightful combination.
Ingredients:
8 oz. unsalted butter, very soft
8 oz. caster sugar
8 oz. self-raising flour
4 large eggs (or weight of 8 oz.)
1 tsp baking powder (if using processor method, see below)
3-4 tbsp. milk
2 x 21cm sandwich tins (about 5 cm deep) buttered
Method:
Preheat oven to 180c/gas mark 4. If the tins aren't loose-bottomed line them.
The sponge can be easily made in a food processor, which involves just mixing all ingredients except milk until you have a smooth batter. Then pulse, pouring the mild gradually down the funnel until your cake mixture's a soft, dropping consistency.
If making the traditional way, cream the butter and sugar, add the vanilla and then the eggs, one at a time, adding a spoonful of flour between each. Fold in the rest of the flour (adding no baking powder), and when all's incorporated, add a little milk as you need.
Pour and scrape the batter into the tine and bake for about 25 minutes, until the cakes are beginning to come away at the edges, are springy to touch on top and a cake-tester comes out clean. Leave cakes in tins on a wire rack for 10 minutes before turning out to cool completely.
Sandwich with fruit and cream and sprinkle the top with icing sugar just before serving.
Chocolate Banana Loaf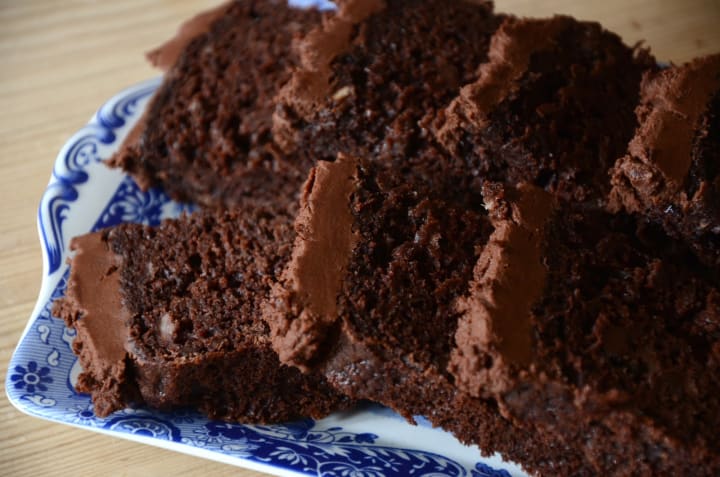 This is...well, the photo says it all.
Ingredients:
100ml sunflower oil, plus extra to grease
6 oz. caster sugar
6 oz. self-raising flour
half tsp bicarbonate of soda
4 tbsp. cocoa powder
4 oz. chocolate chips or chunks
6 oz. very ripe bananas
3 medium eggs, 2 separated
50ml milk
For the topping
4 oz. milk chocolate
100ml soured cream
Method
Heat oven to 160C/140C fan/gas 3. Grease and line a 2lb loaf tin with baking parchment (allow it to come 2cm above top of tin). Mix the sugar, flour, bicarb, cocoa and chocolate in a large bowl.
Mash the bananas in a bowl and stir in the whole egg plus 2 yolks, followed by the oil and milk. Beat the egg whites until stiff. Quickly stir the wet banana mixture into the dry ingredients, stir in a quarter of the egg whites to loosen the mixture, then gently fold in the rest. Gently scrape into the tin and bake for 1 hr 10-15 minutes, or until a skewer inserted comes out clean.
Cool in the tin on a wire rack. To make the icing, melt the chocolate and soured cream together in a heatproof bowl over a pan of barely simmering water. Chill in the fridge until spreadable. Remove cake from tin, roughly swirl icing over and slice.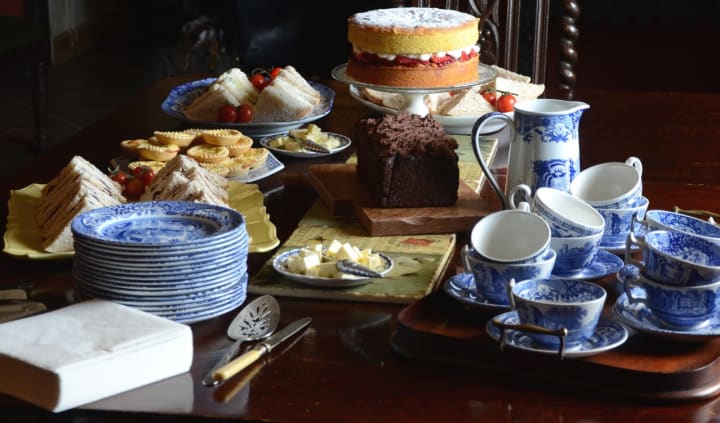 recipe
About the author
I love to express myself by writing, drawing and capturing things on camera. I find it so inspirational to look at other people doing this and hope my work has the same influence on you.
Reader insights
Be the first to share your insights about this piece.
Add your insights