A view at the EnVue Hotel's Marcus NoHu Rooftop
Day drinking and eating in New Jersey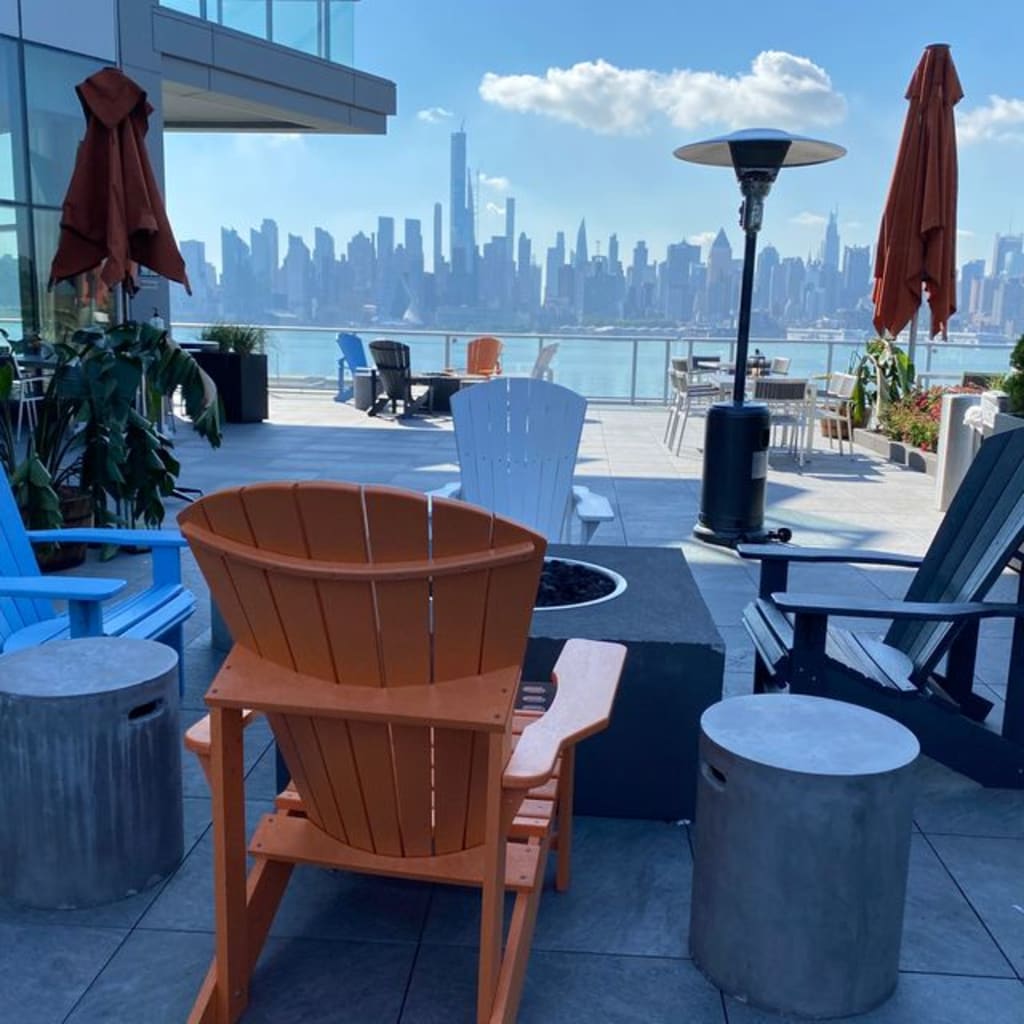 Photo via https://www.opentable.com/r/marcus-at-nohu-rooftop-weehawken
On a Sunday afternoon, my friends and I arrived at the EnVue hotel in Weehawken, New Jersey and rode the elevator up to the top. On the sixth floor of the EnVue hotel, an oasis for outdoor dining overlooking a breathtaking view of the Hudson river greets you once you step off the elevator. With plenty of space inside to spread out (Especially important due to this socially distanced Summer) my friends and I headed to the bar to get cocktails to get our brunch experience started before being seated for our 1:15 PM reservation.
At our table outside, our waiter wore a mask while taking our orders and serving us throughout our entire experience. We toasted to mimosas and I ordered "The Sweetest Thing" dish which consisted of a peach cobbler waffle, sweet cream with cinnamon crumble on top and requested a side of fried chicken to complement. When my food arrived, the portion was adequate, but the food was a little cold and I expected the waffle to be softer, however, the flavors were satisfying. The fried chicken had a hint of curry without overpowering the dish which I appreciated, and the toppings of the waffle were refreshing without tasting like a dessert.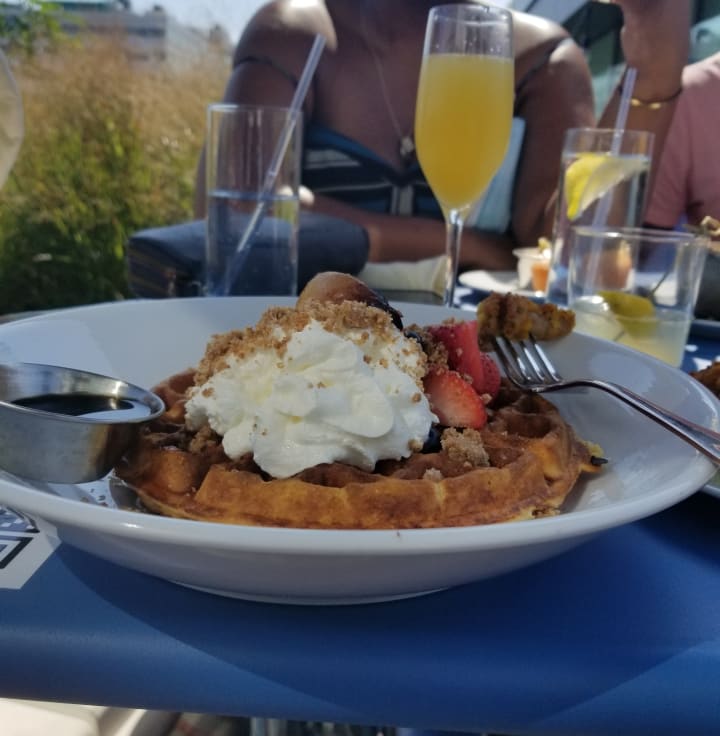 The lingering thought among us was the security of parking. My friends parked in front of the hotel where 2-hour-parking was implemented and because there were no more available spaces, I parked in the parking garage. We spent about five hours on the rooftop and was assured that our parking would not be affected; but more on this later.
With drinks flowing, great company and conversation on the rooftop, the ambiance and incredible view of the New York City skyline was the main attraction. While we dined, groups of young women were spotted celebrating birthdays and others were dressed in their summer best to take pictures during brunch with their ladies. Fellas sat on the cushioned seating underneath a huge umbrella for shade surrounding patio tables sipping on their drinks, chatting it up and leisurely soaking up the warm sun. Some people came with their dates and a waiter carrying a set of red roses to one lucky customer walked past us. As the day carried on, my friends and I agreed that we wanted to come back again and try dinner and experience the fire pits around the rooftop. Around 5:30 PM we were surprised to see how much time had passed and decided to continue our drinking and eating elsewhere. Upon leaving the hotel and rooftop, the sky was still bright and welcoming, and a slight breeze was in the air. As we approached my friend's car, we noticed there was no ticket on the windshield and for a total of about four to five hours of my car parked in the parking garage, I paid $18. All in all, the day was filled with good vibes all around.