A Truly Mouthblowing Culinary Experience in the Dretches of Europe
One man's quest for the perfect dining experience.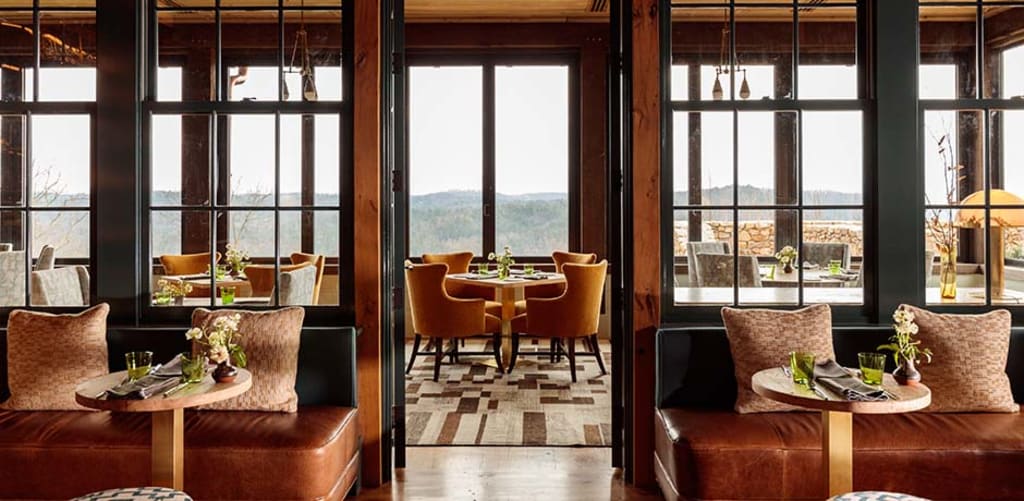 When I started my career in dining critique, or as they laymen call it, "reviewing food", I never imagined all the twists and turns the job would take me on. Whether it was being yelled at by the staff at my local gastropub over my first negative review, the long-lines at foreign airports on my way to the next artisanal farmhouse, bed-and-and-breakfast, or beachside eatery, even all my chance encounters with celebrities, I could not be more thankful for the opportunity to dictate the world's palette one sentence at a time.
When I was growing up on the rough and tumultuous streets of suburban Washington, food was nothing more than a once-a-week treat or occasional dinner party with my father's associates. I had it pretty rough compared to many of my colleagues. Despite my turbulent childhood, my love for cuisine somehow shined through all the negatives. My keen sense of flavor has allowed me to reach my absolute wildest dreams!
All the long nights of staring out my window onto barely manicured streets while pondering the mysteries of food are what made my trip to this week's highlighted restaurant all the more special. If you've had the pleasure to even hear about, let alone dine within the walls of this establishment, you are quite aware of the unique opportunity I partook in and now get to pass onto you all, my delighted readers.
This week's review takes place in the specially foreign, distant land of Brussels, a small, but quaint village on the outskirts of the Belgian coast. Travelers from all over this vast planet have made it a point to take the pilgrimage to this dainty little town, far away from anything resembling civilization, for its famed cuisine. The eatery is named after the head chef's dearly departed mother Sandra. From my interview with Chef Tomas Poupiree, I was able to glean that he and his late mother had quite the camaraderie! He told me stories of wild fishing trips, hunts on the wild Belgian savanna, and tender, love-filled moments that they shared before her tragic passing. It is no wonder that Chef Poupiree puts such hard work into his restaurant Sandra's Wateringhole BBQ and Grille.
Chef Tomas rises each day along with the sun and immediately starts his back-breaking routine each morning. He handpicks the ingredients fresh from his own organic homestead and procures his meats from only the finest animals he spots on his morning endeavors. Tomas then spends the majority of his waking hours slaving over a hot stove and making sure all of his handcrafted dishes are cooked up to his standard of perfection.
This standard of perfection that Tomas sets for not only himself but all of his loyal employees can be seen on display throughout the restaurant. During my visit, I was greeted in an exceptionally warm way by the host and was led to my table with great haste. My plate, napkin, utensils, and cup were all perfectly distanced and complemented each other quite nicely. After removing my mask at the table to help curb the spread of the deadly COVID-19 virus, I was quickly handed a glass of crisp and delightfully tasty drinking water. I was no longer parched from my treacherous walk from the car and ready to get into what you have all been waiting for, the eating.
The first course of the evening was promptly delivered to my table within minutes of my seating. There is no ordering or even menu at Sandra's. You get exactly what Chef Poupiree makes that particular day and there have been no complaints on the selection in over 27 years. Upon first glimpse of my appetizer entree, I was blown away. The chef had created a beautiful, petite serving of poached quail egg. The aroma of the perfectly cooked avian egg immediately transported me into the days of my youth. Memories became flooding in of heartfelt moments spent with the neighborhood geese, and hours spent mastering the game Duck Hunt on the N.E.S. I have never, to this day, been absolutely enamored with a particular smell as much as that one. Upon enjoying my first bite of the egg, I was again engulfed with familiar feelings of ecstasy and even a deep appreciation for life itself. The quail eggs were more than just eggs, they were a delicacy of the highest order, a true achievement of the human race as a whole. Just as quick as they came, they were gone.
Chef Tomas had told me during our interview that he enjoys using the first entree like a "teaser" as he called it. Something to get your taste buds lubricated and ready for more serious action. The second plate arrived within seconds of my first being discarded. This next part of the meal was a thinly braised iguana talon with sweet chili aioli, warm melted butter, and a heaping portion of handmade goat cream. If you are familiar with current culinary trends, this dish will not surprise you. The iguana has quickly made a name for itself as the dish of the future and Sandra's take on the recently-discovered classic did not disappoint. The talon paired nicely with the goat cream and allowed for an explosion of flavor to take place in my mouth. The contrasting flavors present between the new and old world animal products allowed my mind to wander and create vast networks of deep connection and meaning with the food I was eating.
The third, and final dish is what truly sets Sandra's Chef Tomas and his gaggle of handsome cooks apart from the rest. I was unsure of what to expect from this long-rumored finale, as I was the first reviewer Poupiree allowed to publish information on the famed dish. What I received blasted my expectations out of the water. I was expecting a hefty steak, a wild-caught fish, or maybe even a hearty vegetarian take on a typical main entree. What I received instead is a true testament to the genius present within the mind of Tomas Poupiree. I was given a soup made of mysterious, almost unrecognizable ingredients. Even now all I can recall is a few carrots, a leek, and some sort of dark meat. The soup was incredible itself, but what set it aside from all other soup entrees I've has the pleasure to enjoy, was the container it came in. A caster mold of Chef Tomas's own mouth! I was instructed to throw my utensils to the ground and enjoy the soup by licking the replica of the chef's face orfice. While I struggled to fit my tongue around the Chef's numerous mouth cavities, I was heckled personally by Chef Tomas. During the course of my soup consumption, he sat directly in front of me, shouting Belgian obscenities, getting right up to my face, and making sure that I knew what I was doing. After several minutes of verbal beration from the chef, and a deep understanding of what it felt like inside of his mouth, my soup was finished, and it was to die for!
I cannot recommend Sandra's enough. The talented chef, the friendly waitstaff, and especially the delicious and unique food make the restaurant one of my favorites. I would highly encourage you to make the trip over to Belgium if possible and learn what it means to truly enjoy food from the Chef's perspective. At no other restaurant can you truly taste what the chef tastes, but Sandra's in Brussels bridges that gap excellently. Until next time, keep eatin' and keep readin'!
Reader insights
Be the first to share your insights about this piece.
Add your insights