A Goan Love Story
A Seafood Lover's Paradise (Among Many Other Distinctions)
It was Christmas Eve 2018.
I was in a restaurant in Candolim, Goa with my best friends. Just the day before I had my first taste of alcohol and spotted giving drunken sermons to strangers.
Hailing from a traditional family from South India, I had broken lots of rules that night, good enough to get me thrown out of the house. Nevertheless, I was enjoying this rebellious me and taking in the magical Goa air with a goofy smile.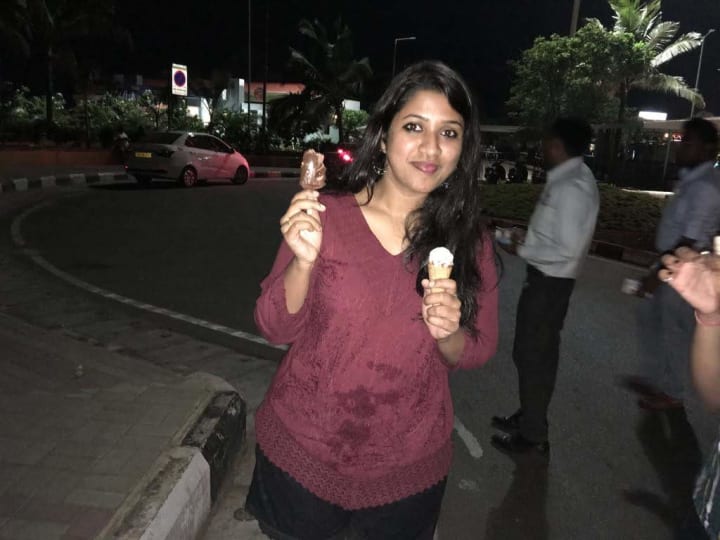 With matters of food, I was the only seafood lover among my meat eating friends. I can't complain because not all understand seafood.Yet having to marvel at the tenderness of a pomfret fish with such excitement and to get blank expressions in return was demotivating for me.
Seafood is an emotion
Learning to eat seafood is a spiritual journey.
It begins with recognizing the simple magic in a rice and fish curry combo with a small piece of fish fry as an accompaniment. It's in evading the bones and relishing the fleshy part. The process of removing a crab shell getting pricked a dozen times, to taste the absolute treat within is the first step taken in a journey of a thousand miles.
Eating any seafood demands your attention and requires mindfulness to finish each morsel. Not many sign up for this.
I do laugh at people eating boneless fish and calling themselves seafood lovers. I am sorry.
Back to 2018...
The waiter suggested me to try the traditional Goan prawn curry. I ordered brown rice, prawn rava fry alongside while my friends ordered their usual meat based menu.
The curry arrived in a beautiful clay pot. There it was, the best gourmet couple on planet - prawns with ladysfinger residing in a mildly spiced curry giving out a heavenly aroma.
Ladysfinger is my favourite vegetable of all time. It's reputation as a superstar in a buttermilk curry, tamarind curry or masala fry is well known in Indian cuisine.
I mixed the piping hot rice mixed with this curry. The prawns were fresh and succulent. The taste of ladysfinger was subtle and it imparted a delicate textural element.
It was pure joy on a plate.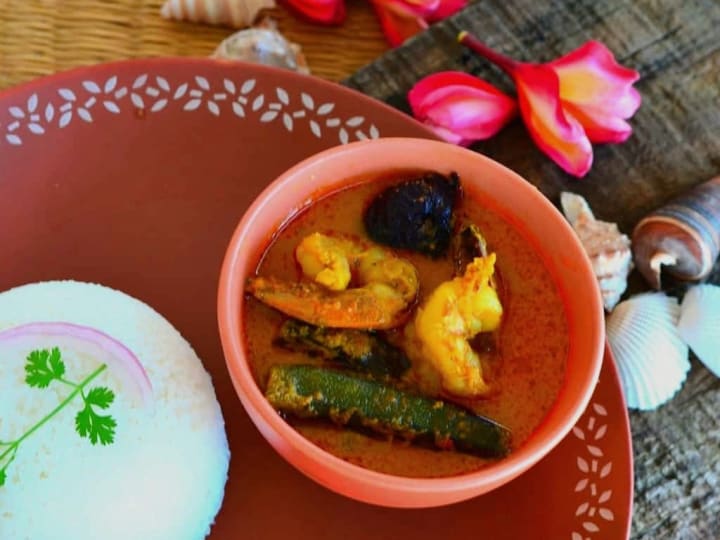 The delicious taste of the curry, rice with and an accompanying prawn fry made it one of the best food experience I ever had. I remember announcing (multiple times) :
" If I died today, I would be the happiest soul in the world".
How this changed my view
In my home, seafood menu was completely devoid of vegetables (apart from onions, tomato) and coconut milk. I relished prawns as a masala fry, barbecued version only until then.
This curry did full justice to the inherent taste of prawns and gave me a aaha moment. After this, I started experimenting with adding vegetables like potato (Macher Jhol, an incredible Bengali delicacy) and adding Kokum to our menu. Kokum Rasam is a family favourite today. I was wary of coconut milk because I assumed it takes the spice factor from the curry. Oh, how wrong I was.
This unforgettable experience made me appreciate the rich food culture of Goa and inspired me to experiment and understand the diverse food culture of my country.
How to prepare this?
The recipe for this Goan Prawn curry (Bende Sungta Kodi in Konkani language) is a perfect representation of Goan cuisine. It celebrates prawns, the aromatic spices, coconut milk and the local produce ladysfinger. Kokum fruit, available locally in Goa is the major flavour component. It can also be replaced with Tamarind.
I always follow the recipe from Delish Potpurri blog. This comes super close to what I had tasted three years ago.
Ingredients:
7 - 8 prawns Big ,shelled and deveined
8 - 10 Ladies Finger
2 tbsps Oil
1 - 1 1/2 Cups Water
3 - 4 pcs Kokum of Dried
2 Green chillies ,slit
1/2 tsp turmeric powder
to taste salt
For the paste
1/2 cup coconut grated
5 - 6 half Chillies water Kashmiri , soaked in for an hr
1 onion medium ,cut in big pieces
1/2 tsp Cumin seeds
1 tbsp Coriander seeds Whole
5 - 6 cloves Garlic
tamarind 1 tsp paste (optional)
turmeric 1 /2 tsp powder
Instructions:
Marinate the cleaned and devined prawns with a little salt and turmeric powder. Cut both the ends of ladysfinger and keep them longer.
Grind everything listed under for the curry paste section with a little water in mixer.
Saute the ladysfinger in little oil for 3-4 minutes. This helps removing the gelly like texture.
In the same pan saute the marinated prawns for 2-3 minutes in medium flame,drain and keep it aside.
Heat the remaining oil and add the paste to the pan and fry for 2-3 minutes.
Add the water and green chillies and add the ladysfinger and cook till firm.
Add the prawns , dried kokum pieces and salt and cook for 3-4 minutes more or till the prawns are cooked. Do not leave it for long because prawns tend to become rubbery. Serve hot.
Final Thoughts
What I experienced three years ago is just one among the many signature Goan dishes and I have just touched the surface.
Food is the closest we have experiencing the history and culture of a place. I welcome the reader to try this recipe and take a first step to a truly extraordinary gastronomical journey to the land of Goa.
Thank you for joining me!