A Foodie's Guide to Pancakes around MA
Start your morning off right at some of my favorite spots!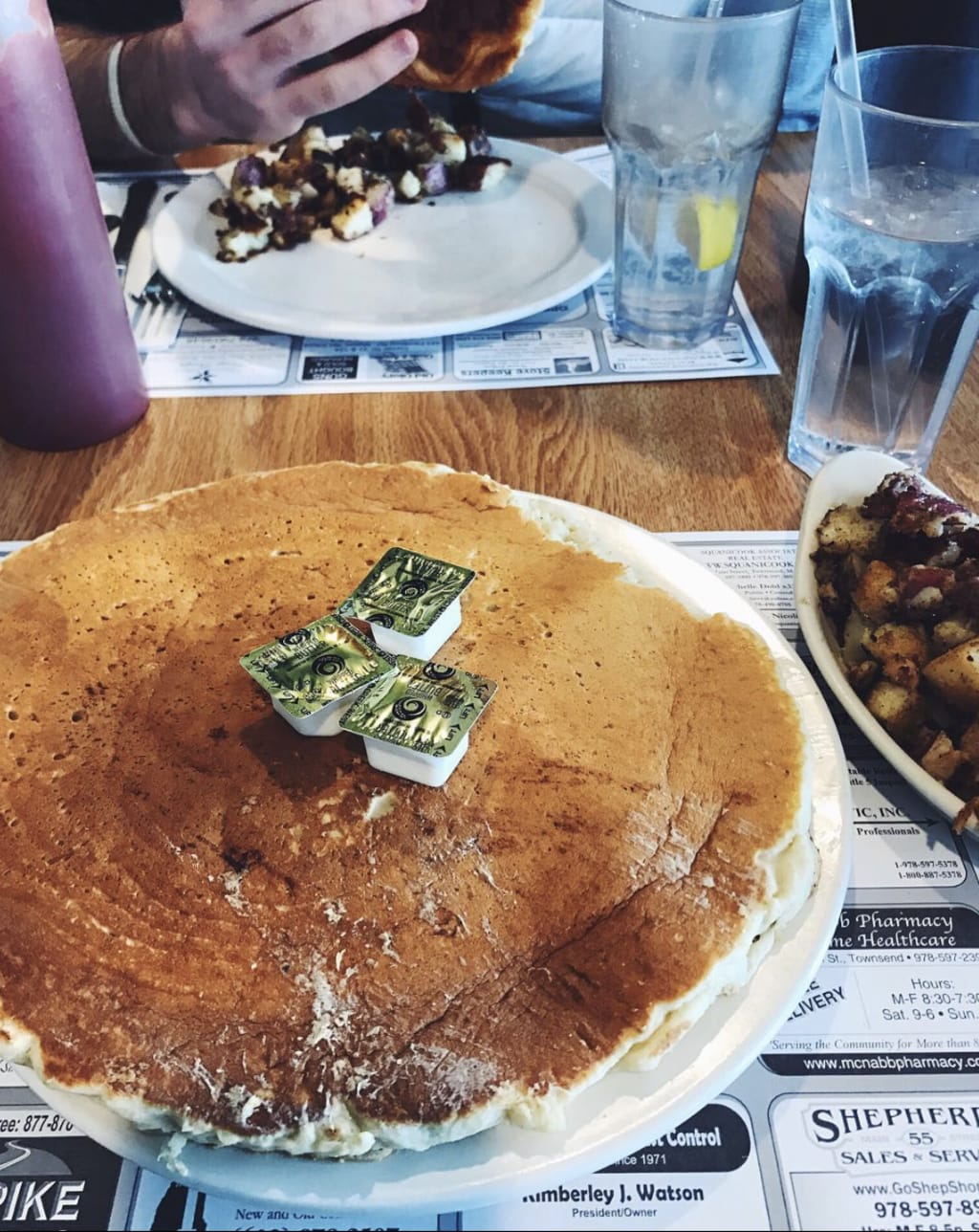 As a self-proclaimed foodie, I truly can't get enough of going out to eat. I'm the annoying friend who makes everyone wait to eat until I've gotten a good picture of their food - cameras eat first, of course! When I'm not going out to eat, taking a million different pictures of the tablescape, I'm usually looking for new restaurants to visit so I can do just that. And one of my absolute favorite things to do is going out for breakfast - seriously, who doesn't love a big heap of hashbrowns, scrambled eggs, greasy slices of bacon, or my favorite: stacks of huge pancakes?!
Now that COVID precautions have become the new normal, and it's much harder to go out to eat like we all used to, I've beome super nostalgic for those sleepy mornings heading out to one of my favorite diners. I recently came across some old photos I took while I was out to breakfast, and I had the idea to share some of my favorite spots in and around MA, specifically for pancakes - because who wouldn't benefit from a list of some of the best diners to grab some incredible pancake breakfasts?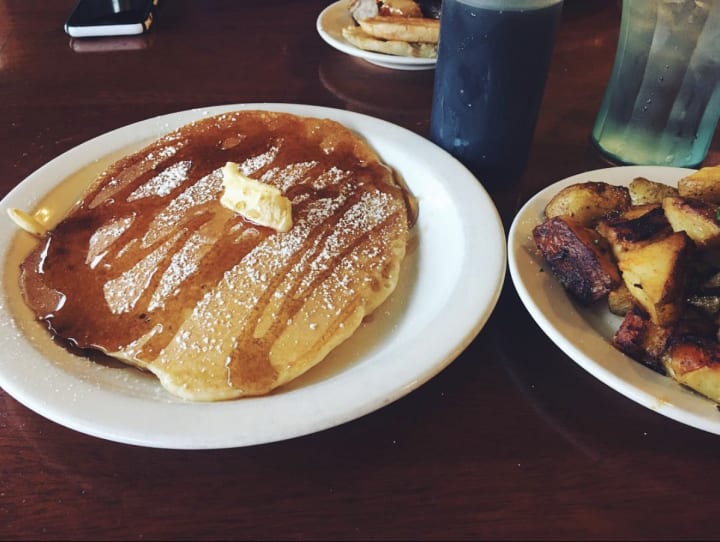 First up is the Saltwater Diner in Hull, MA - this spot is nestled in between shops on a main street in town, and feels super homey when you walk in. It's a cute place, on the smaller side, with quaint booths along the walls and some tables toward the middle of the diner. Now, I'll make it clear right now that my favorite breakfast side is home fries - no debate. So you'll see home fries in nearly all these pictures, and I'll probably reference them in every little excerpt, too.
The pancakes here are the perfect size if you're wanting to eat 2-3 without feeling super stuffed. Don't get me wrong, I love a plate-sized, bigger-than-my-head pancake (as you'll see shortly), but when you want to enjoy a few sides and a couple cups of coffee or OJ, it gets to be a bit much to take in for one meal. That's why these beauties are just right - big, fluffy and flavorful enough to be filling, but not too much to make you feel sick right after.
Next up are these bad boys from Hometown Diner in Rindge, NH. Just past the state border, this diner is super quaint and vintage-themed, with retro barstools and neon signs out front. The pancakes here are definitely on the bigger side, but not quite falling-off-the-plate big. They do have the perfect blueberry-to-pancake ratio, though, which surprisingly is hard to come by! Perfectly paired with home fries (obviously) and one of their seasonal drinks - this one in particular was an apple mimosa - these pancakes were absolutely the best part of my day, and I find myself missing them very, very often.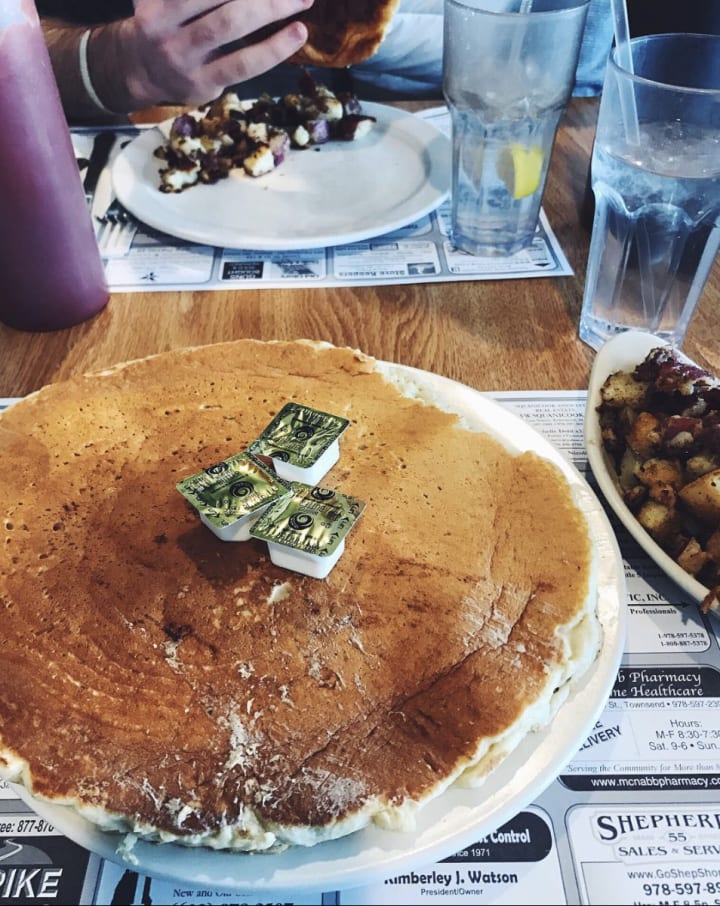 Cliff's holds a special place in my heart for sure - to most people it's just your average diner, but I fell in love with their pancakes from a very young age and haven't looked back ever since. These are the perfect plate-sized pancakes, as you can obviously see here - and yes, there's another one underneath! I used to eat these every single time I went to Cliff's growing up, and as a kid I obviously couldn't come close to finishing both pancakes. Now I lick the plate clean of course, but I still look back fondly at memories of myself proudly ordering the pancakes and telling my parents I could finish them, and then leaving with 2/3 of my plate still filled (I always filled up on the home fries anyway).
Stars is such a cute restaurant, from their little booths, to the fully stocked bar along the back wall, to the night sky mural on the ceiling (my favorite part!). Yes, this picture is of their waffle, which I very highly recommend - I included it as an honorable mention here, mostly since I didn't have any pictures of their pancakes. But, I can vouch for both being extremely satisfying! It's definitely a busy atmosphere and a little more restaurant than smaller diner vibes - there's usually always a decent line in the mornings, but there are some awesome arcade games to play while you wait. Also, since I mention sides in every one of these, their bacon and cheddar tater tots are absolutely phenomenal (they're in the cone in the picture above). If you're ever on the South Shore, you have to make a stop here for sure.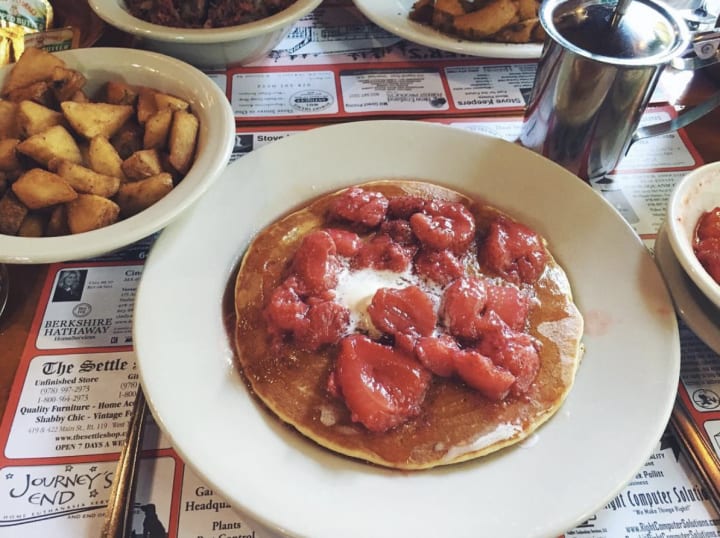 Last up is one of southern New Hampshire's finest - if you're from central MA or southern NH, you've probably been here multiple times, and if you haven't been there, you've definitely heard about it! Parker's is a soft spot for me too, but their food and atmosphere just speak for themselves. It's a huge log cabin-esque restaurant that serves the absolute best home fries I've ever had, along with their own homemade syrup and a super yummy stack of fluffy pancakes. They're on the smaller side, but that just means you get to eat more of them without feeling guilty, right? You HAVE to top them with fruit, too - their strawberry topping is to die for.
I ran out of pancake pictures, so that's all for now! I hope this inspires you to get a great takeout breakfast sometime soon - and if you decide to actually go out to breakfast right now, wear a mask, be extra kind, and TIP WELL!
list
About the author
photographer with a knack for writing, passion for food, and a craving for adventure.
Reader insights
Be the first to share your insights about this piece.
Add your insights