A Divine Gift for summer
PANAKA is a traditional Indian beverage specially made for summer.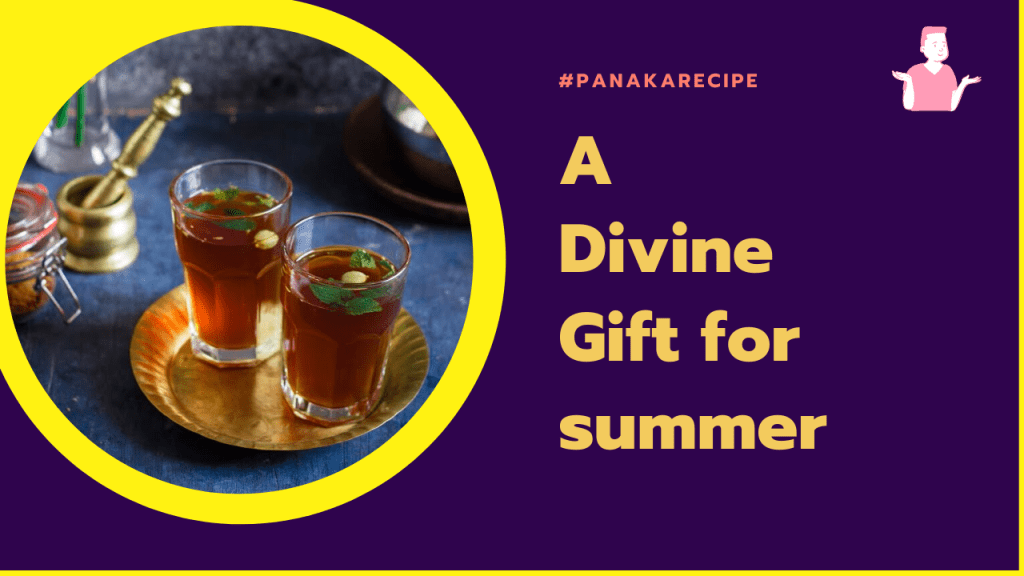 Summer is already here, and Indian food is looking forward to make your summer cool. If you have been a fan of Indian food and drinks then it's going to serve you as another gift. But if you have never tasted Indian traditional food then you are going to be a fan of Indian food after tasting it.
Summer brings its beauty along with it and need of drinks grows as days get hotter, but we have solved this problem by introducing you with PANAKA this summer. This is a simple drink made with simple ingredients and method that serves a lot of people at the same time and makes the summer cooler than before.
What makes it so special?
This simple summer beverage combines dry ginger, Jaggery, cardamom and sometimes you can also add a hint of crushed peppercorns or cooking camphor. This combination makes it a very unique mixture of powerful ingredients that rehydrate the body in just few seconds of drink. It tastes like heaven and makes the stomach feels very light. If someone is dehydrated during summer, a shot of PANAKA can refresh him as nothing happened to him. If you love to play in summer, sweat your body and burn some calories but you are afraid of losing body vitamins and salts. Then your worry is over because this drink is a special gift for those who lose salts and then want to gain them for working out more because we have ORS in modern days to cure the dehydration but in ancient times this was a great cure for the dehydration in parts of south India where the humidity and excessive sweating saps the body of fluids and salts. Jaggery in its purest form is loaded with electrolytes and raw carbohydrates. It's the perfect antidote for dehydration.
Traditional Servings
Panaka is a sweet and special drink served on Rama Navami and many other festivals and occasions. This is a special drink of summer that cools the body and refreshes the mood frequently.
Let's understand its method and know about simple ingredients.
Ingredients:
• Jaggery - 150 gms (an unprocessed sugar product made in Asia and Africa. It's sometimes referred to as a "non- processed sugar," because it's not spun throughout processing to eliminate the molasses)
• Water - 800 ml (Four glasses)
• Juice of Four lemons (medium size)
• Dry ginger powder – One teaspoon (can be substituted with crushed ginger)
• A pinch of cooking camphor (optional)
These ingredients are very easy to find in the market. Because it's a completely natural diet, it doesn't have any side effects. People who suffer with low blood sugar must try it because it's an instant relief that higher the sugar levels in few seconds. This summer drink has a brawny involvement in Ramanavami and Narasimha Jayanthi, it is also as routine drink served in quite a few homes in Tamil Nadu, Andhra Pradesh and Karnataka through the summer months.
PROCEDURE
1. Soak Jaggery in the water till it resolves completely (It can be mixed by help of shaking the water as well)
2. Filter the water with the help of a cloth or a pot to remove any remaining particles
3. Add the lemon juice into it
4. Add the powders and stir them to mix well
Your PANAKA is ready but following instructions will make it more chill if you follow them.
1. Although it is refreshing at room temperature, it tastes even better when chilled. Using ice in it is also good
2. Jaggery is a must ingredient that keeps it traditional and effective, the drink doesn't work with sugar instead of jaggery. So avoid replacing Jaggery with sugar
MUST READ WHILE YOU TRY IT
Jaggery is the key to this drink and it's best to use dark Jaggery with minimal processing. It's not unusual to substitute Jaggery with palm sugar., Panaka gives you an instant sweet and tangy boost. Jaggery is a great source of minerals like potassium and iron while the ginger makes this a particularly healthy beverage round the year. It's also a 'refreshing' change from conventional lemonade, especially if you like that occasional sugar rush.
Here's the video tutorial of this recipe