A cookie to change your career, bag you a spouse, and make your world better.
A pastry chef's perfect chocolate chip cookie. Warning: lifestyle results not guaranteed!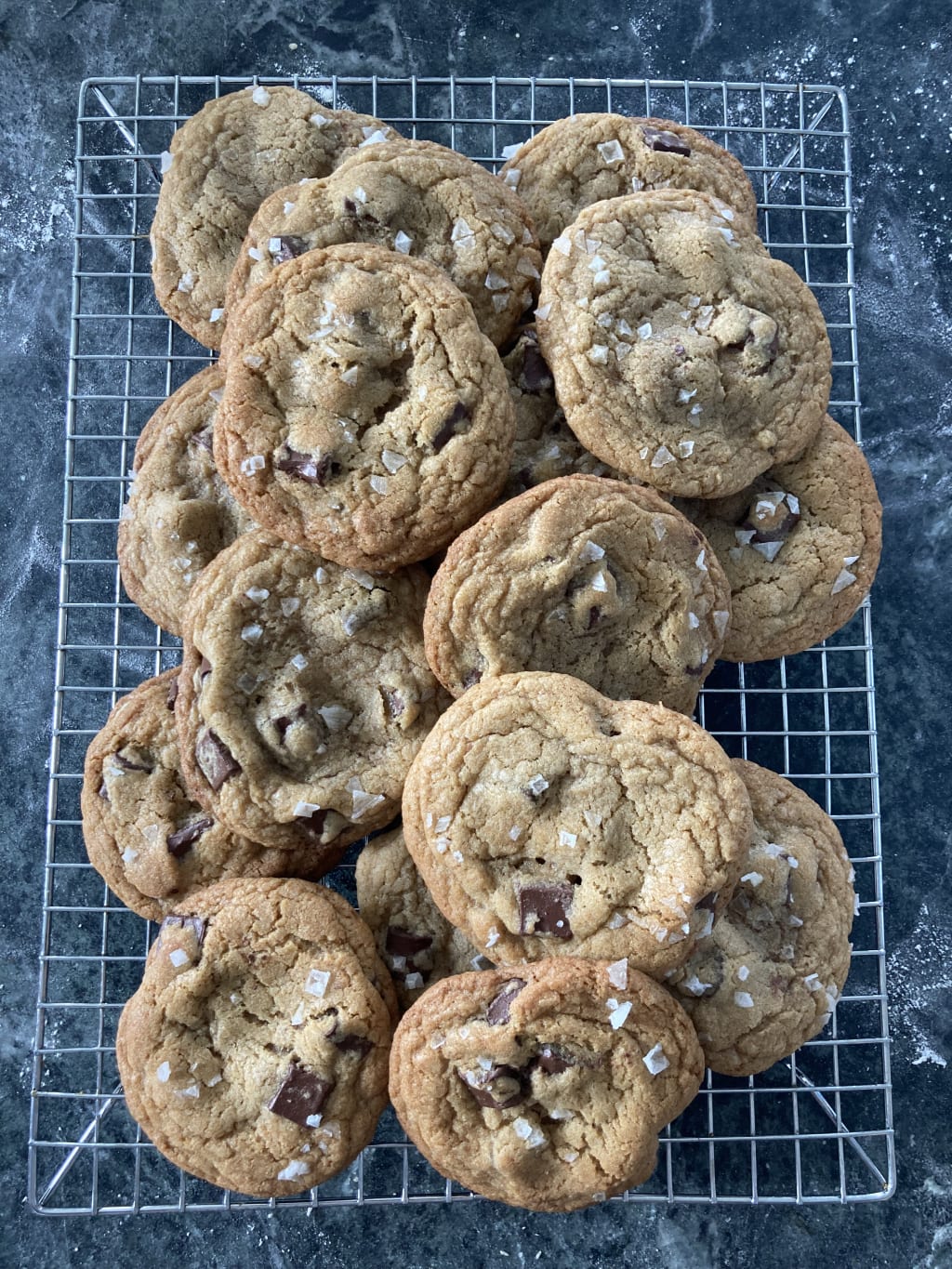 From the home kitchen
2020 was a year of dark clouds with silver linings. When New York City shut down, my boyfriend and I fled to the coast and moved in with my family. It was supposed to be four weeks.
It turned out to be nine months. Much of that time was beautiful: I took long walks on the beach every day. My feral cat became affectionate. My boyfriend and I got to live with one another for the first time in our relationship. But it was also a time of nightmares, screaming fights, and terrible headlines. Without my friends, I was oarless. Without a job, I was rudderless. And without trust in the constancy of our world, I was aimless.
Most Friday nights, we ordered takeout from Little Moss, my parents' favorite restaurant. Keeping them afloat was our civic duty, we felt, and it was a job we took seriously. Having someone else cook for us became a luxury - it meant one less meal to plan and panic-shop for in a sparse grocery store that felt like a petri dish. It meant one evening free of cooking for six. It also didn't hurt that their shoestring fries, even when transported a half hour by car, managed to remain bracingly crisp. It was even better that they offered a side of wildflowers from our favorite local farm.
But the best was their perfect chocolate chip cookie. The cookie had a hint of malty caramel to its taste, with rich, semisweet chocolate that spread and globbed across your mouth as you bit in. It was chewy in its thick middle and crunchy at the edges and topped with scaly crystals of salt. When we ate those cookies, our world felt pretty good again.
Over the summer, Little Moss gave their staff a vacation -- a crime of which our cookieless household was the victim. "We should make those cookies," my boyfriend said. "How hard could it be?"
Hard, it turns out. Early attempts missed key elements. The cookies spread across the sheet pan, too thin, too crisp. Toll House chocolate chips wouldn't divot the cookies with deep pockets of chocolate. And crucially, the taste was never there.
"Well, let's look at some other recipes," my boyfriend said. "Someone must have made something like these."
And so I did. I tried the mundane (bread flour, fail) and the bizarre (yogurt, fail). I found success in salted butter, jumbo chocolate chunks, Maldon salt, and letting the dough rest in the fridge overnight. But still, the taste wasn't complex enough.
"It's time to think scientifically," my boyfriend said. "We need to choose one thing to alter at a time."
And so I did. I researched not just recipes, but culinary theory. I used duck eggs for their high-protein yolks. I tooled with the ratio of baking powder to baking soda to manage a cookie's spread vs. height. I weighed my flour out to the gram. But nothing I did provided the caramelized, malty flavor that Little Moss accomplished.
I burned out. After over fifty batches of chocolate chip cookies, I just couldn't find it in me to produce another. But in my quest, I'd created a monster: my boyfriend, who was at that point addicted to my experiments.
"How about I actually help this time?" he asked. Game on.
We didn't set out to try anything different. I told him to give me a cup of dark brown sugar, "packed hard, like a rock." The measuring cup he handed back was indeed rock solid, compacted so intensely I had to pry out chunks with a knife. We laughed at his commitment to following my instructions. And, dear reader, we discovered the secret to the taste: more brown sugar.
One year later, I signed up for culinary school. Two years later, I graduated as the "Top Student" of my pastry class. Three years later, I work as a pastry chef -- and these cookies got me the job.
Also, the boyfriend is now my husband, and the following recipe was a party favor for guests at our wedding last month. Now, it's yours.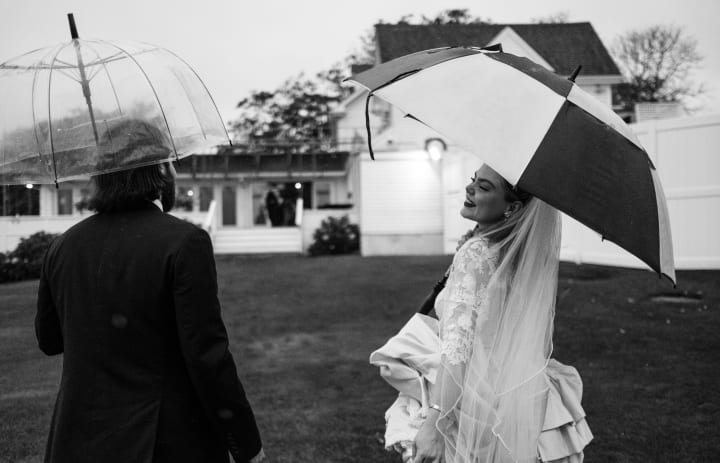 My Husband's Favorite Cookies
Ingredients
1 cup (227 g) of salted butter, room temperature
1 cup (200 g) white sugar
1 cup (240 g) dark brown sugar (If not weighing, pack as hard as possible into the measuring cup – like a rock!)
2 teaspoons vanilla extract
2 large eggs, room temperature (I prefer duck eggs if possible)
3 cups (360 g) all-purpose flour
1 teaspoon baking soda
½ teaspoon baking powder
1 scant teaspoon kosher salt
1 bag (10 oz) semi-sweet chocolate chunks (chips work too, but chunks or roughly chopped chocolate are best)
Flakey sea salt or Maldon salt to top the cookies
Instructions
In a large bowl, cream the softened butter, granulated sugar, and dark brown sugar until fully combined. Use a hand mixer or stand mixer with paddle attachment.
Beat in vanilla and eggs until the mixture looks fluffy.
In a medium bowl, combine flour, baking soda, baking powder, and salt.
Add dry ingredients to the large bowl and mix until combined.
Stir in chocolate chunks with a spatula.
Cover the batter in plastic wrap and rest in the fridge overnight.
When ready to bake, arrange oven shelves on top and bottom of the oven and preheat to 350˚F. Line one or two baking pans with parchment paper.
Roll golf ball-sized pieces of dough into tall spheres and roll the tops lightly in flakey salt. Place evenly on prepared baking pans, leaving room for them to expand. (If you have more cookies than room on your pans, make sure to keep the unused dough in the fridge).
Bake for approximately 18 minutes, rotating the pans and swapping them from top to bottom halfway through to ensure an even bake. The cookies should be brown at the edges with puffy centers (they will look a little underbaked).
Let them cool on the pans until they can be prodded easily across the parchment paper and lifted by spatula without losing their shape (about 10 minutes). Then, transfer to wire racks to cool or serve warm with milk!
Notes:
This recipe makes approximately 20 cookies, depending on size.
Make ahead: after step six, the dough can be left in the fridge for up to three days.
If baking in more than three days, after step six place the wrapped dough in an airtight container and freeze for up to two months. Defrost in the fridge overnight before baking.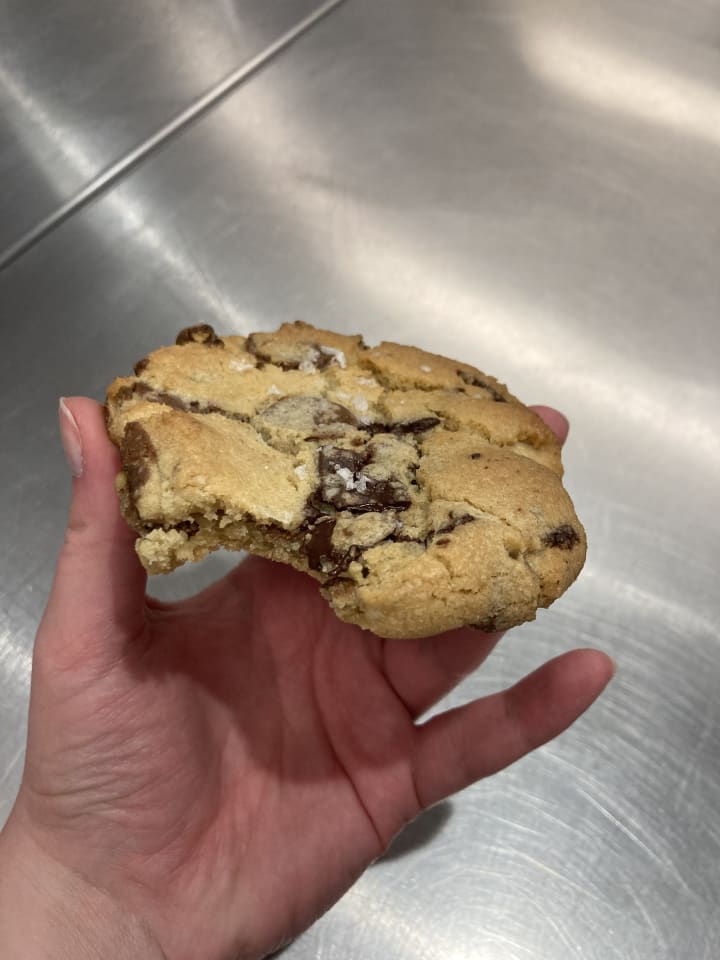 When I make this recipe now, I'm reminded of the gifts its creation gave me. I had to be persistent. I had to accept help. I had to cultivate my knowledge, hone my skills, and develop my palate. I may also have added thirty pounds to my weight, but I became a stronger person with a better life along the way.
Even though I've put in most of the leg work here, I'm sure there's still some magic left in these cookies for you. Maybe they'll convince your boss to give you a raise. Maybe you'll make them with your kid and laugh over spilled flour and a burned batch. Or maybe you'll just take the perfect bite at the end of a long week and decide the world's not such a bad place after all.
About the Creator
Pastry chef by day, insomniac writer by night.
Catch me here for spooky stories, crushable poems, and overall weird thoughts.
Or, let me catch you on my website!
Reader insights
Outstanding
Excellent work. Looking forward to reading more!
Top insights
Heartfelt and relatable

The story invoked strong personal emotions

Compelling and original writing

Creative use of language & vocab

Easy to read and follow

Well-structured & engaging content
Excellent storytelling

Original narrative & well developed characters

Eye opening

Niche topic & fresh perspectives

Masterful proofreading

Zero grammar & spelling mistakes
Add your insights