A conceptual recipe for (a) home
How a salmon teriyaki bowl in Amsterdam made me feel at (a) home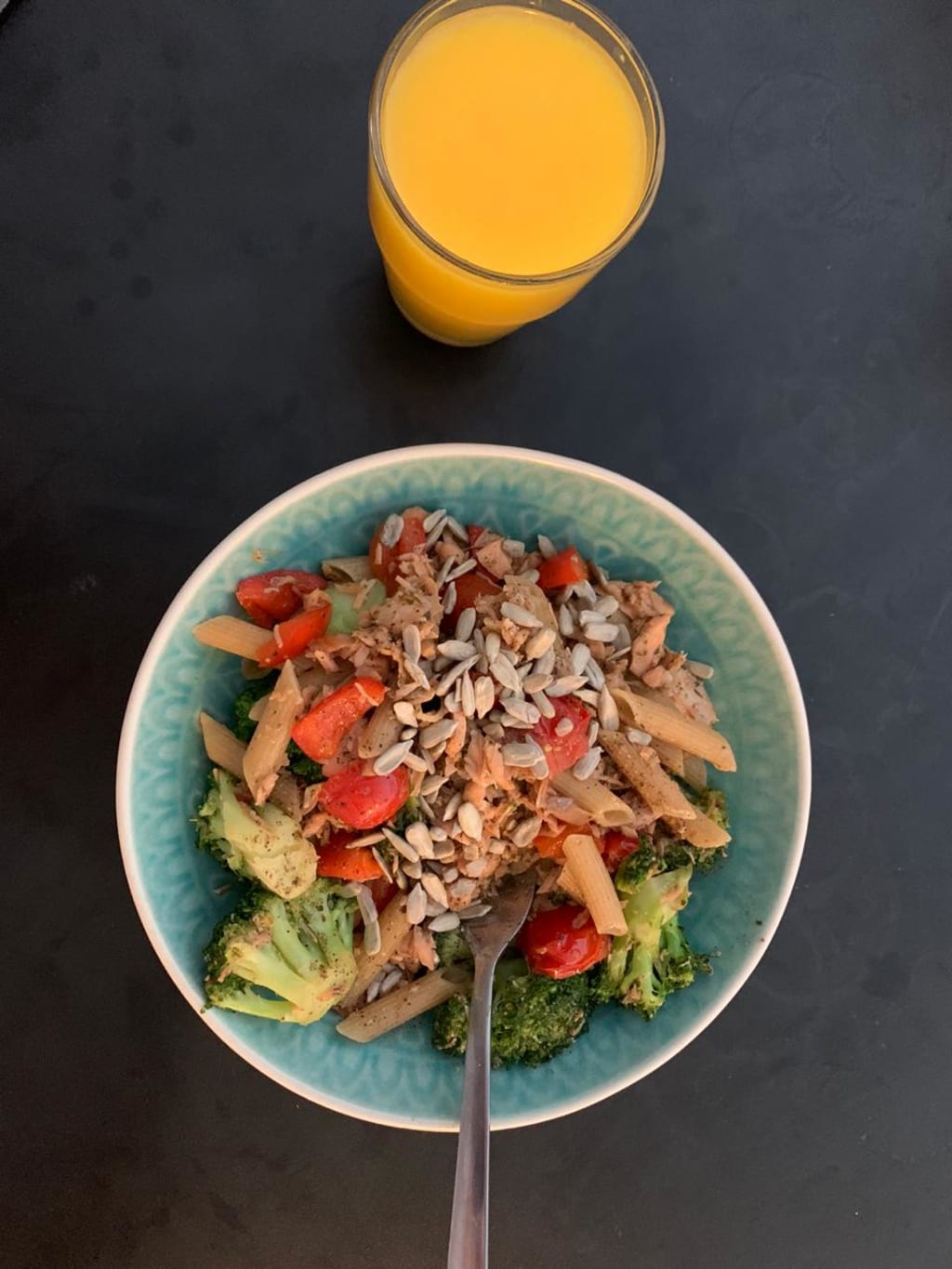 Teriyaki Salmon bowl (Amsterdam version) and a Mango, Orange, Apple juice from Albert Heijn
Pre-preparation
• Leave your room, where you have spent the last two months, and tiptoe into your kitchen. Make sure you wear some slippers to keep your feet warm.
• Open the little window to let air flow and ventilate the insides. Let smells blend.
• Recall the last time you entered your nearest supermarket, the Albert Heijn at Sarphatistraat. You went around with your shopping kart wiped in disinfectant. You wore a face mask and made sure to stay away from people because you care about yours and their health. You know keeping healthy is not an endeavor independent of the 'other'.
• You remember the feeling of disassociation as you open your minifridge. The being far away from human interaction. The being far away from the products in your shopping cart because you don't understand Dutch, so you can't read what the products are labeled as; let alone where they're from, or what they are made of.
• You can only decipher when things expire.
• You look at the aging red pepper and the pancakes that were 35% off. They expire today. You better eat them soon.
• As you take out the pink salmon, remember you are allowed to treat yourself.
• Pacific Salmon, a native species of British Columbia, seams a far away product. You flinch at the idea of Farmed Atlantic Salmon. You were conflicted about eating it in Europe, and your pocket wasn't thrilled either.
• But repeat after me: I am not ''the same'' here and there. In each I long for the other [1]
• Today, we long for Vancouver, Canada.
• Today we are making the first thing you ever learned to cook, with a few alterations. It was baked teriyaki salmon with broccoli and cherry tomatoes, made with your two best friends as you learned to adult, the first summer together in Vancouver.
• In crisis, alone in Amsterdam, you are longing for the taste of this place and this company.
Preparation
• Different to Wesbrook Village, your Amsterdam kitchen is very modest. It has no oven and no freezer. The microwave has a 70% heating rate. Therefore, the stove is your friend and we will cut the salmon in pieces, so the surface of the pan can caress the fish flesh as much as possible.
• Saturate the pan with vegetable oil. You have no teriyaki sauce, you never thought you'll go through one bottle during your stay as an exchange student, but now you must improvise using soy sauce sachets (from the supermarket sushi) and honey.
• Coat the pink as you move the pieces around the pan, clockwise, seeing the flesh break into smaller wetter pieces. Add some oregano and pepper as your stir.
• Placing [yourself] at the edge of [your] self and leaning and tipping toward the others to whom [you belong] [2], breathe in the smell of fish and all its memories which are part of you. Let your nostrils open wider as you take in the nuance of learning how to cook by yourself then, and for yourself now.
• As you reach for the plastic-bagged broccoli, you wish your COVID-19 anxiety would not prevent you from buying plastic-less organic broccoli, but you recognize the bag is shielding the vegetables from any hazardous minor droplet exposure.
• You boil the broccoli that will later join the soy-soaked salmon in the pan, and the kitchen fills up with its smell as you open the cap releasing a cloud of hot vapor.
• Next, you cut the little cherry tomatoes in halves, and you recall how back in Colombia, you mother would unsuccessfully convince you to try them.
• It wasn't until that summer that you learned the taste for them, where you no longer took the luxury of being picky with food you didn't click with as a child. Cherry tomatoes were just easy to cook, and it was mature to make peace with them.
• And so, you remember that the subject arrives again and again to her own becoming through a series of transitions—across time and space, communities and contexts—throughout the course of her life [3] and today, not only are you one that eats cherry tomatoes. You are one that craves them because it reminds you of your process of becoming.
• You are adding the cherry tomatoes to the mix and lower the heat because they have a lot of water. You don't want them to make our dish too liquid-y. You also make sure your broccolis are cut in little pieces inside the pan and share the sauce equally.
• You have now remembered that a carbohydrate will complement your meal and you run to the cupboard where your keep your pasta. You don't really make pasta that often because you like leaving your carbs for breakfast, but since you reduced your cooking to two big meals a day, carbs do a better job at filling you up just right.
• Pasta also reminds you about you Italian roommate who is not shy about making pasta fairly often. You have drifted apart recently. When you think of this relationship, you think of how belongings may be multiple, shifting, and even contradictory [4], because you once thought you would become close friends. Still, you ask him about his day whenever you see him, and just talking about the most mundane topics every-so-often in lockdown makes you long for this bond, and your lack of others.
• After boiling water and draining the penne when they are done, you add them to your salmon mix for a minute at low heat before putting it all in a bowl.
• One final touch for your meal today is a handful of sunflower seeds that you sprinkle on top of your dish. You recognize they never became sprouts like Debra Solomon tried to teach you how to grow in a jar, because although you tried to rinse them twice a day, you forgot how high up in your cupboard you'd left them. Instead of sprouts, they had moss.
• Still, this final addition reminds you of the seeds you have planted here in Amsterdam. The roots your feet have been trying to grow in this location, allowing you to stand tall. You may not have expected to grow your feet in your bedroom. Instead, you pictured the fertile soil outside, ready with experiences to let you grow and bloom. But somehow you have grown up without sun or water.
• This means that you can give yourself more credit than you usually do. You may have been confined physically to your apartment, but where we place our bodies, how we spend time, the mundane and significant events that give texture to our lives all give rise to our becoming [5]; and you have filled up your time balancing school work with drawing, singing, listening to music, and going out on walks and bike rides to remind you of how you can enjoy your own company, and the process of letting yourself become.
• Before you go upstairs to eat your bowl in your school desk, you pour a little glass of your favorite Albert Heijn smoothie: a mix of apple, mango, and orange juice. This drink was your first familiar taste of Colombia's tropical fruits and reminds you of when your parents dropped you off in the Netherlands. Your dad, especially, could not get enough of the drink. "You are so lucky you will be drinking these delicious juices", he said.
• "They are not as good as mom's", you replied.
Paration
• Taking your food upstairs, ready for consumption, you turn on Netflix to watch Friends. You miss yours.
• You take a deep breath after the funny episode is done, to remind yourself that soon you'll be laughing with yours in Vancouver, even if you will not see your family until sometime in December (situation permitting).
• You reach for your shoulders, that get so easily bruised carrying the heavy bags of groceries from the supermarket back to your dorm. You try to massage them in vain and remember when you boyfriend's hands were able to let the nots in your neck loose. You pull up the phone to call him before you are done making your food, because you've always preferred eating with company. He picks up with a smile in his face and reminds you of your sense of ''self '' that is radically inclined toward others, toward the communities to which we belong, with whom we long to be, and to whom we feel accountable [6].
The italicized portions of this piece are direct quotes from feminist scholar Aimee Carrillo Rowe's BeLonging in Power Lines.
[1]: (Carrillo Rowe, 25)
[2]: (Carrillo Rowe, 26)
[3]: (Carrillo Rowe, 27)
[4]: (Carrillo Rowe, 28)
[5]: (Carrillo Rowe, 34)
[6]: (Carrillo Rowe, 27)