7 Nigerian Celebrities Who Can't Cook.
"I hate the heat."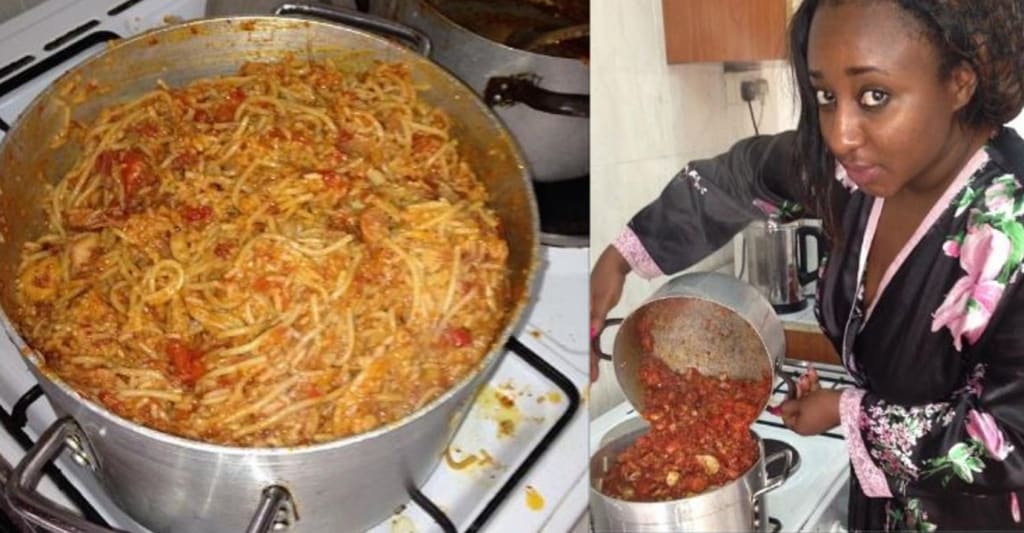 "I hate the heat."
Cooking in my opinion is a fundamental life-skill. I feel that as human beings, we need to have the ability to sustain ourselves whenever and wherever we find ourselves. But to so many other people, cooking isn't a priority.
Even in Nigeria where food is a really big part of the culture, there still exist a ton of people who either cannot cook, do not like cooking, or just simply refuse to cook. Some of these people also happen to be some of Nigeria's most successful celebrities.
Below are 7 Nigerian Celebrities Who Can't Cook. I hope you enjoy!
**Before reading on, please make sure to like and follow my Facebook page so you don't miss out on any new and interesting lists, articles, and stories that I post every single day. I have a really fun page. If you like my page, you will have fun too. So what's stopping you? Like my page and let's have fun together!
1. Erica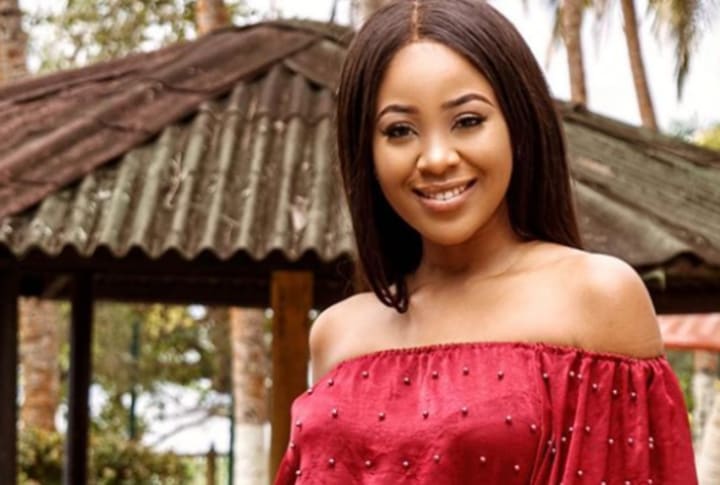 Big Brother Naija contestant Erica was recently called out on by her on-screen boyfriend during the show, Kiddwaya on Twitter for not being able to cook.
The friendly altercation happened on Monday when Kiddwaya asked his Twitter followers to ask him a question:

Erica used the opportunity to ask Kidd: "Why is your pidgin so wack?"
To which Kiddwaya responded: "Why can't you cook?"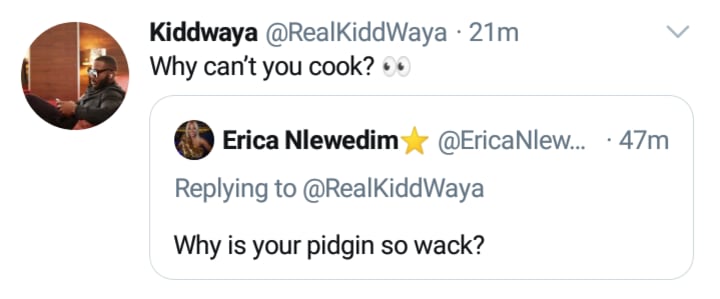 I guess we won't be calling Erica if ever we need someone to cook for us.
2. Laycon
Another Big Brother Naija contestant, one who actually WON the entire BBNaija season, Laycon revealed on Twitter that he cannot even toast bread.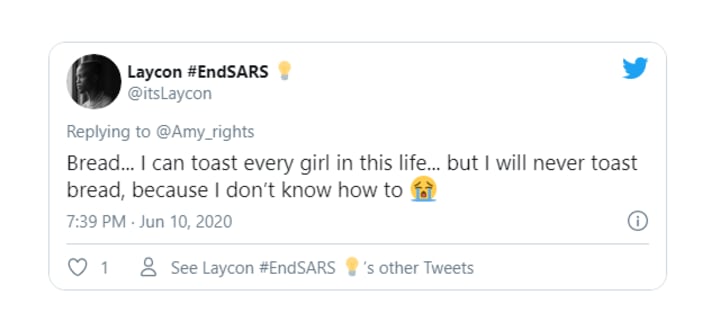 If one cannot toast bread that is as simple as putting the bread into the toaster, then imagine what damage they can do in front of a stove.
3. Toke Makinwa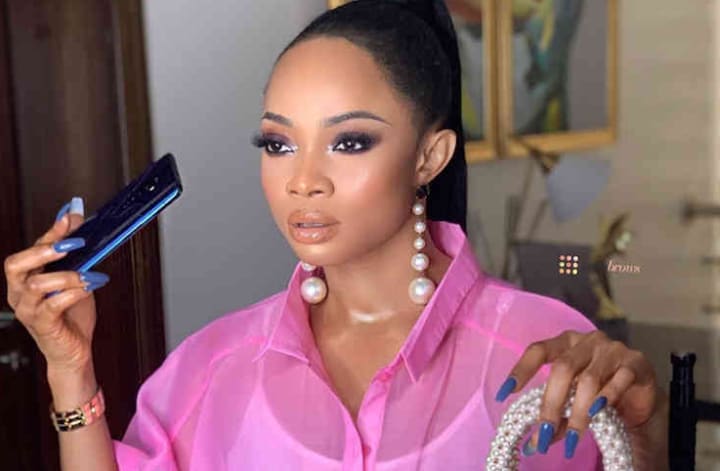 On-air personality and Nigerian socialite, Toke Makinwa, caused quite the reaction when she revealed on social media that she hates cooking, especially because of the heat and the smell. She said:
I walked into my kitchen ready to cook and walked out with a glass of wine in my hands, cooking is not for me, all that sweat and smell yuck, crackers to the rescue. maybe I'll try tomorrow
Well at least she has crackers. 🤣
4. John Okafor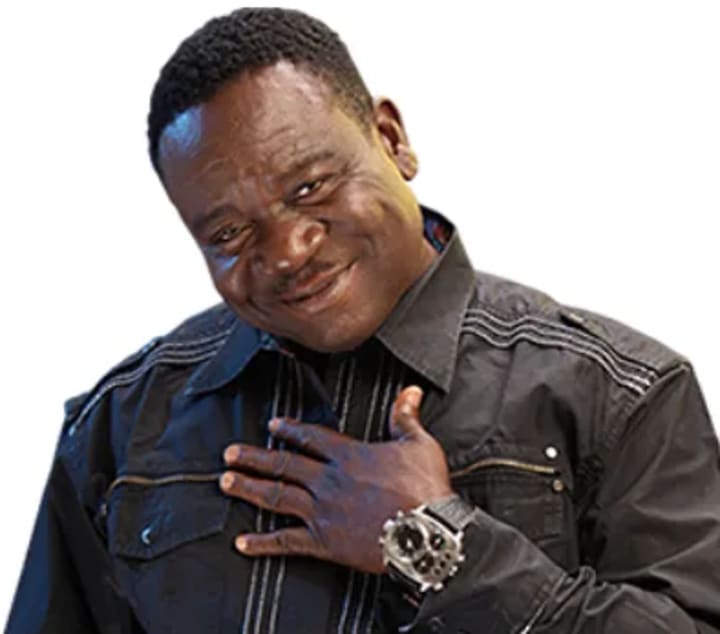 John Okafor popularly known by many as Mr. Ibu is another man that doesn't know how to cook. When he told the world the reason for his inability to cook, it cause quite a bit of backlash as people thought that his thinking was backward. The comedian said:
My wife knows all about food and it is her duty to take note of that. She makes sure she gives me the best of what I need to eat. I do not take note on my own (of the nutritional value), but my wife does it for me.

Cooking is for the women and should be done by them, except on few occasions if you just feel the need to cook, which shows you have regard for your wife. Asides that, cooking is a woman's duty.
A lot of people didn't agree with Mr. Ibu's statement about how cooking is a woman's duty, but the comedian still seems set in his way and unchanging in his beliefs.
5. Desmond Elliott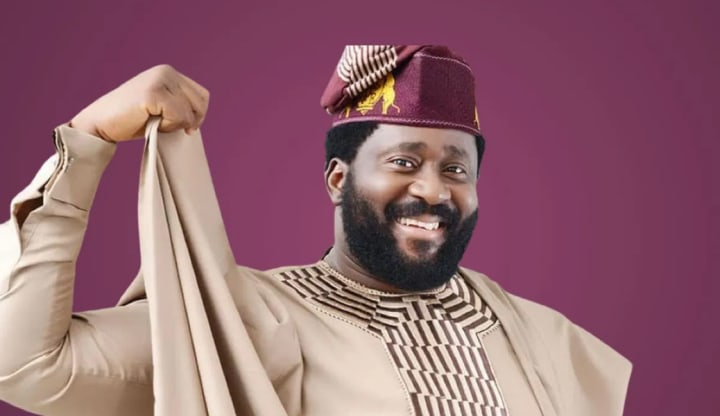 Another Nollywood star who doesn't really know how to cook is actor, Desmond Elliott. The Nollywood star opened up in an interview with Punch, saying that:
I don't cook for my wife, I am sorry. I wish I could. I cannot cook and I also do not have the time. I try my best. No, it is not that I cannot cook for my wife but I cannot cook.
Hopefully one of these days, he can learn. Maybe his wife can teach him a thing or two.
6. Ka3na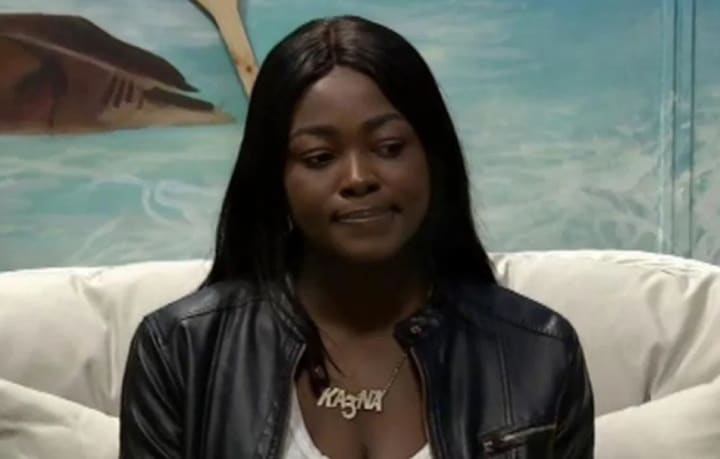 While on the show, BBNaija's Ka3na took helm of the kitchen and was always preparing meals for the housemates. But being able to put a meal together doesn't necessarily mean you can cook a NICE meal and according to one fellow BBNaija housemate, Ka3na's food was nothing to write home about.
Tolanibaj while on the show opened up about her thoughts on Ka3na's cooking to fellow housemate, Brighto. The BBNaija star told Brighto that not only did she think Ka3na had negative energy, she was also a bad cook.
Ouch!
7. Ini Edo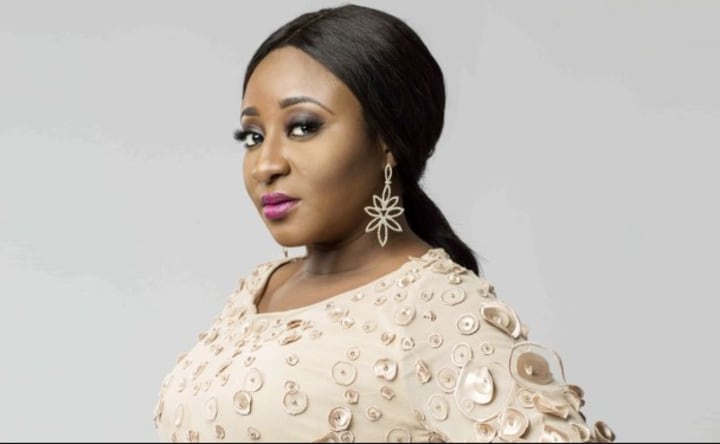 While Ini Edo might actually be able to cook in her own books, fans and internet people alike do not think so. The actress took to social media to show off a meal she had prepared and was proud of but was immediately met with backlash from fans who criticized her food and said that she cannot cook.
Here's the meal she posted: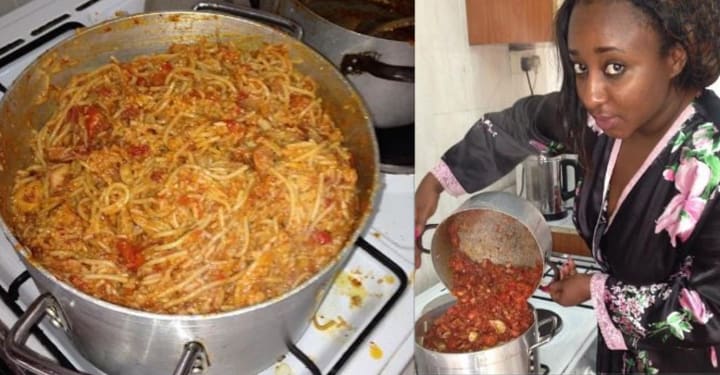 I want to hear from you: Are YOU any good at cooking? Let me know in the poll below.
That's All.
**Don't forget to LIKE and follow my Facebook page so you never miss out on any new and exciting stories.
To catch up other content you might have missed, click here.
Until next time, have a wonderful rest of your day.