6 Creative Ways To Make Your Eggs!
Doing an egg fast has never been more easy.
It can be hard to eat healthy. Redundancy tends to be a big issue for most eating habits. One way to get rid of excess water weight and kickstart your weightloss journey, is to do an egg fast. It's recommended that you do an egg fast for 3-5 days, and eat nothing but eggs, 'good fats' and cheese. Seems like it would be easy, right? Well, very quickly you can get eggstremely tired of the usual scramble. So, I decided to kick it up a notch with a few different recipes. There's a simple omelette, deviled eggs and egg salad. Then there's also savory egg waffles, egg 'muffins' and cheddar blanket eggs. Enjoy these eggstra cool recipes! (I have got to stop the egg puns.)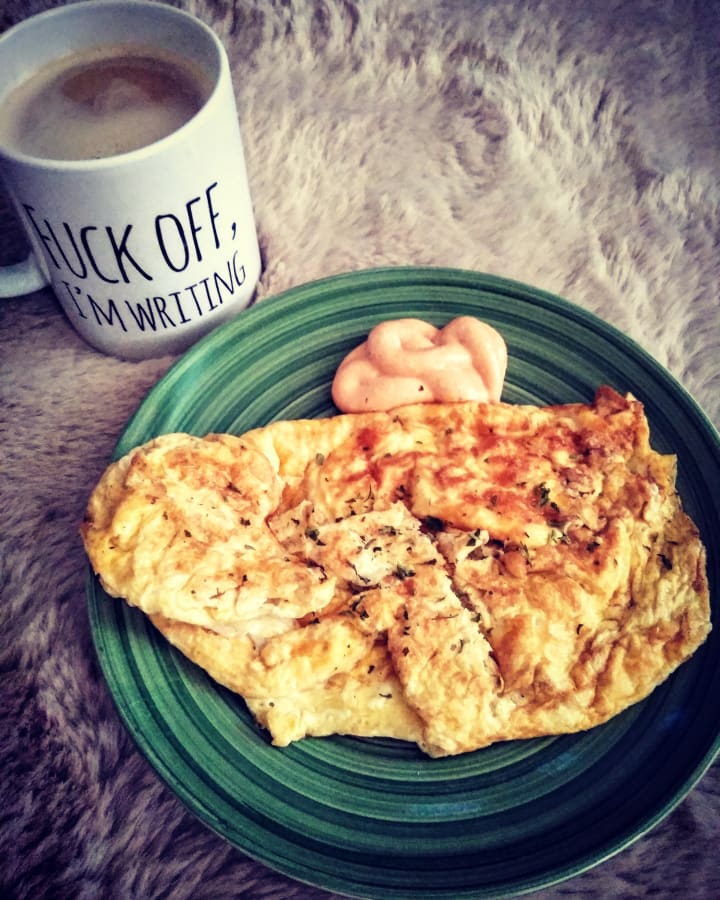 For my first day, I was more hungry than creative. I decided to start off with a 4 egg omelette. Usually with omelettes, I would eat it with ketchup. However, ketchup is not allowed on the keto diet (which is what I'm trying to transition to comfortably.) I, therefore, decided to kick it up a notch with chipotle aioli instead. It quickly became my new favorite condiment!
Ingredients
- 4 eggs
- splash of heavy whipping cream (optional)
- salt and pepper to taste
- Chipotle Aioli (can be found in the condiment section of big chain groceries)
Directions
Crack and mix your eggs in a measuring cup. Add your splash of cream, salt and pepper. Spray your frying pan down and wait for it to heat up. When hot, pour in the egg mixture and just wait a moment. Dont touch it. When the edges of your omelette look firm enough to support a spatula underneathe it, thats when you want to try your best to slide your spatula underneathe as much as possible, and make your flip. I found it easiest to lift and tilt the pan in my favor. If your omelette folds over (taco style), dont fear. Simply put a lid on the pan, and it'll help cook the center. When in doubt, cut it in half and see how it looks on the inside. But at that point, it shouldn't take longer than two minutes. When you're finished, slide it on the plate and finish it off with a generous dollop of chipotle aioli.
What makes the aioli better than the ketchup at this point? (In my opinion) it's that it takes the flavor profile into a completely different direction. A more sophistacated seasoned and heated flavor profile, as opposed to a childs sweet breakfast. It'll make a great replacement and help weene you off the sugar you're trying to avoid. You won't regret it!
Now dont we wish it could all be so simple? Well all the recipes I'm showing you are! They are just going a step-up in creativity as we go along!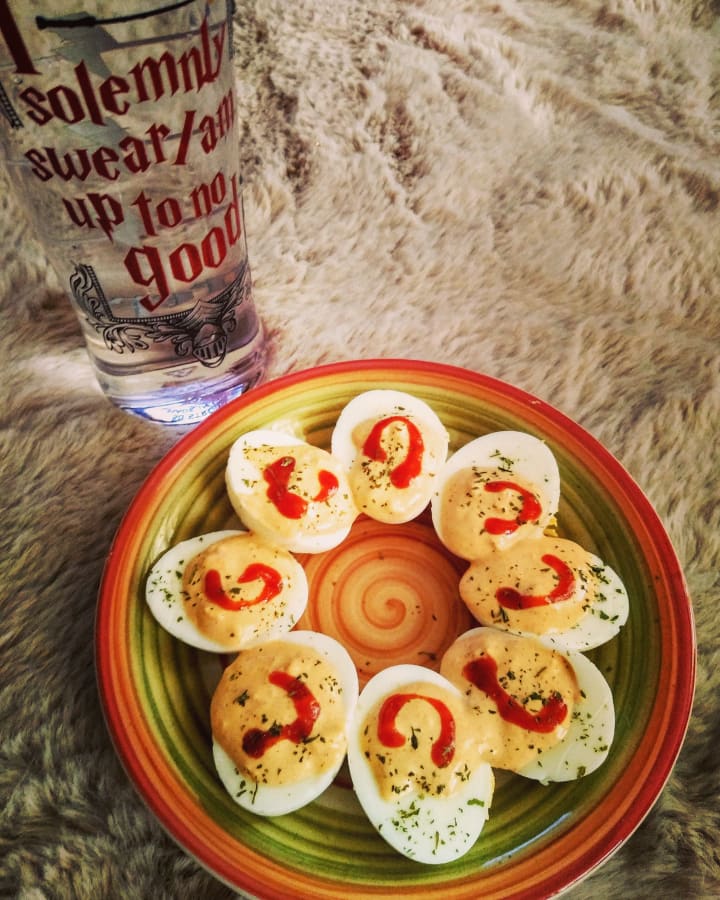 I decided to hard boil 10 eggs, knowing already I was going to make deviled eggs and egg salad, as a quick go-to bite when feeling peckish. Quickly, I realized the omelette filled me up, so I ate my deviled eggs for dinner. 8 egg-halves seemed like a good amount for supper. You should eat at least 6 eggs a day on an egg fast. That would put me at 8 eggs total for the day. But I wanted the deviled eggs to be...different.
Ingredients
- 4 hard boiled eggs
- 2 tbsp mayo
- 2 tbsp sour cream
- 1 tbsp mustard
- 2 tsp spicy pickle juice (more if you want, I usually go by taste, not measurements)
- salt, pepper, paprika
- sriracha
Directions
Peel your eggs and cut them in half. Gently empty out the hard-boiled yoke and place them in a bowl. Add the rest of the ingredients, except for the sriracha. Mix well. The yoke should be completely broken up. Taste it and make sure it tastes how you like. This would be the time to add more of whichever flavor you feel is missing. When that's completed, take a teaspoon and fill in the emptied egg whites with your yolk mixture. Finally, top it off with a swirl of sriracha.
They're called deviled eggs right? Why not throw the heat in there? This tasty alternative and fresh flavor of the sour cream is a nice wake up call to your palate. Now we still have 6 hard boiled eggs left. So lets make that egg salad! Sticking with the keto rules, we're going to eat our egg salad with a more low carb option!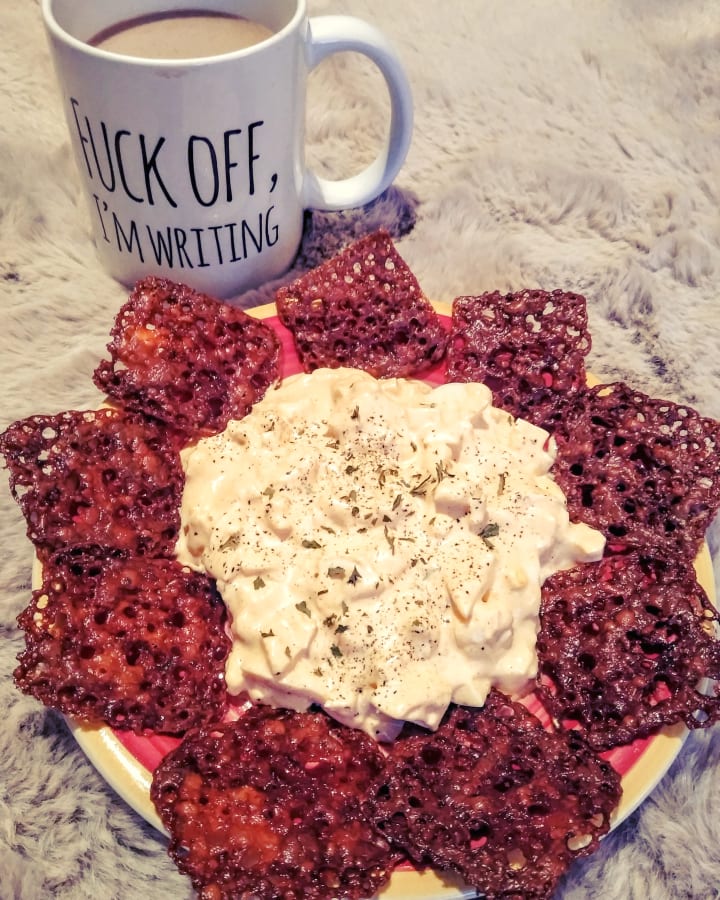 Oh my, that's not a cracker is it? No siree Bob, thats actually cheese. Baked pepperjack to be exact. Let's knock this quicky recipe out of the park, shall we?
Ingredients
- hard boiled eggs
- 4-5 tbsp mayo (depending on the texture you like)
- 2 tsp mustard
- 2 tsp pickle juice
- salt and pepper
- fresh minced parsley (optional)
- 3 slices of pepperjack cheese slices cut into fourths
Directions
Start by dicing up your egg and putting it in a bowl. Add all the ingredients, except for the cheese. Mix well together, but not so much that you pulvarize the yolk. Thats a pretty straght forward egg salad. If you want to add more to it, make sure you see if what youre wanting to add is allowed on the egg fast. Other than that, have at it! Now, for your 'crackers', preheat your oven to 350 degrees. Place the small squares of cheese on a dark baking sheet, lined with parchment paper. Bake for 10 minutes. Let them cool slightly and you'll have a great, salty, slightly spicy, crunchy cracker to dip into the creamy cracker. Eat 400 of them.
So far, these have seemed pretty simple ideas everyone knows, with a slight twist. Thats when I started getting bored with the eggs. I knew I had a day and a half left of this egg fast, so I turned on my thinking cap! Being bored was unacceptable!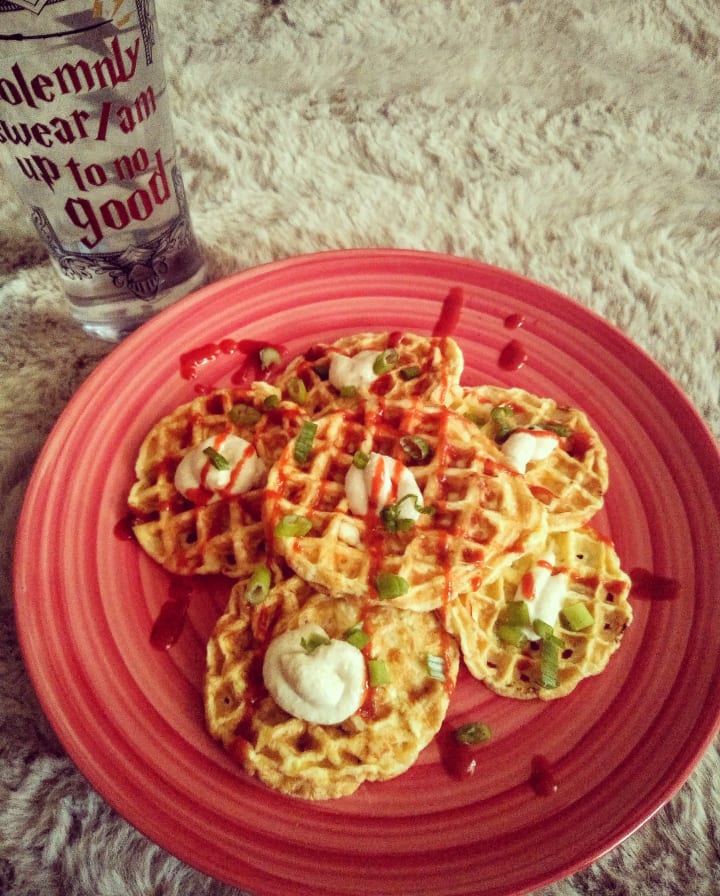 BAM! Check that out. Egg waffles. No, not chaffles, whatever those might be. These dont have any type of almond flour or baking powder. Nothing complicated. It's so simple I could cry! They would be happy tears. Happy...from...the simplicity...with the happy tears....cuz...its sim- let's just move on.
Ingredients
- 4 eggs
- splash of heavy whipping cream
- palmful of mozzarella (or more if youre feeling frisky)
- sriracha
- 1 green onion
- Garlic Aioli (whaaaat? Yes. It would be wise to invest in both the garlic and chipotle!!!)
Directions
Crack your eggs in a measuring cup and add your cream, mozzarella, salt and pepper to season. Mix really well. Now, you will need a waffle iron for this (I clearly like telling the obvious). Personally, I bought this one - https://www.amazon.com/Dash-Mini-Maker-Individual-Breakfast/dp/B010TCP3SC It's worked fine for me, so I can only recommend it! Now, you pour just enough batter in the iron and leave at least half an inch of space around the edges, because the egg will expand. Thats exactly how you will know when your egg waffle is done. You can literally watch the top of your waffle iron raise up. Simply lift the lid, once you see the egg has risen, check the color, and if its to your liking, plate it! (This will make about 6 waffles, but they are small and not heavy, since theres no flour or gluten in there. It tastes like a scramble, but has a delicious smokyness to it from the mozarella.) Once you've plated your waffles, top each one with a garlic aioli dollop, sprinkle green onions on the plate and give it a good spritzer of sriracha.
The different flavors this magical plate gives you, will have you longing for the next time you eat this, simply for the flavors. Not because of hunger. This will fill you up. They're eggcellent. The smoky mozzarella, spicy sriracha, hearty garlic and snap of green onions turns into a mouth festival. And the next thing you know, you're on the last day of your 3 day egg fast! Well that went quick! And so did those few pounds, amiright? What's for breakfast you ask? Hold on to your shorts.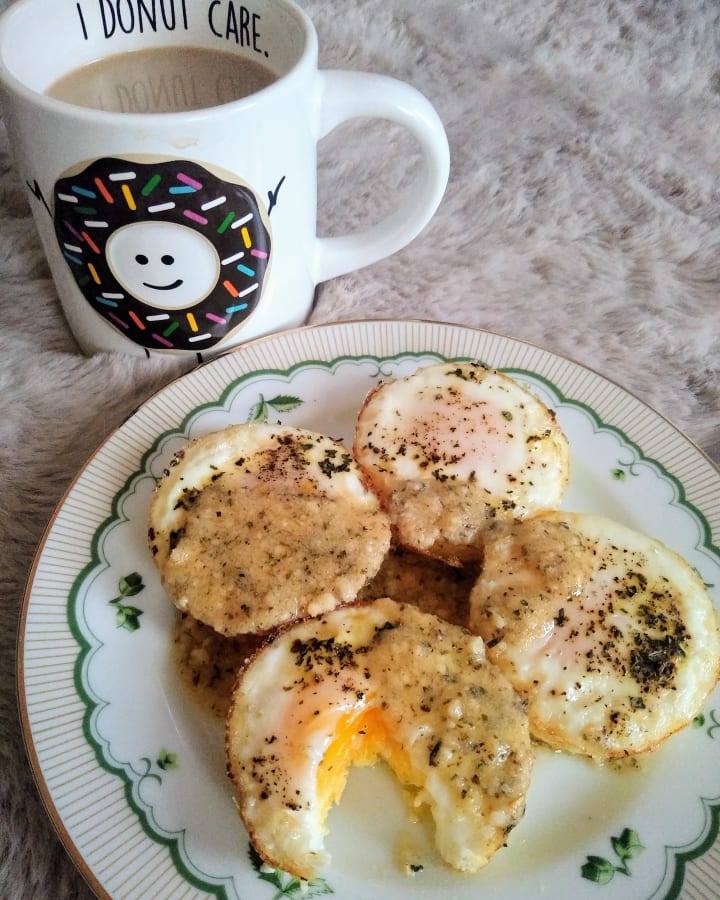 Oh that's fancy, huh? That's what I call a basil soft-baked egg 'muffin' topped with an avacado-based parmesean garlic butter. Quite the mouthful. Literally and figuratively. 'How do we make this, oh egg whisperer?' Grab my hand, let me show you the way!
Ingredients
- 4 eggs
- 1-2 tsp basil
- 4 tbsp avacado-based butter (honestly, regular butter would be fine)
- 2 tbsp parmesean cheese
- garlic powder
- 1 tsp minced garlic
- 2 tsp italian season
- salt and pepper
(muffin pan)
Directions
Start off by preheating your oven to 350. While thats heating up, melt your butter in the microwave. Stir in the parmesean, garlic, garlic powder and italian seasoning. Once you've mixed it well, go ahead and put your butter mix in the refrigerator. Next, spray your muffin tin compartments down with EVOO and crack one egg in each four spaces. Sprinkle pepper, salt and basil on them. Bake for 7-10 minutes, depending on the softness of the yolk that you desire. They release pretty easily once baked; I used a knife to loosen them around the edges and was able to slide the knife right underneath, flawlessly and place them on a plate. By now, your butter will hopefully have hardened up slightly. You'll take a scoop or two (however much you want) and place it on your egg 'muffins'. The butter may melt. You may be mezmerized.
Now you can see that there are several different ways to make eggs. And thats not even the half of it. We still have one remaining dinner. At this point, I was craving an over-medium fried egg, because thats my favorite way to eat eggs. I won't post a recipe or ingredients, since it's literally 2 things. I cracked the egg in the pan, waited for most of the egg white to harden, flipped it over and then put a slice of white cheddar on there. The cheddar blanket. Putting the lid on the pan helps melt the cheese quickly without over cooking the egg. (Yes, I cracked the yolk when putting it on the plate. Turns out I'm human after all. Who would've thought?!)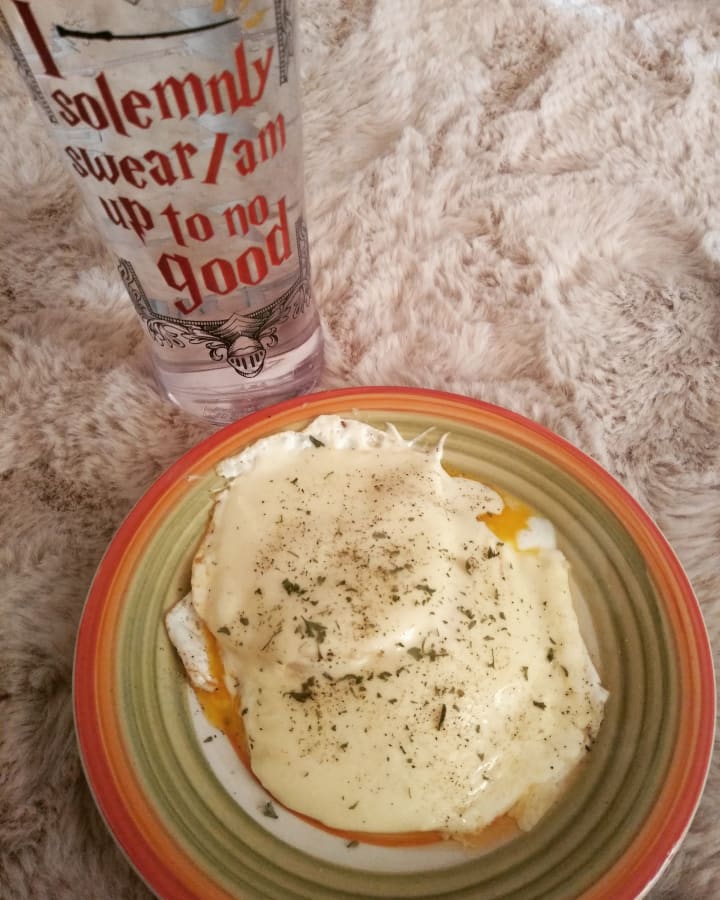 It was amazing. Honestly, all of these were amazing. I had some more ideas for more eggstremely cool recipes, but I decided to wait until my next fast! I hope these turn out well for you if you decide try them! And keep your eye out for the part 2 article, with another 6 great recipes coming soon!