5 Star Homemade Potato Salad Recipe
Sure fire side that your family will enjoy!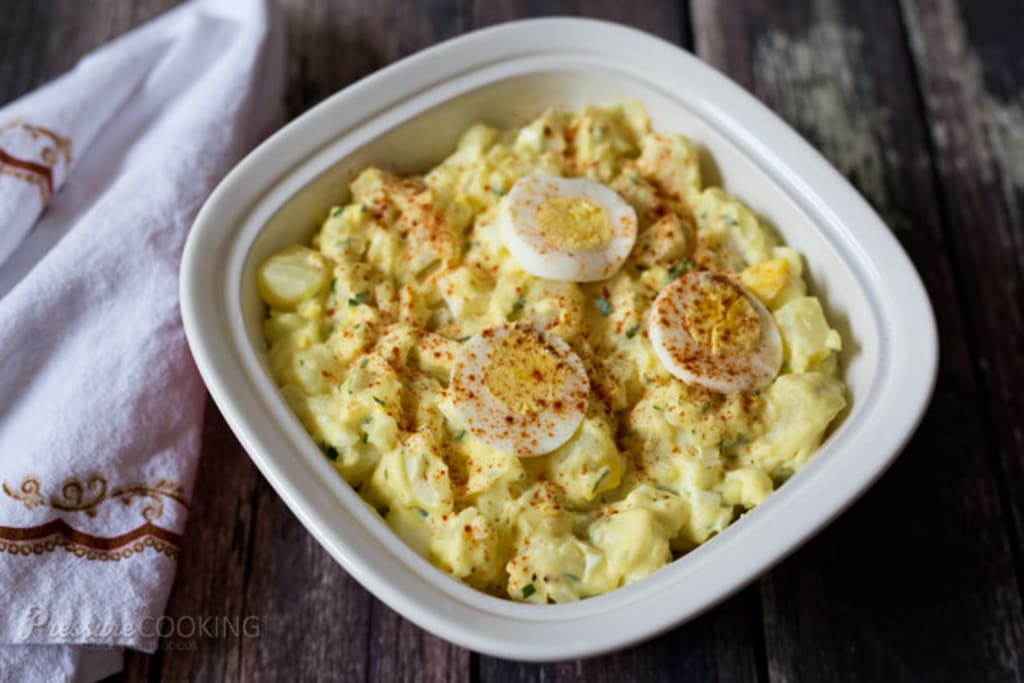 Ingredients:
* 1 bag of Potatoes * 1 jar of Mayonnaise (Salad Dressing) optional* 1 Onion (Chopped)* 1 Green Pepper (Chopped)* 2 tbsp of Garlic (Minced)* 1 Yellow Pepper (Chopped)* 1 Orange Pepper (Chopped)* 1 Red Pepper (Chopped)* 1 jar of Sweet Relish* 1 tbsp of Mustard* 4 Large Eggs (Hard boiled) eggs are optional
Preparation:
Take 5 potatoes and cut them into cubes. Place them in a pot of boiling water for about 20 minutes. Be sure that you use the spoon to check if it's done. Do not add to bowl hot. Add cold water over them so that they don't become mushy.
Take a large bowl and fill it with 1 cup of Mayonnaise, 1 tbsp of Mustard, and 5 tbsp of Relish. Add chopped peppers, onions, garlic and 2 sliced eggs into the bowl. Add the diced potatoes.
Mix all ingredients together in the bowl. Add a pinch of salt, pepper, Italian seasoning, garlic powder, and 1/4 cup of sugar. After mixing thoroughly, put into fridge to cool off for about 20 to 30 minutes. It is best served cold.
With the eggs being optional, you can slice them to place on the top for decoration. After topping with the 2 sliced boiled eggs, shake a small amount of Paprika on top of entire dish. If you are adding the eggs, add them before chilling in the fridge. Only thing after that is to....
Enjoy...!!!
If you like this recipe, look for my Stuffed Egg Recipe...
It's easy as 1...2...3.....!!!
Review
This recipe is rather easy to create. I have made this for every Thanksgiving and Christmas. It is a sure crowd-pleaser. It takes hardly no time before you and your family are able to enjoy this dish. It can definitely be a vegan or vegetarian dish. If you are concerned about the boiled eggs, those are optional. They are not required to make a great side for your special dinner.
Warning:
If you boil the potatoes for more than 30 minutes, you risk the chance of having mashed potatoes instead of potato salad. If you use the back of the spoon to press against the potato, it will tell you if the potato is cooked long enough. But be sure to take the potatoes and immediately cover them in cold water. This stops the cooking process immediately. It allows your potatoes to stiffen so that they are not mushy. If you find that they are mushy, your best option is to make mashed potatoes.
Do NOT go ahead and add them to the rest of the mixture. It will NOT turn out the way you had hoped. It WILL be soupy...! The mixture will become very thin and it will NOT be enjoyable, unless you love potato salad soup. It doesn't sound too appealing. If all else fails, find my Semi-Homemade Mashed Potatoes Recipe that will be added to this network very soon...
The Best Sides to Go with Potato Salad...
In the past, potato salad became a staple in the home during the holidays. It's always served cold alongside of other great sides. Just to mention a few:
* Turnip Greens* String Beans* Turkey* Honey Baked Ham* Candied Yams* Stuffing* Macaroni & Cheese* Cranberry Sauce* and a dessert of some kind (Pie or Cake)
These items along with potato salad make your holidays so special and memorable. And trust me, in any special event or holiday, your guests will remember who made the potato salad and hold you accountable for how it tastes. If it's good, they'll only have you make that as your signature dish. If it flops, then you will not be asked to make it again and people will talk about your potato salad for the rest of your life..!