5 Spanish desserts you need in your life
Spanish gastronomy is well known and loved all over the world. Here are the recipes of five desserts that you need to prove at least once in a lifetime.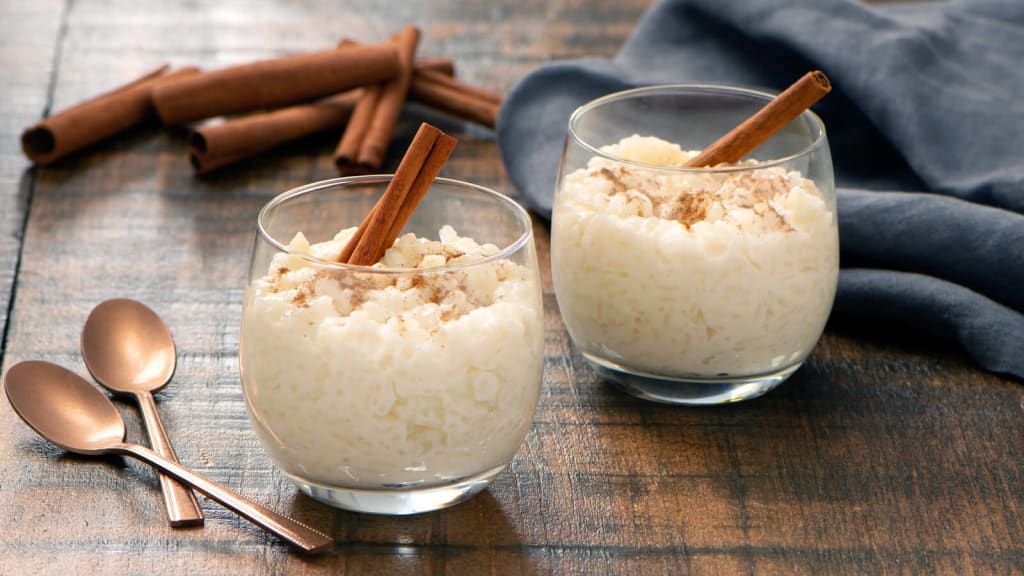 Desserts, as we know, are a sweet-flavored dish that is eaten as a final touch to a meal.
Thanks to the great variety of dishes and recipes that we have in the Spanish gastronomy, we can find very typical Spanish desserts in each of the regions of the country.
NATILLAS
Custard is a dessert, made from dairy products, typical of Spanish cuisine. It is a cream prepared with milk, egg yolks, sugar, vanilla or lemon.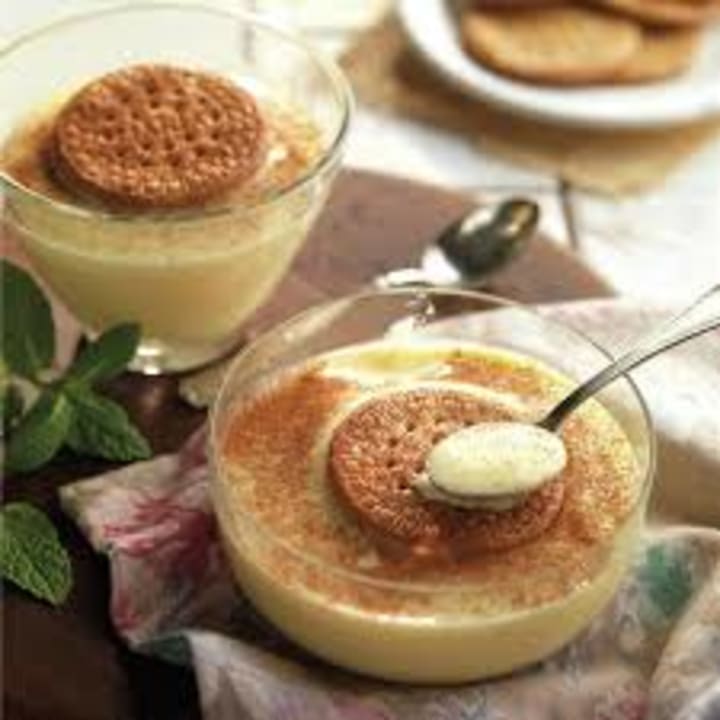 Main ingredients
125 g of Cream
125 g of milk
40 g Sugar
2 Vanilla beans
60 g of Yolks
Decoration:
Recipe preparation
Mix the ingredients. First the sugar with the vanilla and then add the yolks. Add the milk and then the cream.
Cook at 86º C for 1 minute in the microwave and stir. Heat again for another 40 seconds. This way until we see that they are done. Place in the fridge.
Before serving, sprinkle with sugar and flambé with a blowtorch or pass through a salamander.
It can be served with cookies and cinnamon or with whipped egg whites.
CREMA CATALANA
This typical sweet of Spanish gastronomy, specifically of Catalan cuisine, is also known as Crema quemada. It is a pastry cream with an egg yolk base that is usually covered with a layer of caramelized sugar.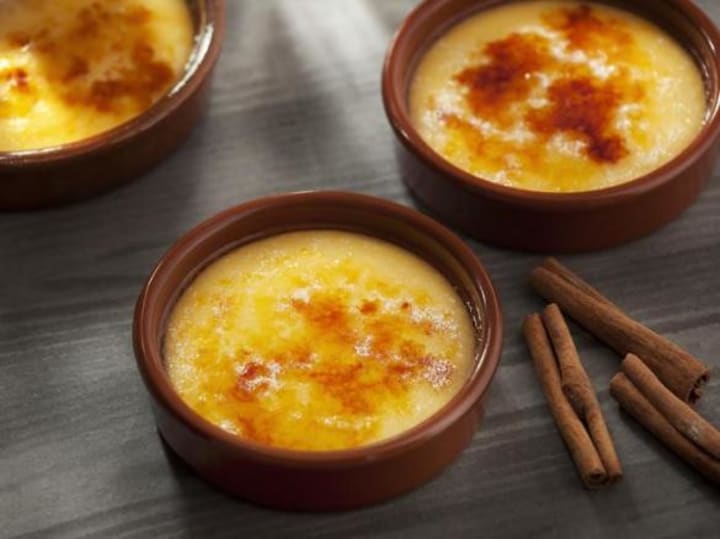 Main ingredients
1 l of milk
200 g of sugar
9 egg yolks
40 g cornstarch
1 Lemon only the peel
1 cinnamon stick
Recipe preparation
First, we separate a glass of milk from the total to undo the cornstarch there.
Then, we put the rest of the milk with the lemon peel and the cinnamon to the fire until it boils, at that moment, we remove it from the fire.
Beat the yolks with the sugar. Add the infused milk and put it back on the fire all together.
When it gets warm (very hot) add the cup of milk with the cornstarch, without stopping mixing. Continue to cook over low heat stirring and when it begins to boil remove.
Distribute the cream in individual casseroles and let it cool down.
At the moment of serving, we put sugar on top, we burn it so that it caramelizes and... Let's eat!
TORRIJAS
Torrijas, also known as Torrejas or Tostadas, are a typical Lenten or Easter dessert. It is a recipe that is not only made in Spain, but also in South America, Central America and Mexico.
Main ingredients
5 tablespoons of sugar
1 l of milk
Cinnamon
Sugar for sprinkling
1 Bread stick
5 eggs
Olive oil
Recipe preparation
First, we prepare a bowl with sugar, milk and a little bit of cinnamon. We stir well.
We break the bread into thin slices.
We add the bread to the bowl of milk and let it soak well.
Heat enough oil to fry the French toast.
Mix sugar and cinnamon on a plate and set aside.
Meanwhile, in another bowl beat 4 or 5 eggs.
Then take out the slices soaked in milk and dip them in the egg.
Put the French toast in the oil and let it brown on both sides.
As we take them out of the oil we pass them through the plate with sugar and cinnamon.
Once fried and passed through the plate with sugar and cinnamon, we let them rest on a tray. Then is ready to serve.
FLAN
Flan is another of the most common Spanish desserts that we can find, make and consume anywhere.
Perhaps the most common type of custard is the egg custard, but in recent years other variants have spread as the vanilla custard, coffee or cheese.
Its light texture makes it a typical dessert and not very forceful to put the finishing touch to a meal made in Spain.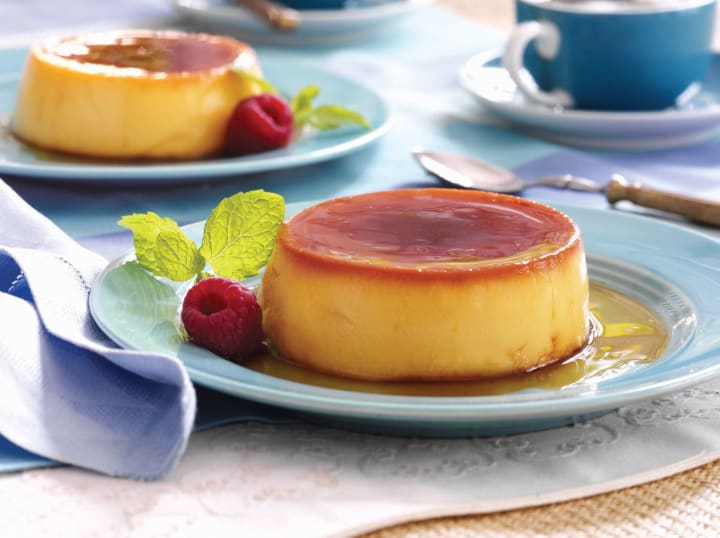 Main ingredients
500 ml of milk
5 eggs
150 g of sugar
For the candy:
60 g of sugar
1 tablespoon lemon juice
2 tablespoons of water
Recipe preparation
We put the sugar with the water and the lemon juice in a custard mould. We put it in the microwave for 5 minutes at 100%. If it needs more time, we put it back to heat for another 2 minutes. We distribute it well all over the base of the container.
While the caramel is being made, we beat the eggs, add the milk and the sugar.
Strain the preparation over the caramelized mould and put it in the microwave for 2 minutes at 100% and 15 minutes at 50%.
Let it cool down to room temperature and then put it in the fridge. Unmold and serve.
ARROZ CON LECHE
Rice pudding is a typical dessert in Spanish cuisine, although it is also common in other countries. It is a recipe made by slowly cooking rice pudding with sugar. It can be served both hot and cold and is usually sprinkled with cinnamon, vanilla or grated lemon juice.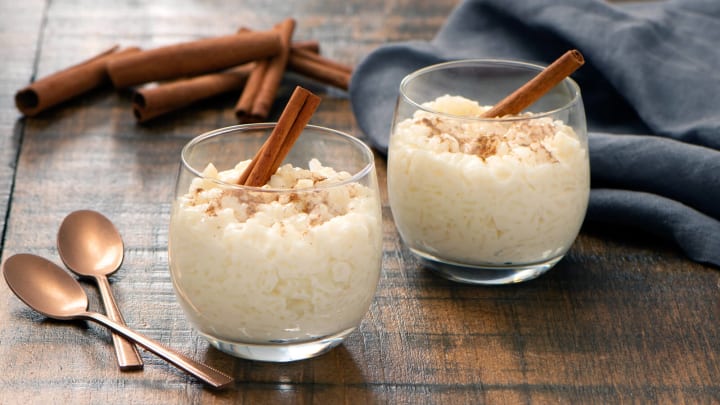 Main ingredients
1 l of milk
125 g of sugar
1 egg yolk
200 g of rice
50 g of butter
1 Lemon
1 cinnamon stick
50 g brown sugar
Recipe preparation
To start, heat 1.5 litres of milk with the cinnamon stick and the rind of half a lemon in a saucepan.
When it starts to boil, add the rice and cook it over a very low heat for 45 minutes. Stir frequently.
Add the sugar and the butter. Let it cook for another 10 minutes, being very careful that it does not get stuck.
Dilute the egg yolk with milk and add it. Remove the cinnamon sticks and lemon peels.
Place in a deep bowl and sprinkle with brown sugar. Burn with a blowtorch to caramelize it.
Serve warm or cold.