5 Less Caffeinated Starbucks Drinks Worth Trying
Favorites that are on and off the menu
When I tried my first secret menu drink at Starbucks, it was "The Grasshopper"—a Mocha Frappuccino with java chips and peppermint syrup that was pure delight—like eating mint chocolate chip ice cream.
I used to drink coffee in all forms for years, with cold brews being my favorite, but after realizing my body was becoming more intolerant to its caffeine than expected, I quit cold turkey and started looking for less caffeinated beverages. The caffeine in teas and Starbucks Refreshers were totally fine so I went on a discovery to find the perfect coffee replacements.
To give some perspective, a 12 oz. coffee (the Tall size) can contain between 100 - 250mg of caffeine depending on the type of coffee and amount of milk included. Teas and refreshers in the same size have significantly lower caffeine levels between 35 - 50mg. (To check the exact caffeine amount, visit Starbucks.com to find nutrition information by drink and size.)
While I don't order The Grasshopper all too often since it's not an everyday kind of drink, it's a refreshing treat once in a while and this time around I would customize it to decaf. But whether you're trying to wean yourself off coffee because the high caffeine levels are giving you gut-related issues or making you feel jittery and anxious, there are plenty of other good and interesting options to choose from at Starbucks.
The below recipes for custom drinks cater to a standard Tall size at Starbucks.
Dirty chai latte
If you love chai flavors, you'll love this unique combination of coffee (decaf) and chai. "Dirty chai latte" is not on the menu by name, but you may have seen and tried it from other specialty coffee shops. It's the perfect fall and winter drink without being too sweet, and you can get it iced or hot.
The recipe:
Tall iced or hot decaf Americano
Oatmilk or your choice of milk
2 pumps of brown sugar syrup
1 pump of chai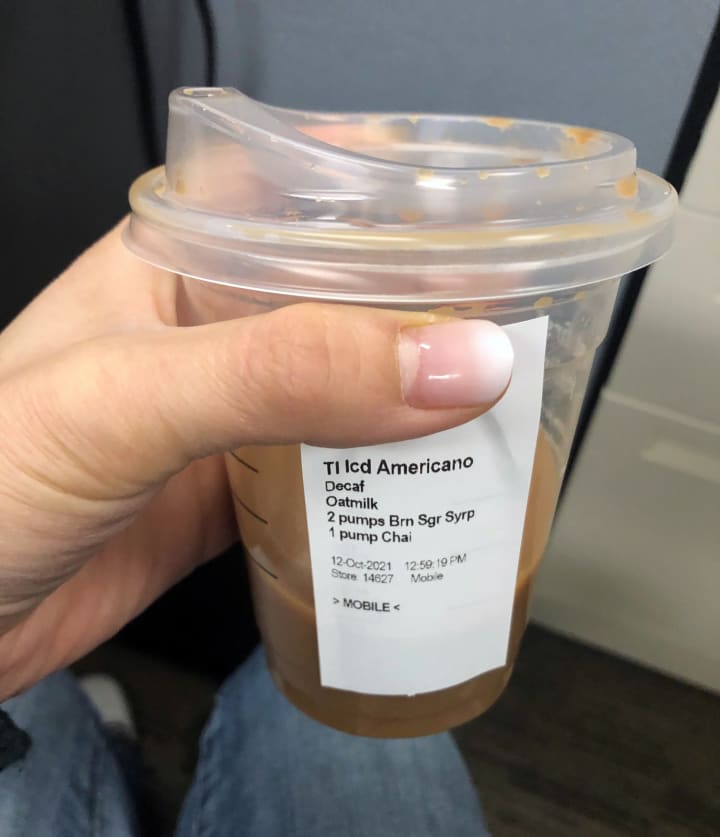 Peppermint chocolate matcha latte
Green tea and chocolate go well together. Peppermint and chocolate go well together. So why not combine all the flavors? Enter the peppermint chocolate matcha latte. Mimicking The Grasshopper, this drink is similar in taste but has the added benefits of antioxidants from the fine powdered green tea. It's also not on the menu.
The recipe:
Iced/hot matcha tea latte
Mocha sauce
1 pump of peppermint syrup
The peppermint gives it a mint-chocolate-chip flavor, but leaving it out will taste just as good if you're just not that into the minty stuff.
Iced Matcha Lemonade
The combination might seem weird, but the matcha powder gives the drink a subtle creaminess that doesn't come from a milk source. It's a refreshing concoction with a punch of lemony goodness—a step up from the commonly ordered green tea lemonade. This one is on the menu, but it's under the radar.
Medicine Ball
Though the "Medicine Ball" is not on the menu by name, most baristas will know what drink you're referring to due to its popularity. On the menu it's labeled as the Honey Citrus Mint Tea, which is a combination of the Jade Citrus Mint Green Tea, Peach Tranquility Herbal Tea, hot water and lemonade with a dash of honey. It's a comforting drink for when you're feeling a bit under the weather or want a flavorful cup of hot tea to warm yourself up.
Dragonfruit Refresher
This drink is on the menu and instantly grabs your attention by its naturally bright pink color. The Dragonfruit Refresher is a must-try thirst quencher with a unique tropical taste that comes with a scoop of real diced dragonfruit.
While I only covered five favorite beverages above, the Starbucks app makes it a breeze to create your own signature drink. It allows you to customize everything including the type of milk to the type of sauce, syrup, sweetener and topping to make a perfect drink that caters to both your gut and particular taste buds.