5 Easy Ways to Eat Healthier
Whether you are in school, college, working, you are single, or have a family, these tips will make that lifestyle change so much easier!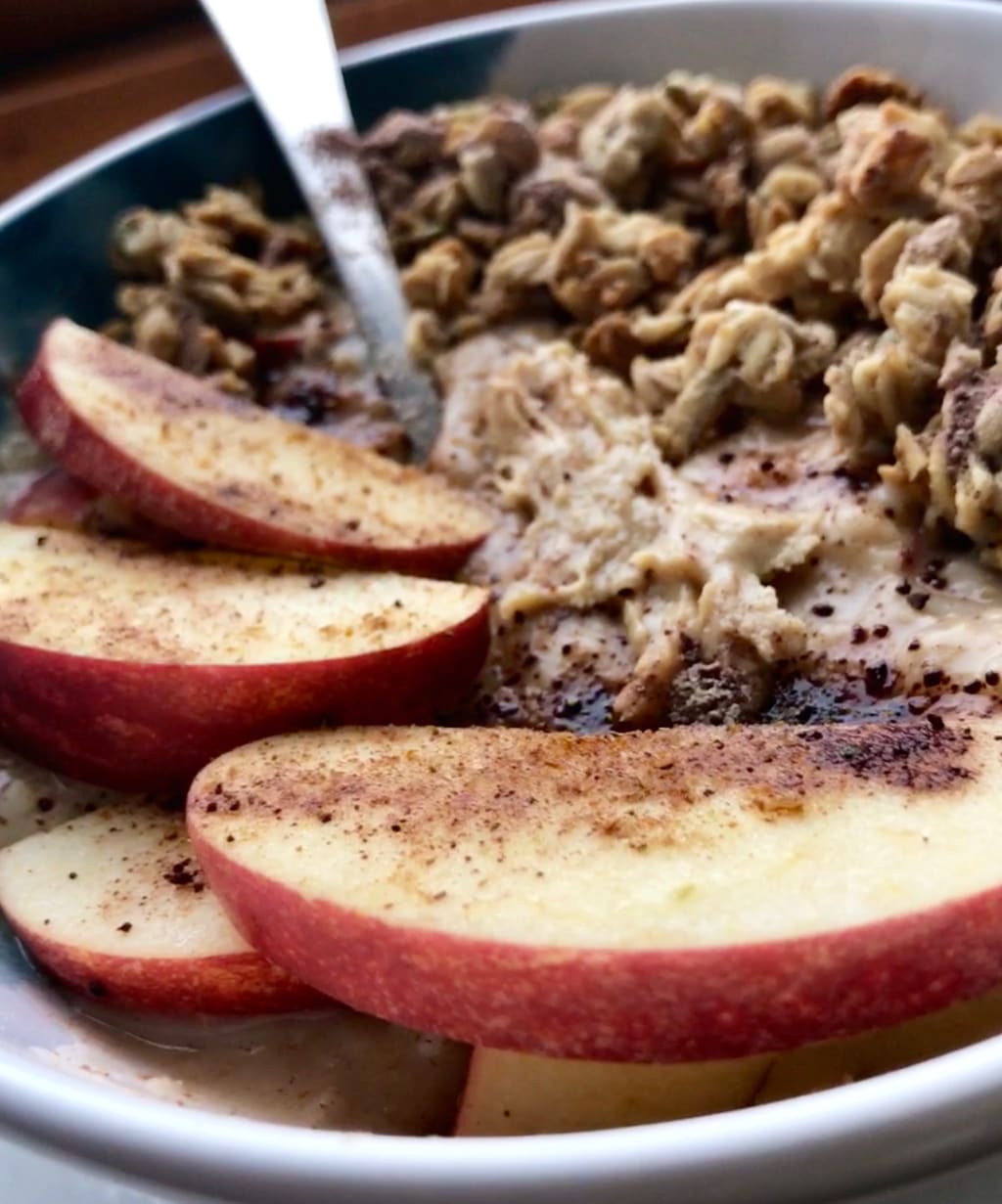 One of my favourite bbreakfasts: cinammon porridge with raisins , bananas (somewhere I swear), apples, granola and a bit of peanut butter and cocoa powder
So now that January is (basically) over, we've all had a month to get started on our new year's resolutions and most of us have probably also given up on them by now. But for those of you, who are still trying to eat healthier, here are five tips on how to make that transition easier.
1. Shopping
The way I see it, if you want to eat healthy, you don't really have to be disciplined all the time, if you are when you go shopping. Because if you don't have any unhealthy foods at home, then you can't eat them. I usually go shopping once a week and before I do that, I write a detailed list of everything I need. This way, I not only do not forget anything, but I am also much less likely to buy additional, unhealthy stuff, which keeps you healthy and can save you quite a bit of money as well. So just sit down on the day or the day before you go shopping and write a good old shopping list (or use your phone). Plan out what meals you want to eat that week as well, so you can get all the ingredients in advance.
Oh and one more thing about shopping, do not go shopping when you are hungry! It is the absolute worst. Just trust me on this: eat beforehand!
2. Set cooking goals.
This one kind of goes hand in hand with what I said before about planning out what you want to buy that week. But what I mean by "cooking goals" is that you basically tell yourself that you want to try x amount of new dishes that month or week and then go for that. So for instance, if you (like me) got a new cook book for Christmas, you might want to try one recipe out of it every week. Or maybe you want to learn how to cook a new type of vegetable every month or whatever it is. Just set yourself goals. This will keep you motivated and make you feel really accomplished when you do it. Additionally, it keeps you from getting bored with your food and eating the same thing every single day, which is just no way to live.
3. Find foods you like.
I get so upset when I hear people say that they don't like healthy food or that they don't eat any vegetables because they don't taste nice. That is just not true. These people have probably never even tried most of what is "healthy food" and they for sure haven't tried enough vegetables. So if you are struggling to eat healthy, try new things and keep trying new things until you find dishes and ingredients that you love. Don't force yourself to eat something just because you think it's good for you, because you are never going to stick to that. Believe me.
Oh and another tip about that: eat fruits and vegetables that are in season. They taste so much better than when they have been imported from god knows where.
4. Meal Prep, the Non-boring, Easy Way
Meal prepping always sounds really, really scary because it makes you think that you have to spend all of Sunday in the kitchen and you then need to eat the same thing every single day of that week. But that's not at all what I mean. I personally started meal prepping when I came to university because I have days where I am at uni all day and I know that I won't want to cook dinner after that and I meal prep most of my lunches because it is just so much cheaper than buying lunch when I'm on the go.
The way I meal prep is honestly dead-easy: I just make more food. Most recipes are for either 2 or 4 people, but you can always make more or less, depending on your requirements. I usually just make the amount the recipe tells me and then store a portion or multiple in the fridge or freeze them (you can freeze so many dishes BTW, which makes them stay fresh for really long) and then the next time I feel like having that dish I just warm it up in the microwave. I usually plan this out so I always have dinner ready on my busy days, which keeps me from having to cook on those days and also ensures that I eat a good and healthy meal.
And for lunches, I just bought a nice lunch box with multiple compartments from Ikea and make my lunch the night before.
5. Eat
A lot of people think that eating healthy means not eating as much. And for most people, that's just not true. If you are hungry, eat! All eating healthier means is making better food choices, not starving yourself. You should feel full at the end of the day. If you don't and you are hungry all the time, you will A) be more likely to binge on unhealthy foods and B) most likely not stick to it. So do not restrict yourself! That is not healthy and will not make you feel better! You should aim to eat about three meals and 2 to 3 snacks, depending on how hungry you are and how active you were that day.
Right guys, I really hope that these five tips helped you a little bit and that you are reaching those health goals in 2018! You can do this!
healthy
19-year-old Genetics student, live in the UK, from Austria. Love photography, writing and living a healthy lifestyle