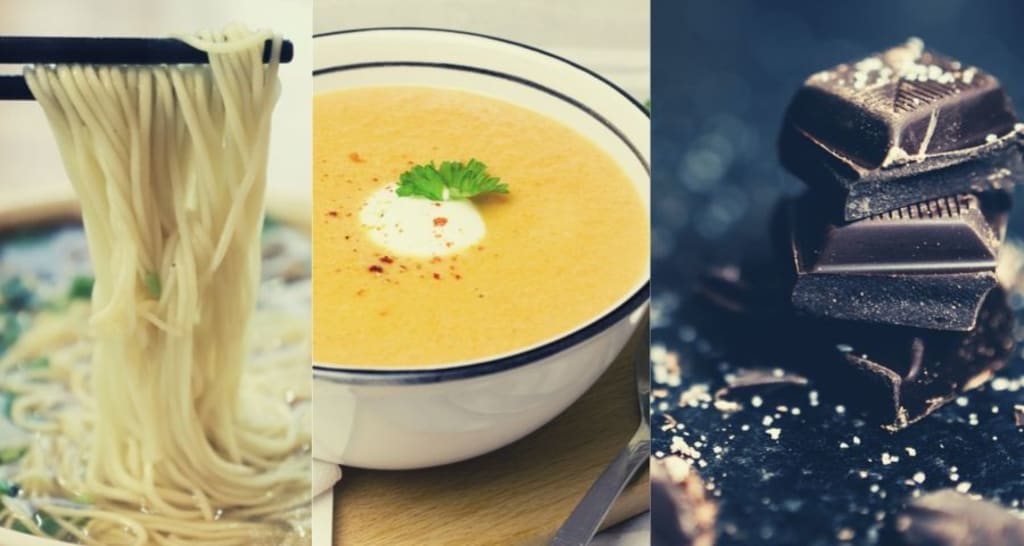 1. Chicken Udon Noodle Soup
12 ounces udon noodles
6 cups prepared chicken stock
1/2 cup thinly sliced carrots
1/2 cup bok choy
This recipe is easy because the main ingredient, the udons, are prepared first according to the package directions. Once they are cooked, drain them and set the noodles aside.
This is the part where you get to be a little creative and have fun. While the udon noodles are cooking, grab a pot and bring the chicken stock to a boil. Lower the heat to medium, add the carrots, and cook until the carrots are crisp-tender. This should take one to two minutes. Add in the bok choy and any other veggies here. Add half a cup of hot broth. Stir, and then pour the entire mixture onto the noodles.
2. Crock Pot Lentil Soup
1/4 cup carrots
1/4 cup celery
1/8 cup onion
1/2 cup lentils (green or orange)
1 can of diced tomatoes
1 tsp cumin
1 tsp oregano
1 tsp salt
1 tsp pepper
1 cup vegetable stock
Cut up the carrots, celery, and onion, and toss them in the crock-pot. Then add the lentils, diced tomatoes, cumin, oregano, salt, pepper, and bouillon cubes or veggie stock. If you are using a cube, don't forget to add a cup of water or two with it. Close the lid, set it to high, and cook it for three hours.
3. Cucumber Water
1 cucumber
8 cups of water
I find myself spending way too much money on pre-made juice... so my solution was fruit-infused water. It has actually worked in keeping me interested in drinking more water!
Peel and slice the cucumber into thin pieces. Put the cucumber slices in a pitcher with the water. Put the pitcher in the fridge for at least two hours before serving. If you let it infuse overnight, then you will get an ideal flavour.
If you want to be fun, add an extra cucumber slice on the side of the glass as garnish.
4. Chocolate Walnut Fudge
Walnuts can be a bit pricey, so if you are on a budget, you may want to consider to not add the walnuts to the recipe.
18 ounces milk chocolate
14 ounces sweetened condensed milk
1 cup walnuts, chopped
5. Stir Fry
2-4 chicken breasts
1 tsp salt
1 tsp pepper
455 grams broccoli
255 grams mushrooms
A handful of almonds (optional)
3 tbsp oil
800 grams rice
The Stir Fry Sauce
3 cloves garlic, minced
1 tbsp ginger, minced
2 tsp sesame oil
⅓ cup reduced sodium soy sauce
1 tbsp brown sugar
1 cup chicken broth
¼ cup flour
Cut the chicken breasts into cubes. Make sure to use a different knife for cutting everything else... With your new clean knife, cut up the broccoli and slice up the mushrooms.
Grab a large pan, and set it on the stove top at medium-high heat. Add the tablespoon of oil to prep for the frying. Add the chicken and season with the salt and pepper. Sauté the chicken until cooked through and browned. Once cooked, remove cooked chicken from pan and set aside.
In the same pan, heat another tablespoon of oil, and add mushrooms and broccoli. Cook for about one minute. Add the sauce, and cook through. Return the chicken to the saucy pan, stir until heated through. Serve it with hot rice!
Work Cited
"10 Crock-Pot Recipes For Beginners That Definitely Don't Taste Simple." Bustle, www.bustle.com/p/10-crock-pot-recipes-for-beginners-that-definitely-dont-taste-simple-30506.
Broadfoot, Robin. "Chicken & Veggie Stir-Fry Recipe by Tasty." Tasty.co, Tasty, 26 Apr. 2017, tasty.co/recipe/chicken-veggie-stir-fry.
"Cucumber Water: A SOSCuisine Recipe." SOSCuisine, www.soscuisine.com/recipe/cucumber-water.
Gomez, Hector. "Chocolate Walnut 3-Ingredient Fudge Recipe by Tasty." Tasty.co, Tasty, 12 July 2017, tasty.co/recipe/chocolate-walnut-3-ingredient-fudge.
Jaden. "15 Minute Udon Noodle Soup with Miso." Steamy Kitchen Recipes, 14 Nov. 2018, steamykitchen.com/10361-japanese-udon-noodle-soup-miso-recipe.html.
Olena, et al. "Instant Pot Lentil Soup (Video) - IFOODreal - Healthy Family Recipes." IFOODreal, 21 Oct. 2019, ifoodreal.com/instant-pot-lentil-soup/.