5 Delicious Late Night Snack Restaurants in Denver
And What You Should Try While There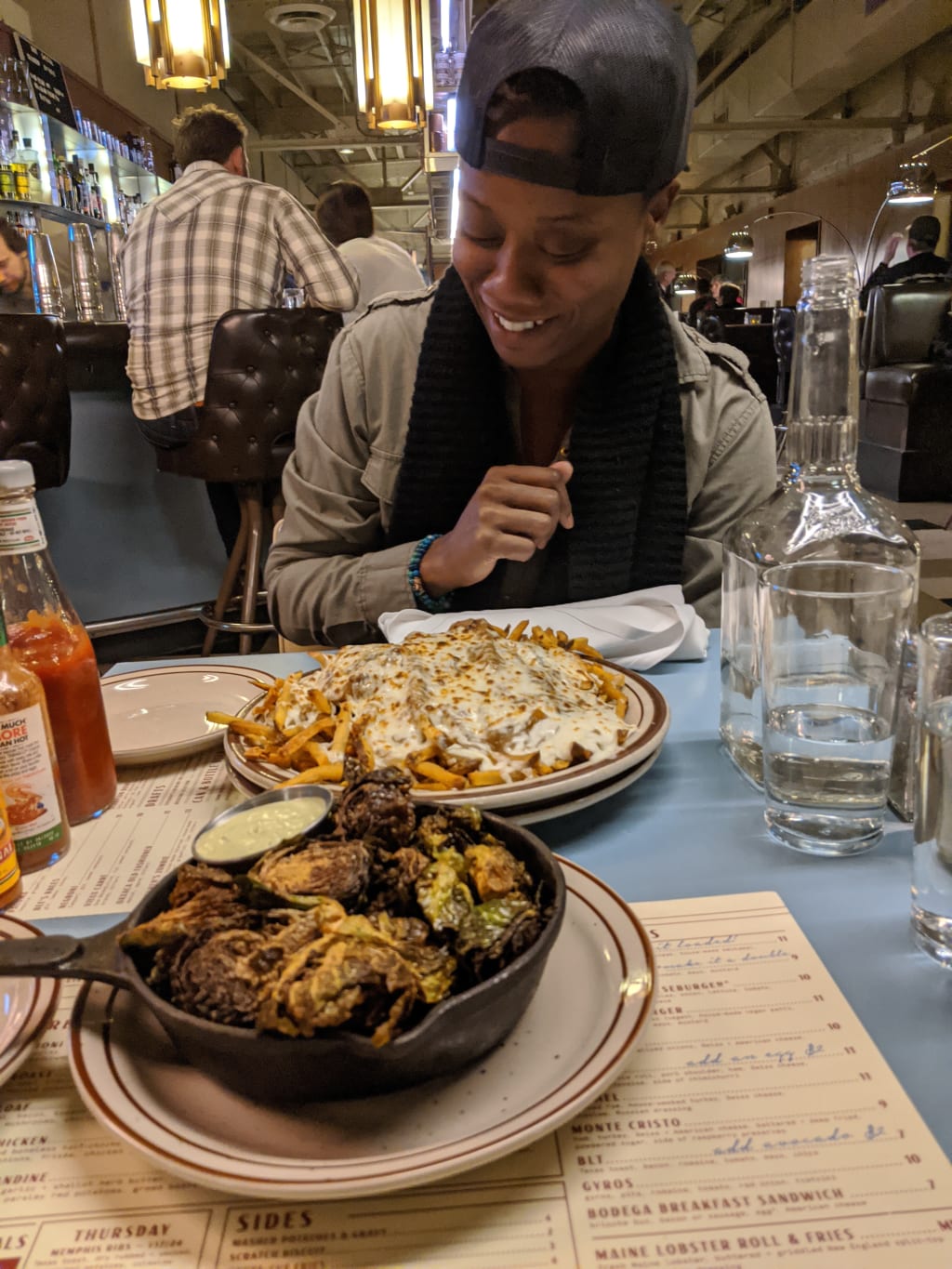 Late Night Snack Time at Steuben's
Late night snacking has almost become an art form in Denver. Compared to certain other cities, restaurants in Denver close early, even on the weekend! (And yes, 11:00 PM is early on a Friday or Saturday night) So it can be hard to find a good place to grab some grub after having a few drinks with your friends. Because of this reason, I have compiled a list of five of my favorite late night spots in no particular order, and I'm including some menu recommendations for you to try while there.
1) Steuben's
The first late night grub score on my list is Steuben's, mostly because it's my featured photo (and that's mostly due to my beautiful friend being in the photo). I visited Steube's last weekend with my friend from out of state. Steube's is open until 12 AM on Friday and Saturday and it's within stumbling distance if you're hanging out at the local gay bar Pride and Swagger across the street. One of my favorite, not necessarily healthy but comforting, foods there is the gravy fries, which is in the picture above. It's a basic and simple recipe consisting of fries, brown gravy, and cheese, but after four or five drinks this dish really hits the spot. Another good dish that I could recommend is the Crispy Brussels Sprouts. Now, I think Brussels Sprouts are disgusting and have since childhood. My friend ordered them, and I ended up eating the majority of them. The sauce they're served with compliments them perfectly and they don't have that super green taste that is common among Brussels Sprouts (like what I imagine fresh cut grass tastes like). Steube's also has a delicious veggie sandwich and they make a great Mule to sip on!
2) Pete's Kitchen on Colfax
Pete's Kitchen is a staple diner in Denver and has been around since 1988. The diner is open 24/7 which is one of the main reasons I love it, and it's very affordable. One of my favorites on the menu is the Veggie Pita Sandwich, but the cup of green chili with a couple warm tortillas is also a classic on cold winter days. Their southern style biscuits and gravy is also decent for being in Colorado; it'll get the job done when you're hungover and craving a comfort dish.
3) Cheeba Hut
Cheeba Hut is a cute, little stoner themed joint (see what I did there?!) that produces made to order sandwiches and other small stoner snacks like rice crispies and big cookies. Cheeba Hut is open until 12 AM every day which is why they are on my list of favorites. They are also right across the street from another busy gay bar in Denver called X Bar, so feel free to stumble over to grab your sandwich before they close and bring your sammy back to X to enjoy on their patio... with another drink of course. Cheeba Hut also has their own bar inside, so you can stay there and enjoy a drink as well. My favorite sandwich there is the Humbolt which is a vegetarian special, but my meat eating friends love it too!
4) Tom's Diner
Tom's Diner is another classic spot in Denver that's open 24/7, and it's also within stumbling distance of X Bar (can you tell where I spend a lot of time?). Tom's doesn't serve alcohol, but their prices are fair, the food is good, and it's a chill place to go after the bar because you won't be the only one stuffing your face to soak up the alcohol. I would recommend their breakfast burrito or their green chili fries, both are vegetarian friendly.
5) Hapa Happy Hour
Last but certainly not least is Hapa's late night happy hour which runs from 11-12 AM on Friday and Saturday. Hapa is a sushi place that offers a heavily discounted menu during their late night happy hour, which is usually an indication that I'll be ordering all the items. They have delicious cocktails, sake, and sushi and you really can't go wrong with anything you order there. I would, however, highly Highly recommend the Spicy Tuna Nachos appetizer. I've turned so many people onto that dish and none of them ever regretted it!
I hope this blog is helpful when you choose your next late night eatery in Denver. Bon Appetite!