As there are lots of countries in this world. Therefore, lots of cultures exist. So, each of those cultures have their own unique types of food. They are called Traditional Foods. People all over the world are curious about traditional food of other cultures and countries. Through this article, I am going to list up some of the delicious traditional food that you can make at your home.
Japanese cuisine is loved by people all over the world. Tekamaki is a japanese food. Teka maki is a type of hosamaki that involves tuna and is wrapped in white rice, which is finally ensconced in seaweed paper or nori paper. Tekamaki is also known as Sushi. Let's see how to prepare this lovely food.
Ingredients
4 sheets of nori cut in half
4 ounce sushi-grade tuna
6 cups sushi rice
Method
After gathering the ingredients, cut the nori in half to 4-by-7 1/2 inches.
Cut the tuna into thin and long sticks 1/2-inch thick and 7 1/2-inch long.
Place the sushi mat flat with the bamboo slats left to right, so you can roll the mat away from you.
Place a nori sheet on top of the mat with one of the seaweed's long sides close to the front edge of the mat; remember that the edge should be near you.
Spread about 3/4 cup of sushi rice on top of the nori sheet. Place tuna in a horizontal direction on the rice.
Roll up the mat while pressing forward to shape the sushi into a cylinder. Roll from the front end of the mat guiding with the sushi mat toward the other end.
Tighten the rolls while pulling the mat to tighten, and pressing the bamboo mat firmly. Remove the roll from the mat. Repeat until all the rolls are made.
Wipe a knife with a wet cloth before slicing sushi. Cut the rolled sushi into bite-size pieces.
Serve with wasabi mayo and soya sauce.
Tekamaki is done. It's Tekamaki time!
Shakshuka, also called as Shakshouka or chakchouka is a generated from Arabic which has existed in  Mediterranean cultures for centuries. This dish is prepared by poaching eggs in a sause of tomatoes, pepper, onion, garlic, and olive oil. It is commonly spiced with cumin, paprika, nutmeg, cayenne pepper. However, Shakshuka varies from the ancient one that existed in Mediterranean cultures centuries ago. Feta cheese, fresh herbs, mined lamb, etc. So, this is a recipe that I found on a food group. It is simple and easy.
Ingredients
1 large onion chopped
1 large red bell pepper chopped
¼ teaspoon fine sea salt
3 cloves of minced garlic
2 tablespoons olive oil
2 tablespoons tomato paste
1 teaspoon ground cumin
½ teaspoon smoked paprika
¼ teaspoon red pepper flakes
1 large can crushed tomatoes
1 handful of cilantro
Black pepper to taste
5 eggs
½ cup crumbled feta
Crusty bread
Method
Warm the oil in a large pan over medium heat. Once shimmering, add the onion, bell pepper, and salt. Cook, stirring often, until the onions are tender and turning translucent.
Add the garlic, tomato paste, cumin, paprika and red pepper flakes. Cook, stirring constantly, until nice and fragrant.
Pour in the crushed tomatoes with their juices and add the cilantro. Stir, and let the mixture come to a simmer. Reduce the heat as necessary to maintain a gentle simmer, and cook for 5 minutes.
Turn off the heat. Taste and add salt and pepper as needed. Create a well near the edge, and crack an egg into it. Spoon some of the tomato mixture over the egg. Repeat this process with the remaining eggs.
Break the yolk with a knife and cover the pan with a lid. You would know the eggs are done based on your preference. If you like them runny then keep the heat on for 5 minutes on low heat. If you prefer them soft carry on cooking for 8 to 12 minutes. They are done when the egg whites are an opaque white and the yolks have risen a bit but are still soft.
Top this hot shakshuka with crumbled feta and fresh cilantro leaves. Serve this deliciousness in bowls with crusty bread.
So, that is it. A wholesome dish filled with goodness is ready to taste.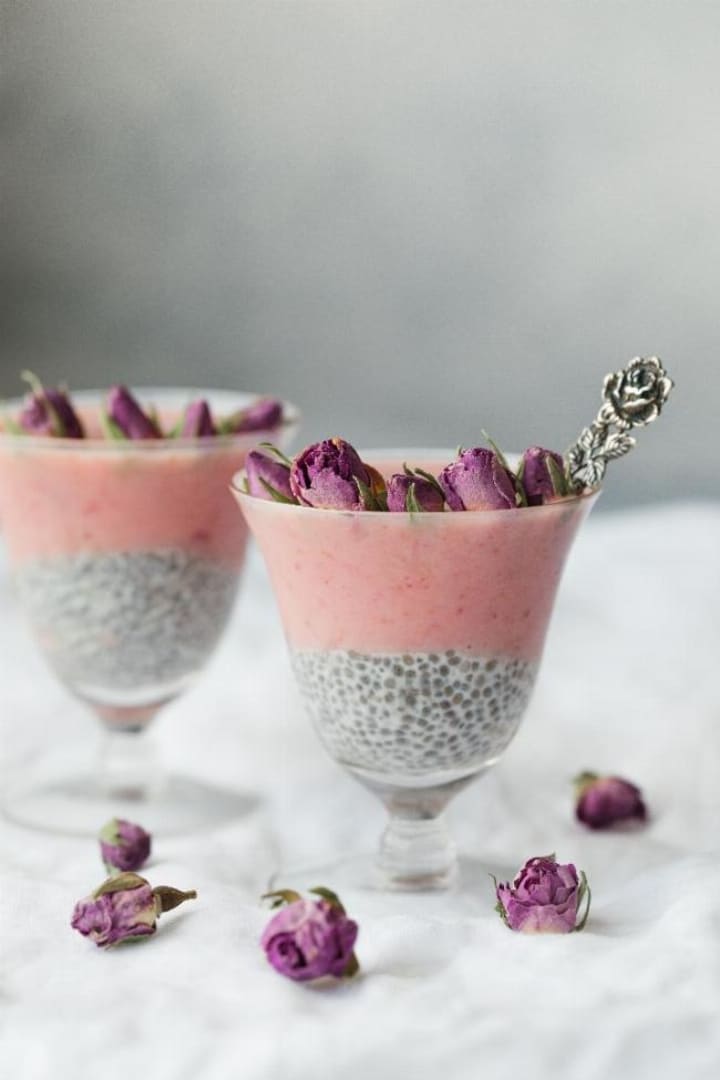 Sago pudding belongs to South Asian Cuisine. Sago is steeped in mysticism. It is also used in aryuveda. It is known that is cools the body. In asian countries, Sago Pudding is often prepared in South Asia. Here is the recipe of it.
Ingredients
1 cup sago
3 cups thick coconut milk
3 cups water
1 cup, grated kithul jaggery
1 teaspoon of powdered cinnamon
1/2 teaspoon of ground cloves
A pinch of salt
Handful of cashew
Handful of raisins
Method
Bring the water to a boil.
Then add the sago and keep stirring so that clumps are not created.
After the sago becomes translucent, simply add in the rest of the ingredients (except for the cashew and plums) one by one and keep stirring.
Add the plums and cashew once the sago pudding has slightly cooled. You can either serve this pudding warm or cold depending on your preference.
The Sago Pudding is ready.
Borscht is a sour soup belongs to Ukranian/Russian cuisine. Traditional Ukrainian Borscht is made from meat/bone stock, sautéed vegetables, and beet sour. This soup takes time to prepare. So, preparing Borscht is something that need to be planned before cooking😉. Here is how to cook Borscht.
Ingredients
1 1/2 cups thinly sliced potatoes
1 cup thinly sliced beets
4 cups vegetable/meat stock or water
2 tablespoons butter
1 1/2 cups chopped onions
1 teaspoon caraway seed (optional)
2 teaspoons sal
t1 celery stalk, chopped
1 large carrot, sliced
3 cups coarsely chopped red cabbage
black pepper to taste
1/4 teaspoon fresh dill weed
1 tablespoon cider vinegar
1 tablespoon honey
1 cup tomato puree
sour cream, for topping
chopped tomatoes, for garnish

Method
Place sliced potatoes and beets in a medium saucepan over high heat; cover with stock, and boil until vegetables are tender.
Remove potatoes and beets with a slotted spoon, and reserve stock.
Melt butter in a large skillet over medium heat.
Stir in onions, caraway seeds, and salt; cook until onions become soft and translucent.
Then stir in celery, carrots, and cabbage.
Mix in reserved stock; cook, covered, until all vegetables are tender, about 10 minutes.
Add potatoes and beets to the skillet. Season with black pepper and dill weed. Stir in cider vinegar, honey, and tomato puree.
Cover, reduce heat to medium low, and simmer at least 30 minutes.
Serve topped with sour cream, extra dill weed, and chopped fresh tomatoes
You will have a delicious borscht ready within 1 hour and 30 minutes. Enjoy your borscht.
Conclusion
Traditional Foods around the world is an interesting subject to get to know and try. Above 4 recipes are some of the delicious traditional foods that I still crave for. Enjoy cooking and enjoy tasting.